Frankenstein (1994) - Prometheus Unbound and its Relationship to Paganism and Luciferian Satanism

For more See.. https://www.energyenhancement.org/Spiritual-Movie-Reviews-Satchidanand/Index.html

Frankenstein; or, The Modern Prometheus is a novel written by Mary Shelley about eccentric scientist Victor Frankenstein, who creates a Monster in an unorthodox scientific experiment.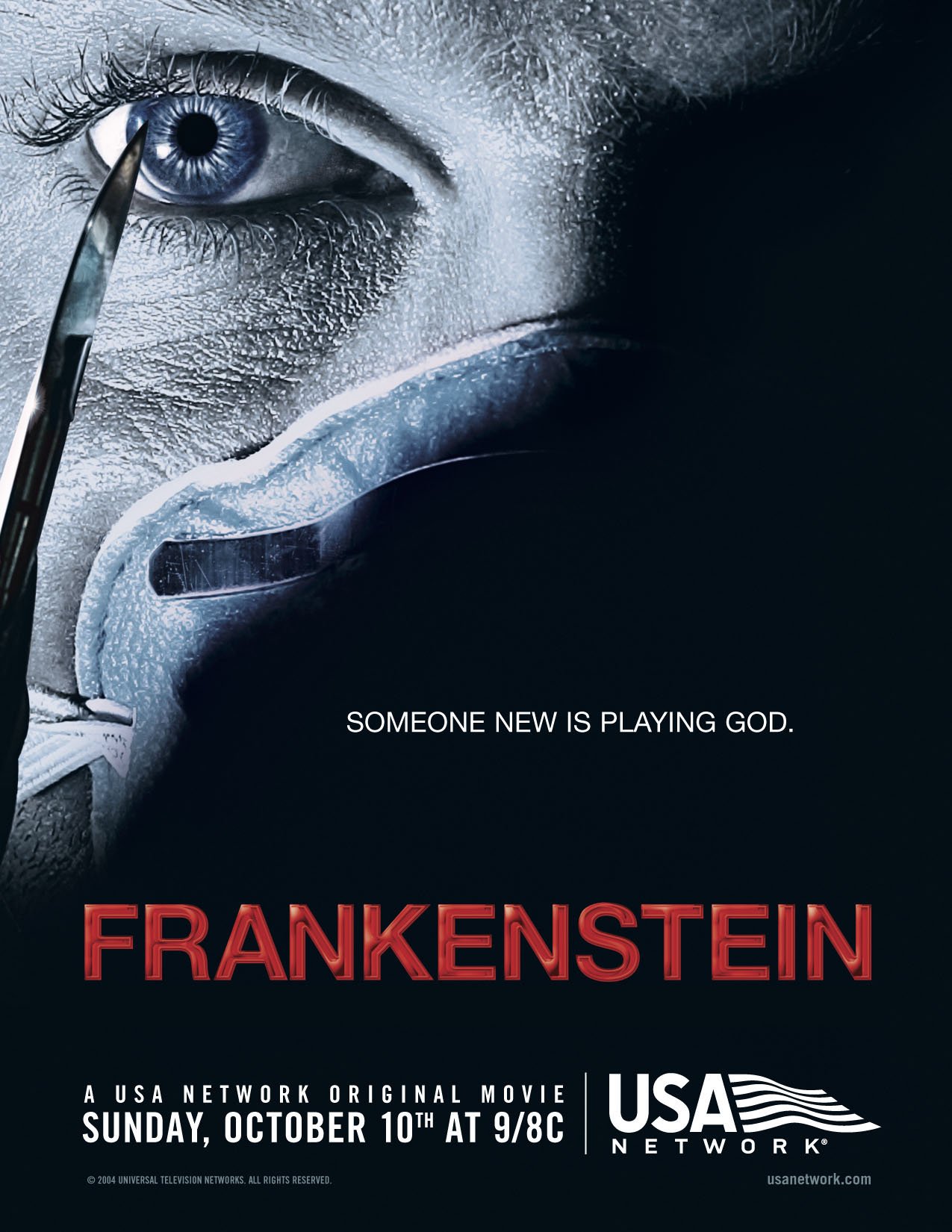 Mary Shelley had travelled in the region of Geneva, where much of the story takes place, and the topics of galvanism and other similar occult ideas were themes of conversation among her companions, particularly her future husband, Percy Bysse Shelley. The storyline emerged from a dream.
Mary, Percy, Lord Byron, and John Polidori decided to have a competition to see who could write the best horror story. After thinking for weeks about what her possible storyline could be, Shelley dreamt about a scientist who created life and was horrified by what he had made. She then wrote Frankenstein.

She began writing and wrote the first four chapters in weeks. Byron managed to write just a fragment based on the vampire legends he heard while travelling the Balkans, and from this John Polidori created The Vampyre (1819), the progenitor of the romantic vampire literary genre. Thus, two seminal legendary horror tales originated from this one circumstance.

The group talked about Enlightenment and Counter-Enlightenment ideas as well. Shelley believed the Enlightenment idea that society could progress and grow if good political leaders used their powers responsibly; however, she also believed the Romantic ideal that fascist psychopathic eugenic misused power could destroy society (Bennett 36-42).

Mary's and Percy Bysshe Shelley's manuscripts for the first three-volume edition in 1818 (written 1816–1817), as well as Mary Shelley's fair copy for her publisher, are now housed in the Bodleian Library in Oxford. The Bodleian acquired the papers in 2004, and they belong now to the Abinger Collection. On 1 October 2008, the Bodleian published a new edition of Frankenstein which contains comparisons of Mary Shelley's original text with Percy Bysse Shelley's additions and interventions alongside. The new edition is edited by Charles E. Robinson: The Original Frankenstein (ISBN 978-1851243969).

The novel has had a considerable influence across literature and popular culture and spawned a complete genre of horror stories, films, and plays.

In the novel, the Monster is identified via words such as "creature", "monster", "fiend", "wretch", "vile insect", "daemon", "being", and "it". Speaking to Victor Frankenstein, the monster refers to himself as "the Adam of your labors", and elsewhere as someone who "would have" been "your Adam", but is instead "your fallen angel."

Frankenstein is forced to make the creature roughly eight feet tall because of the difficulty in replicating the minute parts of the human body. His creation, which he has hoped would be beautiful, is instead hideous, with watery yellow eyes, and a withered, translucent, yellowish skin that barely conceals the muscular system and blood vessels. The creature has perfect, white teeth, black lips and long black hair. After bringing his creation to life, Victor is repulsed by his work: he flees the room, leaving the monster. Hopeless and saddened from rejection, the monster disappears.

The monster concludes his story with a demand that Frankenstein create for him a female companion like himself. He argues that as a living thing, he has a right to happiness. He promises that if Victor grants his request, he and his mate will vanish into the wilderness of South America uninhabited by man, never to reappear.

Fearing for his family, Victor reluctantly agrees and travels to England to do his work. He is accompanied by Clerval, but they separate in Scotland. Through their travels, Victor suspects that the monster is following him. Working on a second being on the Orkney Islands, he is plagued by premonitions of what his work might wreak, particularly the idea that creating a mate for the creature might lead to the breeding of an entire race of creatures that could plague mankind.
He destroys the unfinished female creature after he sees his first creation looking through the window. The monster witnesses this and, confronting Victor, vows to be with Victor on his upcoming wedding night.
The monster murders Clerval and leaves the corpse on an Irish beach, where Victor lands upon leaving the island. Victor is imprisoned for the murder of Clerval, and becomes seriously ill, suffering another mental breakdown in prison. After being acquitted, and with his health renewed, he returns home with his father.

Once home, Victor marries Elizabeth and prepares for a fight with the monster. Wrongly believing the monster's vowed revenge was for his own life, Victor asks Elizabeth to retire to her room for the night while he goes looking for "the fiend".
While Victor searches the house and grounds, the creature murders Elizabeth. Victor sees the monster at the window, and the monster taunts Victor by pointing at Elizabeth's corpse. Grief-stricken by the deaths of William, Justine, Clerval, and now Elizabeth,
Victor's father dies. Victor pursues the monster to the North Pole, but he does not kill his creation

A few days after the creature vanishes, the ship becomes entombed in ice and Walton's crew insists on returning south once they are freed. In spite of a passionate speech from Frankenstein, encouraging the crew to push further north, Walton realizes that he must relent to his men's demands and agrees to head for home.
Frankenstein dies shortly thereafter.

Walton discovers the creature on his ship, mourning over Frankenstein's body. Walton hears the creature's misguided reasons for his vengeance and expressions of remorse. Frankenstein's death has not brought him peace. Rather, his crimes have increased his misery and alienation. He vows to kill himself on his own funeral pyre so that no others will ever know of his existence. Walton watches as he drifts away on an ice raft that is soon lost in darkness.

The Modern Prometheus

The Modern Prometheus is the novel's subtitle. Prometheus, was the Titan who created mankind from clay, like God creates man from clay and woman from a rib, at the behest of Zeus. He made a being in the image of the gods that could have a spirit breathed into it. Zeus kept fire from mankind. Prometheus being the creator, took back the fire from Zeus to give to man. When Zeus discovered this, he sentenced Prometheus to be eternally punished by fixing him to a rock of Caucasus, where each day an eagle would peck out his liver, only for the liver to regrow the next day because of his immortality as a god. He was intended to suffer alone for eternity, but eventually Heracles (Hercules), the son of God (Zeus, Deos) released him.

Byron was particularly attached to the play, "Prometheus Bound" by Aeschylus, and Percy Shelley would soon write his own Prometheus Unbound (1820).
In "Prometheus Bound" by Aeschylus, Zeus represents the Oligarchs who have enslaved humanity and bred humanity for enslavement for thousands of years. As 200 IQ Liebniz observed, fire and energy flux density are necessary for the economic liberation of mankind.
Control of fire from wood to coal to petroleum and all the wars for petroleum and for who controls the price of petroleum is the work of the Oligarchs and their "Principle of Poverty", - barefoot and back on the reservation.
Repression of the higher flux densities of Nuclear Fission, Cold Fusion, Hot Fusion and Matter/Antimatter reactions are also included in their work for the Petroleum Companies, but in reality, it is the work of "The Oligarchic Principle of Poverty", or Rockefeller Funded Austerity via Austrian Economics and its route, Von Hayek, Von Mises, and Demagogues.. Margaret Thatcher, Baron Keith Joseph, Lew Rockwell, Ron Paul, Jeffrey Sachs, Alex Jones..

Imago Dei

God created man in his own image, Imago Dei, from clay and a spare rib like Frankenstein creates his Monster from spare body parts.

According to the Biblical creation story God initially created the first human, a man named Adam, from the dust of the ground, and breathed into his nostrils the breath of life; thereafter God created a woman named Eve from one of Adam's ribs. God placed them in the paradisiacal Garden of Eden, telling them to eat any food there they wished, except that from a single tree, the "tree of the knowledge of good and evil".

According to this tale, a serpent tempted them to partake of fruit from the tree, telling them that they would become like God by doing so; both then ate from it. Immediately thereafter, they became ashamed and covered their nakedness with leaves. God questioned them concerning their actions, reminding them of His command to not to eat of the tree. He next put enmity between the woman and the serpent, and between humans and the 'tempter', then forced Adam and Eve to leave the garden, following which these two humans then populated the earth.

The Tree of the Knowledge of Good and Evil was a common motif among ancient Near Eastern religions. To eat the fruit of the tree meant to know everything good and everything bad, a power reserved for the gods alone. When Adam and Eve ate the forbidden fruit, they became like gods (Genesis 3:22: "And the LORD God said, Behold, the man is become as one of us...").

The Image of God (Hebrew: tzelem elohim, lit. "image of God", often appearing in Latin as Imago Dei) is a concept and theological doctrine in Christianity, Judaism and Sufi Islam which asserts that human beings are created in God's image and therefore have inherent value independent of their function.
The concept of inalienable Human Rights and thus the American Constitution stem from this.
The survival of the species demands a revival of the "secret knowledge" of the Neoplatonic elite. That knowledge must not only be revived, but as we do here, must be situated within and updated by appropriate terms of modern scientific knowledge.
The issue is as follows:<

>
The essence of Christianity, and of Mosaic Judaism, is identified historically first, by Philo of Alexandria in his commentary on the first chapter of Genesis, that is, the account of Creation given by Moses. The point to be emphasized, is that man is defined in the image of God, Imago Viva Dei: not by virtue of any outward physical attributes of form, but rather by the fact that man contains that spark of creativity which places the human species apart from and above the animals in general.
<> That spark

<> is the crucial thing...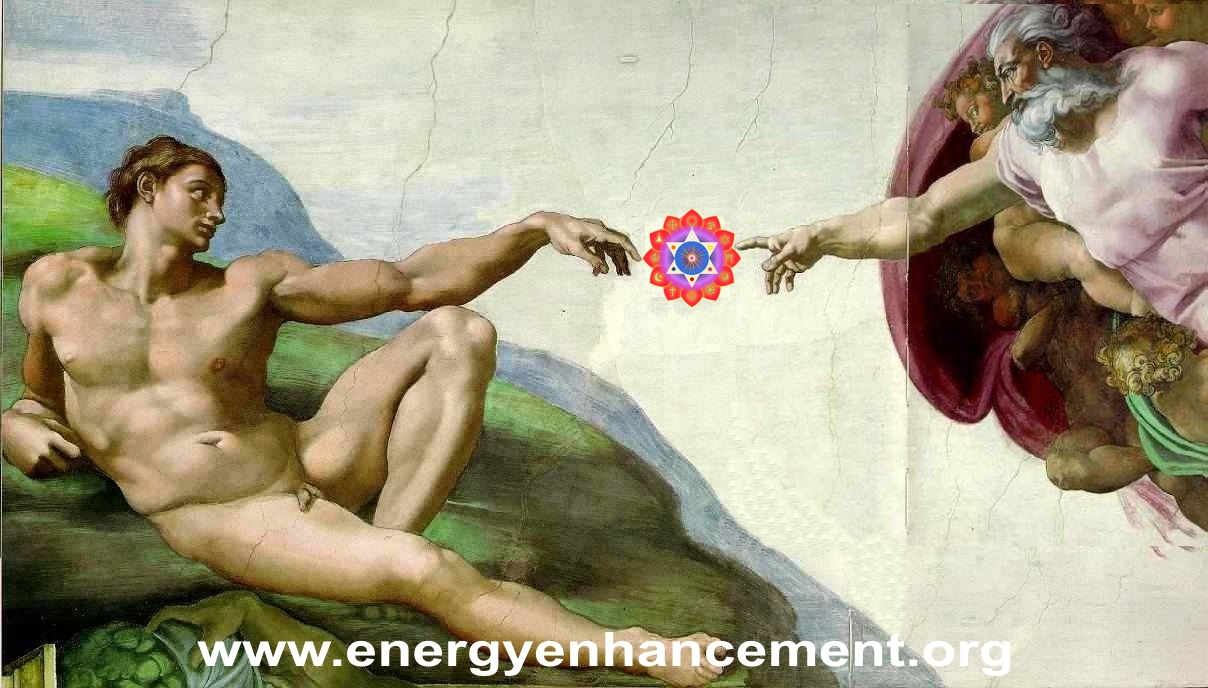 MAN IS A LIVING SPARK OF GOD - IT IS THAT AND ONLY THAT WHICH PREVENTS THE CONCEPT OF SLAVERY AND GENOCIDE FOR THE HUMAN HERD
Image of God, "Imago Dei" and Energy Blockages

> OLIGARCHIES-POLICIES-FROM-THE-TIME-OF-BABYLON-AND-THEIR-HISTORICAL-TECHNIQUES-TO-ENSLAVE-THE-WORLD
Image of God, "Imago Dei" and Energy Blockages
Nicholas of Cusa, St. Augustine, St. Thomas Aquinas, and the Concept of Natural Law -Imago Dei or Image of God - and the concept of Energy Blockage Talents
REMBRANDT<> - ILLUMINATED SAINT


The Meaning and Significance of Frankenstein

Human beings have been created as the image of god with knowledge of both good and evil. In the Bible, if you know a person then you have merged with them, had sex with them.
All Humanity has partaken of good energy talents and evil energy blockages.
We have absorbed good energy talents and evil energy blockages into our psychic bodies.
The evil energy blockages have created All Humanity as Monsters.
The ability to transmute evil energy Blockages (through Viveka - from The Yoga Sutras of Patanjali) within these Monsters creates Enlightenment.
A made man, an enlightened man, has transmuted all of his Energy Blockages.

A Monster is a person who is not yet whole, who in some way is ugly, not beautiful. Unmade men can be intelligent, courageous, witty, funny but they can turn in an instant and shoot to kill or torture. The Satanic, Slave trading, Banking, Homosexual, Venetians in the line of Babylon, the Roman Empire and the current British and American Establishment, could tell you jokes as they slid the knife into your back.

Something is missing in an, "Unmade Man". Whether that missing part or talent is lower does not matter, the important part is the higher parts of empathy and conscience and real Genius are missing.
"A made man only has the ability to do the right thing"

When we see the Marvel Comics Superheroes onscreen we marvel at their Superpowers showing and preordaining the Satanic New Man. Yet all of them lack the higher parts of empathy and conscience and real Genius.
They all have the ability to kill.

This is the, "Unmade Man".
Unmade Men are humanity who have not yet fused with their Soul in Enlightenment with a clear unblocked column of energy above the head to God.

Those who have fused with their Soul in Enlightenment with a clear unblocked column of energy above the head to God are the real, "Made Men".
THE LEFT AND RIGHT HAND PATHS OF INITIATION
The Left (Sinister) Hand Path of Initiation. Satan or Lucifer is the father of lies. Satan lies when he says that a, "Made Man" is one who has, "earned his bones" by killing another human being in for example a Ritual Sacrifice of a human being which all the Pagan Religions before Judaism, Christianity and Sufi Islamism contained as part of their religion.
THE LEFT HAND PATH OF RITUAL HUMAN SACRIFICE, RITUAL DRUGS, RITUAL SEX AND ROCK AND ROLL
The Black Magician, Aleister Crowley, Secret Agent of British Intelligence MI6, friend of Winston Churchill, took on the Avatar of, "Alastor of the Waste" and like The Frankenstein Monster, existed after all his evil deeds in a Wastland of ice and snow - cocaine and heroin.


Alastor, or The Spirit of Solitude strangely, because Frankenstein written by his wife and by him, is the first major poem by Percy Bysshe Shelley.

Crowley, Satanist, Magus of Masonry, Egyptian Religion and all the Pagan Religions did Rituals every day where he sacrificed the unborn baby - Sperm - to his partner, "The Whore of Babylon" because Satanic Pagan Religions have Temple Prostitutes who partake of every Satanic Ritual.

Crowley, Satanist, Magus of Masonry, Egyptian Religion and all the Pagan Religions did Rituals every day where he sacrificed the unborn baby - Sperm - as a passive homosexual partner, because Satanic Pagan Religions have Egyptian, "Dog (Anubis) Priests" who act as the passive homosexual partners in Satanic Rituals.
HUMAN SACRIFICE IN THE RITUAL, "THE CREMATION OF CARE" AT BOHEMIAN GROVE

PRESIDENTS AND ELITE FAMILIES AT BOHEMIAN GROVE
Every year since 1873, the Global Elite Has Held Secret Meetings in the Ancient Redwood Forest of Northern California. Members of the so-called Bohemian Club include Former Presidents Hoover, Eisenhower, Nixon and Reagan.
Moloch, the God of a Pagan Religion, is well written about as a burning idol where babies were sacrificed to the fire. The Bible asserts that children were sacrificed at a place called the Tophet ("roasting place") to the god Moloch - represented by the Owl of Bohemian Grove...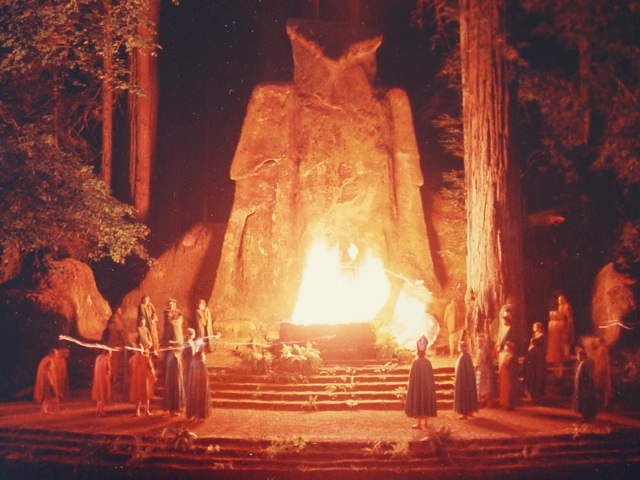 The Bush Family Maintains a Strong Involvement at Bohemian Grove. Each Year at Bohemian Grove, Members of This All-Male Club Don Red, Black and Silver Robes and Conduct an Occult Ritual. Alex Jones took this photograph and took videos when he entered into Bohemian Grove in California where every year Presidents and the banking elite worship at the Ritual, "The Cremation of Care" - designed to extinguish empathy and conscience and create psychopaths as a child is sacrificed to the Fire in front of a carved 40ft Owl representing Moloch and thousands of the elite watching, worshipping.
You have to be invited to get in..
For an example of Human Sacrifice in Satanic Pagan Religions from 8000 years ago - from Babylon itself, in the Book of Ruth in the Bible we have Ruth who as a Moabite has participated in Human Sacrifice. As she forswears this evil satanic Moabite religion and cleaves to Judaism, she is allowed to marry Boaz, ancestor of King David.

Leviticus 18:21
And thou shalt not let any of thy seed pass through the fire to Molech, neither shalt thou profane the name of thy God: I am the LORD.

Leviticus 20:2
Again, thou shalt say to the children of Israel, Whosoever he be of the children of Israel, or of the strangers that sojourn in Israel, that giveth any of his seed unto Molech; he shall surely be put to death: the people of the land shall stone him with stones.

Leviticus 20:3
And I will set my face against that man, and will cut him off from among his people; because he hath given of his seed unto Molech, to defile my sanctuary, and to profane my holy name.

Leviticus 20:4
And if the people of the land do any ways hide their eyes from the man, when he giveth of his seed unto Molech, and kill him not:

Leviticus 20:5
Then I will set my face against that man, and against his family, and will cut him off, and all that go a whoring after him, to commit whoredom with Molech, from among their people.

1 Kings 11:7
Then did Solomon build an high place for Chemosh, the abomination of Moab, in the hill that is before Jerusalem, and for Molech, the abomination of the children of Ammon.

2 Kings 23:10
And he defiled Topheth, which is in the valley of the children of Hinnom, that no man might make his son or his daughter to pass through the fire to Molech.

Jeremiah 32:35
And they built the high places of Baal, which are in the valley of the son of Hinnom, to cause their sons and their daughters to pass through the fire unto Molech; which I commanded them not, neither came it into my mind, that they should do this abomination, to cause Judah to sin.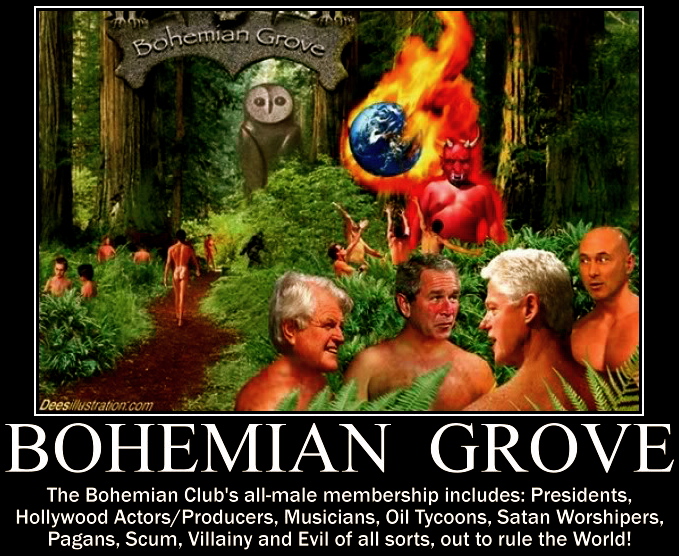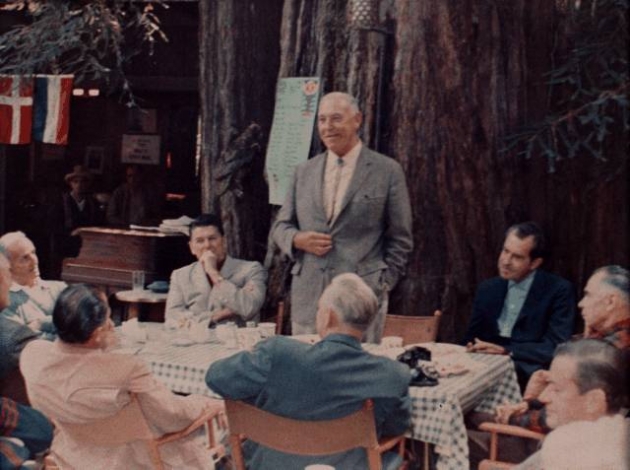 Breakfast at Owls Nest Camp, Bohemian Grove, July 23, 1967. Around the table, left to right: Preston Hotchkis, California Governor Ronald W. Reagan, Harvey Hancock (standing), Vice President Richard M. Nixon, Glenn Seaborg, Jack Sparks, (unidentified individual), (unidentified individual), and Edwin Pauley. Courtesy of Edward W. Carter (deceased).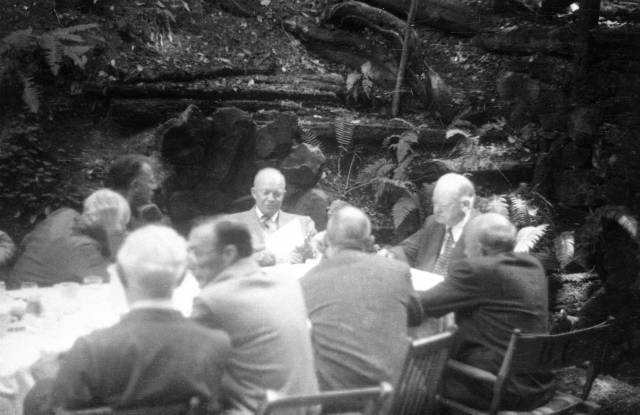 Lawrence Berkeley lunching with future president Eisenhower and past president Hoover at Bohemian Grove, July 23, 1950.

Satan, the father of lies, says a Made Man is an associate of the mafia or another organized crime group who kills a person, thus graduating to "made man" or "soldier" status. Only by killing under the orders of a ranking mob officer can the prospect become a "made man". "I just drove up and knocked him off, one in the body and two in the head to make sure he was dead. The boss will be pleased. I'm a made man now."
The purpose of the satanic movie Baby Boy (2001) Director and writer John Singleton, is to say that you will remain a child, a baby until you have killed another human being, this being the initiation into adult life.

Elmore Leonard has created characters who exemplify the Existensialist Psychopath - see..
Existentialism and Kubrick's Psychopaths in the Films of Stanley Kubrick.
Where Psychopath Don Juan is made into the Nietzschian Superman. Movies made from his books include, Get Shorty (1995) with John Travolta, Jackie Brown (1997) by Quentin Tarantino, and Out of Sight (1998) with George Clooney and Jennifer Lopez.


Satan, the father of lies creates perverted Rituals of Initiation where the only person who can pass these initiations, the Satanic, "Made Man", the Satanic Luciferian Illuminist, is a Psychopath, a person without the higher parts of empathy and conscience and real Genius... who just doesn't care - because they have a screw loose!!
And of course the purpose of all these Satanic illuminati Initiations is to create another Psychopathic Black Magician...
RESEARCH

PSYCHOPATHY HEALED BY ENERGY ENHANCEMENT - REMOVING BLOCKAGES IN CHAKRAS OUTSIDE THE BODY IN THE ANTAHKARANA

ENERGY BLOCKAGES ARE THE CAUSE OF THE DEMOCIDIC PSYCHOPATH, THE SCHIZOPHRENIC, AND MANIC DEPRESSION. WITH EXAMPLES STALIN, HITLER, ENRON AND MAO

Existentialism and Kubrick's Psychopaths in the Films of Stanley Kubrick.

George Lucas, Star Wars, the Revenge of the Sith, and Psychopaths

ENERGY ENHANCEMENT AND Trauma, Pain, Relationships, Divorce, Piercings, Tattoos, BDSM, Sex, Sex Addiction, Tantra, Gambling, Homosexuality, Lesbianism, Drugs and Addiction, Bad backs, Heart Disease, and Cancer.

The Energy Enhancement Commentary on the Baghavad Gita Chapter 16 - THE QUALITIES OF THE SELFISH COMPETITIVE PSYCHOPATHIC EGO....

The Psychopath and the Buddhist Icchantika

THE LEFT AND RIGHT HAND PATHS OF INITIATION..

The higher the chakra the higher the power or energy. Lucifer, the "Light Bringer" creates Illumination only from the Star Sirius, cut off from God above, from the, "Black Lodge of Sirius", alas a light cut off from God by implant blockages implanted in the Antahkarana above Sirius thus cutting himself off from conscience. This is symbolised by Gods or statues of Gods at the top of a column without any higher connection - the Enochian Watchtowers of Doctor Dee, Secret Agent of Queen Elizabeth the First, code name 007.
CLICK BELOW
The Antahkarana, the Watchtowers of Dee's Enochian Keys and the Chakras above the Head - The Perverted Kundalini Key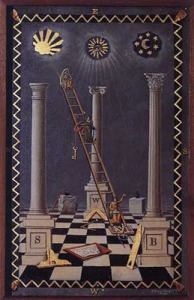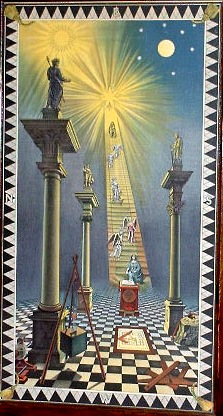 The Star Sirius and the Watchtowers upon which the "Gods" or Black Magicians live without any connection with the higher energies of the one true God like statues live on top of Antahkarana columns - disonnected by implant blockages above the head. Fallen angels are disconnected from God together with their Master, Satan.


The watchtower System necessitates the creation of more restriction through the creation of Addiction - through Drugs and Sex - where you absorb Implant energy blockages - implanted into the bodies of all humanity for thousands of years - which steal energy from everyone and sends that energy back to the implanter since Watchtower students, having blockages above the head, cannot absorb the energy of God. The hypersexualisation of humanity, pornography, perversion, homosexuality, paedophilia raises tremendous energy for vampiric false Gods.

Click here for.. THE MATRIX - ENERGY ENHANCEMENT ENERGY CONNECTIONS, ENERGY CORDS, ENERGY BLOCKAGE IMPLANTS AND THE MATRIX

ENERGY ENHANCEMENT IS THE RIGHT HAND PATH OF ILLUMINATION
There also exists a, "White Lodge of Sirius" connected to the chakras higher than Sirius and to God and this also has the Path of Illumination, of Enlightenment - Initiations which create trusted Initiates, permanently fused with their Souls, Conscience, Intuition, Goodness and Mercy.. and God..

So, we have a World filled with human, "Monsters" or "Unmade Men" and it is against their egos to tell them that. That they need perhaps one hundred lifetimes of experience of entering into every type of evil, and its judicial return, Karma, before they can freely choose to fuse with their Souls and God and become Enlightened.
OR THEY CAN DO IT NOW, WITH ENERGY ENHANCEMENT..

A person who is just not ready to become enlightened is like a wolf cub brought up by humans.
The wolf cub can only grow up to become a wolf.
"How can the leopard change his spots?" the spots being Energy Blockages - and as you know, only Enlightened Masters can remove Energy Blockages.

Such a person can only complain at the return of his Karma.

Like Coppola's Dracula (1992) he can complain to God about the suicide of his wife and then, "How could you do this to me?" "Now I am against you" and he turns into a Vampire Black Magician Psychopath to suck the blood out of God's creation, "The blood is the life!" However the story shows that even a Black Magician Psychopath can be Redeemed by Love.


Like Salieri in Amadeus (1984) he can complain about not being given by God the Genius of Mozart, "I will harm, I will hinder, I will Kill, your incarnation" as he burns the statue of Christ in the Hearth.

"One complaint and Heaven and Earth are set infinitely apart" - From the Third Zen Patriarch Sosan, from, "The Enlightened Mind of Sosan"


Yet the Sufis say,
"When a Parrot and a Black Crow are put into the same cage, do you think it a only an accident when the Parrot escapes" - Idries Shah
The Parrot is you, the Crow is the Black Magician Psychopath, the escape is Enlightenment.
This is the plan of God on this Planet.

There are 200 billions of Souls attached to this planet and every one requires one hundred lifetimes before the can be fully made.
You can weep. You can wail. But you cannot change your spots quickly unless you choose Energy Enhancement, NOW!!
You can speed up your process to Enlightenment..
ENERGY ENHANCEMENT IS THE RIGHT HAND PATH OF ILLUMINATION
Research..
EE HOME PAGE INTRODUCTION https://www.energyenhancement.org/
For more Movies See.. https://www.energyenhancement.org/Spiritual-Movie-Reviews-Satchidanand/Index.html

Free Streaming Video Energy Enhancement Initiation One - Just Sign up on the mailing list.
ENERGY ENHANCEMENT GOODNESS - The LORD Is My Shepherd - Psalm 23 by Energy Enhancement
HOW TO BECOME GOOD
HOW TO BECOME GOD

BE GOOD, DO GOOD!! GOODNESS, WILL TO GOOD, ABILITY TO DO GOOD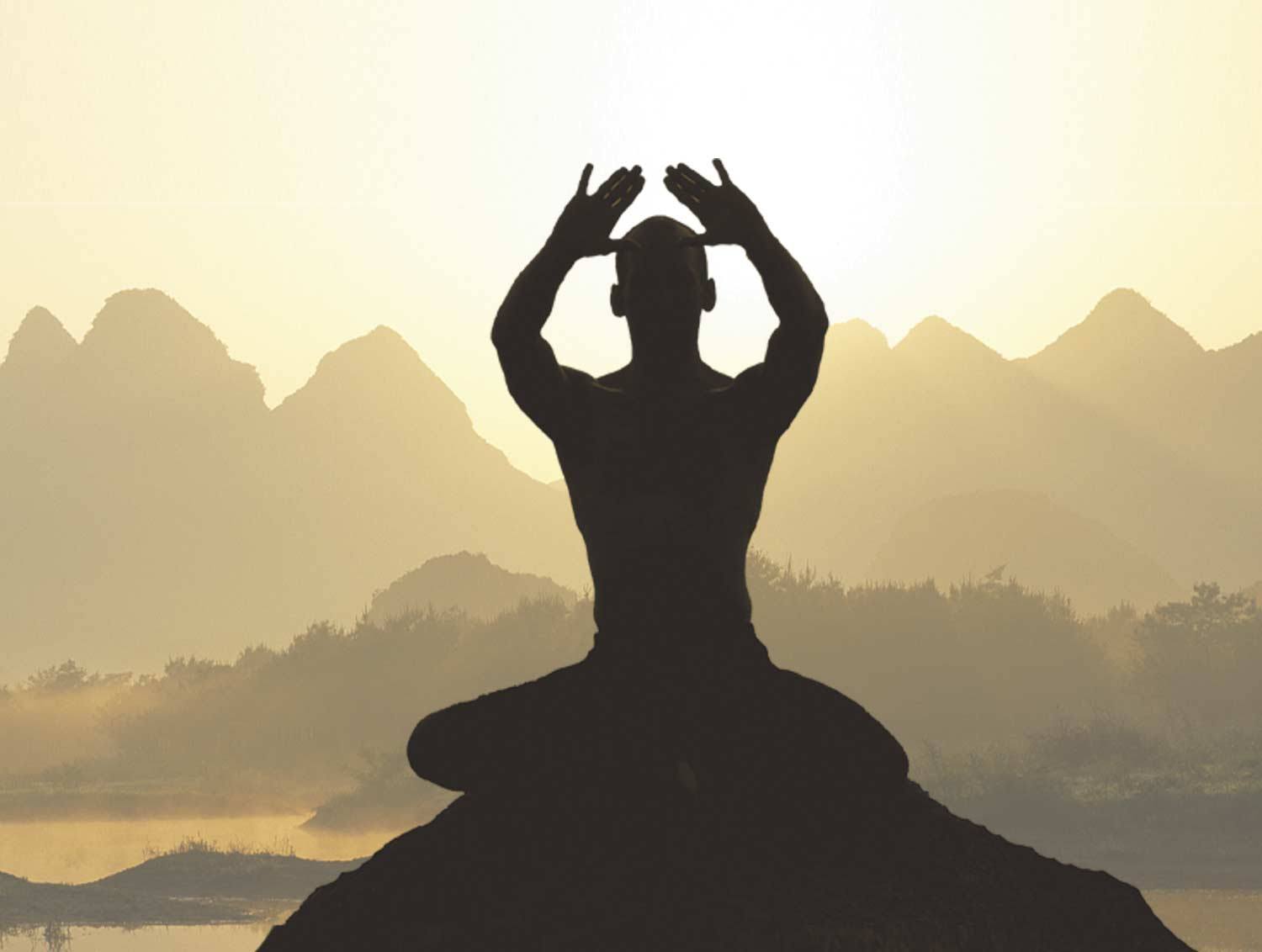 Energy Enhancement Samyama is much faster.

Energy Enhancement is the practise Designed for the Illuminated who seek more Illumination.

Energy Enhancement needs to be learned Now by each Guru in order to improve their ability to remove energy blockages.

It always hit me that all the problems of humanity were easily solved yet there is a dark force against these easy solutions and the name of them is Energy Blockages. They exist in every human being. They want to hurt and harm you and all humanity They create all disorder in your life.

Without that disorder we stand full forth in the Light of Creation.

Gurdjieff mentioned that the problem of all Humanity was "Kundabuffer" and whilst the "Kundabuffer" Energy Blockage was present in Humanity then that Human was living in a La La Land of Utter Illusion - the land of the carbon credits tax, global warming, and the highly leveraged casino economy ISA 401 retirement mutual funds - as if Hypnotised.

Essentially, all humanity are Angels, pure and in the light, yet as they absorb more and more Energy Blockages so they become more and more taken over, more and more evil.

The Shaktipat of the Master can infuse his "Radiating Point of Crisis and Production of the Necessary Tension" within the Energy Body of the Student so as to give real spiritual experience yet it is the decision of the student, usually taken as a vote between the Human Angels and the Evil Energy Blockages, as to whether he can continue. This process is called the development of the Will - equally important as Love, Intuition, conscience and Intellect.

All the negative things which happen to you happen because of the Ancient Karma created by these energy blockages, lifetime after lifetime.

Only by removing those ancient energy blockages which travel along with your energy body, lifetime after lifetime, can a Human being become truly good. Can your Karma Improve..

So, I can talk to the human Angel and the Angel understands about goodness and about the need for Energy Blockage removal and that it can only occur through meditation, taught to all initiates for 5000 years - yet the evil nature of the energy blockages does not allow you to maintain your promise to meditate, "for a long time, constantly and with enthusiasm" - Yoga Sutras of Patanjali.

To maintain..

Perception of the Program

Participation in the Purpose

Prevention of Evil

Learning Energy Enhancement Meditation is Easy.

Easy to to gain Energy Really Quickly With Energy Enhancement Level One

Yet to become Illuminated, to remove all energy blockages is like learning French, or Learning how to play the Piano, or getting a Masters Degree from University. With Gurdjieff, with Method Acting, with meditation, with the masks we have ways of bringing out the Energy Blockage Sub-Personalities of the selfish, competitive, vain ego which destroys everything around them. Yes, we can see them!! Only with Energy Enhancement do we have a technique which can ground them, purify them, eliminate them!! Never to return. What remains is shear Illumination!!

PRACTISE MAKES PERFECT!!

Only then can we be convinced that Love and Goodness is of far greater importance than greed, pride, territorial grabbing, and material possessions.

Example..

Modern fertilizers deplete the soil of 60 essential to health minerals. The method of putting minerals back in the soil is to put on the land a few tons of ground up granite dust. Very easy to create with big machines. As the rains hits the dust it dissolves the necessary minerals and puts them in the soil ready for the plants to pick them up just as it does in the glaciers. It also aerates the soil. Repeat every 5 years. Cheap and simple!!

Pesticide Poison is one of the ways in which we also lose energy. Over enthusiastic use Pesticides on farms to remove pests and in supermarkets they spray vegetables on the shelves to keep the food fresh on the shelves longer. Pesticides use up all your Minerals and supplements and protein quickly to overcome the effects of the pesticide poison which reduces your ability to procreate, reduces your energy, and then kills you before your time...

Failing the cheap and effective ability to detect poison in food which all animals have naturally, which we learn with Energy Enhancement Level One, Initiation Five - The Projection of Energy; - Organic Food is the path to peace.

THE NEW ENERGY ENHANCEMENT MEDITATION STREAMING VIDEO COURSE - BECOME A TEACHER OF ENERGY ENHANCEMENT MEDITATION

BUY THE ENERGY ENHANCEMENT MEDITATION VIDEO

GET THE BENEFITS OF ENERGY ENHANCEMENT MEDITATION

START NOW!!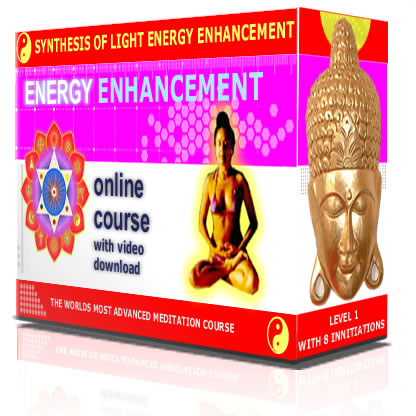 INTENSIVE VIDEO COURSE STREAMING VIDEO - sent by email QUICK!! - Buy Now

EMAIL sol@energyenhancement.org

Buy Now!!

GOODNESS - The LORD Is My Shepherd - Psalm 23 by Energy Enhancement

The "rod and staff" are the Antahkarana of our psychic body, the passage between Heaven and Earth, of an infinity of chakras above the head connecting us with God - with Immortality!!

1 The Lord is my shepherd; I shall not want.

2 He maketh me to lie down in green pastures: he leadeth me beside the still waters.

3 He restoreth my soul: he leadeth me in the paths of righteousness for his name's sake.

4 Yea, though I walk through the valley of the shadow of death, I will fear no evil: for thou art with me; thy rod and thy staff they comfort me.

5 Thou preparest a table before me in the presence of mine enemies: thou anointest my head with oil; my cup runneth over.

6 Surely goodness and mercy shall follow me all the days of my life: and I will dwell in the house of the Lord for ever.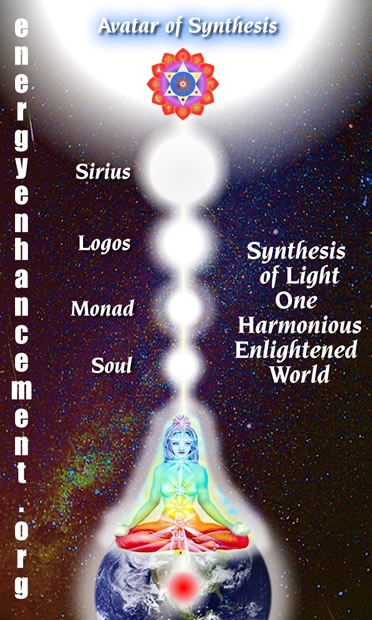 THE ANTAHKARANA WORMHOLE TUNNEL OF ENERGIES WHICH UNITES ALL THE CHAKRA REALMS OF THE DIFFERENT DIMENSIONS

Energy is infinite and free as long as it comes from the Chakras above the head, ending with God.. "I shall not want"

The constant Vampirism in Spiritual Energy grabbed from us by anyone capable of grabbing - Energy Vampires - is mirrored - "As Above, So Below" in the Oil and Coal market - "the Market of Lack, the Market of Poverty, the Market of Vampirism". Instead, energy is Free from the Sun above, from Fusion Power which has only a five Billion dollar investment per year whereas a hundred Billion dollar per year investment could produce infinite free energy for all humanity, quickly!! This small five billion dollar investment is a Blockage!! This is investment in the infrastructure, rather than in toxic derivative casino economy investments which bring a quick profit for the few, instead of real wealth for all humanity.

When there is no Lack, no want, then we can spend time making life Beautiful.. Removing all pollution, irrigating and making fruitful all the deserts... "He maketh me to lie down in green pastures: he leadeth me beside the still waters"

Once the Energy Blockages of the Antahkarana above the head have been removed in Energy Enhancement Level 2 - Eliminate Energy Blockages, then we can connect truly connect fully with the infinite energy of the first chakra above the head, the Soul Chakra - "He restoreth my soul".

Only the Soul can provide the Heart of Wisdom (Prajna Paramita) the Intuition, the Conscience to enable us always to do the Right Thing as opposed to the evil "Final Solution" of the Intellect.. of Hitler.. "he leadeth me in the paths of righteousness for his name's sake"

The energy of the Soul is Ananda, Bliss and is that which anoints us and fills us, charges us up with the charge of the Soul - "thou anointest my head with oil; my cup runneth over" .

Once we connect, we are always connected!! "And I will dwell in the house of the Lord for ever" He is talking about Enlightenment here!!

1 The Lord is my shepherd; I shall not want.

2 He maketh me to lie down in green pastures: he leadeth me beside the still waters.

3 He restoreth my soul: he leadeth me in the paths of righteousness for his name's sake.

4 Yea, though I walk through the valley of the shadow of death, I will fear no evil: for thou art with me; thy rod and thy staff they comfort me.

5 Thou preparest a table before me in the presence of mine enemies: thou anointest my head with oil; my cup runneth over.

6 Surely goodness and mercy shall follow me all the days of my life: and I will dwell in the house of the Lord for ever.

Some people have more Energy Blockages than others and these people are called psychopaths.

These people, psychopaths have no empathy, no Heart, no Conscience, No Soul.

Gurdjieff used to call them Hasnamus - Totally selfish, They have no We.

It says in the Hindu Bible, a conversation between God or Krishna, and Arjuna or the good part of you.

Translation of the Baghavad Gita Chapter 16 -

THE QUALITIES OF THE DEMONIC SELFISH COMPETITIVE PSYCHOPATHIC EGO....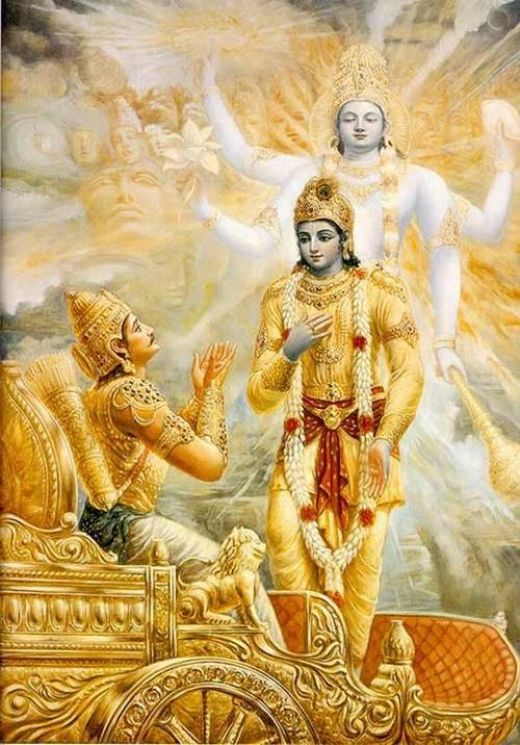 The Krishna Soul or the Goodness Soul Quality of removing Badness, Evil, Demons, Energy Blockages, Psychopathy
Persons of demonic or psychopathic nature do not know what to do and what not to do. They neither have purity nor good conduct nor truthfulness. (16.07)
Psychopaths say that the world is unreal, without a substance, without a God, and without an order. The world is caused by lust (or Kaama) alone and nothing else. (16.08)
Adhering to this view these psychopathic lost souls, with small intellect and cruel deeds, are born as enemies for the destruction of the world. (16.09)
Filled with insatiable desires, hypocrisy, pride, and arrogance; holding wrong views due to delusion; psychopaths act with impure motives. (16.10)
Obsessed with great anxiety until death, considering sense gratification as their highest aim, convinced that this (sense pleasure) is everything, (16.11) (See Adam Smith and his Wealth of Nations, based upon this evil philosophy of control through Pleasure and Pain)

Bound by hundreds of ties of desire and enslaved by lust and anger; they strive to obtain wealth by unlawful means for the fulfillment of desires. Psychopaths think: (16.12)...
This has been gained by me today, I shall fulfill this desire, this is mine and this wealth also shall be mine in the future; (16.13)
That enemy has been slain by me, and I shall slay others also. I am the Lord. I am the enjoyer. I am successful, a powerful siddha or black magician, and happy; (16.14)
I am rich and born in a noble family. I am the greatest. I shall perform sacrifice, I shall give charity to show off, and I shall rejoice. Thus deluded by ignorance; (16.15)
Bewildered by many fancies; entangled in the net of delusion; addicted to the enjoyment of sensual pleasures; psychopaths fall into a foul hell. (16.16)
Self-conceited, stubborn, filled with pride and intoxication of wealth; they perform Yajna, religious sacrifice, only in name, for show, and not according to scriptural injunction. (16.17)
Clinging to egoism, power, arrogance, lust, and anger; these psychopathic malicious people hate Me (who dwells) in their own body and others' bodies. (16.18)
I hurl these psychopathic haters, cruel, sinful, and mean people of the world, into the wombs of other demons or psychopaths again and again. (16.19)
O Arjuna, entering the wombs of demons or psychopaths birth after birth, the deluded ones sink to the lowest hell without ever attaining Me. (16.20)
Lust, anger, and greed are the three gates of hell leading to the downfall (or bondage) of THE Jeeva personality. Therefore, one must (learn to) give up these three. (16.21)


Look at 16.19 and 20 again.

I hurl these haters, cruel, sinful, and mean people of the world, into the wombs of demons or psychopaths again and again. (16.19)

O Arjuna, entering the wombs of demons or psychopaths birth after birth, the deluded ones sink to the lowest hell without ever attaining Me. (16.20)


And in the Energy Enhancement Karma Clearing Process, without any prompting by me, this is what one of our Energy Enhancement Clients, A Psychologist Doctor in charge of a large governmental Institution, said during Energy Enhancement Level Three - the karma Cleaning Process...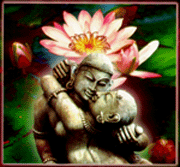 1500 years ago she was a beautiful lady healer with long blond hair who was on the path of righteousness. A bad guy saw her and through implanting her with an Implant sex blockage was able to make her fall in love with him. This bad guy turned her onto the dark side of the force and for 10 lifetimes this guy led her into bad paths of black magic, sex and sado-masochism, abusing many different people. Then, as happens to all on the dark side she was defeated (LITERALLY DE-FEETED, her base chakra was broken and implanted by another bad guy)
And she entered into 100 lifetimes of sexual abuse, serving as a sex slave and as a spiritual battery for the bad guy who implanted her.
She saw all of these previous lifetimes and in this lifetime she said, "I was sexually abused by my Father, my Mother and my Grandfather as was my sister and brother. Only psychology saved me. My brother and sister are both Heroin addicts and they have both tried to commit suicide. But psychology only goes so far, and this is why I am here for Energy Enhancement, to Ground all these bad memories, to clear up my Karma, to be forgiven.

She was learning why she had been given these experiences. Karma, the law of consequences, says we have been given the free will to learn the consequences of taking the wrong path. In reality we are only allowed the freedom of making the right choice. Everything which has a beginning has an end.
And further, with Energy Enhancement, how to totally heal the entire stuation, how to dissolve the negative karmic energies which were throwing her into these hells time and time again. How to remove all the implants which were turning her into a batttery and not allowing her to generate the energy necessary to get her out of this black hole pit she was in.
How to cut off all connections with the Dark Side, "seal the door which evil dwells" so that they could not attract her into bad ways again and become independant and free of all negative influences. How to gain infinite positive energy from the side of Light and goodness and purpose and will. She was learning how necessary it is to stay away from evil and to cleave to the good.

If you desire anything on this planet remember, you cannot take anything with you when you die except your evolution. So please evolve through the kindness of those sent to this planet to help you. They are here in every generation, just for you. This is the promise of the Baghavad Gita.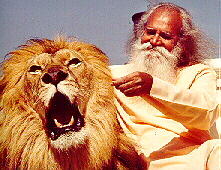 My teacher, Swami Satchidananda said that when he was young he could touch people and take away their cancer, he could touch people and take away their heart disease yet after three years he noticed that these same people were coming back with the same problems. He realised that unless they changed their minds also, it was not possible to heal them permanently. They had to learn to do it for themselves. So he started a program for yoga and meditation and if the people were good, perhaps a little bit of healing could enter from the side.

Once a Swede came to Swami Satchidananda with a grave abdominal problem. Swami said, come to the Ashram for 6 months and learn Yoga and meditation and practise every day and your problem will be solved. So after 6 months the guy came to swami and said, the problem has not gone away. Swami asked if he had done everything, the yoga, the meditation and had practised every day and the guy said yes. So Swami moved his hand close to the abdomen and made a catching and pulling motion with his right hand as though he was pulling something out of him. He then asked him how he felt and the guy said the pain had gone. It never returned.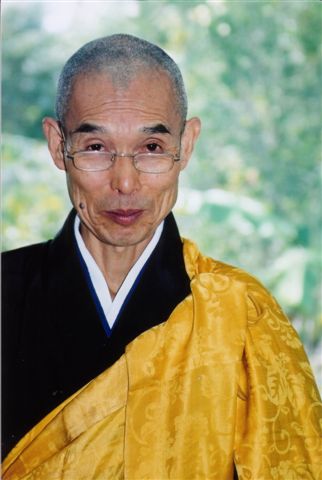 I remember Zen Master Hogen when I was with him in The Greek island of Lesbos acting as his general factotem and dogsbody. We lived together in the same house for two weeks and one night I had a dream. I was lying on a stone slab as a dead King.
In dream Hogen came to me and leant over my body from the hips and sucked out my right eye.
He cleaned it with his mouth, took it out, polished it playfully and then put it back into his mouth, leaned over me again and spat it back into my eye.

The next day I found out that Hogen had done something very stupid. He had put some strong eucalyptus oil, Olbas Oil, on his finger and put it into his right eye. So, the students cleaned it out with water and he wore an eye patch, like a pirate, for the rest of the time there. It must have been very painful for him yet these things are done for the benefit of the students. Thus the Master from time immemorial has absorbed the Karma of the Students.
I asked Zen Master Hogen what he had done in past lifetimes and he said he had been a Guinness (Karma) maker. Now in this lifetime he was drinking all the Guinness. He was absorbing and transmuting all the karma. And this was the symbolism of his students giving him a can of Guinness every time They met him.

Swami Satchidananda told me that Yoga was the gaining of Psychic Vision and when necessary the blockages of the students are removed.


There are many examples gleaned from many experiences and books when I was six I saw all my previous lifetimes in a dream. From the age of 14 when I saw my own death and started to practise Yoga. From the age of 21 when saw my own death again - Hurry UP!! - I started to read spiritual books and train with the National Federation of Spiritual Healers of Great Britain and then later to become a Yoga teacher and teach those with Multiple Sclerosis in my local class and at Ickwell Bury a The Yoga Foundation for Health run by Howard Kent near London.
I had to stop the class after a while, with breathing, pranayama, and spiritual healing they all got well.

And last but not least my training and experiences from the age of 28 with Zen Master Hogen Daido Yamahata and Swami Satchidananda - two enlightened saints and Siddhas whose whole lives have been devoted towards the benefit of everyone who met them.
Swami Satchidananda has now passed on at the age of 89 in 2002 but you can meet Hogen, student of the famous Zen Master Tangen Harada Roshi, in Japan at his Zen Temple on the slopes of Mount Fuji or at his Ashram in Australia.

In Energy Enhancement we teach you how to do it for yourself. We provide a field of positive energy to help the process called the Buddhafield and from time to time, if you need a little help, we give it. But we are merely midwives or guides, and it is you who must walk every step of the way by yourselves and when you have done it you must also know that you have been carried every step by goodness and mercy.

What makes you think that you have done anything? Only the Ego. And yet it is true, with the collaboration of infinity, you have done everything by yourself.
Demons in ancient times have been renamed Psychopaths.
These Energy Blockage types sometimes are members of ancient organisations and do not want to help humanity - instead they want to hinder and harm and they want power over Gods creation. Thus all the Hindrance and Harm!!
YOUR MAJOR POWER IS THAT WHICH YOU HAVE OVER YOURSELF
REMOVE ALL YOUR ENERGY BLOCKAGES WITH ENERGY ENHANCEMENT!!
As you purify and remove your