email sol@energyenhancement.org for details
---
Olympia Panza.
Here is a Testimonial from written by Satchi from a report given him by Olympia Panza.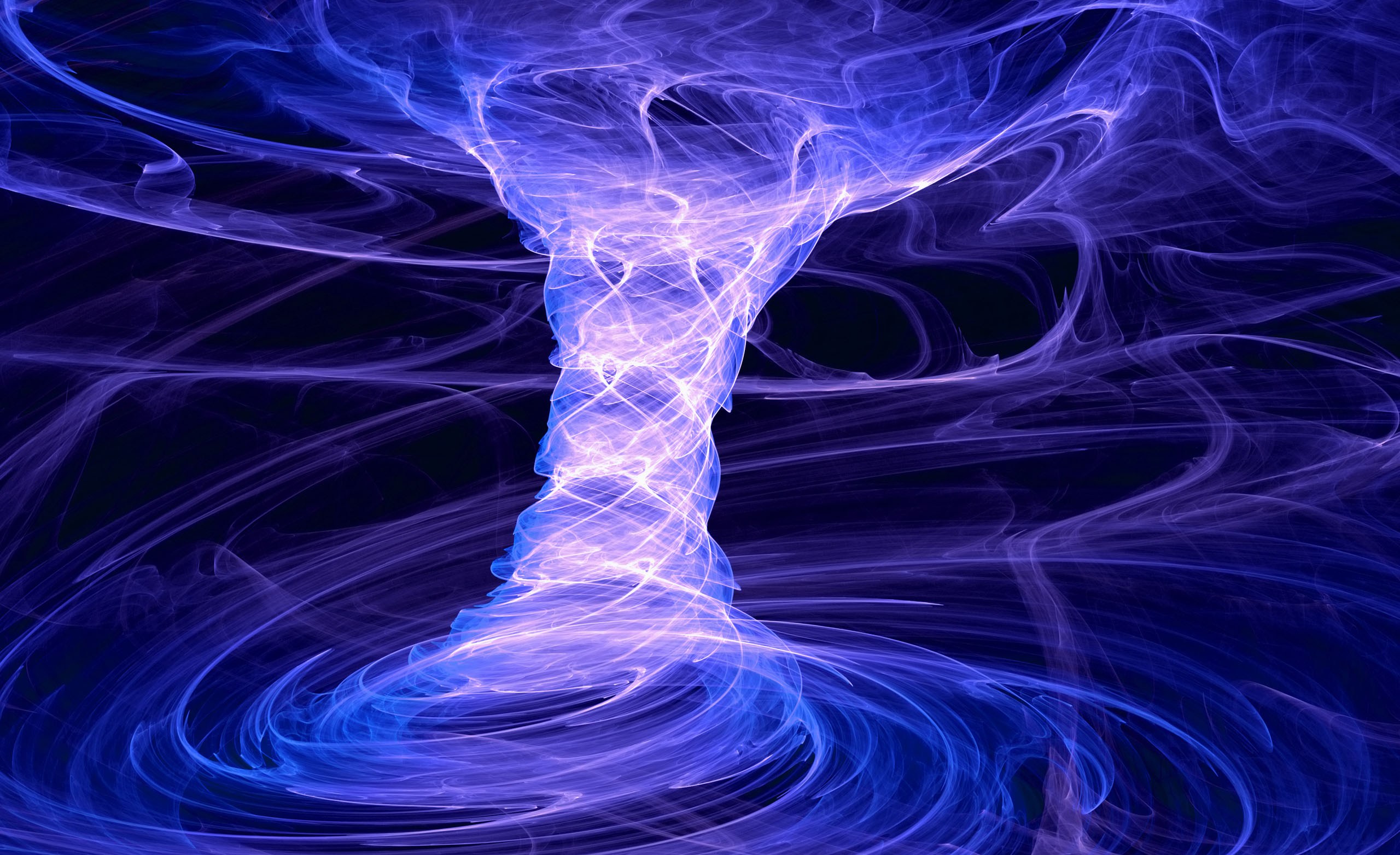 When I came to see Satchi at the airport for the first time I was struck by his energy but it was the second time, when he was talking to another student when meeting us off the train at Figueres that I really started to feel the Buddhafield of Energy Surrounding him

Suddenly I started yawning like the big healer guy in "The Green Mile" and then tears started from my eyes and I felt I was getting rid of a lot of Painful memories from the past.

Satchi taught us meditation and the Circulation of the Energies in order, as he said, "To improve our psychic vision" During these initiations I saw all my Energy Blockages in colour!! I saw my abdomen filled with blackness and thought back to my first periods, filled with pain, my inability to breathe properly and the problems I have with digesting food.

I saw all the brown clouds of pain filling my lumbar region and the problems with the throat chakra making me understand my problems with communication and the Peter Principle, we always do that which we most need to learn, which caused me to become a journalist and an arabian belly dancer teacher.

Satchi saw/felt them too and asked if I would like some healing because he explained that normally he liked to teach the Removal of Blockages Techniques of Energy Enhancement Level 2 and let the students heal themselves, but because I was going before he could teach that, he thought that a little band aid would be helpful because he felt that the abdominal blockages were not made in this lifetime but had come to me from my previous lifetimes.

I lay on my back and Satchi placed his hands over my abdomen and I drifted off to a place of peace. I imagined myself lying on the grass in the sunshine. I saw Satchi as an energy there too, blowing through me like the wind. In this space I was a man, and not a woman as I am in this lifetime, and very focussed and filled with anger. Many images of women relationships passed in front of me some of them pregnant and I saw that I had no respect for the women in my life. I was wounded in the right side of my belly and I was dying.

As Satchi healed my belly I felt the pain of the wound I was dying from and people watching me said that this pain was reflected in my face. Finally the pain was gone and Satchi said that was enough for now. The previous lifetime had been healed and I had been brought face to face with attitudes in a previous lifetime, anger and a lack of respect, being mirrored in this. I saw how my irritation and anger was taking me away from my infinite peace and how these attitudes were reflected back at me in my relationship with my husband.

It was interesting that the relationship chakra, the abdomen, the place I was wounded was reflecting my previous attitudes and the Karma of those previous lifetimes was being given back to me so that I would be taught never have those attitudes again. I want to learn from my mistakes.

Satchi says you only get visions if you need to learn something.

Satchi explained that the intellectual level thought that it could solve everything just like this.. "I should not get angry!!" but that the intellectual level did not have the power to make that promise because its links with the emotions were broken, blocked and faulty.

He explained that the intellectual level similarly says, "The whole world should be filled with peace." Yet for 10,000 years there have been one or two wars every year.

The Techniques of Energy Enhancement allow the mind to have the power to implement its decisions through the Removal of Negative Emotions. The removal of Energy Blockages, which create physical disease in the body and negative emotions in the mind.
THE POWER OF TOTAL CONTROL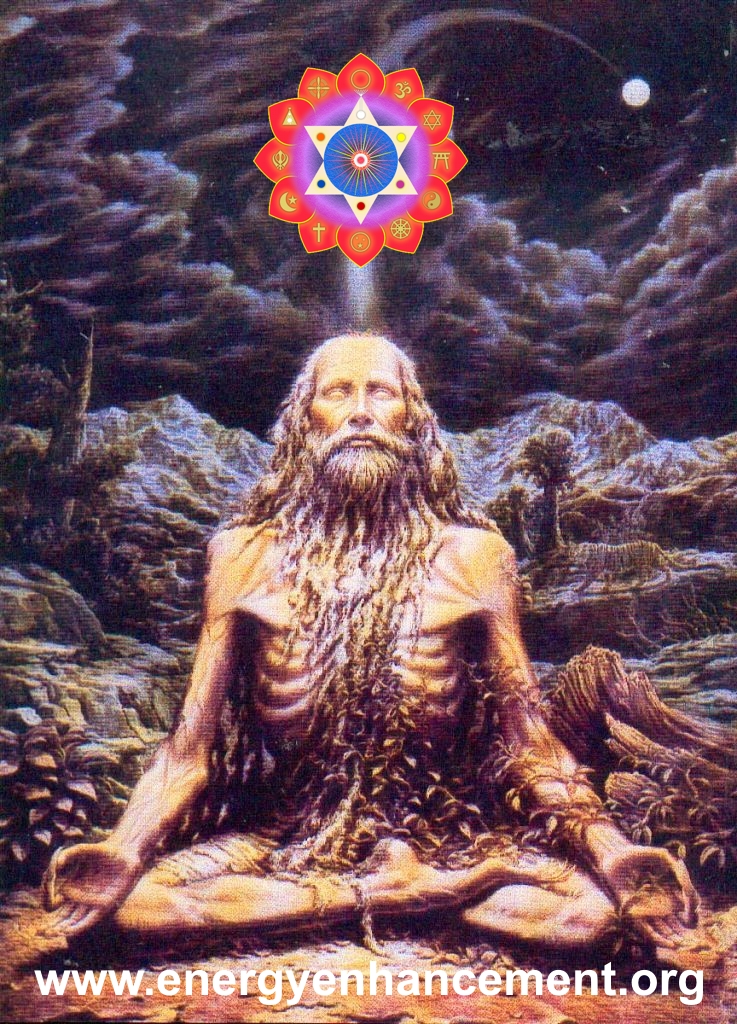 SATCHIDANAND AND DEVI DHYANI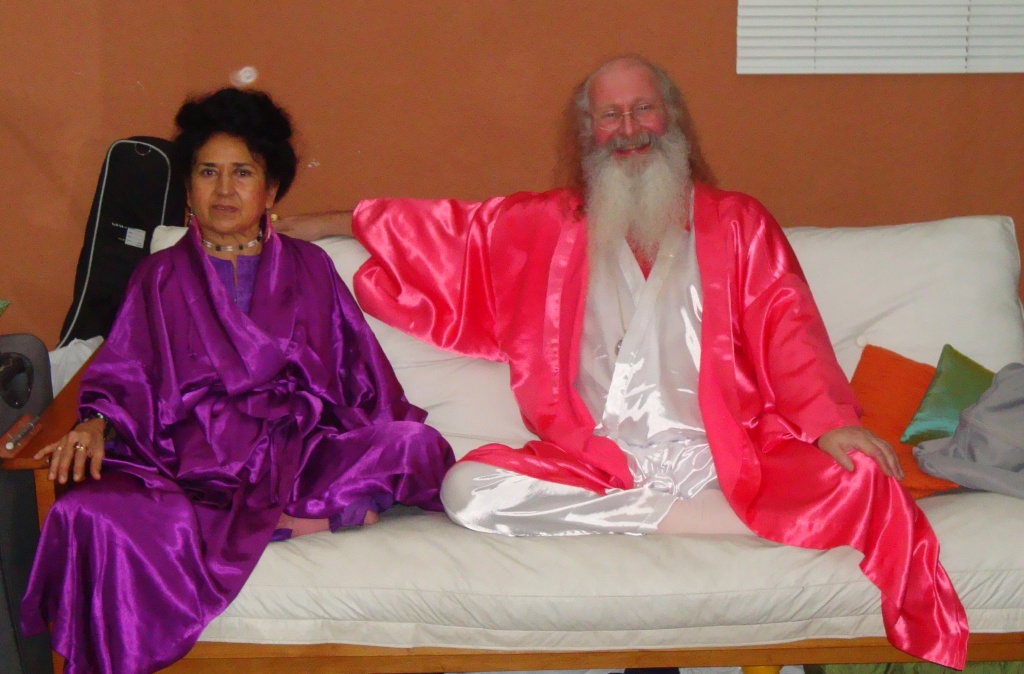 GROUNDING IS THE START OF THE KARMA CLEARING PROCESS.
KARMA CLEANING PROCESS, CLEAN THE KARMA FROM PAST LIVES, FUTURE LIFE, FUTURE LIFETIMES, SOUL FRAGMENTATION AND RETRIEVAL, INNER CHILDREN, SELFISH EGO SUB PERSONALITES, LIFE DESTROYING STRATEGIES, THE ALOOF, THE INTERROGATOR, THE VIOLATOR, THE SELFISH COMPETITIVE STAR, THE VAMP OR DON JUAN, THE PLEASER, THE BLAMER, THE CRITIC, THE KING, THE SELF DESTRUCTOR, ALL THE DESTRUCTIVE VOWS FROM THIS AND PAST LIFETIMES, THE CREATION OF SELF LOVE, LOVE AND SERVICE.
Spiritual Experience is a million times better than listening about it or reading the books

ENERGY ENHANCEMENT EXPERIENCE

is the proof of the books!!

And he got this experience and many more like it because he has been on the Energy Enhancement Course!!

And everyone who comes on the Energy Enhancement Course or tries the DVD Course gets many spiritual experiences.. just READ the Reports of our Students

Come try it Yourself...

UK DVD STUDENT JAN 2011

"Oh and using your technique I've very recently just shifted a massive block from the sacral which has aided my grounding and all other chakras. From this my solar plexus will be working much more effectively and so will attract more abundance so paying you should be less difficult."



USA DVD STUDENTS JAN 2011

"Dear Satchi and Devi, We were happy to hear from you! We are still in the process of moving to a new place and we maybe making a much larger move than we once thought. We are very excited! The new levels sound great! I turned 24 on the 9th of January and leading up to that day I was going through a lot of karmic mass related stuff. I worked everyday to ground some negative energy and I now feel better and lighter than ever! I understand more of myself now too and feel more able to show love to myself and all those around me. And also I feel this experience has made my meditation experience even stronger!

You are both an inspiration of love and light and we are blessed to have you in our lives!" Much Love and Light!" USA DVD STUDENTS JAN 2011

"I had to burst out in laughter as I listened to Track 9.. It is perhaps the most powerful, insightful, cosmic, depth-charging piece I've ever experienced in all my lifetimes — I literally felt the gears locking into place as I watched and listened.

I was receiving downloads in my soul throughout that remain there untapped consciously for now, but I could feel their luminosity and comfort" USA DVD STUDENT JULY 2010 "J"

CLICK HERE FOR SACRED BEETHOVEN'S NINTH


DEVI DHYANI - SACRED DANCE - SACRED BEETHOVEN'S NINTH DVD - HD AND 5.1 SURROUND SOUND DIRECTED BY SATCHIDANAND

SACRED DANCE IS OUR WAY OF GIVING KUNDALINI ENERGY TO OUR STUDENTS

IT IS GIVING THE SACRED SEED OF ENLIGHTENMENT TO ALL WHO WATCH

ARE YOU READY?

ARE YOU READY TO RECEIVE?!!

ENERGY ENHANCEMENT IS EXTRAORDINARY - ALL OF THE STUDENTS GET INCREDIBLE ENERGY HEALING EXPERIENCES!!!

ENERGY ENHANCEMENT TEACHES YOU HOW TO REMOVE ALL THESE PAINFUL PARTS AND EMOTIONS WITHOUT ANY PAIN OR PROBLEM, JUST THROUGH MEDITATION AND THE PRESENCE OF YOUR TEACHERS, IN THE BUDDHAFIELD..

Gurudeva is a Stream of Knowledge


A time comes when the seeker goes through a period of argumentation with herself and cannot decide. At this time a real preceptor is needed. How will you find the right master? No one can search for a preceptor. There is a saying in the scriptures: "When the disciple is prepared, the master appears." This happens only because of samskara energy blockages. Teacher and student samskara energy blockages are very ancient and strong.

If you are not prepared by some sort of daily spiritual practise, he will be there, but you won't notice or respond. If you do not know what a diamond is, the diamond may be there, but you ignore it and pass it by, taking it to be just a piece of glass. Further, if you do not know the difference, you may acquire a piece of glass, think that it is a diamond, and cherish it your whole life.

A genuine spiritual teacher, one who is assigned to teach according to tradition, searches out good students. He looks for certain signs and symptoms; he wants to know who is prepared. No student can fool a master. The master easily perceives how well the student is prepared. If he finds that the student is not yet ready, he will gradually prepare him for the higher teachings. When the wick and oil are properly prepared, the master lights the lamp. That is his role. The resulting light is divine.

You need someone who can guide and help you. You need an external guru as a means to attain the guru within you. Sometimes you may become egotistical and decide that you don't need a guru. That is just ego talking.

You will never meet a bad guru if you are a good student. The reverse is also true; if you are a bad student, you won't meet a good guru. Why should a good guru assume responsibility for a bad student? Nobody collects garbage. If you are in search of a guru, search within first. To become a yogi means to know your own condition here and now, to work with yourself. Don't grumble because you don't have a teacher. Ask whether you deserve one. Are you capable of attracting a teacher? Are you prepared to be guided?

There is a vast difference between an ordinary teacher and a spiritual master or guru. That which dispels the darkness of ignorance is called guru. In the West the word guru is often misused. In India this word is used with reverence and is always associated with holiness and the highest wisdom. It is a very sacred word. It is seldom used by itself, but always with its suffix, deva. Deva means "bright being." An enlightened master or guru is called gurudeva.

When a student goes to a guru, he takes a bundle of dry sticks. With reverence and love he bows and says, "Here, I offer this." That indicates that he is surrendering himself with all his mind, action, and speech with a single desire to attain the highest wisdom.

The guru burns those sticks and says, "Now I will guide you and protect you in the future." Then he initiates the student on various levels and gives him the disciplines to practice. The guru imparts a word and says, "This will be an eternal friend to you. Remember this word. It will help you." Then he explains how to use the mantra. That is called mantra initiation.

You may try your best to do something for him, but you cannot, because he doesn't need anything. You wonder, "Why is he doing so much for me? What does he want from me?"

He wants nothing, for what he is doing is his duty, his Karma Yoga, his Soul Path, the purpose of his life. If he guides you, he is not obliging you; he is doing his work. He cannot live without doing his duty. Genuine gurus cannot live without selflessness, for selfless love is the very basis of their enlightenment. They radiate life and light from the unknown corners of the world. The world does not know them, and they do not want recognition.

Such people are called gurus. They guide humanity.
As the sun shines and lives far above, the guru gives spiritual love and remains unattached.

Guru is not a physical being. Those who think of the guru as a body or as a man do not understand this pious word. If a guru comes to think that his power is his own, then he is a guide no more. The guru is connected to and channels the light of the chakras above the head, he is connected to an Ascended Master Saint tradition, he is a stream of knowledge. That stream of knowledge goes through many channels. Christ also said this when he healed people: "This is because of my Father; I am only a channel."

A guru should receive your love and respect. If my guru and the Lord both come together, I will go to my guru first and say, "Thank you very much. You have introduced me to the Lord." I will not go to the Lord and say, "Thank you very much, Lord. You have given me my guru."

The master's ways of teaching are many and sometimes mysterious. He teaches through speech and actions, but in some cases he may teach without any verbal communication at all. The most important teachings have their source in intuition and are beyond the powers of verbal communication.

It is a great joy, perhaps the greatest day for a seeker, when she or he meets her/his beloved Master, who is totally selfless and loving like an ocean of bliss, overflowing with love all the time.

Search for the guru within yourself and anyone who leads you to your inner guru is your guru.

'Lotus feet' means the feet that are on the ground, but never touch the ground. One who lives in the world and does not belong to the world, one who is overflowing with love, for such a great soul the poets and writers say, 'lotus feet.'

Such a great man has power to show the path of freedom to others. Whether he is in the world or outside, he can also heal the sickness arising from karmic debts. He can remain untouched and above without being involved or reaping the fruits arising from others' karmic debts. A true master has control over himself and moves freely in the world.

When a potter has completed making his pots, the wheel of the potter still rotates for some time, but is unable to manufacture pots. For a liberated soul, the wheel of life remains in motion, but his karma does not create any bondage for him. His actions are called actionless actions.
When the student is competent, has grown sufficiently not to stop the process of Illumination through gaining sufficient Light of Samadhi/Discrimination to stop listening to his Energy Blockages instead of his Soul so as to continue to tread the path of enlightenment it becomes easy for a great man to guide him, and one day he also attains ultimate freedom.

GURUS MORE.. LIVE ENERGY ENHANCEMENT MEDITATION SAMADHI AND SAMYAMA - THE KUNDALINI KRIYAS

HONEY KALARIA - ENERGY ENHANCEMENT, THE MOST ADVANCED MEDITATION COURSE IN THE WORLD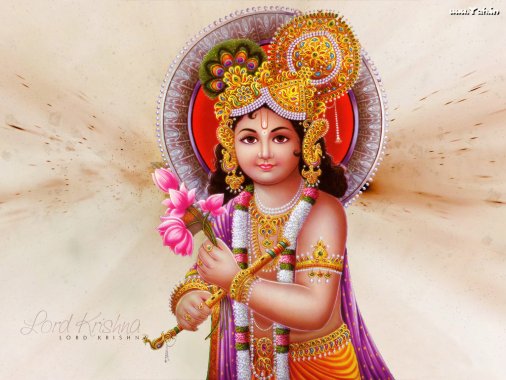 Energy Enhancement Course has been described as the "most advanced meditation course in the world" and I totally agree. It is thorough, the techniques are effective, the knowledge hugely expands your awareness levels, your intuition and perceptive powers increase tremendously, you feel greatly energized with the meditative practices and the course has brought profound changes in my behaviour and in the way I see things.
BENEFITS OF THE ENERGY ENHANCEMENT COURSE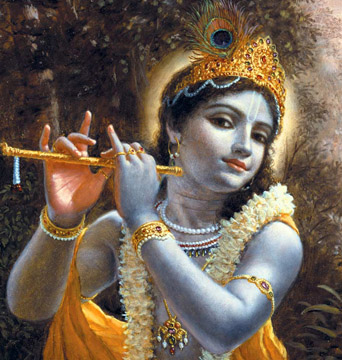 KRISHNA AND THE ANTAHKARANA FLUTE
There are many souls on this earth (whatever faith or belief systems they come from) who could hugely benefit from this unique course. The powerful energy that they receive can be used to help themselves and mankind, making this world a better place. The energy allows you to heal yourself and others, enables you to master relationships, removes bad luck and obstacles from your life, assists you to become a more soul infused personality, works towards removing the Ego, your meditation will become deeper and your concentration levels will increase (great for exams or bringing out the genius in you) ensuring that all areas of your life gets touched by the spirit of God. As Satchiji says "Energy Enhancement, The Core Energy Techniques, is the Most Advanced Meditation Course in the World which will accelerate any other course or Technique you care to use," and "anything you do to benefit others will automatically get support from spiritual energy, allowing your work to become more successful" .
Both Satchiji and Devi are beautiful and inspiring souls, passionately committed to helping people grow spiritually and accelerating each students progress towards enlightenment.<>
<>They allow the students to grow at their own pace, whilst passing on profound knowledge and techniques in a light hearted and joyful manner. Both of them have extensive knowledge, possess strong perceptive powers and bathe people around them in the strong Buddhafield of energy that surrounds them. They have both made my stay in Argentina a delightful and a memorable one.
As I realized how wonderful and life transforming this course is, I got inspired to make this course available to others in London.
There will be a small group of people who will be able to take advantage of this "revolutionary meditative program" in London and be honoured to learn personally from the Great M aster , Satchidanand .
Trust me, the course is priceless and even paying Ł10,000 each would have been a bargain! Why should you not give yourself the opportunity to do a fast track program that will allow you to achieve the same results in a year, that would have taken you over 20 years to obtain with any other course.

Guru and Divine Grace by Swami Rama
From: Sacred Journey: Living Purposefully and Dying Gracefully




In the effort to understand life and approach death meaningfully, vairagya [non-attachment] and abhyasa [practices] are the responsibility of the seeker. When these two are truly undertaken, another help follows. That help comes in the form of guru and grace, each linked to the other, each so beautiful and comforting, each so powerful. Unfortunately, each is so frequently misunderstood.

Western culture, which has increasingly welcomed and embraced traditions from the East in the last thirty years, has too often understood guru to mean simply a teacher. In the West guru is frequently considered to be merely someone who is trained in philosophy, meditation, and hatha yoga. From this point of view, the guru is expected to share this knowledge with the students, training them in scriptures and various spiritual disciplines. While the western student may become dependent on the teacher and have high expectations about what the teacher should do on behalf of the student, the guru is nonetheless viewed as a teacher only.

In ancient times students received formal education in guru-kulas. The students lived with their guru from an early age and were given not only instruction on an intellectual level, but also were guided in spiritual development and in the maintenance of physical health. The guru had a very close relationship with the students and knew their habits and level of inner strength.

In today's life there is no spiritual environment in which a seeker can fully concentrate on learning the language of silence in order to find inner fulfillment. It is very difficult for the student not to be distracted by the temptations of the external world. Modern education focuses on memorizing facts of the external world, and ignores the growth and development of the inner being. The guru-kula system of ancient times is not practical in today's world, but a more holistic approach to education can be adopted. Such an approach emphasizes spiritual growth along with the development of the intellectual aspects of the mind, and also includes guidance in how to maintain the fitness and health of the physical body. In the eastern tradition guru is much more than a teacher. He or she represents the special energy that is guiding individuals toward their fulfillment as human beings, toward perfection. Grace is the impulse of that energy.

The word guru is a compound of two words, gu and ru. Gu means darkness and ru means light. That which dispels the darkness of ignorance is called guru. The energy and action of removing darkness are guru. Guru is not a person, it is a force driven by grace.

There is an intelligent momentum that pervades
the universe that is moving all human beings
toward the perfection we call God.
Guru is that intelligence.


To put this another way, there is an intelligent momentum that pervades the universe that is moving all human beings toward the perfection we call God. Guru is that intelligence. Everyone's receptivity to that intelligence varies. It depends on preparation, which includes the development of vairagya or nonattachment, and abhyasa or practice. In other words, guru is always there, but the student may not be ready to receive what the guru has to offer. When the student is prepared, the guru always arrives to help the student do what is necessary to progress in removing the veil of ignorance. It is said that when the wick and oil are properly prepared, the master lights the lamp.

The guru is a tradition, a stream of knowledge.


Guru is not a person, but guru can be represented in a person. One who has developed his or her own spiritual awareness to a very high level can guide others, and is considered to be guru. Only one who is finely attuned to the inner guide can inspire the awakening of the inner guide in another. Guru is not a physical being. If a guru begins thinking this power is her or his own, then they are no longer a guide. The guru is a tradition, a stream of knowledge.

In India guru is a sacred word that is used with reverence and is always associated with the highest wisdom. The guru is unique in a person's life. The relationship between disciple and guru is like no other relationship. It is said that guru is not mother, father, son, or daughter. The guru is not a friend in any conventional sense. It also is sometimes said that the guru is father, mother, son, daughter, and friend all in one; the guru is sun and moon, sky and earth to the disciple.

The truth is that the relationship of guru to disciple is indescribable. The relationship extends to the realm beyond the world, transcends death, and stretches far beyond the limited karmic bonds associated with family and friends. A mother and father help sustain the body of their child, and nurture and guide the child through the formative years of life to adulthood. Guru sustains, nurtures, and guides a soul through lifetimes to ultimate liberation.

The relationship with the guru is based on the purest form of unconditional love. There is complete openness with the guru. The disciple should hold nothing back from the guru. This is why in the tradition, a student goes to the guru and offers a bundle of sticks to burn. The bundle symbolizes that everything the disciple has is offered unconditionally to the guru. Everything is offered to the guru so the guru can do the work of shaping the student spiritually. The disciple comes with full faith and entrusts his whole life to the guru. The guru takes that life and chops it and burns what is not necessary, and then carefully carves what remains into something sacred.

In this chopping and burning, the guru is merciless. The guru's job is not to hold hands with the disciple and wipe away tears, but to cut into pieces the disciple's ego and all that stands between the disciple and freedom. The guru does not allow dependence. If the disciple becomes too dependent on the guru, the guru pushes the disciple away, insisting on independence. It is a remarkable expression of the deepest love.

Guru is that force moving
a soul toward enlightenment.


To be on a spiritual path with a guru is not an easy thing. It is not pleasant. The guru tests the disciples, puts them in the most difficult situations, and creates obstacles for them. All the tests, difficulties, and obstacles are meant to train and expand the consciousness of the disciple.

That is the sole work of the guru. The guru wants nothing from the disciple. Guru is that force moving a soul toward enlightenment. The guru's actions are from pure compassion. As the sun shines and lives far above, the guru gives spiritual love and remains unattached.

Guru is a channel for spiritual knowledge.


Guru is a channel for spiritual knowledge. Jesus repeatedly reminded his disciples of this. "I have not spoken of myself, but the Father which sent me." The Father is that stream of pure knowledge. Jesus, as an enlightened being, was attuned to that knowledge.

No human being can ever become a guru. Guru is not a human experience, or, better said, guru is not a sensory experience. It is a divine experience to be a guru. A human being allows herself or himself to be used as a channel for receiving and transmitting by the power of powers. Then it happens. Then guru manifests. To do that, a human being must learn to be selfless, must learn to love. Real love expects nothing. That is how genuine gurus live. Selfless love is the basis of their enlightenment, and the basis of their roles as channels of knowledge.

Guru is not the goal. Anyone who establishes himself as a guru to be worshipped, is not a guru. Christ, Buddha, and other great persons did not set up any such example. Guru is like a boat for crossing the river. It is important to have a good boat and it is very dangerous to have a boat that is leaking. The boat brings you across the river. When the river is crossed the boat is no longer necessary. You don't hang onto the boat after completing the journey, and you certainly don't worship the boat.

Many times students come to the guru with a preconceived idea of what the guru should be like. They come with expectations of what the guru is there to do for them. Perhaps the students think the guru should give them much attention, or make decisions for them, or take on troubles they have created for themselves. Sometimes the students think the guru should behave in a certain way. When these expectations and preconceived images are not met, the student becomes upset and may even leave the guru.

This is not the proper way to approach a teacher. A student should not be filled with expectations and preconceived images, but with a burning desire to learn, and with firm determination. Then there will be no difficulty. The guru and the disciple can then do their work accordingly.

The spiritual seeker should not worry about who the guru is, or what the guru will do. The seeker's first concern is getting prepared, organizing her or his life and thoughts in a spiritually healthy way, and then working toward a way of life that simplifies and purifies. At the right time the master will be there.

Once the guru has arrived, the methods and behavior of the guru should not be the disciple's concern. The disciple's work is to act on the instructions and teachings of the master, and at the same time, work toward more and more selflessness, and surrender of the ego. It is the ego that is the principle barrier to enlightenment.

A spiritual master's ways of teaching are many and sometimes mysterious. To one student the guru may show much attention, spending much time with a student, even doting on a particular student. Another student may be utterly ignored by the master. It doesn't matter. Each student is getting a teaching, and because of the insight of the master, just the right teaching at the right time. The guru is not in a student's life to give the student what the student thinks she wants, but rather to give what is needed to progress spiritually.

Jesus' parable of the prodigal son illustrates this. Briefly retold, a man had two sons. One day one son asked for all the property and wealth that would come in his inheritance. Then he went away and lived a wild, sensory life of rich foods, drink, gambling, and women. When all of that wealth was spent, the son returned. The father ran to his son when he saw him, and hugged and kissed him. He gave him expensive clothes to wear and ordered a feast to be held.

Meanwhile, the other son had remained all this time with his father, working for him and beside him, always respectful and devoted. When the devoted son saw all the attention given to the wayward and reckless son, he asked his father how this could be.

"I've been here all these years with you, always serving you, obeying every commandment, and you've never so much as given me a goat to throw a party for my friends. Now my brother returns after squandering all that wealth and living a wild life, and you treat him like a king and make a grand celebration for him."

The father's response was essentially that the wayward son needed this attention at this time, and the devoted son did not. Each son was given what was right for his spiritual growth at the right time.

The guru does not operate from what seems fair, or outwardly appropriate. He is not constrained to such cultural amenities. He can seem harsh, even brutal. He will put students in situations that make no sense, or are very uncomfortable. He will say things that won't make any sense for months. He will ask things of students that students think are impossible. Everything the guru is doing is for the growth of the student. The student need only have faith in that fact.

The guru also teaches without words or actions. As the disciple learns to surrender and move the ego out of the way, and grows more selfless, the ability to learn intuitively from the guru grows. The student learns in the cave of silence. It is like tuning into the guru's frequency or plugging into that stream of knowledge. The guru is always working from there. The disciple's role is to gradually learn to also work from that place. The disciple learns this by doing all duties with love, by being nonattached, and by surrendering. The disciple should always be striving to purify and prepare for more and greater knowledge. Then God will say, "I want to enter this living temple that you are." Remove the impurities and you will find that the one who wants to know reality is the source of reality.

Grace is the impulse or the impetus of
the energy to dispel darkness.


There is also the activity of grace. Grace is the impulse or the impetus of the energy to dispel darkness. There is the grace of the scriptures, from the wisdom that has passed down from others. There is the grace of the teacher, who imparts that wisdom and helps bring it to life in the student. There is the grace of God, or pure consciousness, that is alive and ever present in everyone's life. Integral to these three graces is the grace of oneself, having the will to undertake a purposeful journey in life, to do the spiritual work of life, and to prepare oneself.

How do we get this grace? It comes of its own when a seeker has made maximum effort. When all efforts have been made, and all efforts have been exhausted, then grace comes.

A Sanskrit word for grace is shaktipat. Shakti means energy, and pata means bestowing. Shaktipat means "bestowing the energy" or lighting the lamp. Sometimes shaktipat is translated as "descent of power." A power comes from above, of its own, to a vessel that is cleaned, purified, and is prepared to receive it. When the instructions from the guru have been completed, the seeker has become strong in selflessness and surrender, and the samskaras have been burned, grace comes.

In my own life, since I was a small child I was raised and guided by my master. I had done all that he asked of me. Grace had not come and I grew frustrated. So one day I went to my master and said, "You have not done shaktipat for me. That means either you don't have shakti or you don't intend to do it."

I told him, "For so long now I have been closing my eyes in meditation and I end up with nothing but a headache. My time has been wasted and I find little joy in life."

He didn't say anything, so in my exasperation I continued talking.

"I worked hard and sincerely," I said to him. "You said it would take fourteen years, but this is my seventeenth year of practice. Whatever you have asked me to do I have done. But today you give me shaktipata or I will commit suicide."

Finally he said to me, "Are you sure? Are you really following all the practices I have taught you? Is this the fruit of my teaching, that you are committing suicide?"

Then he waited a moment and said, "When do you want to commit suicide?"

"Right now," I said. "I am talking to you before I commit suicide. You are no longer my master now. I have given up everything. I am of no use to the world, I am of no use to you."

I got up to go to the Ganges, which was near, and was prepared to drown myself.

My master said, "You know how to swim, so when you jump in the Ganges, naturally you will start swimming. You'd better find some way so that you will start drowning and not come up. Perhaps you should tie some weight to yourself."

"What has happened to you?" I asked him. "You used to love me so much."

I went to the Ganges and with a rope I tied some big rocks to myself. When I was ready to jump, my master came and called, "Wait. Sit here for one minute. I will give you what you want."

I did not know if he meant it, but I thought I could wait at least a minute. I sat in my meditation posture and my master came and touched me on the forehead. I remained in that position for nine hours and did not have a single worldly thought. The experience was indescribable. When I returned to normal consciousness I thought no time had passed.

"Sir," I said to my master, "please forgive me."

With that touch my life was transformed. I lost fear and selfishness. I started understanding life properly. I wondered if this experience came about because of my effort or my master's.

His answer was simply, "Grace."

"A human being," he explained, "should make all possible sincere efforts. When he has become exhausted and cries out in despair, in the highest state of devotional emotion, he will attain ecstasy. That is the grace of God. Grace is the fruit that you receive from your faithful and sincere efforts."

Grace is only possible with a disciple who has gone through a long period of discipline, austerity, and spiritual practices. When a student has done these practices and followed the teacher's instructions with all faithfulness, truthfulness, and sincerity, then the subtlest obstacle is removed by the master. The experience of enlightenment comes from the sincere effort of both master and disciple. When you have done your duties skillfully and wholeheartedly, you reap the fruits gracefully. Grace dawns when action ends.
Shaktipat is the grace of God transmitted through the master.

Guru is the disciple's guide through life, through the mysterious terrain of the spiritual heart, and into and beyond the realm of death.
GURUS MORE.. LIVE ENERGY ENHANCEMENT MEDITATION SAMADHI AND SAMYAMA - THE KUNDALINI KRIYAS

COME TO IGUAZU - WE HAVE ENERGY ENHANCEMENT COURSES WHERE IT IS HIGH SUMMER ALL YEAR ROUND!!!
IGUAZU
BIG WATER!!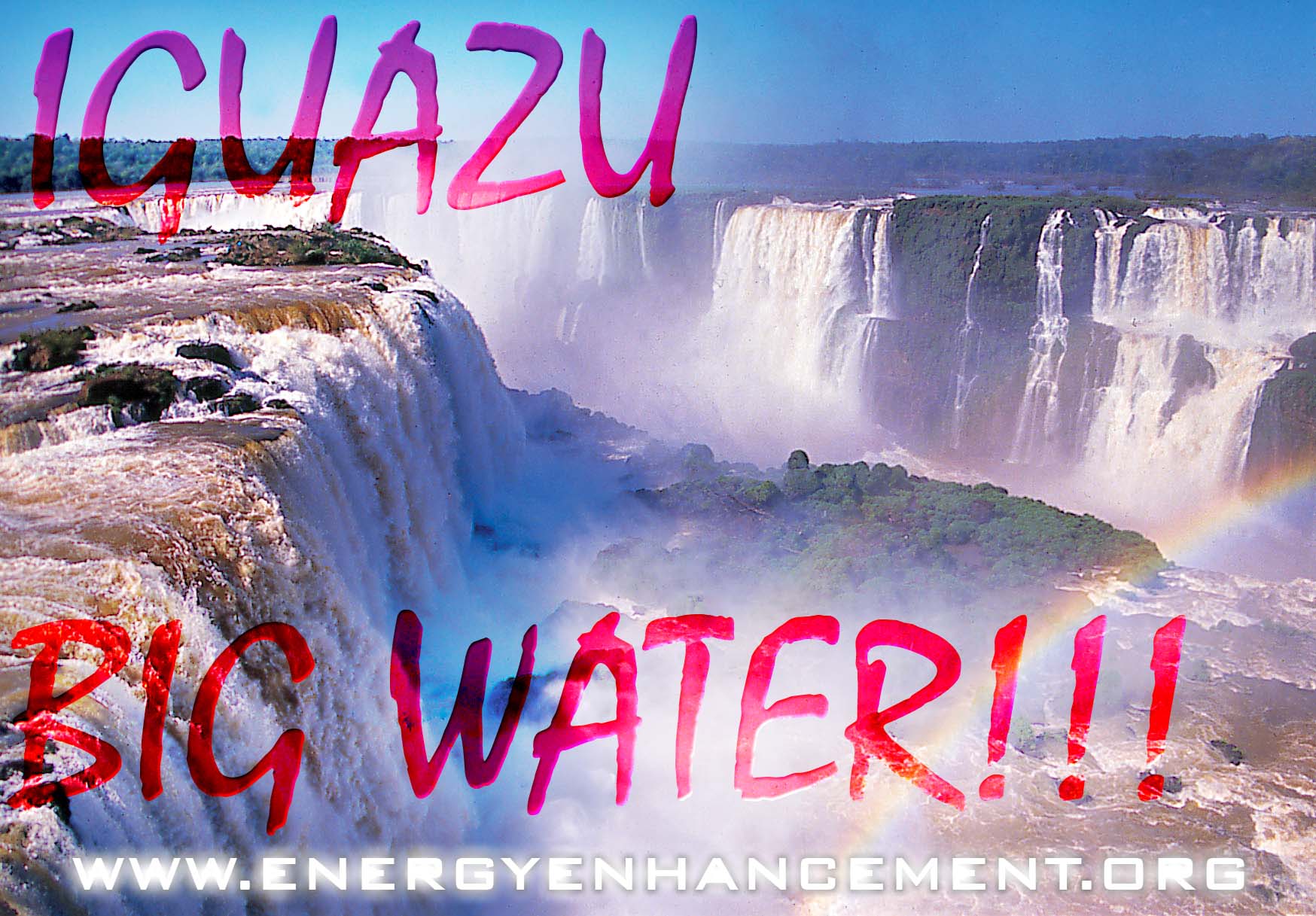 NATIONAL PARK OF IGUAZU - UNITED NATIONS PROTECTED SITE



PROJECTION OUT OF THE BODY


He remembered lying on the bed in the hotel room just outside the amazing waterfalls of Iguazu on the Argentine/Brazil border - Big Water as it means in the Guarani!! And he had been bathed in the purifying energies of the waterfalls that day. And when he returned to the Hotel that night he felt the energies in all the meridians of his body and they were raging and they were coalescing in his abdomen and they traveled up the meridian of the right side of his nose.

And the next moment he was out of his Body!! It was the first time this had happened to him although he had read about it many times happening to other people. But now it was happening to him and he could see his body lying down on the bed below him and he could see the silver cord connecting him with his body and it was beginning to feel alright.

So he wondered if he could travel further and tried to get through the wall to visit Satchi next door but the walls resisted and threw him back and he fell back into his body and the next thing he knew he was waking up but he remembered being out of his body but nothing had happened and he had been consciously outside his body for the very first time!!

In Energy Enhancement we teach and give real experience of ascending, projection, through the Astral and Buddhic Planes, escaping beyond the reach of Death and reaching towards Immortality.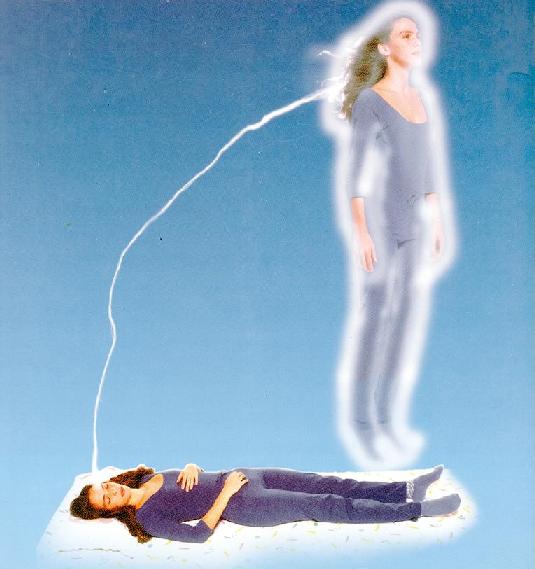 And he had just completed the first month of his Energy Enhancement course and had received the energy of the Buddhafield. He had received many, many experiences of a spiritual nature and had felt his very being expand in such a way that he knew Enlightenment was within his very grasp...

You know, if you have been outside the body then no-one can take that away from you. You know that you can exist outside the body and all the existentialist bullshit is just that... Existentialist Bullshit!!

Because I have been outside the body and I know that I will exist without my body after death and that I am an immortal soul who will travel on, body after body, lifetime after lifetime, gaining experience, and gaining evolution and perfection as I travel the path of Enlightenment, just like all the Spiritual Masters have said from time immemorial.

Spiritual Experience is a million times better than listening about it or reading the books.
ENERGY ENHANCEMENT EXPERIENCE
is the proof of the books!!

And he got this experience and many more like it because he has been on the Energy Enhancement Course!!

And everyone who comes on the Energy Enhancement Course or tries the DVD Course gets many spiritual experiences.. just READ the Reports of our Students

Come try it Yourself...
"DROP BODY
DROP MIND"
- Zen Master Dogen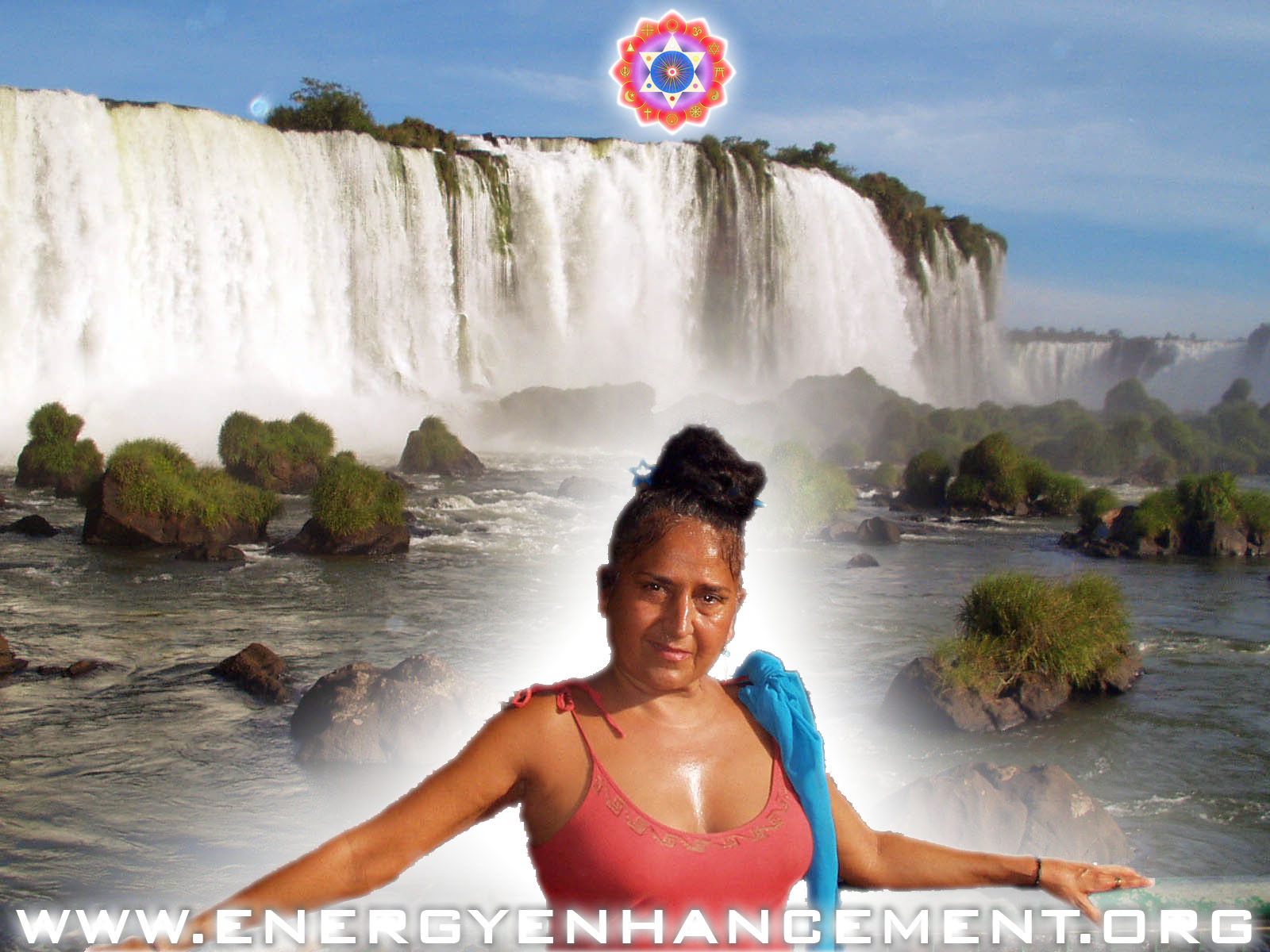 ENERGY ENHANCEMENT MEDITATION STREAMING VIDEO DVDS - TALKS WITH THE MASTER JULY 2010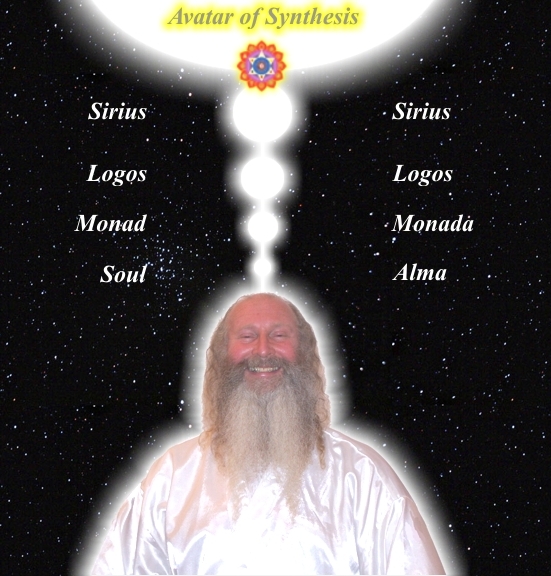 QUESTION AND ANSWER WITH SATCHIDANAND ON THE STREAMING VIDEO AND DVD ENERGY ENHANCEMENT COURSES
Hello Satchidanand,


Thanks for the the Streaming Video EE Level 1 Meditation.

Y
our last response must be full of love and light because I was able to watch those videos you sent me and practise meditation on the same day. It's a breakthrough for me.


Here's my first time experience with the EE Initiation 1 Meditation:

First, I have trouble straightening my spine (lower back) like you did in the video when I'm sitting on the floor in the cross legged posture. I will work on this, and I think stretching would probably help with this, right?

I also find myself having a hard time maintaining the posture. Like you said in the video, I'm a beginner, so I have to frequently adjust my posture throughout the meditation.

I'm not sure when I have aligned my spine correctly.

I feel a cool, refreshing sensation when I think I'm aligned properly, like the feeling you get when you walk into an air conditioned room on a hot summer day. It's a very wonderful feeling. Is this a symptom of aligning my spines correctly or is it all just my imagination?

A few minutes into the meditation, I can feel that my body starts to shake. I feel that the shaking comes from my heart beat, though I'm not sure, it could be the result of staying in the posture for the first time - my muscles could just be worn out.

I tried to follow the breathing you mentioned in the video during meditation, but I keep getting the urge to pause and stop breathing in between the in and out breaths. Should I ignore or follow my urge?

Today, I definitely feel that I have more energy. I feel the extra energy comes from the area of my body where my hands were placed during meditation.

I also loved the first talk!

Thanks again for your response.

Andy
IF A SIMPLE STUDENT CAN GET THIS ENERGY, THIS POWERING UP FIRST TIME WITH ONE INITIATION STREAMING VIDEO - AND EVERY STUDENT GETS THESE EXPERIENCES - THINK WHAT IS POSSIBLE FOR YOU!!
Hello Andy,


First, this is not your imagination.

Spiritual Kundalini Energy is real and this is your first meeting with it!!


First, use a cushion.

Use a BIG cushion sufficient to get your spine in alignment with the energies from the center of the Universe into the center of the earth.

Go with the feeling to hold the breath when you feel to.

Do not do it all the time. Just when you feel it!

You have to feel when you are in alignment. Air conditioned will do.

Then understand that it is possible to be more aligned, closer to the center.

Search.

Keep searching for the center.

Shaking is normal, but usually it is the result of energy blockages - tell me more next time.


Meditate every day, twice a day.

Try to increase your periods of meditation - do not push too much - easily.

Power Up!!

Get back to me with more experiences.


Love and Light

Satchidanand

...The straight spine is just a spine in alignment.

In reality the spine is curved forwards from the base, opening the abdomen, allowing breathing deeply into the abdomen.

The spine at the heart center is open, big heart, spine curved forwards there. Open your Heart!!

I say this on the video.

The shaking is a blockage symptom!!

Emotions, negative emotions which you cannot control, instead of the emotion of Love, are also symptoms of Energy Blockages

Level 2 is the removal of blockages.

Before that, you need to imagine the energy of your long out breath breathing through the blockage. Breath it out and burn it up in the center of the earth.

Remember, anger and fear are not you. It is the removable blockage!!

Experience of Energy Blockages and their symptoms is part of the course. You need to overcome the symptoms and eventually remove the blockage.

The blockage has been there for years. The energy of meditation makes it visible and thus removable!!

Love and Light,

Satchidanand

You're right! I watched the Video again, and I was surprised how much information I missed the first time.

My spine is curved a bit backwards when I sit, and I think this is due to my lack of flexibility. But, I can feel that my spine is more able to "curve forwards at the base" as I sit more and more.

I always looked for ways to improve my posture, and I found the methods of stretching through the heart and the back of the head perfect for it. Thanks for the great Video! And thank you Satchidanand for giving me these awesome suggestions!

I'll practise diligently to get into alignment and then remove all the Energy Blockages!

Andy
THE ENERGY ENHANCEMENT STREAMING VIDEO HOME STUDY COURSE - BEST VALUE
See 89 Energy Enhancement YouTube STREAMING VIDEOS..
http://www.youtube.com/results?search_query=Swamisatchidanand&search=Search
CLICK ABOVE!!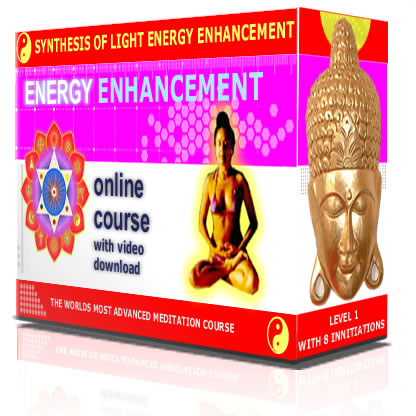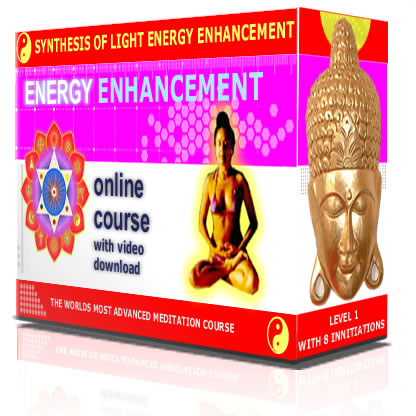 THE ENERGY ENHANCEMENT STREAMING VIDEO HOME STUDY COURSE - BEST VALUE
See 89 Energy Enhancement YouTube STREAMING VIDEOS..
http://www.youtube.com/results?search_query=Swamisatchidanand&search=Search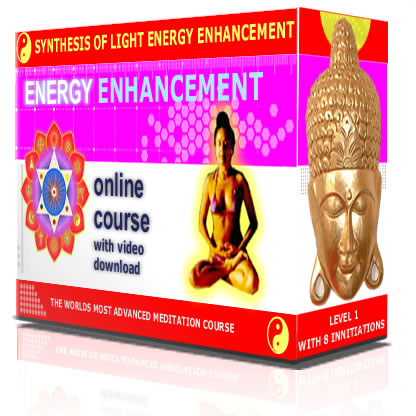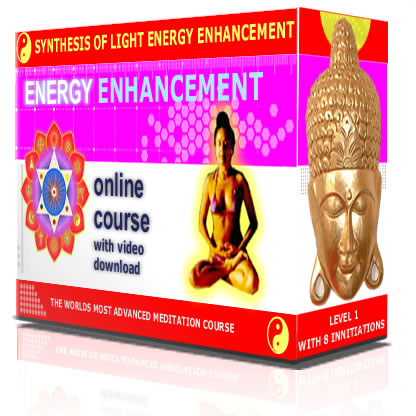 ENERGY ENHANCEMENT ONLINE STREAMING VIDEO INTERNET COURSE LEVEL ONE AND LEVEL TWO

- GAIN THE ENERGY YOU NEED TO POWER UP!!

LEVEL TWO - REMOVE ENERGY BLOCKAGES WHICH AFFECT YOUR HEALTH, YOUR MIND AND EMOTIONS, AND YOUR INNER PEACE!!!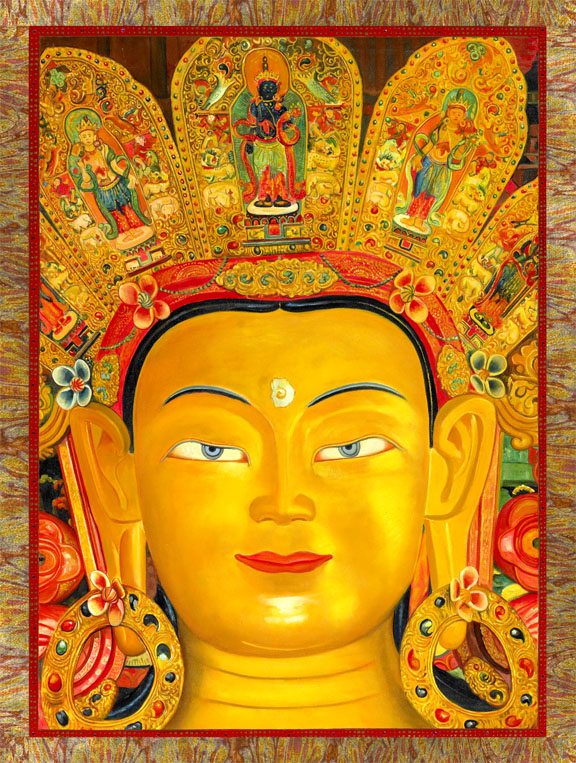 IN THE COMFORT OF YOUR OWN HOME – GAIN THE INCREDIBLE BENEFITS OF THE KUNDALINI KRIYAS, THE GROUNDING OF NEGATIVE ENERGIES, DRAIN THE LAST DREGS OF YOUR VITRIOL. LEARN ENERGY ENHANCEMENT LEVEL ONE AND LEVEL TWO OF THE COURSE ON ENERGY ENHANCEMENT

GAIN THE ENERGY YOU NEED TO POWER UP!!

PASSWORDS TO THE ADDRESSES OF THE ONLINE STREAMING VIDEOS SENT BY EMAIL - BUY BY PAYPAL OR CREDIT CARD FULL PRICE OR DEPOSIT WITH 11 MONTHLY PAYMENTS.

EMAIL sol@energyenhancement.org for details
ENERGY ENHANCEMENT SATCHIDANAND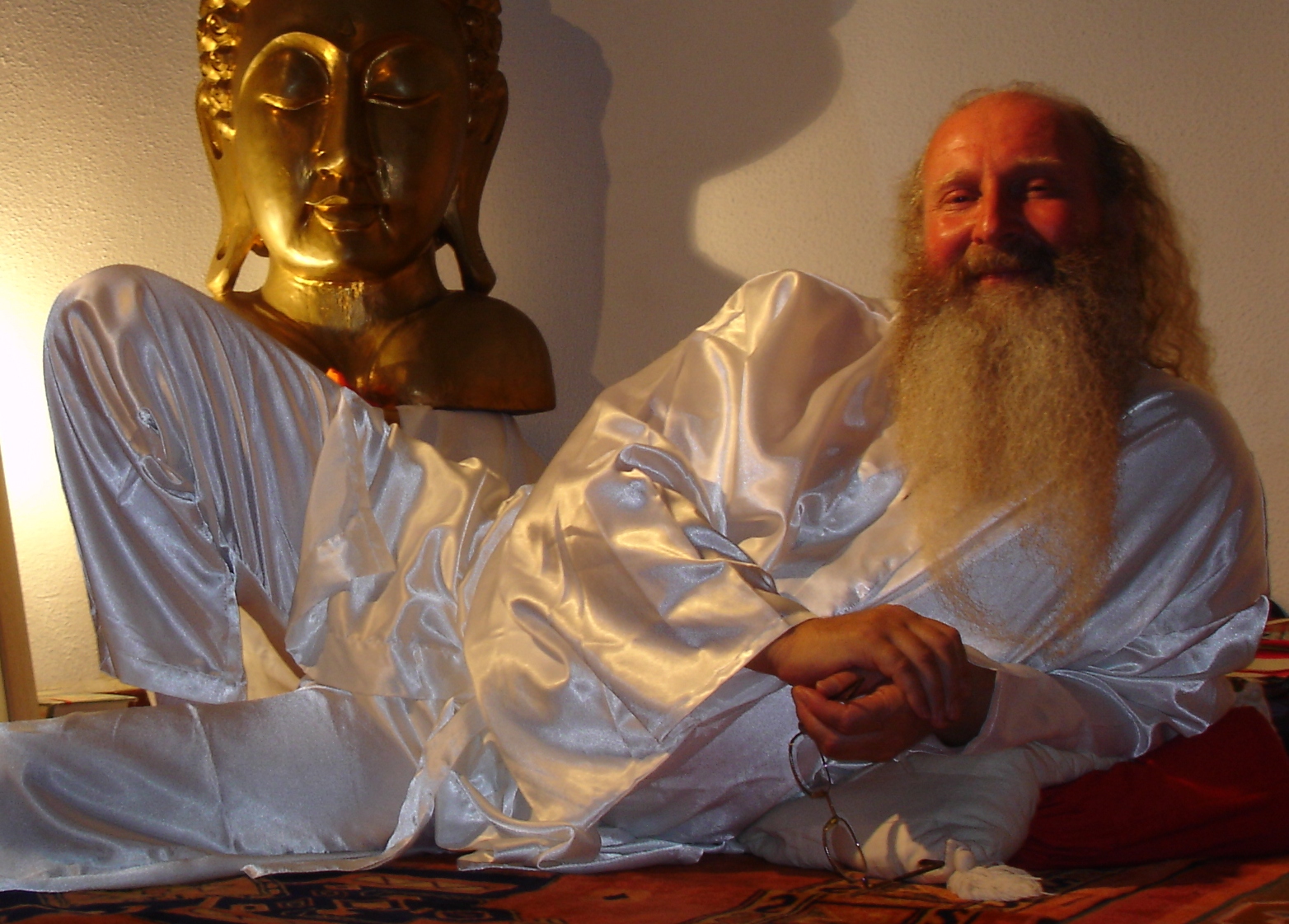 A Very Happy Guru Purnima to You! From "J"



A little sweetness I found today from Mahayogi Baba Gorakhnath Ji:

The Verse:

"Sapt dhAtu kA kAyA pyanjarA, tA mAnhi jugati bin sUvA|
Satguru milai to ubarai bAbU, nanhi to parlai hUvA"

Translation:

This body of ours is a cage made up of seven elements. In it is the individual (un-liberated) soul held captive, or encaged, like a parrot inside a cage, because it is ignorant of the skill or the art of getting liberated (from this cage). If it (the soul) is fortunate enough to find a true Guru, it can (by learning & practicing the right way) be emancipated, or else its salvation or deliverance is impossible and it is sure to undergo extreme suffering.

The Story of the Parrot and the Sage:

Once upon a time there lived a hermit. He made his livelihood on alms. Everyday he would go to a limited number of houses and say aloud, "Ram Ram Karai, Bhavasagar Tarai" (One who keeps on reciting the name of Lord, swims across the ocean of existence, i.e. transcends the cycle of birth & death). He subsisted solely on whatever he received from these few houses.

One day as he was asking for alms at a house, an encaged parrot, at the door of the house who had been listening to his repeated chanting, "Ram Ram Karai BhavAsagar Tarai", got annoyed and intervened, "Baba! Why are you preaching a falsity?"

"Why? What makes you say so, my dear?" asked the recluse.

The parrot explained, "What you say might be true in theory, but it is not true practically. You might have learnt this theory from some books, or must have heard from other sages, and keep on repeating the same thing without having examined its truth; I know the reality.

You see, my master has taught me to chant "Ram, Ram" and I have been doing this everyday for several years. I needn't say, I am here enslaved in this cage; whereas, ironically, my friends never say "Ram, Ram" and yet keep flying freely in the sky, enjoying total freedom. Now what would you say of that?"

The Sadhu who had been listening patiently to the parrot said calmly, "My dear son! It is true that you keep reciting "Ram, Ram" regularly, but, in fact, you do not know the right way, the real art to do so. This is why you have been held captive in this cage." The parrot began to find interest in the talks of the sage.

It requested, with the sparkle of hope in its eyes, the sage to teach him the right method. The recluse explained the method and asked it to practice secretly and not to reveal to the master until it had mastered the art. The parrot did so; he had been taught to practice "pranayama." Slowly, he became adept enough to hold his breath for several minutes altogether. So, one day when he saw the master coming to him for regular feeding, he lay quietly in the cage holding his breath. When the master came to the cage and opened the door to feed it, he found the parrot lying totally still. He shook it, thinking it might have gone to sleep. But when the parrot showed no response, no signs of movement, the master took him out of the cage, assuming it to be dead, and threw it outside his house.

"Zooooooooom!"… the parrot flew away high into the sky thanking the Sadhu for teaching the right way.

With Love and Devotion,

"J"
THE GURU STUDENT RELATIONSHIP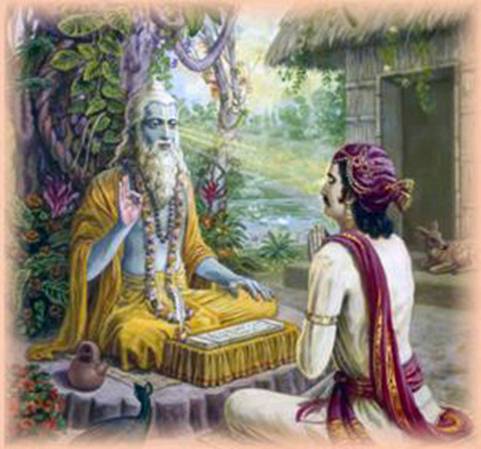 SATCHIDANAND IS A SERIOUS STUDENT OF ENLIGHTENMENT HAVING BEEN TAUGHT BY ZEN MASTER HOGEN OF JAPAN AND SWAMI SATCHIDANANDA OF VIRGINIA - YOGIRAJ AND STUDENT OF SWAMI SIVANANDA OF RISHIKESH

Siva Samhită, iii, 10-19: "Now I shall tell you how easily to attain success in Yoga, by knowing which the Yogis never fail in the practice of Yoga. Only the knowledge imparted by a Competent Teacher through his lips is powerful and useful; otherwise it becomes fruitless, weak and very painful.

And this is why - by coming into the Buddhafield of Energy surrounding Energy Enhancement Satchidanand obtained through many years of meditation with many enlightened masters, you obtain Shaktipat- an infusion of energy to help you get into a permanent state of meditation.

EMAIL sol@energyenhancement.org for details
SATSANG ON THE BEATITUDES
TAPAS, ONE OF THE YAMAS OF THE YOGA SUTRAS OF PATANJALI, IS THE ACCEPTANCE OF SUFFERING IN ORDER TO EVOLVE, IN ORDER TO HELP ANOTHER PERSON, IN ORDER TO HELP THE WORLD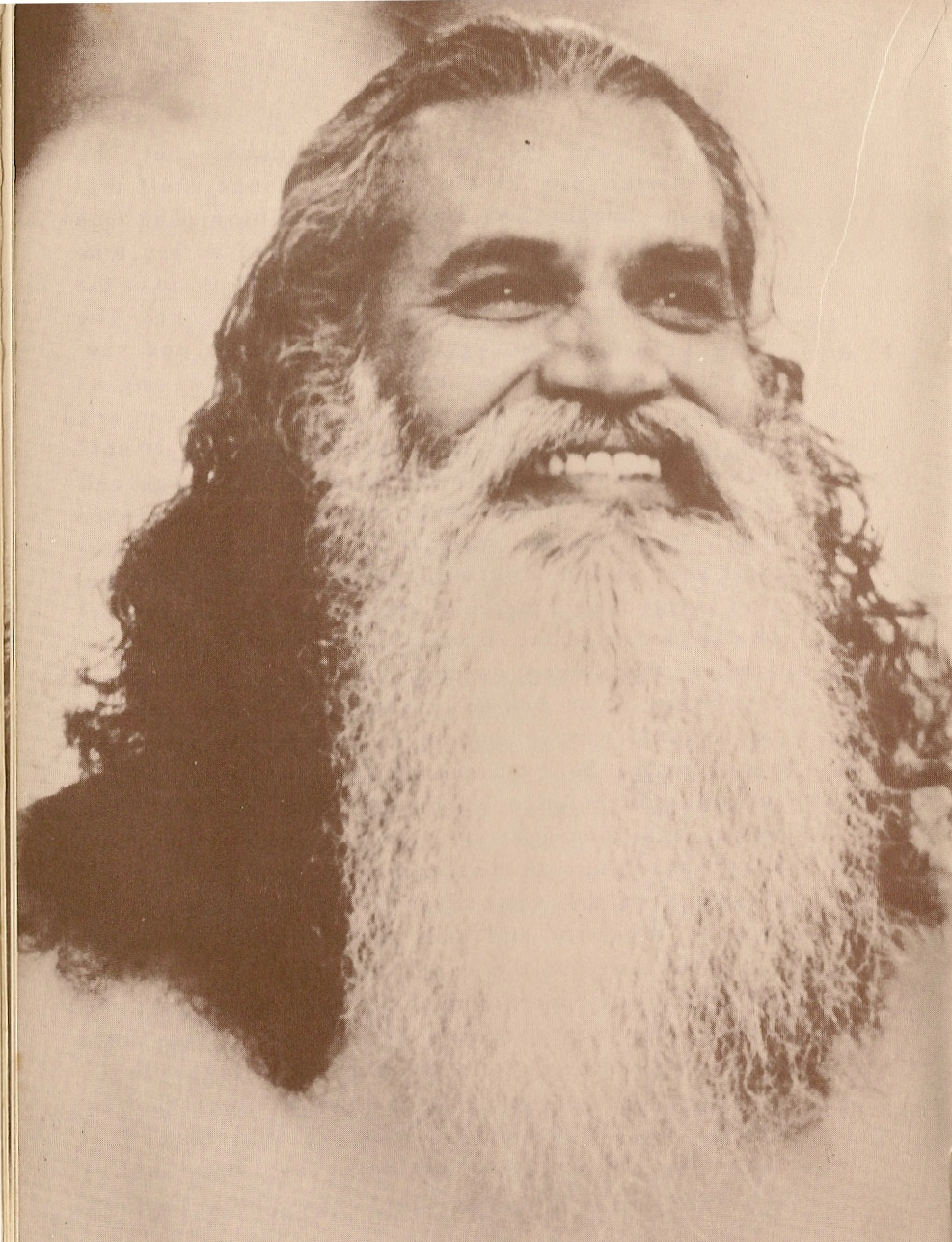 BY SWAMI SATCHIDANANDA, MASTER OF ENERGY ENHANCEMENT SATCHIDANAND
SISTER CHANDRIKA: Blessed are they which are persecuted for righteousness' sake: for theirs is the kingdom of heaven.
SWAMIJI: Sufferings. Because without suffering there's no purification. Whoever is interested in purifying oneself should accept suffering. If it comes, accept it. Or while trying to relieve others' sufferings, if you face suffering, accept it.

Thiruvalluvar - One of the Tamil Siddars - gives the example of gold. How is golden ore purified? How do you get 24 carat gold? By constantly melting it and relieving it from all unnecessary sediments, mixtures. This is done with a lot of suffering. The gold undergoes a lot of sufferings. Every time it's heated, it is raised one more carat.
TAMIL: Sudachudarum Ponnpole. 'The more you heat it, the more it shines.'
Because Alchemically, all the dross, the unnecessary carbon and other things are burnt out. Like that, the more you get heated by suffering the more you shine.
Because suffering is like burning.
That's why it's called tapasya.
Tapas means to burn.
In other words you are gently, or ur-gently, roasted.
Until you become ash. Then that's called the holy ash. An ash is a holy substance because it's totally burnt. That's why you have an ash, holy ash, in Christianity, in Hinduism. Vibhuti, we call it. Vibhuti means burnt ash. It's called vibhuti because it has all the great qualities of God. Everything that is beautiful, that is supreme, is vibhuti. And this ash, which is called vibhuti, was dirt. Or to be more frank, it was dung. But it's no longer dirt. The very same dirt, burnt out completely, so it's now purified well, is now vibhuti, holy ash.

So suffering is helpful. If you face a little suffering, if you don't enjoy the way the food is prepared, say, `Ah, here is another way of my purification. God is trying to purify my tongue through this instrument we call the mother of the house.' If we forget that, we might feel, 'What is this? Can't you make a little better food? Can't you give me one more blanket? One a little more soft?'
Why are spiritual seekers expected to live a simple life? To accept suffering. To see how they can bear suffering. It's not a comfortable life. That comes afterward. When you have suffered enough, when you get burnt totally, then you are not trampled.
As long as you are dung, you get trampled. And thrown into the dung pit.
But when you get burnt, you become holy ash and you go to the very forehead of the person. You are elevated to a great height. You are respected. So the benefit comes afterward. But until you are completely burnt you can't get that. You can't go to that height.

I don't know if you remember a parable that I used to give. The Hindu temples, you know, are mostly built of granite rock. The sanctum sanctorum – the several steps you go up, and then the statue, the image you worship. as God – is made out of granite rock.
One day I was in front of the altar. There was nobody except me and the Lord through the image.
All of a sudden I heard a conversation. I became curious and I sharpened my ears to hear that. The conversation was like this: 'Hi, brother! How come you are getting all the decorations, all the offerings? Milk and honey are poured over you, you get decorated with nice jewels, flowers.
Everyone comes and respects you. And this priest, even while he decorates you, he is stepping on me. Nobody seems even to look at me. Even if they don't decorate me and respect me, can't they at least leave me alone instead of trampling on me? How come? Don't you know we were brothers? We were together, almost twins.'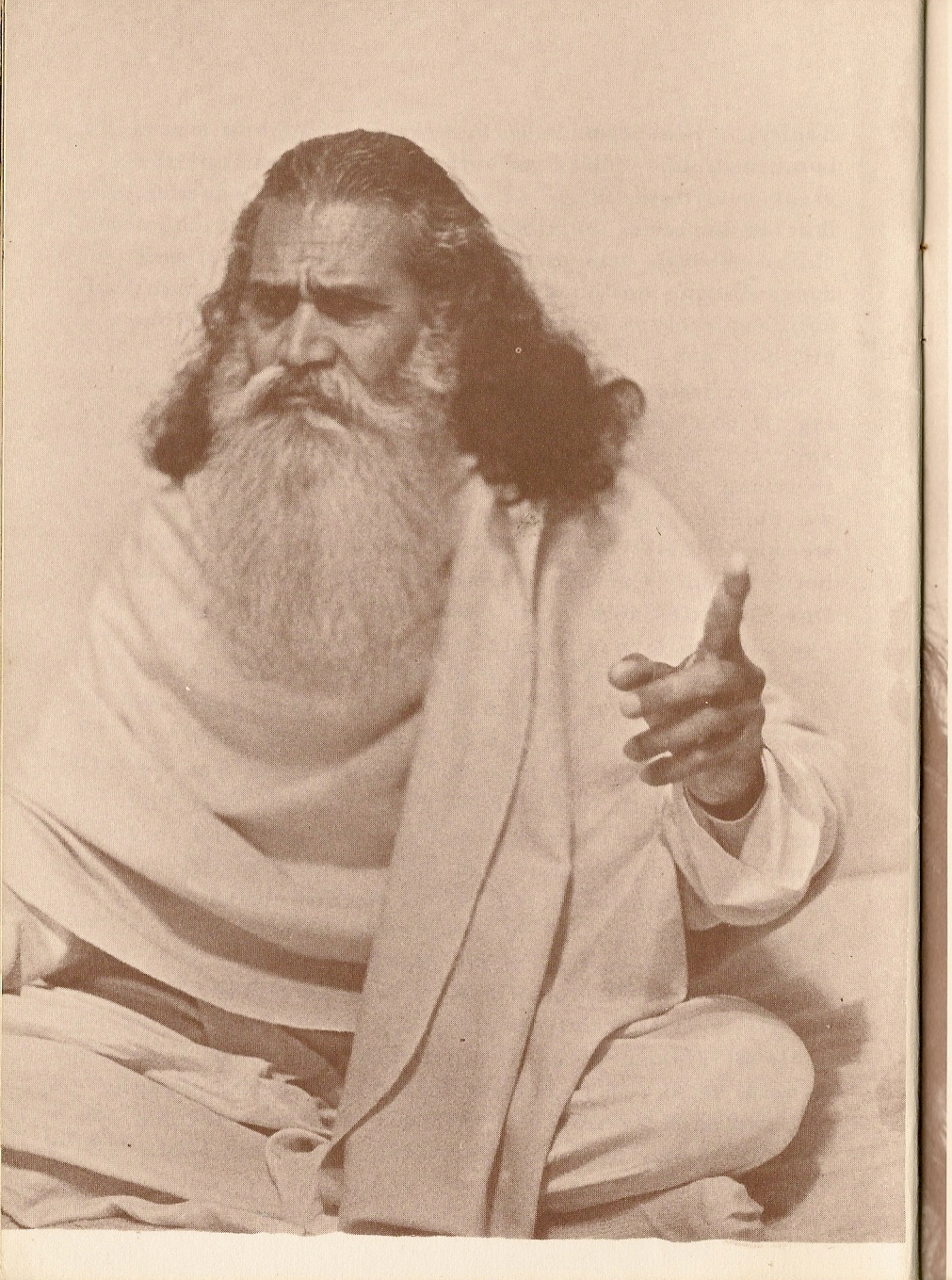 The other one said, 'Yes, my brother, I remember that. I can never forget it. We were together. We were one piece when we were brought from the neighboring rock quarry. But the sculptor started working and he split that one rock into two because it was too big for a statue.
And he picked you up first and started shaping you into a beautiful image. You know the sculptor! He started hitting at you with his iron chisel and hammer.
You became so furious, you shouted at him, yelled at him, 'How dare you do this? Leave me alone. I don't want to be hit like this.' And he thought that you are so unhappy, that you are possessed with a kind of ego or ignorance, so he just left you.
And then he took the other half and started working on me. I kept quiet. I thought there must be some reason for it. After all, he is the one who brought me all the way. Let him do whatever he wants. Of course it was really painful.
Constantly, he rolled me over and over, he hit me day and night. He was sometimes even sitting on me and hitting me. But I waited and waited and after several months, all of a sudden, one day, I saw myself as a beautiful image.
Now he has put me here and he is doing all the decorations. When he put me here I was a little too high for him to reach me, so he wanted a stepping stone and he thought to use you at least for that purpose. So he just placed you in front of me and that is why he is standing on you and pouring all the milk and honey on me.'

`Oh, I see. Well, if I had known that, I would have accepted all those things; but I didn't.'

`Well, I'm sorry, but it's too late. Just accept it. Pray for the next birth. And if somebody is hitting you, even if you don't know why, accept it. Be patient. Probably one day you will be respected. You'll be honored. You'll have all the decorations, all the festivities for you. Like me.'

That's what the Deity said. It's a conversation between the Deity and the stepping stone in front. Hm? So who was right?

SOMEONE: The Deity.

SWAMIJI: How did it become the Deity?

SOMEONE: By letting the sculptor work on him.

SWAMIJI: That's what. Did he work nicely, gently like this? (Swamiji strokes Sister Chandrika's cheek) `Sweet girl, sweet girl, give her a cake.' Did he do that? (Swamiji now gives Sister Chandrika a mock blow on the side of the head) Banging, banging, hm? That's what. Suffering. That's what he means. Didn't the Lord Jesus say, 'If someone hits you on the left cheek, show him the right one too'?

So, Blessed are the...
SISTER CHANDRIKA: Blessed are they which are persecuted for righteousness' sake.

SWAMIJI: Blessed are those who are persecuted for righteousness' sake. Well, it's easy to read this and even to interpret it. But when it comes in our own life, then we find it hard to swallow. That's why we should 'really be following it. Be good followers and good swallowers. (laughter)

(At this point, a member of the Ashram family comes up to Swamiji, giving him a coconut and a hammer with which to break it. This is sometimes done by devotees of Swamiji on their birthdays.)

SWAMIJI: See, this is a coconut. Do you know why the coconut is broken? The coconut represents the human mind. As people mostly identify themselves as the mind and talk in terms of that, they're all more or less like coconuts.
The coconut has three parts. The upper surface, which is covered with husk. Below the husk, you see the hard shell. Inside the shell you have that beautiful, white kernel.
The husk represents the tamasic part of the mind, which is the lazy mind.
The hard shell represents the rajasic part, the restless, extremely active mind, the egoistic part.
And the beautiful, white kernel inside represents the sattvic mind, or the tranquil one. That means, when the tranquil mind goes to one extreme, it becomes restless. And if it goes to the other extreme, it becomes lazy. So the not only for the birthdays.
In India, normally you take a coconut to the temple and put it in the hands of the priest. And he cracks it for you. It signifies that the teacher breaks your ego and brings out the beautiful you — to be offered to God.
Then the priest returns the coconut and the tasteful kernel is shared with everybody. That means, once God sees your purity, accepts you as His own, then he gives you back to be distributed to everybody. Your life becomes a beautiful and dedicated one, useful to everybody. That is the symbolic purpose of breaking a coconut.

(Swamiji prepares to strike the coconut.)
May you be free from ego and ignorance which causes the mortality of life, the mrithyor of life.
Om Tryambakam Yajamahe
Sugandhim Pushtivardhanam
Urvarukamiva Bandhanan
Mrityor Mukshiya Maamritat
Hari Om Tat Sat. Om Shanthi.
(He cracks the coconut.)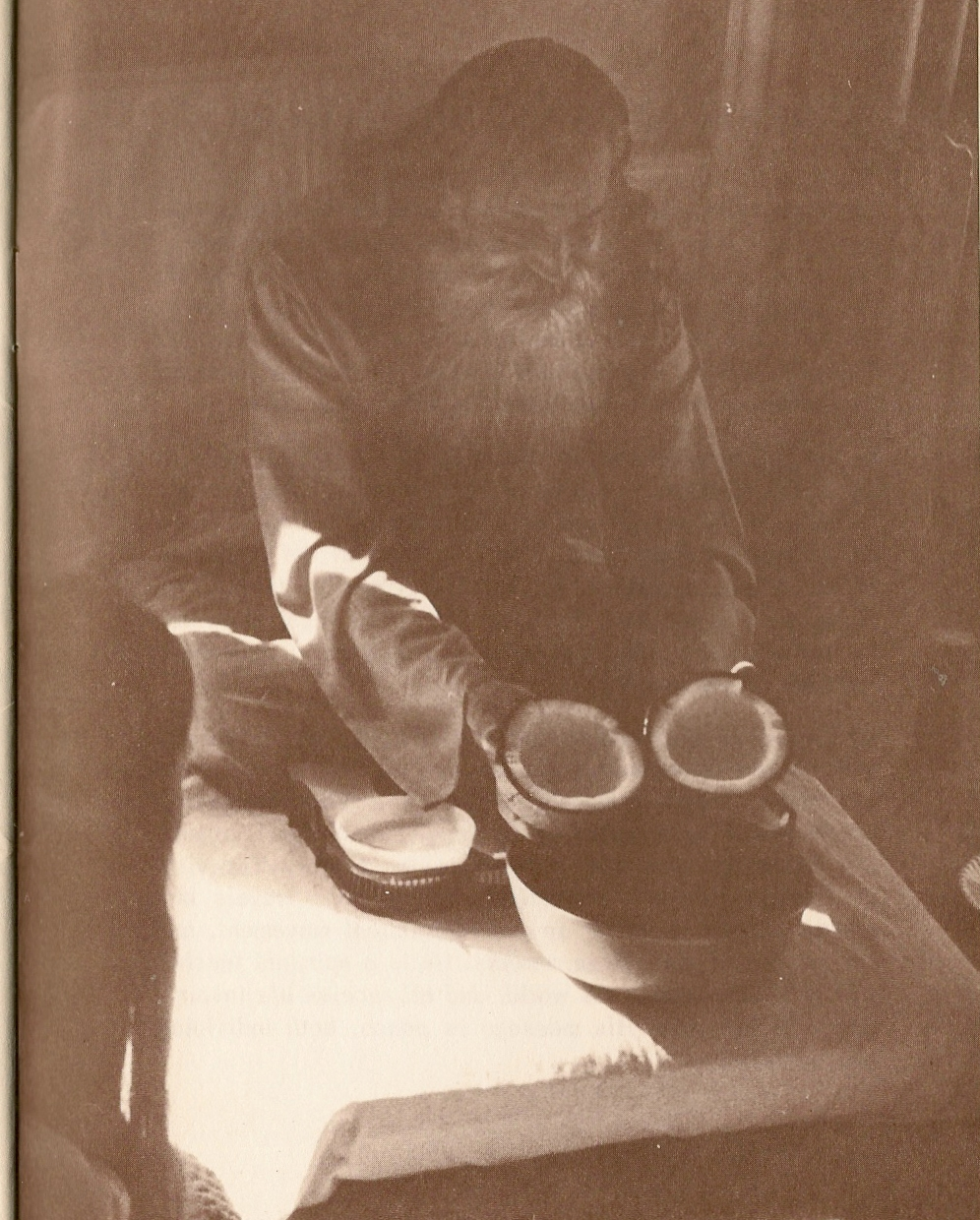 Mahamrityunjaya Mantra (maha-mrityun-jaya) is one of the more potent of the ancient Sanskrit mantras. Maha mrityunjaya is a call for enlightenment and is a practice of purifying the karmas of the soul at a deep level. It is also said to be quite beneficial for mental, emotional, and physical health.

AUM/OM: Guided Meditation on Absolute reality. That which encompasses the three states of waking, dreaming, deep sleep, represented by AUM, the three levels of gross, subtle, causal, the three levels of conscious, unconscious, subconscious, and the three universal processes of coming, being, and going. It is Tamas, Rajas and Sattvas which when made one, symbolise Illumination. Absolute silence beyond the three levels is the silence after AUM when we use OM as a guided meditation, in order to project our energy in order to connect with the center of the Universe.

Tryambakam: Trya means three. Ambakam means eyes. It means the three eyes of the Absolute, which are the processes of creation, existence, and dissolution, as well as the other triads, which are part of AUM. A - The center of the earth - Kundalini Chakra , U the heart center, M the Ajna Chakra moving into Sahasrara Chakra. Absolute silence beyond the three levels is the silence after AUM when we use OM as a guided meditation, in order to project our energy in order to connect with the center of the Universe. Thus it is a guided meditation to extend ourselves outwards into the antahkarana, into the Universe, to connect with external chakras, external sources of power. It is Energy Enhancement. The three "eyes" means experiencing these three stages and triads at one time, AS ONE, from the higher, all pervasive vantage point of the Absolute.

Yajamahe: We rejoice in meditation on all of this.

------------------------------

Sugandhim: Means fragrance. Like a spreading fragrance, which permeates the whole of this planet, whilst we are in contact with that existence of the OM Antahkarana. It is the Buddhafield of the Illuminated.

Pushtivardhanam: Means that which sustains and nourishes all. Thus, the fragrance that permeates all flows from God, the sustainer of all beings, while also the essence of all beings.

------------------------------

Urvarukamiva: Urva means big and powerful. Arukam means disease, like the spiritual diseases of ignorance and untruth, which are like the death of Wisdom or Truth.

Bandhanan: Means bound down, as in bound down to the ignorance and untruth.

------------------------------

Mrityor: Means ignorance and untruth.

Mukshiya: Means liberation from the cycles of physical, mental, and spiritual death.

Maamritat: Means please give me rejuvenating nectar which descends like the wine of the Sufis, of Carmina Burana, from the center of the Universe, so as to have this liberation. THIS IS THE ALCHEMICAL TAVERN OF CARMINA BURANA WHERE THE WINE - "EVERYBODY DRINKS IMMODERATELY" -IS THE KUNDALINI ENERGY OF THE MASTER - SATCHIDANAND Like the process of severing the cucumber from the creeping vine of the earth in order to ascend into the center of the Universe.

"this tavern is not closed, this tavern won't be stopped" from Mahayogi Baba Gorakhnath Ji
TRANSLATION BY SWAMI SATCHIDANAND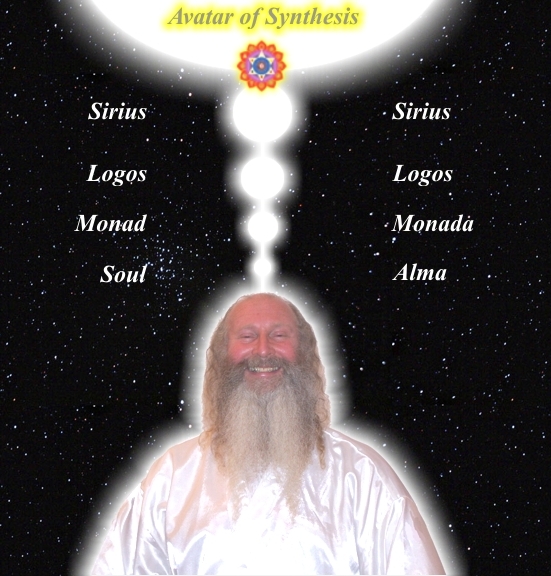 ENERGY ENHANCEMENT
Energy Enhancement can lead you to God or the universal absolute and it promises Nirvana and transformation, as these things are within you already. Energy Enhancement will not "tell" you about truth, but will give you the Real Spiritual Experience to provoke and challenge and excite into awakening to the truth which lies within. This kind of truth cannot be given as it takes two to Tango and it is the purity and resolution of the Student which calls forth the Energies of Existence. Yet, it can felt through personal experiences which take you out of normal states of awareness – through Initiations and Rites of Passage calling you into new ways of seeing Self and everything you once believed was real.

Within you lies a doorway to the Infinite. The journey to find that doorway can be arduous for it takes you into the landscape of your inner being. Are you willing to Initiate one of the greatest challenges of your life? Are you willing to change your ideas of who you thought you were in order to discover who you really are? Say, "Yes". Leave behind your safety net and discover the knowledge that is your birthright. Many stand at this doorway, but few dare enter.
What does being a Master mean? Most Masters absolutely reject the idea that they carry any wisdom which does not already exist within his or her student. These Masters bring together a unique blend of personal wisdom, an ability to masterfully communicate the teachings through experience rather than through words and dogma, and a ceaseless encouraging that pulls the depths of knowing from each student.

The teachers of Energy Enhancement possess these qualities. Their hearts overflow with passion fueled by an investment in the ongoing development of both the individual and the collective awareness of humanity.

Inside you live the Mysteries of the Universe. Energy Enhancement is a doorway into that Grand Adventure.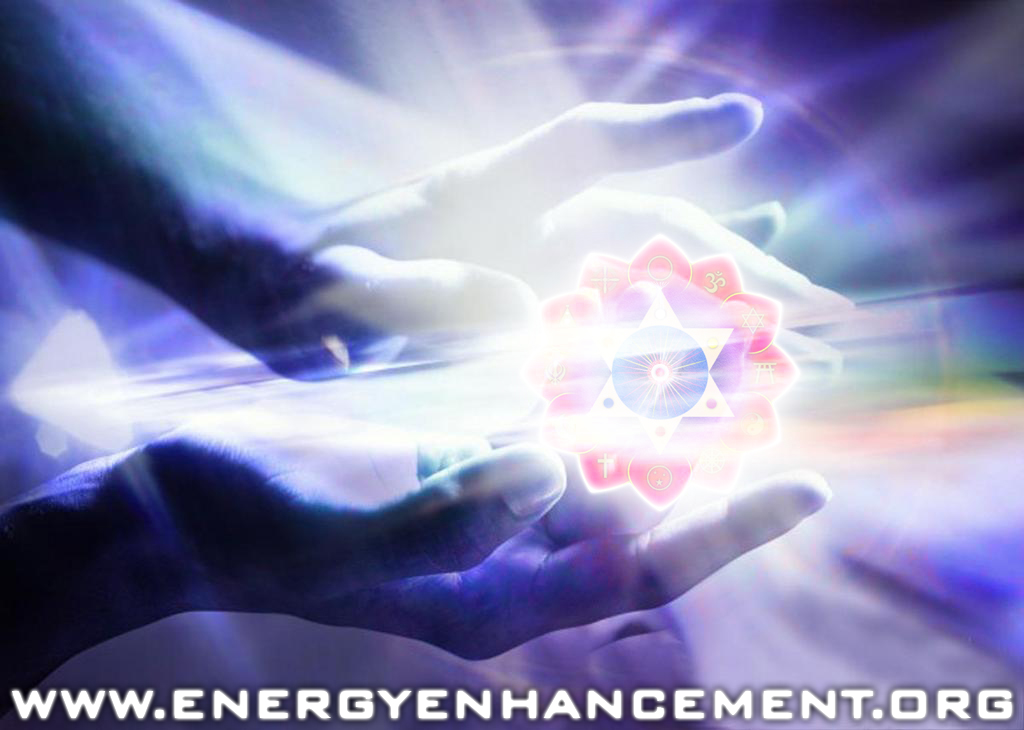 THE ENERGY ENHANCEMENT GAYATRI MANTRA - REMOVER OF DARKNESS
Gayatri Mantra - गायत्री मंत्र
<>The Gāyatrī Mantra is a highly revered mantra, based on a Vedic Sanskrit verse from a hymn of the Rigveda (3.62.10), attributed to the rishi Viśvāmitra. ...


<>Gayatri (gaayatree) mantra is the most important and popular verse of the Vedas. Hindus love to chant this sacred religious shloka as mantra. It is sometimes called 'Maha Mantra'. Maha means 'great'.

Om bhoor-bhuvah svaha,
tat-savitur-varenyam, bhargo devasya dheemahi,
dhiyo yo nah prachodayaat.

Meaning of Words in The Mantra
Om = pranav mantra = a word related to the God

AUM/OM: Guided Meditation on Absolute reality. It is the Holy Trinity of the Father the Sun and the Holy Spirit. That which encompasses the three states of waking, dreaming, deep sleep, represented by AUM, the three levels of gross, subtle, causal, the three levels of conscious, unconscious, subconscious, and the three universal processes of coming, being, and going. It is Tamas, Rajas and Sattvas which when made one, symbolise Illumination. Absolute silence beyond the three levels is the silence after AUM when we use OM as a guided meditation, in order to project our energy in order to connect with the center of the Universe.

AUM. A - The center of the earth - Kundalini Chakra , U the heart center, M the Ajna Chakra moving into Sahasrara Chakra. Absolute silence beyond the three levels is the silence after AUM when we use OM as a guided meditation, in order to project our energy in order to connect with the center of the Universe. Thus it is a guided meditation to extend ourselves outwards into the antahkarana, into the Universe, to connect with external chakras, external sources of power. It is Energy Enhancement.

The ONENESS means experiencing these three stages and triads at one time, AS ONE, from the higher, all pervasive vantage point of the Absolute.


THE HINDU TRINITY, WHICH IS ONE
bhoo(r) = bhooH = the Earth Chakra - Kundalini Chakra in the Center of the Earth
bhuvaH = bhuvarloka, the Air Chakra is the Heart Chakra yet it is also the Holy Spirit which flows from Father to Son (vaayu-maNdal)
svaH = svarga, heaven - "Our father who art in Heaven" The Chakra in the Center of the Universe.

tat = that
savit(ur) = savit = Sun, God
vareNNya(m) = adopt(able), follow, connect with it.

The Chakra in the center of the Universe, the Central Spiritual Sun of Gurdjieff, rains down the Light of Samadhi onto our Crown Chakras

bhargo = energy (sin destroying power)
devasya = of the deity - the Sun God
dheemahi = meditate or imbibe

This Energy, this Light of the Soul, This Samadhi, as we allow it to flow into our minds, as we Focus it using Samyama, will dissolve all impurities. It will Ground all Negative Energies into the center of the earth. It will dissolve all Trauma Formed negative karmic mass. It will remove all our Energy Blockages focussed Like with a Lens, using the Power of Samyama.

dhiyo = plural of dhee = mind, the intellect
yo = Who (God)
naH = our
prachodayat = inspire, awaken, lead us to immortality

This energy of Samadhi (Sam - with, Adhi - The Light of the Central Spiritual Sun) will Awaken our Minds, It will remove all Darkness, it will Illuminate our Minds, It will EnLIGHTen us. It will lead us to the Immortality of being an Ascended master. It will Inspire our Minds through Connection with the Intuition, the Genius which flows down, Rains down upon us from the Center of the Universe.

GURU - THE PSYCHIC POWER AS REMOVER OF DARKNESS, REMOVER OF ENERGY BLOCKAGES

SATCHIDANAND CAN HELP YOU!!

Part of Satchidanand's Web Blog -
"I was meeting a nice girl of 28 this morning here at our center in Rosario. She is a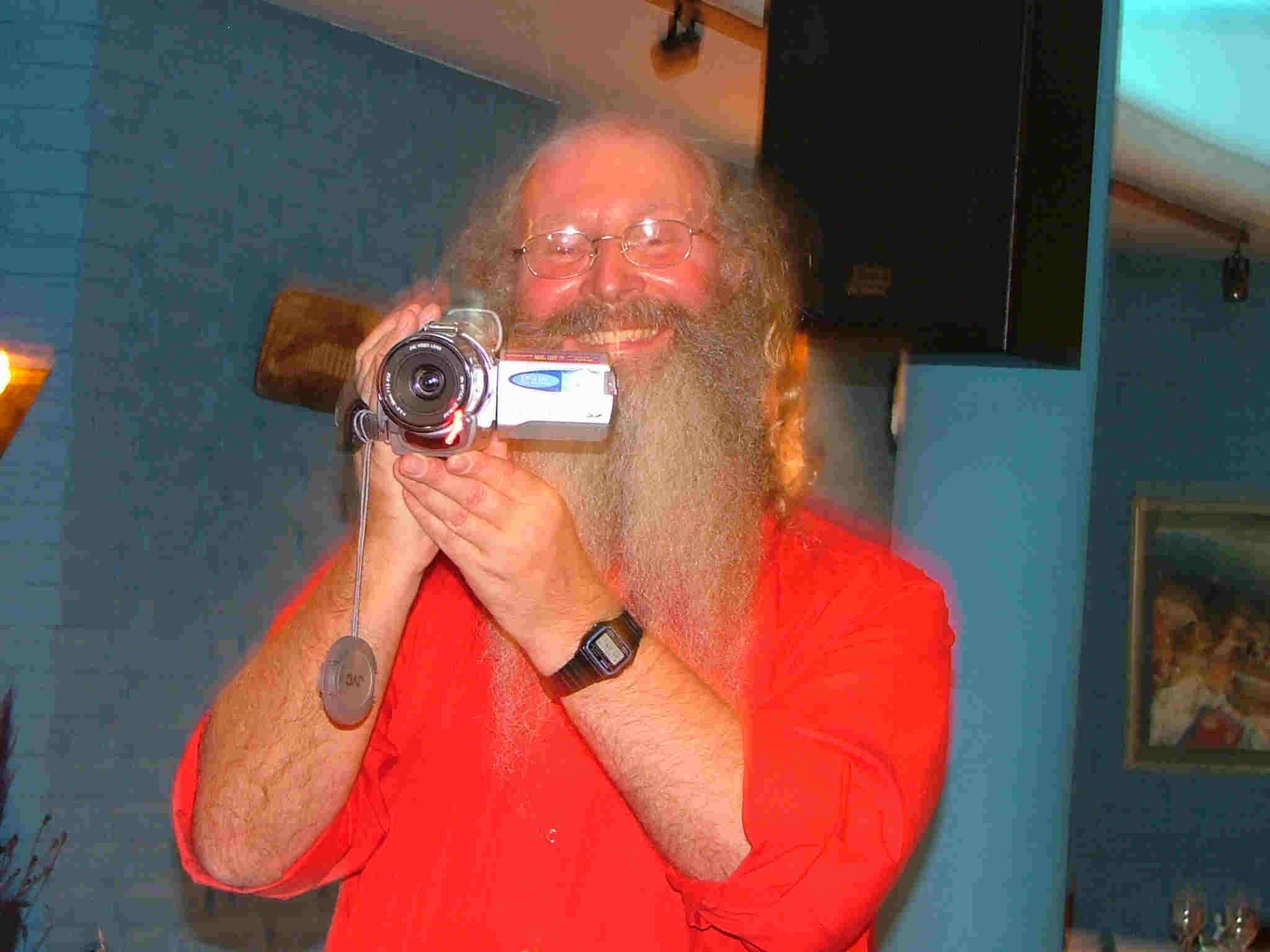 Psychologist but has fallen out of love with Psychology because although it explains things intellectually it gives no TECHNIQUES apart from talking to change anything internally, particularly in herself.
You can see how effective Psychology is by looking at Woody Allen.
I connected with her base chakra and her inner child showed me all her chakras and blockages one by one. A very interesting experience. First the Base chakra, one fear and security blockage which I removed very quickly. Then the second, a pain filled relationship blockage which I also removed. Then all the chakras solar plexus, heart etc, feeling the general dirtyness of the psychic body usually cleaned with The Grounding of Negative Energies but no major blockages. Then the head, two blockages, one a person who had just died, very deep and negative. I removed this first blockage but the other one was more difficult and stayed with me, absorbed by my psychic body, for a day before I sent it on.
She felt the movement of energy blockages in the head and in the body as my mind and energy was working on her and told me that she normally got a lot of headaches. She was interested in my exposition of Energy Enhancement as all the while I was working on these blockages I was also talking to her. Such openings show an educated psychic body, one with talent. Not everyone who comes to the Guru has similar experiences. Some also get more. She and I felt that with training she also might be able to help her clients in a similar way. So, she is coming back tomorrow to try out the process, to get her first Initiation in Energy Enhancement."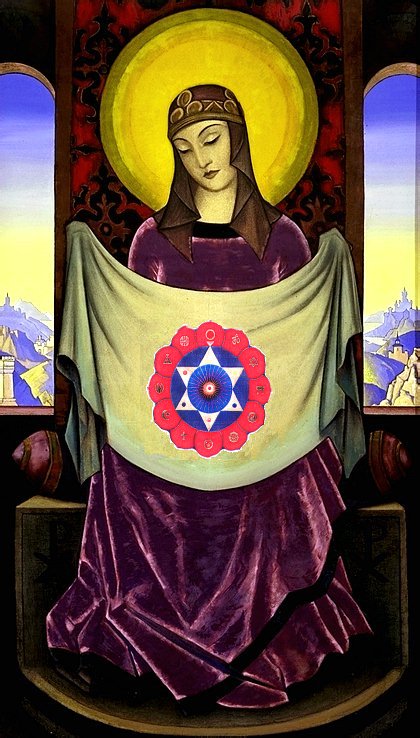 ENERGY ENHANCEMENT YOGA MEDITATION
"An example of one of the different types of Energy Blockage is that they are sometimes created when we do not get what we expect, or we get what we do not want. They are caused by the pain of disappointment.

Like when our Mother or Father or Son or Daughter dies. Like when a Lover leaves us.

This trauma, this pain is so strong that at that moment the mind can not look at it, so it gets locked away within the body until we get strong enough to process it.

Then amnesia. We forget the pain fulminating in our bodies. We forget the poison until, after a while, disease is the result."

Satchidanand

---
SATCHIDANAND IS A SERIOUS STUDENT OF ENLIGHTENMENT HAVING BEEN TAUGHT BY ZEN MASTER HOGEN OF JAPAN AND SWAMI SATCHIDANANDA OF VIRGINIA - YOGIRAJ AND STUDENT OF SWAMI SIVANANDA OF RISHIKESH
Kundalini Energy and Satchidanand
SATCHIDANAND, STUDENT OF SWAMI SATCHIDANANDA, IS ONE OF THE GREATEST KUNDALINI YOGIS IN THE WEST!!
Siva Samhită, iii, 10-19: "Now I shall tell you how easily to attain success in Yoga, by knowing which the Yogis never fail in the practice of Yoga. Only the knowledge imparted by a Competent Teacher through his lips is powerful and useful; otherwise it becomes fruitless, weak and very painful"

And this is why - by coming into the Buddhafield of Energy surrounding Energy Enhancement Satchidanand and from the Videos - obtained through many years of meditation with many enlightened masters, you obtain Shaktipat- an infusion of energy to help you get into a permanent state of meditation and the removal of Energy Blockages to help in your search for Illumination.

"To the sinful and vicious I appear to be evil. But to the good, beneficient am I" Mirza Khan, Ansari, Sufi, on the testing of students.

"We Meditate in Pieces to make One Piece" (Peace) Satchidanand

"Meditation is a Fast for the Mind", Satchidanand
Satchidanand, Director of Energy Enhancement Synthesis of Light, is one of the Worlds leading teachers of Meditation. Student of Zen Master, Roshi, Hogen Daido Yamahata and Swami Satchidananda of Integral Yoga and student of Sivananda of Rishikesh who named him, "Yogiraj".
With 37 years experience in Yoga he has catapulted people years ahead in their meditational experience in weeks. Some 5 years, some jump 10 times further!
Satchidanand is currently writing a commentary on the Yoga Sutras of Patanjali - a 5000 years old text on Raja Yoga one of the most high methods of Enlightenment available. You can find some of the preliminary work here - Click here for the Yoga Sutras of Patanjali
Satchidanand has written five books on meditation available at amazon.com CLICK HERE for the Colour PDFs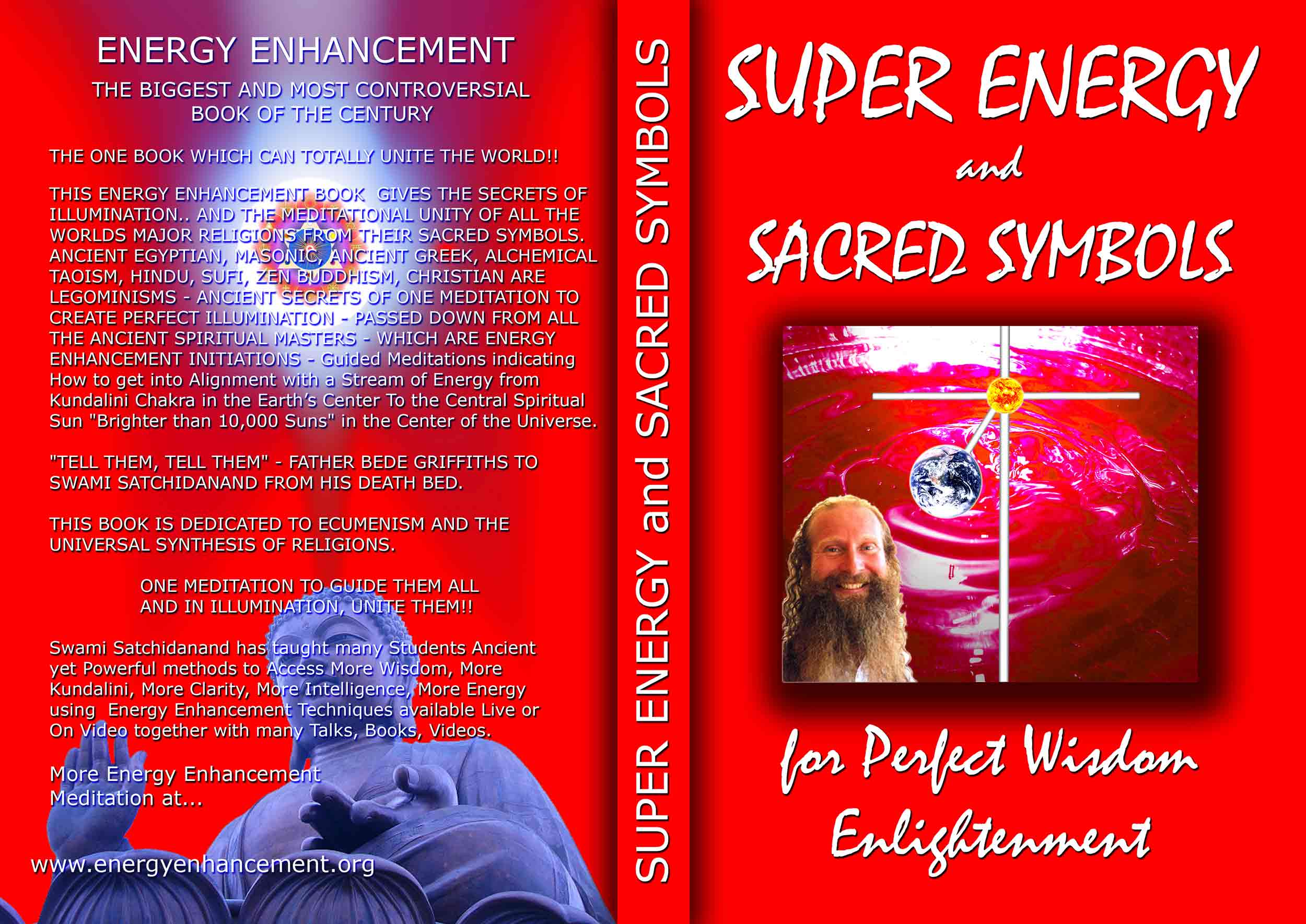 THE ENERGY ENHANCEMENT BOOKS.. "SACRED SYMBOLS AND SUPER ENERGY"
IS A 300 PAGE PDF FILLED WITH SECRET KNOWLEGE LIKE THAT HERE... GET IT FREE WITH THE ENERGY ENHANCEMENT DVD COURSE.. ORDER IT NOW...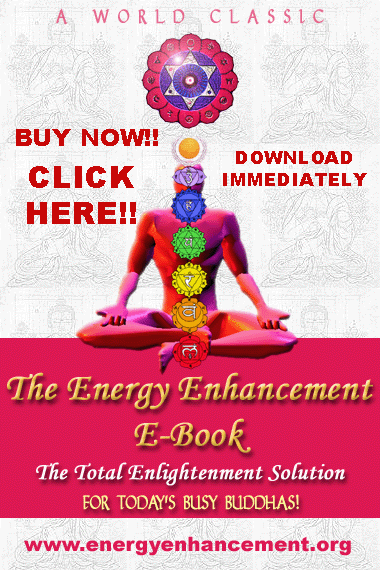 More Essential Information is available in the Energy Enhancement E-Books available NOW on this site....
THESE ENERGY ENHANCEMENT BOOKS GIVE THE SECRETS OF ILLUMINATION..
AND THE MEDITATIONAL UNITY OF ALL THE WORLDS MAJOR RELIGIONS FROM THEIR SACRED SYMBOLS
| | | | | |
| --- | --- | --- | --- | --- |
| SUPER ENERGY AND SACRED SYMBOLS FOR PERFECT WISDOM ENLIGHTENMENT | GAIN SUPER ENERGY WITH ENERGY ENHANCEMENT LEVEL ONE INITIATIONS | GANE SUPER ENERGIA CON LAS INICIACIONES DE NIVEL UNO DE ENERGIA ELEVADA | ENERGY ENHANCEMENT ONE - LINK IN TO INFINITE CHAKRA ENERGY AND ELIMINATE ENERGY BLOCKAGES | ENERGY ENHANCEMENT TWO - REMOVAL OF ENERGY BLOCKAGES, MANAGING ENERGY CONNECTIONS AND MASTERY OF RELATIONSHIPS |
| DOWNLOADABLE COLOUR PDF | DOWNLOADABLE COLOUR PDF | DOWNLOADABLE COLOUR PDF | DOWNLOADABLE COLOUR PDF | DOWNLOADABLE COLOUR PDF |
| | | | | |
In the presence of his Buddhafield, people naturally become better.

He has visited India many times for up to a year at a time with his partner, Devi Dhyani taking India Tours to many spiritual energy points.

SATCHIDANAND AND DEVI DHYANI IN INDIA TAJ MAHAL JULY 2010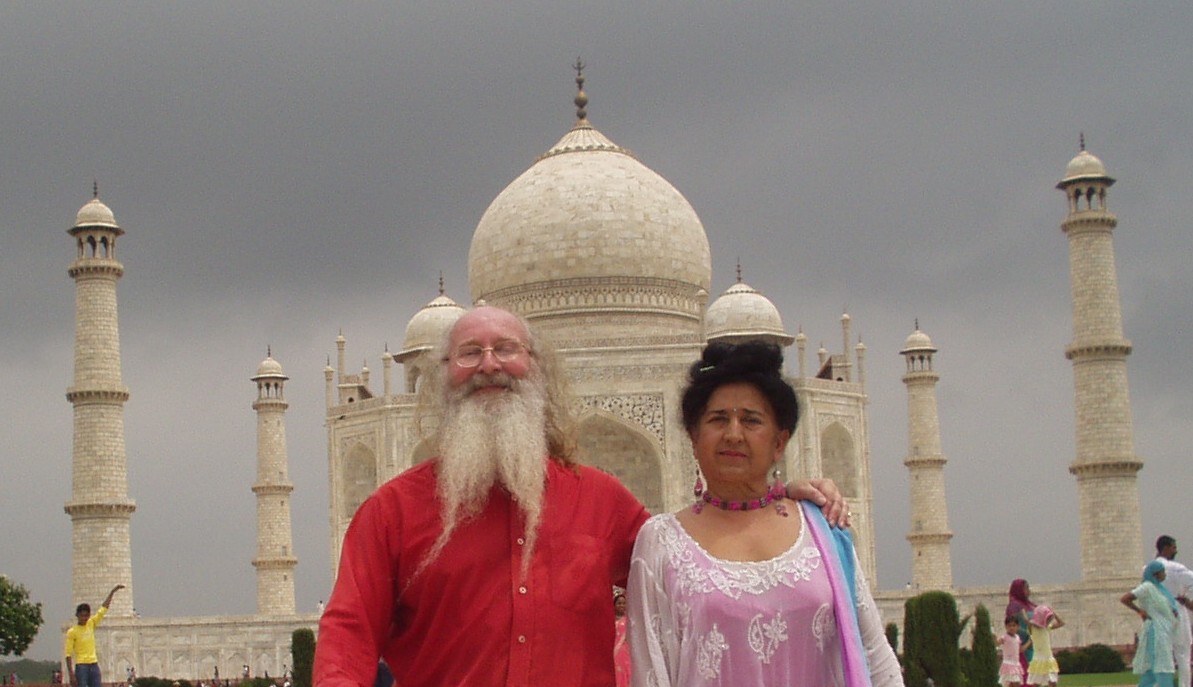 He helps people worldwide reach further than they EVER thought possible....FASTER!!!
<>"Having been on a 10 day Goenka Vipassana silent retreat where I meditated for 8 hours a day I can say that coming to stay with Satchi and Devi is so much more grounded in everyday life. The difficulty in spiritual life is balancing the material and spiritual worlds effectively.
<>Energy Enhancement does not promote a spirituality that grows only in the mountains, apart from the cities and the hustle and bustle of everyday life. It shows you how to integrate the peace of retreat with the activity of life - work, relationships, enjoyment, and spirituality - there should be no separation!
Satchi and Devi are both inspiring, wonderful examples of how to achieve this integration. No ascetic renunciation here! Only energy; how to get more of it, how to connect." PAUL - STUDENT 2004
At the age of 14 Satchidanand went into a state of Altered consciousness when he experienced his own death. After that Satchidanand started practising yoga from the age of 15 in 1967 and was taught meditation by Zen Master Hogen in 1980. He was given many typical spiritual experiences which you can read about below on this page by his Master Swami Satchidananda, Yogiraj and Disciple of Swami Sivananda of Rishikesh.
And then more experiences in the presence of Sri Yogendra of Bombay, Father Bede Griffiths, Osho and Sathya Sai Baba, before receiving his own Initiation and finding his own spiritual experience in Enlightenment - "Although I am just a normal person I feel a deep reverence for the energy which has been given to me to help the Spiritual Growth of all beings. I feel a tremendous responsibility for its correct action in the world. This Spiritual Energy and Kundalini is worthy of the deepest respect!" Satchidanand.
SATCHIDANAND TEACHING ON THE SEPTEMBER ENERGY ENHANCEMENT COURSE AT THE SOL CENTER IN SPAIN
The Energy Enhancement Course saved her life in that now she is able to handle the Energies she was absorbing in the course of her work. She was most appreciative of Learning the New and Effective ways of Increasing Energies, Speeding up the Mind, Opening the Heart, Activating Kundalini, Psychic Protection and the Mastery of Relationships including the Psychic Sexual Connection and Cutting Ties which are the heart of Energy Enhancement Level Four. "Thank you so much Devi Dhyani and Satchidanand for being a channel of these Energy Enhancement Techniques in which many people can receive tremendous help, protection and Inspiration."
SUSANNA MACRI - MEDICAL DOCTOR from the ashram of SATHYA SAI BABA 2003
ENERGY ENHANCEMENT COURSES
EVOLUTIONARY Kundalini Energy is the force behind the many experiences given to our students. All this does is Speed Up the Process of Evolution, Intelligence, Emotional Stability, Kindness, Wisdom and Leadership which many courses profess to teach but which Energy Enhancement has given in abundance to the many and varied students taught by it.
ENERGY ENHANCEMENT TESTIMONIALS (Click Here)
See the testimonials given by International Change Manager Philip Chester, Human Resources Director for Europe and Asia of major Fortune 500 Company, Maire Sweeney, The Marketing Physicist and McKinsey Executive, Pierre Morency, Colorado and Aspen Wealth Counselor, Gary Spaid, Writer and Teacher Vanessa Graham, Student and now Internet Poet Paul Inman and many, many, more!!
ESTABLISHED
Established in the connection with God is Enlightenment. Each Incarnation is Unique and dependant on the Quality and Quantity of the connection. Of the size and function of the Spiritual Body and the components of the Spiritual Body of the Enlightened Person. Established in the soul, sanskrit- Stithyapragnyam.
SATCHIDANAND IN THE MEDITATION ROOM IN THE ARGENTINA ENERGY ENHANCEMENT CENTER
THE TEACHERS OF SATCHIDANAND
Energy Enhancement has been able to teach most people to remove their own energy blockages with the backup of Energy Enhancement teachers, Satchidanand and Devi Dhyani who were taught by Zen Master Hogen, who has a Zen Temple on the slopes of Mount Fuji in Japan, and also in Australia, and Swami Satchidananda, a student of Swami Sivananda of Rishikesh, and who attained his Mahasamadhi at the age of 89 in 2002.
Listen to our free MP3s of Swami Satchidananda Here!!
SATSANG ON THE BEATITUDES by SWAMI SATCHIDANAND - TAPAS, ONE OF THE YAMAS OF THE YOGA SUTRAS OF PATANJALI, IS THE ACCEPTANCE OF SUFFERING IN ORDER TO EVOLVE, IN ORDER TO HELP ANOTHER PERSON, IN ORDER TO HELP THE WORLD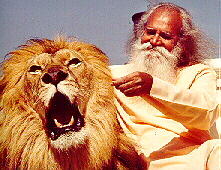 Previously only Hindu Gurus and Zen Masters had the ability to remove energy blockages by means of their psychic powers gained through a lifetime of meditation and other miracles. People who have known Roshi Hogen and Swami Satchidananda know that through them, enlightenment exists and is living today, as in all the ages of this planet when virtue is in abeyance.
Hogen's Haiku, "Can you feel my breeze blowing, Even from 10,000 miles." Yes, we felt his energy even at the other ends of the earth. The secret of Zen and the Guru is that they remove the blockages of the student, but only when the student is ready, when the student has learnt how to ask. How to be a good student.
That is why all the enlightened including Swami Satchidananda, Tangen Harada Roshi, Yasutani Roshi and Zen Master Hogen have been so successful in producing their HIGHLY EVOLVED and enlightened students.
<>Although Satchidanand and Devi Dhyani will teach you Energy Enhancement techniques Online, by Video and on Retreat to remove your own blockages, if the blockage is too tough and too deep for you, the Buddhafield <>of Energy Enhancement and Satchidanand and Devi Dhyani, is waiting to help you on the Costa Brava in Spain, Argentina, and India.
"Each of these blockages is a potential time bomb in that toxins are deposited in these blockages. Eventually the organ in which the blockage resides fails producing sometimes cancer and heart disease. So understand that even from a simple physical point of view, how necessary it is to learn and practice Energy Enhancement Techniques" JULIA HERRERA - RADIO PERSONALITY 2003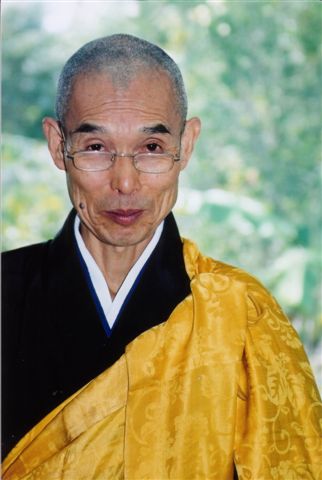 SATCHIDANAND, ZEN MASTER ROSHI HOGEN AND HINDU GURU SWAMI SATCHIDANANDA
As my Master Roshi Hogen says THE ANTAKARANA - "The spring at the top of the Mountain." - Which stretches from the Kundalini Chakra in the Center of the Earth through our bodies with all of its seven chakras out towards the Center of the Universe, the chakras of the Soul, the Monad, the Logos, Sirius, through an infinity of chakras towards God.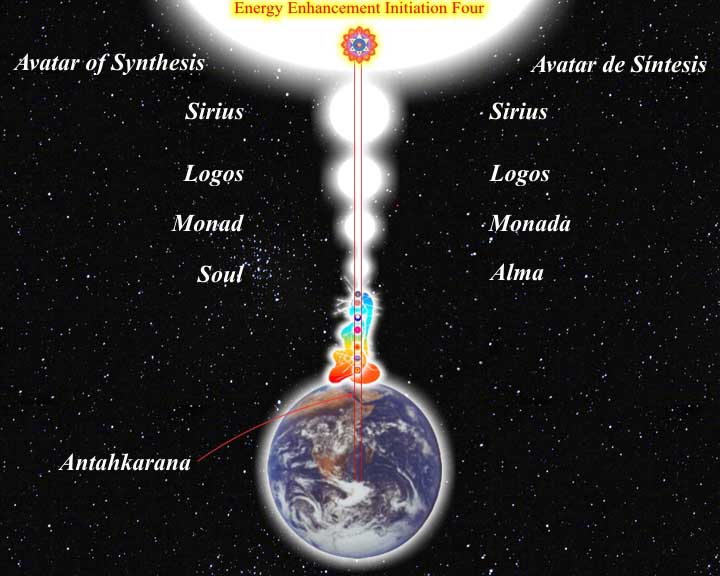 Illness is caused by a lack of energy. We can only heal ourselves when we learn to fill ourselves with energy by these methods.
SATCHIDANAND - When I was 7 years old I had the experience of seeing one of my past lives in dream. I saw my own death as a soldier in lines of soldiers wearing red and blue. I knew that this was a genuine experience because it was so profound. When I woke up I had the feeling that my mind was twice the size. That it had expanded in some way that I had never experienced before. I did not talk to anyone about this experience.
"Keep it secret. Keep it safe!!"
When I was fourteen I had another experience in dream. I saw my own death. I saw the process of my own life as a very boring experience without meaning and purpose. Getting my "O" Levels and "A" Level examinations. Going to University and getting my Degree. getting married and getting 2.4 happy children. Meaningless happy work and then on my 85th birthday going to hospital with tubes coming out of me and seeing my blood drain away out of these holes and then feeling my own death. I was feeling my death profoundly for 3 days after the experience and I had the feeling that it was time to Speed Up!!
I began the process of Hatha Yoga from books. I was persuaded by an article by Sir Alec Rose I saw in a Sunday Newspaper.
The same experience happened when I was Twenty-One years old and the profound feeling of seeing my own Death again and again the feeling that I needed to Speed Up!! I had the knowledge that year that, "I was the Captain of my Ship" and I began the very real dialogue with my Soul.
I began the Process of Pranayama when I was 21 and took to reading Gurdjieff and Eric Berne.
<>When I was Twenty Eight I decided it was time to meditate and after One Year of meditating every day by myself and becoming a Yoga teacher and Aikido Student I encountered my Zen Master.
<>I was very happy with Zen Master Hogen. Every Day as soon as I got out of bed, for many years, I would meditate. But strangely I found more and more that I was getting thrown out of bed every morning by him so I could meditate. And he was connected to me, "Can you feel my breeze blowing? Even from Ten Thousand Miles!" <>I had the vision several times of him polishing my base chakra whilst I was sitting in meditation.
Because "Through Luck" "And to be Spiritual, you have to be lucky" I was using Energy Enhancement Grounding and connection with the chakras above the head in my Zazen meditation - something I never mentioned to anyone - I progressed very rapidly in meditation. In my first Sessein I was in pain but still did not require much sleep on the course. On my second sessein I managed to exist in a state of Samadhi in the chakras above the head. The only way to stop the pain is to exist in the "Highest Heart" out of the body - "All sages and saints for thousands of years live in Prajna Paramita" - Gautama Buddha from the Heart Sutra Translation
Hogen took one look and said to my friend and yoga teacher, Granville Cousins, "Look how much he has grown!"
I went to a Greek Island with Hogen back around 1987 where he was giving a course with Yoga Teachers Angela Farmer and Victor Van Kooten. I was there with Hogen because I was to act as his general factotum and helper so we stayed in the same house for a couple of weeks. I cooked the food, washed the dishes and one day was asked to cut his hair with shears. To partake of his crown chakra energy. Thank you Zen Master Hogen!!
During that time one night when I slept I had a very vivid dream and I dreamt that I was lying on a slab of stone dressed as an ancient king in armour and with a sword - an image very much like but predating by several years the image of the dead Aragorn in the Lord of the Rings Movie.
Hogen came towards me in his robes and he bent over me slowly from the waist and brought his mouth to my right eye and sucked it out from my eye socket! He slowly returned to vertical with my eye in his mouth, took it out with his fingers and then polished it up, put the eye back in his mouth, bent over me again and then blew back my eye, back in my eye socket again with his mouth!
Swami Satchitananda said that, "Yoga is the creation of Psychic Vision" He also said that Hogen and I are like a train. Hogen is the engine pushing from the back and I am the engine pulling from the front. From this I gathered that HOGEN WAS LOOKING AFTER MY BASE CHAKRA AND SATCHIDANANDA WAS LOOKING AFTER MY CROWN CHAKRA AND ALL THE CHAKRAS ABOVE THE CROWN CHAKRA.
The next day Hogen had done something really stupid. He had put some olbas oil, a strong oil containing oil of wintergreen, on his finger and by accident put it into his right eye and was in pain. The students rushed to help him wash out the oil but I have pictures of Hogen wearing a piratical black eyepatch, "eye, eye, me hearties!" for a week afterwards.
I came to understand later that Hogen had indeed cleared up my psychic vision through many experiences I received later.
Indeed, every true student will have similar experiences of when the Spiritual Master took on some of their Karma, with great effort and pain sometimes, in order to help their evolution.
Its what Masters have been created to do. And without my dream knowledge, like all the other students, I would have thought Hogen had done something stupid too. We can not know what they are really doing.
Enlightened Masters work in mysterious ways.
Taking "The Path of Blame" they even do stupid things to test out the hearts of their students.
The Initiation of Illumination is something precious, only to be given away to the worthy. The student must know that, "They have to be there before they can stay there" thus many students are "Blown Out" before they can do any harm.
And then, after many years of work, zazen, meditation, with Zen master Hogen I meditated on the Koan of Ramana Maharshi, "Who am I" They call the Koan, "The Vichara" based upon the work of Ramana Maharshi which occurred when he became Enlightened.
At the age of sixteen, Ramana Maharshi was full of the Bhakti, the love of God, after visiting the statues of the 63 Nayanar Saints of Tamil Nadu at the Meenakshi Temple Madurai who all acheived Enlightenment upon their deaths invariably because they kept a promise at the cost of their lives. He decided to lie on the floor and see what death was like. Such was his determination to see his own death, when he returned from his experience he was Enlightened.
The best way he could describe his experience was the Vichara which when followed gives you the experience of your Soul or Enlightenment.
Later in life Ramana said that to become Enlightened you need to have the help of an Enlightened Master. And indeed Ramana Maharshi was a genuine Master. All of his real students had the experience of seeing him on the astral plane helping; removing their blockaages, energising their causal bodies causing them to weep.
But when he was asked, "Who was your Master' he had no reply but hinted that an Ascended Master had taken an interest in his Enlightenment.
Ekhard Tolle essentially had the same experience after much misery and the feeling of wanting to die he woke up enlightened one day and since has tried to describe to others how he did it through a description of the "Normal' Mind and its associated "Pain Body"
The Pain Body essentially is the Selfish Competitive Ego made up of a mass of Selfish Desire Blockages which are coated with the Pain of Trauma Formed Negative Karmic Mass.
The Technique of the Energy Enhancement Seven Step Process is the only Enlightenment process outside of Scientology which can dissolve Energy Blockages. Without it Buddhism, Hinduism, Ramana Maharshism, Ekhard Tollism, Sri Niscardattaism, any other Enlightenment process depends on the Master to remove the energy blockages.
In Energy Enhancement, we help but we give full instructions to our students on how to Eliminate the Energy Blockages of the Angry, Painful, Selfish, Competitive, Fearful, Desire filled Ego and all of our students report on their personal success in eliminating their own Energy Blockages by themselves.
IN THIS WAY, WITH ENERGY ENHANCEMENT, NEW MASTERS ARE VERY EASILY FORMED
The rate of evolution of humanity needs to increase. The old ways of the Master doing all the work of removing the energy blockages of the ego are now too slow. The recommendation is for students to serve their Masters for at least 12 years. Many have been there for 20 years with no appreciable movement forwards. The new technique of The Energy Enhancement Seven Step process can now augment the processes of every Enlightened master and thus Speed Up the process of Enlightenment Worldwide.
"NOW IS THE OPPORTUNITY FOR FULFILLMENT AND NEW BEGINNINGS FOR THE WHOLE WORLD"
ENERGY ENHANCEMENT IS A NEW REVELATION OF GOD TO HUMANITY!!
When I meditated on the Vichara, "Who Am I" Immediately I had the enlightenment experience of travelling along the Antahkarana out of the body to a place where was all my past lives hanging in space thousands of them in a neat matrix. I decided to enter into one of them and saw that past life gaining much experience. I knew I could spend more time there investigating my past lives and the mad personalities, because not enlightened, in charge of those lives but I knew that essentially apart from having it, it was useless.
I then decided to go higher. There too I gained much experience from meeting Ascended Masters.
"Drop Body, Drop Mind" - Zen Master Dogen after his Illumination Experience
When I went to Zen Master Hogen in Dokusan with this experience, after I told him about the past lives he said, "We can explore this area of the Astral Plane for 10,000 years and get nowhere!"
Then I told him about going higher along the Antahkarana and meeting the Ascended Masters and he smiled! And in another space with my psychic vision I saw his aura expanding, gold, and enfolding me in the energy of his love...
After this I was allowed to find another Master...
KUNDALINI AND THE DIRECTORS OF "ENERGY ENHANCEMENT SYNTHESIS OF LIGHT" BIOGRAPHIES - SATCHIDANAND and DEVI DHYANI - CLICK HERE!!


Energy Enhancement
The present site offers a synthesis of many methods derived from different sources, all of which are designed to help the practitioner to emerge from the darkness of waking sleep into the light of full consciousness. Purely for convenience, these methods are referred to collectively as Energy Enhancement, Enhancement because they bring about a higher synthesis, a new level of order within the psyche. Energy Enhancement is based on the idea that man can create by his own efforts a new being within himself ( the second birth). As a result, he can enjoy certain experiences, exercise certain powers, attain certain insights that are quite inconceivable to man in his once-born state.

Energy Enhancement involves the highest form of creativity of which man is capable, the creation of a truly inner-directed being out of a helpless other-directed slave. This creative work involves every aspect of man's behavior, the instinctive, motor, emotional and intellectual. It involves an understanding of the chemistry of the body and of the mind. It involves a study of type and all that pertains to type, the strengths and weaknesses that type imposes.

It involves a study of creative activity, arts, crafts, techniques of various kinds and of the effects these activities produce on levels of consciousness. It involves a study of events on the large scale and on the small, an awareness of the processes taking place in human and nonhuman communities that affect the individual adversely or otherwise. For man cannot be studied apart from his environment and he who would know himself must also know the world in which he lives.

The theory of Energy Enhancement can be studied in books." The practice is a different matter. For this a teacher is necessary. One who tries to practice the method without a teacher almost inevitably encounters certain difficulties which he cannot surmount. The illusion-creating mechanism in man's psyche does not cease to operate merely because a man decides to practice Creative Psychology. In fact, in such a one, it may operate all the more actively. So he may enjoy all sorts of pseudo-experiences, the result not of an expansion of consciousness but of the workings of his own imagination. A teacher can help him to sort out the true from the false, can warn him about the traps that lie in his path. Furthermore, the solitary practitioner of Energy Enhancement lives today in a culture that is more or less totally opposed to the aims he has set himself, that does not recognize the existence of the Master Game, and regards players of this game as queer or slightly mad.
The player thus confronts great opposition from the culture in which he lives and must strive with forces which tend to bring his game to a halt before it has even started. Only by finding a teacher and becoming part of the group of pupils that that teacher has collected about him can the player find encouragement and support. Otherwise he simply forgets his aim, or wanders off down some side road and loses himself. Unfortunately, it is very difficult to find such teachers and such groups.
They do not advertise, they operate under disguises. Moreover, there exists an abundance of frauds and fools who pass themselves off as teachers without having any right to do so. So the would-be player of the Master Game encounters at the outset one of the most difficult tests in his career. He must find a teacher who is neither a fool nor a fraud and convince that teacher that he, the would-be pupil, is worth teaching. His future development depends largely on the skill with which he performs this task.20
KUNDALINI AND THE DIRECTORS OF "ENERGY ENHANCEMENT SYNTHESIS OF LIGHT" BIOGRAPHIES - SATCHIDANAND and DEVI DHYANI - CLICK HERE!!
<> FROM DON MINIHANES COURSE REPORT - LAST WEEK OF ENERGY ENHANCEMENT REIKI MASTERY OPTION

"I am now in the last week of the course and I feel like a totally different person. I have regained myself and have been given from nothing having no psychic vision at all at the start of the energy enhancement course, a clarity of psychic vision that is breathtaking." "As we practiced on each other we came very quickly to realise this. I could literally feel the energy moving inside each chakra as the other person worked within me from several meters away and when I worked on the other person I could see me projecting energy to them and could see where the blockages were within their chakras.

I could force the energy from my centres into their centres and clean their centre bringing the energy full circle back to me. You could tell the state of their chakras by the amount of energy returning to your own centre and this was achieved by mind power only.

Before I came here Satchi said he would teach me to do it in this way and I was sceptical about this claim. I could never envision me having psychic vision, but I have now, I can now do astonishingly powerful Reiki sessions on people without going any where near them and distance healing over any distance is a piece of cake, incredible stuff."

"I am totally de-stressed and have expanded in every way. I feel stronger and fitter and much more mentally agile than I have ever felt in my life. The fog and confusion of life has gone and I feel that I have just received the inside information on everything.

I am ready for anything and am wide awake. I am full of the most incredible energy imaginable and have Energy Enhancement Reiki that is so powerful it staggers me. I know a thing or two about Reiki and had a very strong Reiki connection before I got here, now I have a connection that is beyond description and I have yet to undergo the second initiation this week and then the masters. I have opted to take this as an extra and for anyone who is interested, I believe this is beyond anything you will ever experienced anywhere."

I am now equipped with life tools and healing tools that one only dreams of and there is nothing out there in the world that will ever faze me again. I am absolutely delighted that I decided to come here, because this experience has changed me, for the good of me and for all those that I will touch when I leave here. I am so excited and can't wait to start exploring my new found talents"

MORE ON ENERGY ENHANCEMENT REIKI

email sol@energyenhancement.org for Course details

THOMAS BLAIRS REPORT JULY 9TH 2010

I have been to see Satchi & Devi almost once a year since 2005, and I have to say, that I have never been let down. Every time they greet me at the airport I am received in an atmosphere of great warmth, positivity and generosity, into which I soon relax and know that it's safe to be me with all my "luggage". In June 2010 I recently went on a 6 week course they were holding in India.

In the weeks I spent with them it was clear that the blockages I was removing with their help, were increasing the amount of energy flowing through me during meditation. I have never been one to naturally take to meditating, but with these new experiences of Samadhi (sam – with, adhi – light), it was certainly making it possible for me to sit for much longer periods.

I must concede, that on more than one occasion I started to object and complain about what we were doing, and the methods employed to transmute the blockages in my being. Satchi & Devi would patiently wait for me to see that the person complaining was not the real me, it was not the soul infused personality that I really am, but rather the voice of the blockages that did not want to go. There are different types of blockages, and of course, the easy ones are the first to go, but I was now experiencing some really tough ones. They can certainly be very cunning these blockages, and its thanks to the experience and energy of Satchi & Devi that I was able to continue on my way to overcome some really strong blockages.

My experiences of Samadhi: The first time I experienced anything other than a calm mind in meditation was actually the very first course I attended with Satchi & Devi in Spain. The experience of energy surging through my body was first felt in my 1st and 2nd chakras. It was like having champagne bubbling away in my lower abdomen. Before I talk about my experience here in India, I think it would be useful to describe briefly and partly a technique used to commence the flow of energy and so the entry into Samadhi. It's to do with using the mind to visualise chakras above the head and below the base chakra to infinity. For me, the concept of infinity and trying to imagine this distance above my head, kind of triggered a bypass switch in my mind, and all of a sudden my mind was quite literally replaced by a surge of electricity and light – Samadhi.

"If the Map is Correct, Experiences Follow" - Satchidanand

This time here in India I was experiencing different levels of Samadhi. During meditation I notice the attainment of a constant flow of energy through my being which gets more and more intense, and rises further and further up my body, the higher I go up the chakras above my head to an inconceivably bright and intense sun. Quite often my breathing slows or even stops a while at the head of an in-breath as my head feels infused with light. My body feels like it is being purified, and in fact it is, as light is being shone through me. I always finish the meditation feeling more positive about my life and the world around me and a feeling that really everything is ok.

Over and above this, I receive what I would describe as bolts of light lasting between 2-5 seconds.

During these brief moments, I am no longer a body with senses or even a sense of weighing or being anything, and am unable to think.

"In the Buddhafield we find we can Move On More Quickly!" - Satchidanand

It's my experience that the body is like a resistor in an electronic circuit. The more blockages we have, the greater the resistance to the light. By removing a significant number of blockages, I have reduced the resistance of my gross and subtle body, and am now able to sit in Samadhi with ease. And of course, the more light I can sit in, the more blockages I can remove - now that's what I call spiritual progress!

Thomas Blair

LOVE AND LIGHT

SATCHIDANAND




ARE YOU ANGRY MR SUFI?
---
---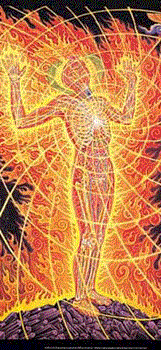 THE SUFI MASTER, AJNABI SAID, 'WRITE TO MULLA FIROZ AND TELL HIM THAT I HAVE NO TIME TO ENGAGE HIM IN CORRESPONDENCE, AND THEREFORE HAVE NOTHING TO SAY TO HIS LETTER.'

THE DISCIPLE, AMINI, SAID, 'IS IT YOUR INTENTION TO ANNOY HIM WITH THIS LETTER?'

AJNABI SAID, 'HE HAS BEEN ANNOYED BY SOME OF MY WRITINGS. THIS ANNOYANCE HAS CAUSED HIM TO WRITE TO ME. MY PURPOSE IN WRITING THE PASSAGE WHICH ANGERS HIM WAS TO ANGER SUCH AS HE.'

AMINI SAID, 'AND THIS LETTER WILL ANGER HIM FURTHER?'

AJNABI SAID, 'YES. WHEN HE WAS ENRAGED AT WHAT I WROTE, HE DID NOT OBSERVE HIS OWN ANGER, WHICH WAS MY INTENTION. HE THOUGHT THAT HE WAS OBSERVING ME, WHEREAS HE WAS ONLY FEELING ANGRY. NOW I WRITE AGAIN, TO AROUSE HIS ANGER, SO THAT HE WILL SEE THAT HE IS ANGRY. THE OBJECTIVE IS FOR THE MAN TO REALISE THAT MY WORK IS A MIRROR IN WHICH HE SEES HIMSELF.'

AMINI SAID, 'THE PEOPLE OF THE ORDINARY WORLD ALWAYS REGARD THOSE WHO CAUSE ANGER AS ILL-INTENTIONED.'

AJNABI SAID, 'THE CHILD MAY REGARD THE ADULT WHO TRIES TO REMOVE A THORN FROM HIS HAND AS ILL-INTENTIONED. IS THAT A JUSTIFICATION FOR TRYING TO PREVENT THE CHILD FROM GROWING UP?'

AMINI SAID, 'AND IF THE CHILD HARBOURS A GRUDGE AGAINST THE ADULT WHO REMOVES THE THORN?'

AJNABI SAID, 'THE CHILD DOES NOT REALLY HARBOUR THAT GRUDGE, BECAUSE SOMETHING IN HIM KNOWS THE TRUTH.'

AMINI ASKED HIM, 'BUT WHAT HAPPENS IF HE NEVER GETS TO KNOW HIMSELF, AND YET CONTINUES TO IMAGINE THAT OTHERS ARE MOTIVATED BY PERSONAL FEELINGS?'

AJNABI SAID, 'IF HE NEVER GETS TO KNOW HIMSELF, IT MAKES NO DIFFERENCE AS TO WHAT HE THINKS OF OTHER PEOPLE, BECAUSE HE CAN NEVER HAVE ANY APPRECIATION OF WHAT OTHERS ARE REALLY LIKE.'

AMINI ASKED, 'IS IT NOT POSSIBLE, INSTEAD OF AROUSING ANGER A SECOND TIME, TO EXPLAIN THAT THE ORIGINAL WRITING WAS COMPOSED FOR THIS PURPOSE, AND TO INVITE MULLA TO REVIEW HIS PREVIOUS FEELINGS?'

AJNABI SAID, 'IT IS POSSIBLE TO DO THIS, BUT IT WILL HAVE NO EFFECT. RATHER IT WILL HAVE AN ADVERSE EFFECT. IF YOU TELL THE MAN YOUR REASON HE WILL IMAGINE THAT YOU ARE EXCUSING YOURSELF, AND THIS WILL AROUSE IN HIM SENTIMENTS WHICH ARE HARMFUL ONLY TO HIM. THUS, BY EXPLAINING, YOU ARE ACTUALLY ACTING TO HIS DETRIMENT.'

AMINI SAID, 'ARE THERE NO EXCEPTIONS TO THIS RULE -- THAT MAN MUST LEARN THROUGH REALISING HIS OWN STATE, AND THAT HIS STATE CANNOT BE EXPLAINED TO HIM?'

AJNABI SAID, 'THERE ARE EXCEPTIONS. BUT IF THERE WERE ENOUGH EXCEPTIONS TO MAKE ANY DIFFERENCE TO THE WORLD, WE WOULD NOT BY NOW HAVE ANY MULLA FIROZES LEFT.'



MAN'S being is very simple, but his personality is not. The personality is very complex. The personality is like an onion -- there are many layers of conditioning, corruption, poisoning. Hidden behind many layers -- what Sufis call filters -- is man's simple being. But that simple being is behind so many filters that you cannot see it. And hidden behind these many filters, you cannot see the world either -- because whatsoever reaches you is corrupted by the filters before it reaches you. Nothing ever reaches you as it is; you go on missing it. There are many interpreters in between.

You see something. First your eyes and your senses falsify. Then your ideology, your religion, your society, your church -- they falsify. Then your emotions -- they falsify. And so on and so forth. By the time it reaches to you it has almost nothing of the original, or so little that it makes no difference. You see something only if your filters allow it, and the filters don't allow much.

Scientists agree with the Sufis. Scientists say we see only two per cent of reality. Only two per cent! Ninety-eight per cent is missed. When you are listening to me you will hear only two per cent of what has been told, of what has been said. Ninety-eight per cent will be lost. and when the ninety-eight per cent is lost, that two per cent is out of context. It is as if you have taken two pages from a novel, at random -- one from here, one from there -- and then you start reconstructing the whole novel from these two pages. Ninety-eight pages are missing. You have no inkling what they were; you don't even know that they were. You have only two pages and you reconstruct the whole novel again. This reconstruction is your invention. It is not discovery of truth, it is your imagination.

And there is an inner neCessity to fill the gaps. Whenever you see that two things are unrelated, the mind has an inner urgency to relate them. Otherwise it feels very uneasy. So you invent a link, you fix those loose things with a link, you bridge them. And you go on inventing a world that is not there.

So before we can enter into this small but immensely valuable dialogue between the Master and the disciple, you will have to understand these layers, these filters.

Gurdjieff used to call these filters 'buffers'. They protect you against reality. They protect your lies, they protect your dreams, they protect your projections. They don't allow you to come into contact with reality because the very contact is going to be shattering, shocking. Man lives through lies.

Frederick Nietzsche is reported to have said, 'Please don't take the lies away from humanity, otherwise man will not be able to live. Man lives through lies. Don't take the fictions away, don't destroy the myths. Don't tell the truth because man cannot live by truth.' And he is right about ninety-nine point nine per cent of people. But what kind of life can there be through lies? It will be a big lie itself. And what kind of happiness is possible through lies? There is no possibility; hence humanity is in misery. With truth is bliss; with lies there is only misery and nothing else.

But we go on protecting those lies. Those lies are comfortable, but they keep you protected against bliss, against truth, against God.

Sufis say that man is exactly like an onion. And religion is the art of how to peel the onion and come to it's innermost core. And what is the innermost core of an onion? Have you ever peeled an onion? You go on peeling one layer. another layer, and another, and so on and so forth. Then a point comes when the last layer is taken off and only emptiness is left in your hand. That is FANA. If you go on peeling your being, the last layer will be of being -- BAKA -- and beyond that will be emptiness -- FANA.

So you can think in this way: at the very innermost core there is emptiness, pure sky, nothingness, FANA. The first layer around FANA is that of BAKA, individuality -- what religions call the self, ATMAN, the soul. But the soul is already a step away from your being. The self is already distant from your being. Buddha has the right word for it. He calls it ANATTA, no-self. Your innermost being is a non-being. Nothing is there, or only nothing is. The first layer, the first fence that surrounds it, is BAKA, individuality.

This is your true and simple being: non-being surrounded by being, defined by being.

The real core is empty but the emptiness has to be defined by something -- otherwise there will be no division between you and anything else. So a thin. a very thin, layer of being divides you. But that being is also a circumference not the centre. At the centre is FANA, dissolution, disappearance. Even at the point of BAKA, individuality, you don't meet God, you are still there. Very little is left of you, but there is still just a thin line -- even that has to disappear in FANA. Then you enter God.

Start from the other end. Start peeling the onion.

The first layer is made of corrupted physical senses. Never for a single moment think that your physical senses are as they should be -- they are not. They have been trained. You see things it your society allows you to see them. You hear things if your society allows you to hear them. You touch things if your society allows you to touch them.

Man has lost many of his senses -- for example, smell. Man has almost lost smell. Just see a dog and his capacity to smell -- how sensitive is his nose! Man seems to be very poor. What has happened to man's nose? Why can't he smell so deeply as a dog or as a horse? The horse can smell for miles. The dog has an immense memory of smells. Man has no memory. Something is blocking the nose.

Those who have been working deep into these layers say that it is because of the repression of sex that smell is lost. Physically man is as sensitive as any other animal, but psychologically his nose has been corrupted. Smell is one of the most sexual doors into your body. It is through smell that animals start feeling whether a male is in tune with the female or not. The smell is a subtle hint. When the female is ready to make love to the male she releases a certain kind of smell. Only through that smell does the male understand that he is acceptable. If that smell is not released by the feminine sexual organism, the male moves away; he is not accepted.

Man has destroyed smell because it will be difficult to create a so-called cultured society if your sense of smell remains natural. You are moving on the road and a woman starts smelling and gives you a signal of acceptance. She is somebody else's wife; her husband is with her. The signal is there that you are acceptable. What will you do? It will be awkward, embarrassing.

Your wife is walking with you and there is no smell from her body, and suddenly a man passes by and she gives the signal. And those are very unconscious signals; you cannot control them suddenly. Then you will become aware that she is interested in the other man, that she is welcoming the other man. That will create trouble. So down the centuries man has destroyed smell completely.

It is not just accidental that in cultured countries much time is wasted in removing all kinds of smell from the body. The body odour has to be completely destroyed by deodorants, deodorant soaps. It has to be covered by layers of perfume, strong perfume. These are all disguises; these are ways to avoid a reality that is still there.

When you make love, both male and female release a certain kind of smell. That smell has to be destroyed because if the man is making love to the woman and the woman is not really into it she will not release the smell. The man will be offended, hurt. He will immediately feel that the woman is not having any orgasm. And the male ego will feel very offended. The smell has to be destroyed completely, so that the man never knows that the woman was simply pretending that she was having an orgasm, just making empty gestures, befooling him, buttressing his ego. And he feels satisfied because the woman looks satisfied. But once the smell is destroyed, there is no way to detect whether she is really satisfied or not.

Smell is very sexual, that's why we have destroyed the nose, utterly destroyed the nose. Even in language you can see the difference. To see means one thing; to hear, one thing -- but to smell means just the opposite. To see means a capacity to see, but to smell does not mean the capacity to smell. It means that you are smelly. Even in language the repression has entered. And the same has happened with other senses.

You don't see people eye to eye; or, if you do see them, it is only for a few seconds. You don't see people really; you go on avoiding. If you see, it is thought to be offensive. Just remember, do you really see people? Or do you go on avoiding their eyes? -- because if you don't avoid them then you may be able to see a few things which the person is not willing to show. It is not good manners to see something that he is not willing to show, so it is better to avoid. We listen t,, the words, we don't see the face -- because many times the words and the face are contradictory. A man is saying one thing and he is showing another. Gradually we have completely lost the sense of seeing the face, the eyes, the gestures. We only listen to the words. Just watch this and you will be surprised how people go on saying one thing and showing another. And nobody detects it because you have been trained not to look directly into the face. Or, even if you look, the look is not that of awareness, not that of attention. It is empty; it is almost as if you are not looking.

We hear sounds by choice. We don't hear all kinds of sounds. We choose. Whatsoever is useful we hear. And to different societies and different countries, different things are valuable. A man who lives in a primitive world, in a forest, in a jungle, has a different kind of receptivity for sounds. He has to be continuously alert and aware of the animals. His life is in danger. You need not be alert. You live in a cultured world where animals don't exist any more and there is no fear. Your survival is not at stake. Your ears don't function perfectly because there is no need.

Have you seen a hare or a deer? How attentive they are, how sensitive. Just a small sound -- a dead leaf stirred by the wind -- and the deer is alert. You would not have noticed it at all. And great music surrounds life, subtle music surrounds life, but we are absolutely unaware of it. There is great rhythm -- but to feel it you will need more alert ears, more alert eyes, a more alert touch.

So the first layer is of corrupted physical senses. We see only what we want to see. Our whole body mechanism is poisoned. Our body has been made rigid. We live in a kind of frozenness; we are cold, closed, unavailable. We are so afraid of life that we have killed all kinds of possibilities through which life can make a contact with us.

People don't touch each other, they don't hold hands, they don't hug each other. And when you hold somebody's hand, you feel embarrassed, he feels embarrassed. Even if you hug somebody, it feels as if something wrong is happening. And you are in a hurry to get away from the other's body, because the other's body can open you. The warmth of the other's body can open you. Even children are not allowed to hug their parents. There is great fear.

And all fear is basically, deep down, rooted in the fear of sex. There is a taboo against sex. A mother cannot hug her son because the son may get sexually aroused -- that is the fear. A father cannot hug his daughter. He is afraid he may get physically aroused. Warmth has its own ways of working. Nothing is wrong in being physically aroused or sexually aroused. It is simply a sign that one is alive. that one is immensely alive. But the fear, the sex taboo, says keep away, keep a distance.

Sudha's father was dying; he was very old. He was my sannyasin. And Sudha was very much puzzled because before he died his hands would go again and again to his genital organs. His hands had to be pulled away. And she was puzzled and worried, naturally. What was happening to her father? Was there some sexual repression? Why did his hands go to the sexual organs, to the genitals, again and again? And he was almost unconscious.

It happens to many people when they are dying. One of the reasons is repression, but only one. They are losing the social consciousness; they are losing the conditioning. This first layer of corrupted senses is disappearing; death is moving in. And they are becoming small children again. Small children play with their genital organs; they have not yet been corrupted. They enjoy their bodies, they love their bodies. They are playful about it, it is fun.

Now the man is no longer old; he is becoming younger again. Death is taking the layer away -- that is one thing. Another thing is that when a man dies, for a single moment all his senses become totally alive as they would have been if they had not been corrupted. It is like a flame before a lamp goes out -- the flame burns brightly, with intensity, for a single second. Exactly the same happens when life is going out. For a single moment the last effort is made to live, and one burns bright with total sensitivity.

Another reason: when a man is dying the circle is complete -- naturally death is very close to birth. Death is very close to life; it is the very crescendo of life. Life comes out of sex energy and life is moving back into sex energy.

But all our senses are corrupted. We have not been allowed to be natural -- -hence man has lost dignity, innocence, grace, elegance. This is the first layer. And because of all these repressions the body has become non-orgasmic. There is no joy -- it has happened both to man and woman, in almost the same way, but man has gone deeper into corruption than woman -- because man is perfectionistic, neurotically perfectionistic. Once he gets an idea, he tries to go to the very extreme of it. Women are more practical, less perfectionistic, less neurotic, more earthly, more balanced, less intellectual, more intuitive. They have not gone to the very end. It is good that women have not become as neurotic as men -- that's why they still retain some dignity, some grace, some roundness of being, some poetry. But both have been corrupted by the society, both have become hard. Men more, women a little less, but the difference is only of degrees.

Because of this layer, everything that enters you has to pass this filter first, and this filter destroys, interprets, manipulates, gives new colours of its own, projects, invents -- and the reality becomes very garbed. When this layer disappears.... That is the whole effort of yoga: to make your body alive, sensitive, young again, to give your senses their maximum functioning. Then one functions with no taboos around; then lucidity, grace, beauty flow. Warmth arises again, openness -- and growth happens. One is constantly new, young, and one is always on an adventure. The body becomes orgasmic. Joy surrounds you.

Through joy the first corruption disappears. Hence my insistence to be joyous, to be celebrating, to enjoy life, to accept the body -- not only to accept it, but to feel grateful that God has given you such a beautiful body, such a sensitive body, with so many doors to relate to reality: eyes and ears and nose and touch. Open all these windows and let life's breeze flow in, let life's sun shine in. Learn to be more sensitive. Use every oppor-tunity to be sensitive so that that first filter is dropped.

If you are sitting on the grass, don't go on pulling it up and destroying it. I had to stop sitting on the lawn -- I used to give darshan on the lawn -- because people would go on destroying the grass, they would go on pulling on the grass. I had to stop it. People are so violent, so unconsciously violent, they don't know what they are doing. And they were told again and again, but within minutes they would forget. They were so restless they didn't know what they were doing. The grass was available to their restlessness so they would start pulling it up and destroying it.

When you are sitting on the grass, close your eyes, become the grass -- be grassy. Feel that you are grass, feel the greenness of the grass, feel the wetness of the grass. Feel the subtle smell that goes on being released by the grass. Feel the dewdrops on the grass -- that they are on you. Feel the sunrays playing on the grass. For a moment be lost into it and you will have a new sense of your body. And do it in all kinds of situations: in a river, in a swimming pool, lying on the beach in the sunrays, looking at the moon in the night, lying down with closed eyes on the sand and feeling the sand. Millions of opportunities are there to make your body alive again. And only you can do it. Society has done its work of corruption, you will have to undo it.

And once you start hearing, seeing, touching, smelling, then you smell the reality.



The second layer is of conditioning: social, political, religious, ideological -- belief systems. Belief systems make you non-communicative. If you are a Hindu and I am a Mohammedan, immediately there is no communication. If you are a man and I am a man, there is communication, but if you are a communist and I am a fascist -- communication stops. All belief systems are destructive to communication, and the whole life is nothing but communicating -- communicating with trees, communicating with rivers, communicating with sun and moon, communicating with people and animals. It is communication; life is communication.

Dialogue disappears when you are burdened with belief systems. How can you really be in a dialogue! You are already too full of your ideas and you think they are absolutely true. When you are listening to the other, you are just being polite, otherwise you don't listen. You know what is right, you are simply waiting until this man finishes and then you jump upon him. Yes, there can be a debate and a discussion and argumentation, but there can be no dialogue. Between two beliefs there is no possibility of dialogue. Beliefs destroy friendship, beliefs destroy humanity, beliefs destroy communion.

So if you want to see and hear and listen, then you will have to drop all belief systems. You can't be a Hindu, you can't be a Mohammedan, you can't be a Christian. You can't afford these kinds of nonsense; you have to be sensible enough to be without beliefs.

Caged in one's own system you are unavailable, and the other is unavailable to you. People are moving like windowless houses. Yes, you come close, sometimes you clash with each other -- but you never meet. Yes, sometimes you touch, but you never meet. You talk, but you never communicate. Everybody is imprisoned in his own conditionings; everybody is carrying his own prison around him. This has to be dropped.

Beliefs create a kind of smugness, and beliefs stop exploration because one becomes afraid. Maybe you come across something which is against your belief -- then what? It will disturb your whole system, so it is better not to explore. Remain confined to a dull, dead, defined world; never go beyond it. It gives you an 'as if' kind of knowledge -- as if one knows. You don't know anything -- you don't know anything about God, but you have a certain belief about God. You don't know anything about truth but you have a theory about truth. This 'as if' is very dangerous. This is a kind of hypnotised state of the mind.

Males and females, all have been conditioned -- although in different ways. Man has been conditioned to be aggressive, to be competitive, to be manipulative, to be egoistic. Man has been prepared for a different kind of work: to be the exploiter, to be the oppressor, and to be the master. Women have been given belief systems to be the slaves. They have been taught how to submit. They have been given a very, very small world, the household. Their whole life has been taken away from them. But once the belief system settles in, the woman accepts it and remains confined to it. And the man accepts his belief system and remains confined to it.

Men have been taught not to cry; tears are not manly so men don't cry. Now what kind of foolishness is this? Crying and weeping sometimes has such a therapeutic effect -- it is needed, it is a must, it unburdens. Man goes on burdening himself because he cannot cry and cannot weep; it is-unmanly. And women have been taught to cry and weep. It is perfectly womanly, so they go on crying and weeping even where it is not needed -- it is just a belief system. They use it as a strategy to manipulate. The woman knows that through argument she will not be able to win over the husband, but she can cry -- that works. So that becomes her argument.

Man is corrupted in one way: he cannot cry. And the woman is corrupted in another way: she starts crying and uses crying as a strategy to dominate. Crying becomes political -- and when your tears are political they lose beauty, they are ugly.

This second conditioning is one of the most difficult things to get rid of, it is very complex. You have a certain political ideology, a certain religious ideology and thousands of other things jumbled together in your mind. They have become so much a part of you that you don't think they are separate from you. When you say 'I am a Hindu,' you don't say that 'I have a belief called Hinduism,' no. You say 'I am a Hindu.' You are identified with Hinduism. If Hinduism is in danger you think you are in danger. If somebody burns a temple you think you are in danger. Or, if somebody burns the Koran, you think you are in danger because you are a Mohammedan.

These belief systems have to be dropped. Then under-standing arises; then readiness to explore, then innocence arises. Then you are surrounded by a sense of mystery, awe, wonder. Then life is no longer a known thing, it is an adventure. It is so mysterious that you can go on exploring; there is no end to it. And you never create any belief, you remain in a state of not-knowing. On that state Sufis insist very much, and so do Zen Masters -- in fact, all great Masters of the world insist on that state. If they agree on any one thing, it is the state of not knowing.

Remain constantly in the state of not-knowing. If you happen to know something, don't make a belief out of it. Go on dropping it, go on throwing it. Don't let it surround you, otherwise sooner or later it will become a hard crust and you will not be available again to life. Remain always childlike -- then communication becomes possible, then dialogue becomes possible. When two people who are in a state of not-knowing talk, there is meeting -- they commune. There is nothing to hinder. You will be able to understand me only if you are in a state of not-knowing, because I am in that state continuously.

With me, communion is possible if you drop your belief systems, otherwise they will hinder the path.

The third filter, the third layer, is pseudo reasoning, rationalisation, explanations, excuses. All are borrowed. Not a single one is your own authentic experience, but they give a kind of satisfaction. You think you are a very rational being. You cannot become rational by accumulating borrowed arguments and proofs. The real reason arises only when you are intelligent. And remember, there is a difference between an intellectual and the man whom I call intelligent. The intellectual is hidden behind the pseudo reasoning. His reasoning may be very logical but it can never be reasonable. His reason is just pseudo, it appears like reason.



Listen, I have heard....

The man was drowning. 'Help, I can't swim! I can't swim!' he cried.

'I can't either,' said the old man sitting on the river bank chewing tobacco. 'But I'm not hollerin' about it!'



Now this is perfectly rational, 'Why are you hollerin' about it? You can't swim, neither can I. So keep quiet.'

But you are sitting on the bank and he is in the river; the situation is different, the context is different.

When Buddha says something, you can repeat the same thing but the context is different. When Mohammed says something, you can repeat exactly the same thing. but it will not mean the same thing -- because the context is different. And the context matters, not what you say. It is not what you say but who you are that matters.



I have heard....

Donnegan sat in the confessional. 'Father,' he moaned, 'I have done something so bad, you are going to throw me out of the church.'

'What did you do, my son?' asked the priest.

'Yesterday,' said Donnegan, 'I saw my wife sashaying in front of me and it got me so excited I grabbed her, ripped off her clothes, threw her down on the floor, and we had sex right then and there.'

'That is a little unusual,' said the priest, 'but no reason for excommunication.'

'Are you sure you're not going to throw me out of the church?'

'Of course not.'

'Well,' said Donnegan, 'they threw us out of the super-market!'



It all depends on the context -- who you are, where you are. It depends from what point of view, from what experience, you utter. I use the same words that you use, but they don't mean the same, they can't mean the same. When I utter them I utter them, when you utter them you utter them. The words are the same but because they come from different spaces they carry a different meaning, a different connotation, different flavours, a different music.

The pseudo reasoning is just apparent reasoning, it is not knowing. It is more for the sake of finding excuses; it is more for the sake of argumentation. In this kind of deceiving, the male mind is very expert. This is the male mind's expertise. He has learned the art very deeply. This filter is very, very strong in the male mind.

Real reasoning arises only when pseudo reasoning has been dropped. What is real reason?

Karl Jaspers has defined it perfectly. He says: Reason is openness, reason is clarity, reason is the will to unity. Reason uses logic, its methods and categories of understanding, just to transcend them. Reason is the ultimate flowering of wisdom.

But not pseudo reasoning. Beware of the pseudo. The pseudo always creates a filter and the real always becomes a door. The real is always a bridge and the pseudo is always a block.

This third, pseudo reasoning layer is one of the greatest disturbances in your being.

The fourth layer is emotionality, sentimentalism. It is pseudo feeling, much ado about nothing, much fuss. The female mind is very expert at this. It is kind of empty; it is just on the surface. It is impotent sympathy; it does not do a thing. If somebody is ill, you sit by their side and you cry. Your crying is not going to help. I he house 1S on tire and you cry. That is not going to help either. This pseudo kind of feeling has to be detected, otherwise you will never know what real feeling is. The real feeling is involvement, commitment. It is empathy not only sympathy. It is action.

Whenever you really feel something in your heart, it immediately transforms you, it becomes action. That is the criterion -- your feeling becomes action. If your feeling just remains a feeling and never becomes an action, then know well it is pseudo. Then you are deceiving yourself or somebody else.

Many times people come to me and they say, 'Osho, we feel much love for you. We understand what you say, but.... ' That 'but' destroys all that they have said before. They say, 'We feel that what you are saying is right, that what you are doing is right, but we cannot become sannyasins.' If you feel that what I am saying is right, if you feel that what I am saying is truth, then how can you avoid becoming sannyasins? It is impossible. Then your feeling would become action, then your feeling would become commitment -- otherwise what is the point?

One can never go against one's heart. If you are still going against your own heart then you must have a pseudo heart -- a pretender. Just as the third is the field for male expertise, the fourth is the field for female expertise.



The fifth layer is corrupted, poisoned instincts, repression, disfiguration.

Gurdjieff used to say that all your centres are overlapping each other, are misplaced, are interfering with each other, are trespassing, and you don't know what is what. Each centre in its own functioning is beautiful, but when it starts interfering into somebody else's functioning, then there is great difficulty; then the whole system goes neurotic.

For example, if your sex centre functions as a sex centre, it is perfectly good. But people have been repressing it so much that in many people the sex centre does not exist in their genitals, it has moved into their head. This is what overlapping is. Now they make love through their head -- hence the great importance of pornography, visualisation. Even while making love to your woman you may be thinking of some beautiful actress -- that you are making love to her. Then suddenly you become interested in making love to your woman. In fact, your own woman is non-existential. It is a kind of masturbation. You are not making love to her, you are making love to somebody else who is not there. You go on fantasising in the head.

Religious repression has disturbed all your centres. It is very difficult even to see that your centres are separate. And, func-tioning in its own field, each centre is perfectly right. When it interferes with another field, then problems arise. Then there is a confusion of your totality. Then you don't know what is what.

Sex can be transformed when it is confined to its own centre, it cannot be transformed from the head. It has created a pseudo centre in the head.



I have heard....

From time to time, saints are allowed to visit the earth in disguise. Saint Theresa had long wanted to pay a visit to Hollywood, but Gabriel, who was in charge of the roster, thought that even a saint would not be able to come through unscathed after visiting the movie capital.

Eventually, however, Saint Theresa persuaded him that no harm would come to her, and she set off on the first available earth-bound cloud.

The weeks stretched into months without any word from earth, so one day a very worried Gabriel put through a telephone call to Los Angeles.

The connection was made, the phone rang, and finally a voice said, 'Terry here -- who is this? Gabby-darling! How absolutely marvellous to hear from you.... '



Now Saint Theresa is no longer Saint Theresa -- she is Terry. And Gabriel is no longer Gabriel -- he is Gabby-darling. Hollywood has corrupted Saint Theresa.

Your so-called saints are only avoiding the world; they are repressed beings. If opportunities are made available to them, they will fall far lower than you. They are just somehow holding themselves back because of the fear of hell and the greed for heaven. But whatsoever you have repressed because of fear or greed remains there. It not only remains there, it becomes unnatural, perverted, moves into deeper realms of your consciousness and unconsciousness. And then it becomes very difficult to uproot it.

Gurdjieff was a Sufi. His whole teaching comes from Sufi Masters. He introduced methods into the Western world of how to demark each centre, and how to allow the centre to function in its own field. The head should function as far as reason is concerned, that's all.

Have you watched? Sometimes people come to me and they say, 'I think I love you.' I think I love you! Love has nothing to do with thinking. How can you think that you love me? But they don't know how to function from the heart directly, even the heart has to go via the head. They cannot simply say, 'I love you.'

Just the other night a beautiful Italian woman took sannyas. I gave her the name 'Prem Nishanga'. She was a woman of the heart, something rare. She was so happy she almost started dancing. There was no need to say anything, her whole body said it. She went into such ecstasy that you can go on saying in a thousand ways, shouting with joy, and it will not be as deep as just by going into ecstasy. I don't know what she was saying because she was saying it in Italian, but her face, her eyes, her hands, her whole body was saying it. There was no need to understand her language; the language was irrelevant. When you say from the heart, no language is needed. When you say from the head, only language can say; there is no other way to say it.

Watch and observe. Let the head function as reason, let the heart function as feeling, let the sex centre function as sex. Let everything function in its own way. Don't allow mechanisms to mix into each other, otherwise you will have corrupted instincts.

When instinct is natural, untabooed, spontaneous, without any inhibition, there is a clarity in your body, a harmony in your body. There is a humming sound in your organism.

The fifth layer is also male expertise.

The sixth layer is corrupted intuition.

There is a phenomenon called intuition of which we have become almost unaware. We don't know that anything like intuition exists -- because intuition is the sixth layer. Those five layers are so thick that one never comes to feel the sixth.

Intuition is a totally different kind of phenomenon from reason. Reason argues; reason uses a process to reach a conclusion. Intuition jumps -- it is a quantum leap. It knows no process. It simply reaches to the conclusion without any process.

There have been many mathematicians who could do any kind of mathematical problem without going into its process. Their functioning was intuitive. You just say the problem and before you have even said it, the conclusion will come. There has not been a time-gap at all. You were saying it, and the moment you finished, or even before you finished, the conclusion has come. Mathematicians have always been puzzled by these freak phenomena. These people -- how do they do it? If a mathematician were going to do this problem it might take three hours or two hours or one hour. Even a computer will take at least a few minutes to do it, but these people don't take a single moment. You say it, and instantly....

So in mathematics, intuition is now a recognised fact. When reason fails, only intuition can work. And all the great scientists have become aware of it: that all their great discoveries are made not by reason but by intuition.

Madame Curie was working for three years upon a certain problem and was trying to solve it from many directions. Every direction failed. One night, utterly exhausted, she went to sleep, and she decided.... The incident is almost like Buddha. That night she decided, 'Now it is enough. I have wasted three years. It seems to be a futile search. I have to drop it.' That night she dropped it, and went to sleep.

In the night she got up in her sleep, she went to her table and wrote the answer. Then she went back, and fell into sleep. In the morning she could not even remember, but the answer was there on the table. And there was nobody in the room, and even if there had been somebody, the answer would not have been possible. She had been working for three years -- one of the greatest minds of this age. But there was nobody and the answer was there. Then she looked more minutely: it was her handwriting! Then suddenly the dream surfaced. She remembered it as if she had seen a dream in the night in which she was sitting at the table and writing something. Then by and by everything surfaced. She had come to the conclusion from some other door which was not reason. It was intuition.

Buddha struggled for six years to attain samadhi, but could not. One day he dropped the whole idea of attaining. He rested under a tree and by the morning it had happened. When he opened his eyes he was in samadhi.

But first the reason had to be exhausted. Intuition functions only when reason is exhausted. Intuition has no process; it simply jumps from the problem to the conclusion. It is a shortcut. It is a flash.

We have corrupted intuition. Man's intuition is almost absolutely corrupted. Woman's intuition is not corrupted as much -- that's why women have something called a 'hunch'. A hunch is just a fragment of intuition. It cannot be proved. You are going to take a flight and your woman simply says that she is not going and she will not allow you to go either. She feels as if something is going to happen. Now this is nonsense. You have much work to do, everything is planned, and you have to go -- but your woman won't allow it. And the next day you read in the newspapers that the aeroplane was hijacked, or it crashed and all the passengers died.

Now the woman cannot say how she knows. There is no way. It is just a hunch, just a feeling in the guts. But that too is very corrupted, that's why it is just a flash. When all the five other layers have disappeared and you have dropped fixed ideas -- because you have been taught that reason is the only door to reach to any conclusion -- when you have dropped this fixation, this reason fixation, intuition starts flowering. Then it is not just like a flash, it is a constantly available source. You can close your eyes and you can go into it and always you can get the right direction from it.

That's what Fischer-Hoffman people think of as the guide. If the process really goes in.... It is very difficult, because those five layers have to be crossed first. And I don't think many people are capable of it, even those who are in Fisher-Hoffman therapy. But the idea is perfectly right -- if those five layers are broken then something arises in you which can be called the guide. You can always go into your intuition energy and you will always find the right advice. In the East that is what they have called the inner guru, your inner Master. Once your intuition has started functioning, you need not go and ask any outer guru for any advice.

Intuition is to be in tune with oneself, totally in tune with oneself. And out of that tuning, solutions arise from nowhere.

And the seventh and the last layer of falsity is the pseudo self, the ego; the notions of being unique, special, exceptional; the notions of doing one's own thing... and you don't know who you are, you don't know what your thing is.

Notions of the ego go on corrupting you. Then you cannot listen to the truth. And this becomes a problem every day.

Just the other day I was talking about Hannah. Rather than understanding what I said, rather than understanding, rather than feeling my compassion -- because why else should I say it? -- she immediately went to the office and cancelled the darshan appointment which she had. She became very angry. Now I was talking about her ego, but rather than seeing it, she acted out of it again. She missed the point again.

And the other day I was also talking about Prageet. He was better than Hannah. He asked for an appointment, he took it more rightly. Of course he was very much shaken; it was hard to digest, hard to swallow. But he tried his best to see the point of it. He made every effort that he could.

Or, for example, I go on hammering on Chinmaya, again and again. I never hammer anybody else as much as I hammer Chinmaya, but he takes it absolutely rightly, in the exact way as it should be taken. And each hammering has become a growth in him; each hammering has helped him -- he is moving.

Hannah got stopped there. She may lose contact with me.

This is the last layer: a very subtle pseudo sense of self.

When these seven are broken, you come to the state of BAKA, real individuality, And when you have real individuality then there is a possibility of having a real non being. From real individuality, BAKA, YOU can have the jump into FANA. Then you can offer yourself to God. This is the whole process.



Now this beautiful dialogue between a Master and his disciple. Now you will be able to understand.



THE SUFI MASTER, AJNABI, SAID, 'WRITE TO MULLA FIROZ AND TELL HIM THAT I HAVE NO TIME TO ENGAGE HIM IN CORRESPONDENCE, AND THEREFORE HAVE NOTHING TO SAY TO HIS LETTER.'



Mulla Firoz must have been a very learned man of those days. 'Mulla' means a pundit, a scholar, a learned man. He must have been offended and annoyed by Ajnabi's assertions. Masters are there to shock. And when there is a man of knowing, the greatest shock is to those who think they know and don't know. The knowledgeable man immediately feels offended, because the man of knowing has his own source of knowing. He talks from there. And the man of knowledge looks into the scripture. He has no source to check upon, he has no authentic experience of his own. He lives in pseudo reason, pseudo ego, argumentation, verbal knowledge, belief systems and all that.



THE SUFI MASTER, AJNABI, SAID, 'WRITE TO MULLA FIROZ AND TELL HIM THAT I HAVE NO TIME TO ENGAGE HIM IN CORRESPONDENCE, AND THEREFORE HAVE NOTHING TO SAY TO HIS LETTER.'

THE DISCIPLE, AMINI, SAID, 'IS IT YOUR INTENTION TO ANNOY HIM WITH THIS LETTER?'



That is the intention always of all the Masters: to annoy you, because only if you are annoyed can you be changed. If you are annoyed then there is a possibility, then you start moving.



AJNABI SAID, 'HE HAS BEEN ANNOYED BY SOME OF MY WRITINGS. THIS ANNOYANCE HAS CAUSED HIM TO WRITE TO ME. MY PURPOSE IN WRITING THE PASSAGE WHICH ANGERS HIM WAS TO ANGER SUCH AS HE.'



That was his purpose and it was fulfilled. He wanted to anger people such as Mulla -- the knowledgeable people.



AMINI SAID, 'AND THIS LETTER WILL ANGER HIM FURTHER?'

AJNABI SAID, 'YES. WHEN HE WAS ENRAGED AT WHAT I WROTE, HE DID NOT OBSERVE HIS OWN ANGER, WHICH WAS MY INTENTION. HE THOUGHT THAT HE WAS OBSERVING ME, WHEREAS HE WAS ONLY FEELING ANGRY. NOW I WRITE AGAIN, TO AROUSE ANGER, SO THAT HE WILL SEE THAT HE IS ANGRY. THE OBJECTIVE IS FOR THE MAN TO REALISE THAT MY WORK IS A MIRROR IN WHICH HE SEES HIMSELF.'



This you have to keep in your mind constantly, because this Is happening here every day. If I say something, never be bothered about me. don't think why I have said this, rather, on the contrary, just look inside yourself at what it has done to you. I said something about Hannah. Now there are two possibilities. She can think, 'This man is wrong, he is offending me, he is insulting me, humiliating me, degrading me' -- something like that. Then she has missed the point. But if she starts watching and observing, 'Why am I angered? Why is there this annoyance in me? Why am I disturbed?' then she is on the right track. Then she will come closer to me than she ever was before.

Always remember this. What I say, how I say it, why I say it -- there is no way for you to decide. There is no way for you even to understand. All that you can do in your situation right now is see what happens to you. If I slap your face, don't be worried why I slapped you -- whether I am an angry man or an aggressive man or violent -- don't be worried about that. Just close your eyes, and go into meditation and see why you are feeling offended. Why? Watch your mind. That is going to help.

That's why I don't want mediocre people here who have just come out of curiosity to listen to me. This is not a school; nothing is being taught here. This is just an alchemical-lab; something is happening here. It is a process of transformation. If you remember this you will be benefitted immensely.

'YES, WHEN HE WAS ENRAGED AT WHAT I WROTE, HE DID NOT OBSERVE HIS OWN ANGER, WHICH WAS MY INTENTION. HE THOUGHT THAT HE WAS OBSERVING ME, WHEREAS HE WAS ONLY FEELING ANGRY. NOW I WRITE AGAIN, TO AROUSE HIS ANGER...'



The Master is saying, 'Out of compassion I will give him another opportunity.'



... SO THAT HE WILL SEE THAT HE IS ANGRY. THE OBJECTIVE IS FOR THE MAN TO REALISE THAT MY WORK IS A MIRROR IN WHICH HE SEES HIMSELF.'



That's what a Master is: a mirror in which you see yourself. If sometimes you see that your face is ugly, don't try to destroy the mirror -- change your face. By destroying the mirror you will not become beautiful; by escaping from the mirror you will not become beautiful.

Yesterday, the whole day, continuously, Prageet thought about escaping: 'How to escape from here?' But again and again he remembered that he had not to escape, he had to face it. Again and again he remembered and cooled down, and again and again the idea was there pulling him to escape from here. That is natural, it is understandable. But if you can remember for even a few single moments and you can remain with me and can go on facing the mirror, sooner or later you will have to change.

There are only two possibilities: either escape from the mirror -- then you will never see your face and you can believe that you are beautiful -- or go on facing the mirror, go on seeing your ugliness. And all kinds of methods and processes are being made available to you so that you can change your face.

Just a few days before there was a man who took sannyas. He said he was a beautician. I told him, 'I am also a beautician. I do the same work. I change people's faces -- not the faces that you can see from the outside but the faces, the original faces, that are hidden deep behind all kinds of facades, all kinds of layers.'



AMINI SAID, 'THE PEOPLE OF THE ORDINARY WORLD ALWAYS REGARD THOSE WHO CAUSE ANGER AS ILL-INTENTIONED.'



That's what Hannah thought. That's what for a few moments even Prageet thought. That's what Chinmaya used to think in the beginning. But now he has crossed that point. I have been hammering him so much -- how long can you go on thinking? One day or other one has to become aware that something is wrong somewhere inside oneself, and that it has to be dropped.



AJNABI SAID, 'THE CHILD MAY REGARD THE ADULT WHO TRIES TO REMOVE A THORN FROM HIS HAND AS ILL-INTENTIONED. IS THAT A JUSTIFICATION FOR TRYING TO PREVENT THE CHILD FROM GROWING UP?'

AMINI SAID, 'AND IF THE CHILD HARBOURS A GRUDGE AGAINST THE ADULT WHO REMOVES THE THORN?'

AJNABI SAID, 'THE CHILD DOES NOT REALLY HARBOUR THAT GRUDGE, BECAUSE SOMETHING IN HIM KNOWS THE TRUTH.'



This is of immense value, this statement. Yes, something in you always knows the truth. Something in Hannah knows the truth. It is impossible not to know the truth. Maybe it is not very clear, it is hazy -- but something in you always knows the truth... that it is because of compassion, because of love, that you have been hammered upon. Otherwise there is no need.



AMINI ASKED HIM, 'BUT WHAT HAPPENS IF HE NEVER GETS TO KNOW HIMSELF, AND YET CONTINUES TO IMAGINE THAT OTHERS ARE MOTIVATED BY PERSONAL FEELINGS?'

AJNABI SAID, 'IF HE NEVER GETS TO KNOW HIMSELF, IT MAKES NO DIFFERENCE AS TO WHAT HE THINKS OF OTHER PEOPLE, BECAUSE HE CAN NEVER HAVE ANY APPRECIATION OF WHAT OTHER PEOPLE ARE REALLY LIKE.'

AMINI ASKED, 'IS IT NOT POSSIBLE, INSTEAD OF AROUSING ANGER A SECOND TIME, TO EXPLAIN THAT THE ORIGINAL WRITING WAS COMPOSED FOR THIS PURPOSE, AND TO INVITE MULLA TO REVIEW HIS PREVIOUS FEELINGS?'



A very reasonable standpoint of the disciple, but remember that sometimes reasonable things are not very useful. They don't work. You will agree with the disciple, with what he is saying. This seems to be very, very reasonable -- 'What is the point of angering him, annoying him twice? Will it not be better to explain to him why in the first place you said things to annoy him? Would it not be better to explain?'



AJNABI SAID, 'IT IS POSSIBLE TO DO THIS, BUT IT WILL HAVE NO EFFECT.'



A Master is not interested in being polite, in following the rules of etiquette, manners, etcetera. A master is interested only in creating an effect, in creating an action, in creating a response. Yes, he could explain to the Mulla what had hap-pened. That may satisfy him, that may cool him down. His anger may disappear, he may no longer feel annoyed -- but that is not the point. That is not going to create the effect that the Master wants. The Master wants the Mulla to see that he is only a man of knowledge, not yet a man of knowing; that he was not wise. Explanation will make the Mulla more knowledgeable. He will have one more explanation. That is not going to shatter his ego.
SWAMI SATCHIDANANDA - WOODSTOCK GURU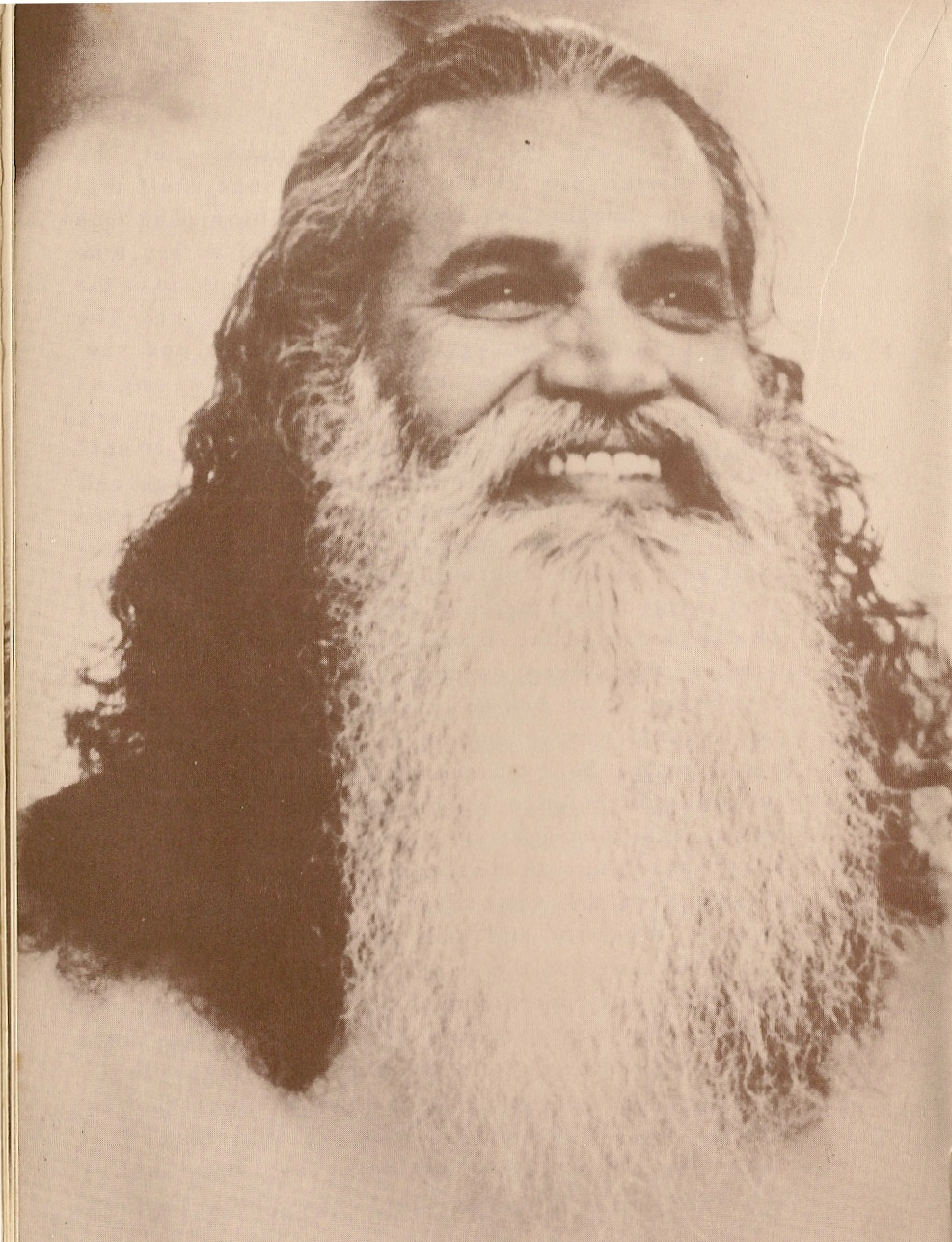 In the Himalayas the teacher examines the student and the student examines the teacher.
When my master sent me to various teachers he told me, "The teacher who can sit still in the Lotus for a long time is a good teacher because he has practiced something. Listen to him. If the teacher changes his posture many times in five minutes, do not waste your time there." There are certain signs and symptoms that have been explained by the great scriptures. The scriptures help the student to know who is a good teacher so he does not waste much time. Otherwise, what are we teachers doing?
In the same way a Guru examines the student.
There are certain signs and symptoms that have been explained by the great scriptures. The student should follow the instructions. The student should not complain. The student should serve the Guru. The scriptures help the teacher to know who is a good student so he does not waste much time. Otherwise, what are we teachers doing?

"YOU MAY HAVE SPENT ALL YOUR LIFE LOOKING FOR A GOOD MASTER. ME? I'VE BEEN SPENDING ALL MY LIFE LOOKING FOR A GOOD STUDENT!!" - SWAMI SATCHIDANANDA, GURU OF SWAMI SATCHIDANAND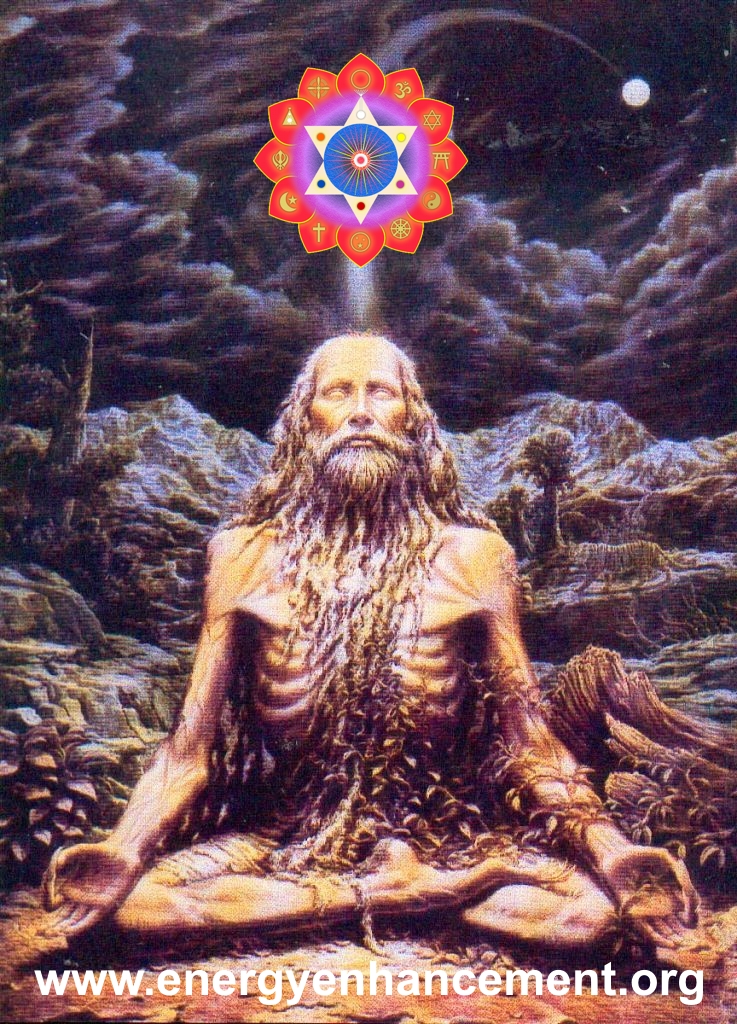 ENERGY ENHANCEMENT
THE CORE ENERGY TECHNIQUES !!