ENERGY BLOCKAGES, HUBBARD AND SCIENTOLOGY
PARACELSUS AND BLOCKAGES - CLICK HERE
GURDJIEFF AND BLOCKAGES - CLICK HERE
DAME ALEXANDRA DAVID NEEL - Blockage THOUGHT-FORMS IN TIBET - CLICK HERE
HUBBARD, SCIENTOLOGY AND BLOCKAGES
ENERGY ENHANCEMENT SOUL FUSION
ENERGY ENHANCEMENT BLOCKAGE REMOVAL
ENERGY ENHANCEMENT KARMA CLEARING PROCESS
ENERGY ENHANCEMENT MASTERY OF RELATIONSHIPS
BLOCKAGE ELIMINATION AND WORLD CHANGE - THE REMOVAL OF ENERGY BLOCKAGES ENTITIES AND IMPLANTS WITH ADVANCED ENERGY BLOCKAGE BUSTING TECHNIQUES
ENERGY BLOCKAGES, ENTITIES, IMPLANTS AND NAFS - WHAT ARE THEY, WHY ARE THEY FORMED, AND HOW TO REMOVE ENERGY BLOCKAGES AND IMPLANTS BY THE ENERGY ENHANCEMENT SEVEN STEP PROCESS OF ENERGY ENHANCEMENT LEVEL 2
<> Energy Blockage - Level 2 of Energy Enhancement is what teaches us how to eliminate energy blockages - fast!!
---
---
ENTITIES AND ENERGY BLOCKAGES HUBBARD AND SCIENTOLOGY
"I got into Energy Enhancement because I was inhibited. Turns out I was inhabited!"
Over the past few decades some highly dramatic stories illustrating the phenomenon of "multiple personalities" have become quite well known.
Some psychiatrists and psychologists, and, in fictional accounts, novelists and scriptwriters, have given considerable attention to extreme cases where another distinctly different "personality" appears to take control over an individual for prolonged periods of time.
Less attention, however, has been given to less dramatic but, perhaps, related occurrences.
Most people have days when they are "not quite themselves." One hears comments like, "It just wasn't like Fred. He was like some kind of madman!" or "She was like a woman possessed!" or "He's a different person when he drinks," or "I don't know what came over me, " or "What got into me?" What's happening? There is no scarcity of theories. This and the following paragraphs examines this area, and offers various explanations concerning it.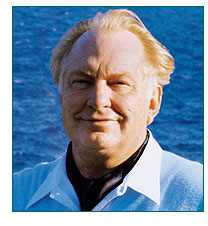 Currently, the entirety of Hubbard, see left, Scientology's super-secret "upper levels" deal with this type of "phenomena." but are only able to remove the easy blockages.

Energy Vampire Implants, Inner Children and the Strategies of the Vampire, the Violator, The Poor Me and the Selfish Competitive Star seem to be beyond them, especially regarding Hubbards many times reported temper tantrums (violator) and his inability to have other stars around him because a selfish competitive star can only have yes - men around him. He will try to destroy (fair game) all other stars.

Hubbard might have partially failed but he was onto energy blockages. Even in 1950 Hubbard was preoccupied by this sort of thing. In Dianetics, the Evolution of a Science-published in 1950 and aired at a broad science fiction audience (consisting of scientifically oriented readers) - Hubbard wrote:

"...it was necessary to hark back to the techniques of the Kayan Shaman of Borneo, among others. Their theory is crude; they exorcise demons.... Provisionally, let's try to postulate that Man is good.... And we suppose something such as the Borneo Shaman's Toh has entered into him which directs him to do evil things.

Man has believed longer that demons inhabit men, than Man has believed they do not. We assume demons. We look for some demons, one way or another. And we find some!"

This was an amazing discovery and the thing to do was try to measure and classify demons. Strange work for an engineer and a mathematician! But it was found that the "demons" could be classified. There were several "demons" in each patient, but there were only a few classes of "demons."

There were audio demons...visio demons, interior demons, exterior demons, ordering demons, directing demons, critical demons, apathetic demons, angry demons, bored demons and certain demons who merely blocked things. The last seemed to be most common. Looking into a few minds established soon that it was difficult to find anyone who didn't have some of these demons....

Hubbard then discusses the analogy between the human mind and an electronic computer. Finally he concludes:

There are no demons. No ghosts or ghouls or Tohs. But there are aberrative circuits.

Hubbard doesn't explain how it is that these "circuits" existed structurally. But "structure" was not his concern; his concern was function. He wrote:

"...it was not necessary to show how it is done in terms of physical mechanism if we can show that it IS done and it succeeds."

In 1950, a circuit was defined by Hubbard as:

"A part of the individual's bank [reactive mind] that behaves as though it were someone or something separate from him and that either talks to him or goes into action of its own accord, and may even, if severe enough, take control of him while it operates.

The jingle heard on the radio that sticks in one's mind, playing over and over; the actor who after many appearances on stage, portraying a particular character, takes a vacation and finds, to his discomfort, that he still at times possesses the qualities of that character; the obsession that grips a person causing him to do things he knows he will later regret-the materialistic viewpoint might simply say, "That's simply something the brain does."

The spiritual viewpoint on the other hand traditionally divides a human being into "body, mind, and spirit," with the spirit being the basic individual and the mind being the recordings of one's past experiences, ideas, conclusions, etc. These recordings are not necessarily considered as a part of the brain, but rather a function of the spirit".

Quoting from Joseph Krutch's More Lives Than One:

"The physiologists are very fond of comparing the network of our cerebral nerves with a telephone system but they overlook the significant fact that a telephone system does not function until someone talks over it. The brain does not create thought (Sir Julian Huxley has recently pointed out this fact); it is an instrument which thought finds useful."

PARACELSUS AND BLOCKAGES - CLICK HERE

GURDJIEFF AND BLOCKAGES - CLICK HERE

LOATHSOME LARVAE

From Mouni Sadhu's The Tarot, A Contemporary Course of the Quintessence of Hermetic Occultism:

Let us imagine that a man has a common evil desire, he makes no attempt to realize it on the physical plane. He only draws a dark desire on the astral plane, and so creates a kind of "entity."...This artificial "being" does not possess a physical body....Such a being can...act and influence only in direction as intended by its unwise creator, man, who is usually unaware of his foolishness.

Now, on whom will the influence of such a demon be exerted Yes, firstly on the father of it himself...who created the astral picture of the evil deed. We call this type of ominous artificial entity a larva. Such a larva will watch it's "father' in order to prevent him from forgetting his evil intention and desire, and to fortify the larva's life by new meditations about the same theme. But it can also attach itself to another man, who has a certain astral and mental affinity with the first one.

DAME ALEXANDRA DAVID NEEL - THOUGHT-FORMS IN TIBET - CLICK HERE

Getting back to Hubbard, during the 1952 Philadelphia Doctorate Course, Hubbard said of what used to be called, in Dianetics, "demon circuits":

Each one of these things can be a thinking entity. It thinks it's alive. It can think it's a being as long as energy is fed to it.

He had also mentioned in this lecture series that someone can deliberately "mock up" (i.e., vividly imagine) something and give it a life of its own.

There is the idea of "thought forms" created by the individual himself is the viewpoint that asserts that, while thought forms do exist, real "demons" also exist. But not only "demons"; also many types of "disembodied beings," human and non-human, some big some small, some good, some indifferent, some unconscious, some insane.

There are many variations of this theme. The movie The Exorcist illustrates one version. A powerful demonic being completely takes over a little girl.

One can also pose a less dramatic scenario. As well one powerful "demon," a person, theoretically, might be infested with many little "demons."

To quote from Garrison,

"Tantric texts assert that the universe all about us is teeming with thought forms and with beings good and bad-deities, demons, nature spirits, discarnate human egos, phantoms, monsters. The sadhaka is not only made aware that they exist, he is taught disciplines that bring them under his control and enable him to communicate freely to them. The tantric Yogis are not alone in their view, or the claim of ability to communicate and control this, supposed, class of beings. In fact, in various degrees of sophistication, it can be found to be part of the spiritual tradition of Man on all five continents. The witchdoctor, the magi, the medicine man, and many a modern psychic have as a commonality the view that such things exist."

As an aside I find it of interest that Thomas Edison wrote the following in "The Diary and Sundry observations," although it is not in the category of "unwanted psychical or spiritual influences" in one's body or "aura":

Take our own bodies. I believe they are composed of myriads and myriads of infinitesimally small individuals, each in itself a unit of life, and that these units work in squads - or swarms, as I prefer to call them - and these infinitesimally small units live forever. When we "die" these swarms of units, like a swarm of bees, so to speak, betake themselves elsewhere, and go on functioning in some other form or environment.

Edison not only believed in the immortality of the human spirit, but also in the immortality of that which he believed enlivens the physical body - the immortality of each cell.

In 1978 L. Ron Hubbard, felled by his second major heart attack, lay barely conscious and helpless in bed. At the time Dr. Gene Denk and "Case Supervisor International" David Mayo began working with him on his health in 1978, Hubbard conceived of himself as surrounded by a swarm of confused, unconscious, or semi-conscious entities: burnt-out human souls. He had discovered Energy Blockages in the Aura for the first time!

"There are no demons," he had written in 1950. A couple of years later, he spoke of self-generated "thinking entities." Then, a quarter of a century later, he was party to the development of procedures or guided meditations with which any medicine man or witch doctor would probably feel at home. These procedures dealt with the eviction of swarms of non-self-generated parasitic beings.

Now, any decent witch doctor "servicing a client" does his thing and a few hours later goes on his way, goat, chicken or pig in hand, in exchange for his services. In the varied literature regarding "exorcism" and the like-whether such things are considered self-generated or not - one sees a regular reference to a relatively small number of "influences,'" "thought forms," "obsessions," or whatever, in need of "handling."

Hubbard operated on a much grander scale. From his hypnotic pedestal of "ultimate authority," he stated to his followers that everyone was engulfed in thousands upon thousands of degraded beings.

"A man has blockages like a dog has fleas!"

Hubbard says, "You're the effect of all these Body Thetans!" (beings attached to the body)

Hubbard's theory and procedure of how to "handle" the entity "phenomenon" is highly secret. This level of auditing brings in probably a million dollars a week internationally for the Church of Scientology The high prices charged depend upon these guided meditations and information being kept tantalizingly mysterious and secret.

"Mystery is the glue that sticks Thetans or Energy Blockages to things," Hubbard once said. He proceeded to use this principle in marketing his Operating Thetan or Blockage Free levels. The secrecy and mystery surrounding these levels pulled people in, bringing in also their wallets and check-books; a major part of it...just to discover the answer to the mystery.

The wealthy the Scientologists, are sold a lot of auditing with authorised auditors for the eradication of their Energy Blockage "fleas."

Such auditing costs over $400 per hour. It is quite usual for Scientologists to spend well over $100,000 for this level of removing Energy Blockages from the body alone. One man, a geologist, engineer and entrepreneur, spent $450,000.

According to Hubbard, "Nots handles" are those beings or entities, energy blockages or "body thetans" ("BTs") that are located in the body or around the body. The auditing procedure of Nots can locate those body entities, and send them off, no longer infesting the individual or his body.

The entities are inhabiting various things, like a body part (a bone, arm, cell, whatever) or they are a particular sub-personality, or condition, such as "TV watcher," or "fear," or "worker," or "solitary angry man," and so on.

According to this line of thought, people get confused as to who they are and who they are not. A person hears these voices or feels desires, and so on, and thinks he is the source of them.

Yet, the theory goes, you are not necessarily the originator of these thoughts or impulses. Another may be. So, by identifying who is the being (who is the source of these vocalizations or impulses) and spotting where it is located, you are freed to think for yourself.

So an auditor has you (the main guy in control) ask each BT, "What are you?" and "Who are you?"

The Body Thetans or Energy Blockages will then separate out and realize that they are in fact themselves; that they are not some body part or whatever. At the same time, you realize that the Energy Blockages or BTs are different from you; that their mental pictures, ideas, and degraded impulses do not originate from you. According to Hubbard, these beings are very easily overwhelmable and hypnotic. Because of this, they tend to take on the personality of whatever (or whoever) comes along that gets their attention.

Hubbard says,

"You have to actually put some life into them to activate them. They're like pebbles on a beach....But listen, you're living in a universe which is crawling with this type of stuff. And planet Earth was a dumping ground to end all dumping grounds....As NED for OTs is run these cats wake up and get handled. This relieves the entity infested guy of a lot of phenomena which puzzles him and can hold him down.

As you go along doing the guided meditation many times on each energy blockage (running it) you will find that the Energy Blockages seldom consider themselves live beings. They think they are MEST (Matter, Energy, Space and Time), body parts, significances, conditions-anything but live beings."

No, such energy blockage "beings" are the victims of what Hubbard calls the "dwindling spiral." According to him, any spiritual being in the physical universe is inevitably subject to deterioration and degradation.

Beings who are not removing Energy Blockages are not evolving spiritually, but rather are devolving-heading downward towards "Hubbardian Hell."

In "Ron's Journal 30" Hubbard explains: "But there was one discovery in 1978 that I haven't said very much about and am really not likely to since it is a sad thing. It is what really happens to a thetan or Energy Blockage who is not salvaged or processed and goes on down the chute. Man, when I saw that and knew it to be true I actually felt sorry for these guys or Energy Blockages that try to hit at us. Poor devils. Some religious talk about hell. It's an understatement of what really happens."

In 1967, on the Canary Island of Las Palmas, Hubbard made what he claimed was the most important spiritual breakthrough in the history of the human race. He had unearthed, in his solo-auditing, a super traumatic ancient incident that had killed anyone else who had ever come close to uncovering it.

The resolution of, and safe passage through, this incident was "boldly explored and mapped" by him. This "map" was put into the form of his longhand writings for the highly confidential level of "Operating Thetan Level Three" (OT III) which only deals with Energy Blockages in the Body.

The revelation of OT III was that virtually everyone on this planet - indeed, in "this sector of the Galaxy" - was totally overwhelmed by the effects of an incident that occurred 75 million years ago. And that underlying this cataclysmic event was another more basic cause of "human contamination": everyone without exception had been zapped and zombified by an incident that occurred four quadrillion years ago.

Human beings, he said, "do not respond to reason, they respond only to `R6* symbols.' The designation R6 derives from the OTIII guided Meditation or process or "routine" ("R"), in this case the 6th in a series "0" to...(however many processes or guided meditations he would go through till he found the one that he felt did the trick).

He first "discovered" this "bank" (storage of damaging mental image pictures in the "reactive mind") during the early sixties. and, later in 1967, "discovered" the full incident of which these pictures were but a part. He promoted the incident as the "Wall of Fire." " The "R6 memory bank," is a part of any person's unconscious mind, according to Hubbard. This "bank" was deliberately created by mass implanting which occurred 75 Million years ago. This implanting was a highly "scientific" form of brainwashing, using huge movie screens as part of a program of mass hypnosis.

According to Hubbard, there was no point in reasoning with normal human beings as they were all controlled by implants and Energy Blockages. Instead of reasoning with these people he spoke of reaching into the public and "driving them through your orgs by using the original programming - "R6 bank symbols" (in the form of certain words, and pictures such as, for example, volcanoes) "key in" (in other words reconnect) people to these implants.

The result is that they become attracted to the organisation.

In 1967 all Scientology books suddenly presented a collection of images upon their covers: an exploding volcano; a woman in a monkey suit, eating what appeared to be a turkey leg; the frontal view of a speeding train; an odd-looking old man with a beard; a fellow dressed in a white spacesuit carrying a box (of "packaged beings") into a spaceship. These were R6 bank symbols.

A special "Book Mission" was sent out to promote these books, now empowered and made irresistible by the addition of these overwhelming symbols or images.

Organization staff were assured that if they simply held up one of the books, revealing its cover, that any bookstore owner would immediately order crateloads of them. A customs officer, seeing any of the book covers in one's luggage, would immediately pass one on through.

These images seem to work as Scientology now is one of the richest and fastest growing religions in the world!

The symbols of the Hubbard Sea Org, which include the uniforms worn by Sea Org officers, were designed to fit Hubbard's descriptions of symbols of "R6", and were thus guaranteed to win instant respect and obedience for the person wearing them.

Hubbard had made it plain that he, and only he, had discovered and risen above the "R6 bank." Human existence is controlled utterly by it. He emphasized that, to those who had not completed the lower pre-requisite levels of Scientology, to remove the easy Energy Blockages, reading the materials of OT III was deadly.

The confidential class 8 course with Hubbard's twenty lectures taped on the Apollo in Corfu, Greece gives Hubbard's opinion of Christianity: Somebody on this planet, about 600 B.C. found some pieces of "R6. " I don't know how they found it; either by watching madmen or something. But since that time they have used it. And it became what is known as Christianity. The man on the cross. There was no Christ! The Roman Catholic Church, through watching the dramatizations of people picked up some little fragments of R6. In a bulletin of that period he states: "Also the Christian Church used (and uses) implanting - "They took over the Nicene Creed just before the year zero. invented Christ (who comes from the `crucifixion' in R6, 75 million years ago) and implanted their way to power."

He made it plain that the traumatic effects of the events of 75 million years ago had been the ultimate barrier to the attainment of "full removal of all blockages" Despite the mortal dangers, however, he had braved the "Wall of Fire" and survived. He had then "taped the route" for all Mankind to follow.

Of course getting the blocked people of planet Earth from zombiedom to godhood was going to be no easy task. Yet it must be done. And with the threat of nuclear war looming ever overhead, it must be done fast!

Because of this, to be in the Sea Org - or for that matter to be on staff at any Scientology org - is to be a participant in a never-ending "condensed time emergency. " One never has time to pause and think about what is going on. Besides, doing so would be a form of "self auditing" which is strictly forbidden by Hubbard. Hubbard said it is impossible for people to free themselves from their own Energy Blockages and thus only authorised auditors are allowed to remove blockages from their clients. And indeed, the job is so difficult that for thousands of years, Gurus are the only people to have successfully made people enlightened. The Energy Blockages of the more difficult fourth level control a persons mind so completely that they can never have enough energy to overcome them by themselves.

In light of all this Hubbard explained: "Anyone is entitled to have opinions and ideas and cognitions - so long as these do not bar the route out..." The road to "Total Freedom," was only available to people who could continue to use the help of the Guru.

Any newly initiated, "good Scientologist" would tell himself: "I have a reactive energy blocked mind! My opinion is irrelevant, especially when compared to that of this great man who has broken free and who will eventually free me also."

Before 1967 Scientologists regarded themselves as the elite of earth. While the materials of OT III in some ways served to further enhance that feeling, and many Sea Org members, for instance, were said to have been the "loyal officers," i.e., the good guys who opposed the mass implanting, when all this happened, these materials served also to greatly increase their feeling of indebtedness to their Founder Guru, - Hubbard.

And whereas Hubbard was able to help in removing easy Energy Blockages of creativity, communication and the Body, when it came to Body Implants from external Energy Vampires and Inner Children and their Strategies of the Vampire like the Violator, the Poor me and the Selfish Competitive Star it has been reported many times that Hubbard was a shouting and angry man, perhaps he had had reached his limit in dealing with the more difficult Energy Blockages.

There is a process of removing, eliminating, Energy Blockage Implants which are usually created to send energy of the victim back to the creator and the the energy blockage sub-personalities which exhibit Attention seeking behaviour, through the Energy Enhancement Process. This is the process of Integrating the mind under the aegis of the Soul, the Higher Self, and by purifying the Nafs, the Talents, The Sub-personalities, the Energy Blockages in Energy Enhancement Level 2 - Eliminate Energy Blockages, and Energy Enhancement Level 3 - Eliminate the Attention Seeking Sub-Personalities and Strategies of the Vampire

It needs the Twenty Eight Initiations of Energy Enhancement and a lot of intuitive and psychic help in order to remove all Energy Blockages, even the most powerful and reach enlightenment. Energy Enhancement has the key to the removal of all energy blockages!!

The Kundalini Kriyas and The Five Elemental paths of the Chi of the Taoist masters, like Energy Enhancement, gives the Hidden Taoist Secrets of the Microcosmic AND the Macrocosmic Orbit, The Energy Enhancement Supra Galactic Orbit

These symbols symbolise how to clean all the Chakras through a guided meditation. Helping all parts of the mind including the Unconscious, to become more calm and still.

"To remove the stones in the path of the watercourse. To remove blockages to the flow of your energy" A description of Samyama or Energy Enhancement from the 5000 years old Yoga Sutras of Patanjali, the source of Raja Yoga.

The Kundalini Kriyas and The Five Elemental paths of the Chi of the Taoist masters, like Energy Enhancement, teaches how to cleanse the psychic body so that our psyche becomes sensitive and our energy more powerful.

The Kundalini Kriyas and The Five Elemental paths of the Chi of the Taoist masters, like Energy Enhancement, strengthens the psychic circuits and decreases the resistance to the flow of Energy. It helps to build the psychic body, as Gurdjieff called it, "The Body Kesdjian".

The Kundalini Kriyas and The Five Elemental paths of the Chi of the Taoist masters, like Energy Enhancement, are guided meditations to increase sensitivity to energies is given in the next Initiations of the techniques of Energy Enhancement- "The Grounding of Negative Energies." - the Earth Path of the Five Elemental Pathways of the Qi for the removal of ALL energy blockages.

Energy Enhancement's first seven Initiations of the full Twenty Eight Initiations consists of Meditation, Shaktipat, Energy Circulation, The Kundalini Kriyas, The Five Elemental Paths Of The Chi Of Chinese Alchemical Taoism, The Grounding Of Negative Energies, Alchemical V.I.T.R.I.O.L and the Art Card Of The Thoth Tarot, Kundalini Energy, Strong Psychic Protection, The Merkaba, Pyramid Protection, Power Tower Protection, The Antahkarana, Soul Fusion, Monadic Infusion, Logos Infusion, the Painless Removal Of Energy Blockages, Stress, Trauma And Negative Emotion.

<> <>
ENERGY ENHANCEMENT BLOCKAGE DIRECTORY

BLOCKAGE ELIMINATION AND WORLD CHANGE - THE REMOVAL OF ENERGY BLOCKAGES ENTITIES AND IMPLANTS WITH ADVANCED ENERGY BLOCKAGE BUSTING TECHNIQUES

BLOCKAGE KARMA SUB-PERSONALITIES FROM THE LORD OF THE RINGS AND PATANJALI WITH ENERGY ENHANCEMENT

Chakras above Sahasrara Chakra and Below Muladhara Chakra

THE PSYCHOPATH, HERVEY CLECKLEY, THE MASK OF SANITY

PARACELSUS AND BLOCKAGES - CLICK HERE

GURDJIEFF AND BLOCKAGES - CLICK HERE

HUBBARD, SCIENTOLOGY AND BLOCKAGES

LAVE DISTRACTION CONTROL BLOCKAGES ARE CAUSED BY ENERGY BLOCKAGES BELOW THE BASE CHAKRA

PSYCHOPATH DISTRACTION CONTROL BLOCKAGES ARE CAUSED BY ENERGY BLOCKAGES ABOVE THE CROWN CHAKRA AND IN THE HEART CHAKRA

ENERGY ENHANCEMENT GAIN SUPER ENERGY SOUL FUSION

ENERGY ENHANCEMENT BLOCKAGE REMOVAL

ENERGY ENHANCEMENT KARMA CLEARING PROCESS - Remove Ego Sub-Personality Energy Blockages like the Connector Sub-Personality, the Distraction Implant Control Blockages and Implant Vampire Blockages Attention Seeking Strategy Energy Blockages and Inner Children in Energy Enhancement Level 3

Chakras and Ida, Pingala, Sushumna and the Caduceus

Chakras and the Initiations of Enlightenment

CHAKRAS <>

PSYCHOPATHY HEALED BY REMOVING BLOCKAGES IN CHAKRAS OUTSIDE THE BODY IN THE ANTAHKARANA

MEDITATION - ENERGY BLOCKAGES ARE THE CAUSE OF THE PSYCHOPATH, THE SCHIZOPHRENIC, AND MANIC DEPRESSION. WITH EXAMPLES STALIN, HITLER, ENRON AND MAO

MEDITATION - Existentialism and Kubrick's Psychopaths in the Films of Stanley Kubrick.

George Lucas, Star Wars, the Revenge of the Sith, and Psychopaths

LILITH-Succubus-Psychopath-Implanter-Energy-Blockage-Scarlet-Woman

MEDITATION ENERGY ENHANCEMENT AND Trauma, Pain, Relationships, Divorce, Piercings, Tattoos, BDSM, Sex, Sex Addiction, Tantra, Gambling, Homosexuality, Lesbianism, Drugs and Addiction, Bad backs, Heart Disease, and Cancer.

ENERGY ENHANCEMENT MASTERY OF RELATIONSHIPS

THE PURIFICATION PROCESS AND ENERGY BLOCKAGES

BLOCKAGE ELIMINATION AND WORLD CHANGE - THE REMOVAL OF ENERGY BLOCKAGES ENTITIES AND IMPLANTS WITH ADVANCED ENERGY BLOCKAGE BUSTING TECHNIQUES

The Buddhist Five Hindrances of Meditation,

Bijas, your blockage seeds A

nd Energy Enhancement Advanced Meditation Techniques
<> Energy Blockage - Level 2 of Energy Enhancement is what teaches us how to eliminate energy blockages - fast!!
ENERGY ENHANCEMENT
THE CORE ENERGY TECHNIQUES !!
CLICK BELOW TO GO TO
Take your time, this site has much new wonderful information.