OSHO
CHRISTIANITY
Christianity: The Deadliest Poison and Zen: The Antidote to All Poisons
Chapter 8: Fictitious father, crackpot son
Question 1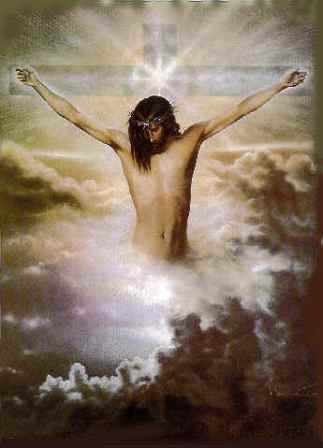 Energy Enhancement Enlightened Texts Christianity The Antidote to All Poisons
Question 1
The question from Maneesha:
OUR BELOVED MASTER,
ONE COULD IMAGINE THAT, BECAUSE CHRISTIANS ARE ANTI-LIFE, THEY WOULD CELEBRATE WHAT THEIR RELIGION TEACHES IS THE END OF LIFE. BUT EVEN DEATH -- AS WELL AS LIFE -- IS TABOO, ANOTHER REASON TO BE MISERABLE. WOULD YOU LIKE TO COMMENT?
Maneesha, life and death are not separate. If you deny life, you will have to deny death. If you accept and rejoice in life, you will rejoice and celebrate in death. They are not separate things, but two sides of the same coin.
You cannot have one side of a coin and throw away the other side, it is impossible. The coin has to have two sides. You can have both or you can throw both.
I have both. Christianity has thrown both. They have thrown life away, they have thrown death away. Both have become taboo. Neither can they rejoice in life, nor can they rejoice in death.
I rejoice in life, I rejoice in death, because life and death are just small episodes in the eternal pilgrimage, the eternal caravan that goes from eternity to eternity.
It is time for Sardar Gurudayal Singh ....
Peanut Punghi is studying to be a Christian monk at the So-So Celibate Seminary in Poona. But Punghi is not really bright, and is shocked when he hears the story about how Jesus was nailed to the cross by the Jews.
That afternoon, all the new recruits are sent out into the Poona streets to practice preaching. Punghi is walking down M.G. Road, looking for a good spot to do his Bible-bashing, when suddenly he sees Irving Saperstein, a Jewish tourist, haggling over the price of a big bunch of bananas.
Enraged, Preacher Punghi kicks over the banana cart and jumps on top of Irving, knocking him to the ground. Then he beats on Irving until Irving finally shouts, "Stop! Stop! Why are you beating me?"
"Because," replies Punghi, huffing and puffing, "you Jews killed Jesus on the cross!"
"Hey!" says Irving, "it is not my fault! That happened two thousand years ago!"
"So what?" snaps Punghi. "I only just heard about it!"
Minnie Starlight, the glamorous California brunette, goes for a palm reading session with Madam Sawzall at the California Cosmic Pyramid Shopping Mall in L.A.
"You are in love," announces Madam Sawzall, gazing into Minnie's hand.
"Really?" exclaims Minnie. "You can see that?"
"Sure!" replies Madam Sawzall.
"Go on! Go on!" says Minnie excitedly.
"He is tall, dark and very handsome," sees Madam Sawzall.
"Right again!" cries Minnie. "That's amazing!"
"Sure!" replies Madam Sawzall. "And he is twenty-eight years old, stands six foot tall, with a picture of his mother tatooed on his machinery."
"My God! That's really incredible!" exclaims Minnie.
"Yup," replies Madam Sawzall. "And he has a Swiss bank account, and drives a red Ferrari."
"You mean you can see all that in my palm?" gasps Minnie.
"Nope," replies Madam Sawzall, "I can see all that in your diamond engagement ring. It is the same one I gave back to him last month!"
Tired of being just an ordinary Polack, and tired of being just a regular pope, Pope the Polack calls Cardinal Catsass into the secret library beneath the Vatican.
When the cardinal arrives, the pope is thumbing through some pamphlets on Transcendental Meditation.
"Catsass," says Pope the Polack, "I am getting old, and before I go I want to learn how to fly."
"Fly?" asks Catsass. "Okay, no problem, poopsie! We can rent a plane."
"No!" replies Pope the Polack. "I mean really fly. See here, just like that yogi, Maharishi Mahesh Bogus. He says here I can learn yogic hopping in one week. I want to fly!"
Catsass just shakes his head at the old Polack, and goes off to phone the Maharishi. The holy yogi immediately sends Lulu Learjet to teach the pope the secrets of flying.
When Lulu arrives, it is love at first sight for the old Polack. The luscious Lulu works day and night with the pope, teaching him everything she knows.
After one week of intense study and practice, Pope the Polack is ready to blast off into the sky on his solo maiden voyage. He straps on his rocket-shaped hat, and then stands on his balcony rail high above Saint Peter's Square, with his arms stretched out. He leaps into the air and starts flapping his arms wildly. Suddenly, he finds himself flying. Happy as a cuckoo, Pope the Polack aims towards Lulu's apartment to see if he can surprise her.
When he arrives there, he looks down, and to his utter joy he sees Lulu stretched out naked on the roof, sunbathing.
Quickly unfastening his robes in mid-air, Pope the Polack swoops down and lands BANG! right on top of Lulu, and makes wild love to her.
"I bet that really surprised her!" exclaims Cardinal Catsass to the pope, two hours later.
"It sure did," replies the battered and bruised Polack pope. "But not half as much as it surprised the Holy Ghost!"
Nivedano ...
(drumbeat)
(gibberish)
Nivedano ...
(drumbeat)
Be silent ...
Close your eyes ... and feel your body to be completely frozen.
This is the right moment to look inwards.
You have to reach to the very center of your being. Gather your life energy and rush towards the center with total consciousness and an urgency as if this is going to be your last moment.
Faster and faster, deeper and deeper ...
As you start coming closer to your being a great serenity descends over you. A tremendous silence deepens, flowers of peace showering on you ...
As you reach to the center you are no more the same person you used to be. At the center you are the buddha. At the center you are pure awareness, pure witnessing.
Buddha consists only of one quality -- witnessing.
Now witness ... you are not the body.
Witness ... you are not the mind.
Witness ... you are not the seven subtle bodies behind the physical body.
Witness finally that you are only a witness, a pure mirror reflecting. No reaction -- just reflecting. This is the state of the buddha.
To make this witnessing more clear, Nivedano ...
(drumbeat)
Relax ...
Let go, but keep remembering you are a buddha, and the buddha has only one quality -- witnessing.
Witnessing is the alchemy of ultimate transformation. As you go on deepening the witnessing, you start melting just like ice into the ocean.
Gautama the Buddha Auditorium suddenly turns into an ocean, without any waves, without any ripples -- utterly silent and peaceful.
A great ecstasy takes possession of you.
All around you there is a melody you have never heard before. All around you there is a dance of energy, pure energy, that you have never even dreamt of. All around you there are fountains of life juice.
Drink as much as you can and gather as many flowers of the beyond as you can, and remember to persuade the buddha to come along with you. He has to become your reality. He has to become your daily ordinary routine life.
You have to dissolve into him.
He is your eternal being.
He is your timeless beyond.
With him you experience for the first time the ultimate blissfulness, and a great benediction you can share with the whole world, and still it will be increasingly flowing from your sources, which are infinite.
Before Nivedano calls you back, gather all these experiences and persuade the buddha he has to come with you. First he will be a shadow behind you; soon you will be a shadow behind him, and finally there is no shadow to the buddha, because he is only pure transparent witnessing. A transparent thing does not make any shadow.
The day you will experience this transparency of being will be the greatest day of your life.
You have become awakened.
You have arrived home.
Long has been the night -- too long, too dark. But now, the day you become enlightened, all darkness disappears. Now there will be no sunset. You will live as light, as life, as laughter. Your whole existence will become just a pure dance. ... I don't give you any philosophy,
I don't give you any religion.
I give you only that which you are.
I take away all that is false from you
and leave only that which is your eternal being --
the buddha, the awakened one.
Nivedano ...
(drumbeat)
Come back ... but come back in deep silence, in great grace, peacefully. Just sit down like buddhas, remembering the golden path that you have traveled, remembering the experiences at the center, remembering your eternity and remembering that buddha has come closer to you.
Just go on meditating ....
One never knows -- any moment you will disappear, and only buddha will be left behind. It is going to happen to everybody who is earnestly searching it. It is your nature.
It does not come from outside, it grows from within, just like a lotus. It comes from all your uglinesses, all your trivia, mundane affairs, all your anger, greed, all your rage, all your hate -- just like the lotus comes out of dirty mud and dirty water.
But it rises above the dirty mud and the dirty water and it opens its petals only when the sun comes on the horizon.
Meditation will bring the sun on the horizon, and meditation also will bring your lotus to the seventh center.
There is no other miracle in the world than meditation. It is the only science of transforming you into a new man, into a superman.
The superman is needed very much, urgently, because only the superman can prevent this beautiful planet from being destroyed by pygmy politicians, by ugly religions, by this whole status quo. All these vested interests are going to destroy the most beautiful planet in the universe.
You can do only one thing to save it, and that is to become a buddha and spread your buddhahood -- share it.
We have to surround the whole globe with buddhas.
They are our only hope.
But I am not hoping in vain, you are going to be my witnesses.
Okay, Maneesha?
Yes, Beloved Master.
THE END
Energy Enhancement Enlightened Texts Christianity The Antidote to All Poisons
Chapters:
Osho - Christianity: The Deadliest Poison and Zen: The Antidote to All Poisons, Chapter 1: The opium of the people, ON ONE OCCASION, YAKUSAN WROTE DOWN THE CHINESE CHARACTER SIGNIFYING BUDDHA, AND ASKED HIS DISCIPLE, DOGO: WHAT IS THIS LETTER? at energyenhancement.org
Osho - Christianity: The Deadliest Poison and Zen: The Antidote to All Poisons, Chapter 1: The opium of the people, IF THE TRUTH IS ONE, THEN WHY DO ALL THE MASTERS, ALL THE AWAKENED ONES, SPEAK IN DIFFERENT WAYS? SOMETIMES IT EVEN LOOKS AS IF THEY ARE CONTRADICTORY at energyenhancement.org
Osho - Christianity: The Deadliest Poison and Zen: The Antidote to All Poisons, Chapter 1: The opium of the people, IF THE TRUTH IS ONE, THEN WHY DO ALL THE MASTERS, ALL THE AWAKENED ONES, SPEAK IN DIFFERENT WAYS? SOMETIMES IT EVEN LOOKS AS IF THEY ARE CONTRADICTORY at energyenhancement.org
Osho - Christianity: The Deadliest Poison and Zen: The Antidote to All Poisons, Chapter 2: Service with a smile, THERE WAS A MONK WHO HAD STAYED WITH YAKUSAN FOR THREE YEARS AND SERVED AS THE HEAD COOK. ONCE, YAKUSAN ASKED HIM, HOW LONG HAVE YOU BEEN HERE? at energyenhancement.org
Osho - Christianity: The Deadliest Poison and Zen: The Antidote to All Poisons, Chapter 2: Service with a smile, Question 1, CANNOT WE DISAGREE WITH YOU? CANNOT WE CRITICIZE YOU? at energyenhancement.org
Osho - Christianity: The Deadliest Poison and Zen: The Antidote to All Poisons, Chapter 2: Service with a smile, Question 2, IS IT BECAUSE OF A REFUSAL TO ENCOUNTER THE REALITY OF DEATH THAT THERE IS A RELUCTANCE TO MEDITATE? at energyenhancement.org
Osho - Christianity: The Deadliest Poison and Zen: The Antidote to All Poisons, Chapter 3: The sword and the lotus, YAKUSAN TALKED WITH MEIKEI OSHO AND LATER TOLD UNGAN: MEIKEI WAS ONCE A GOVERNMENT SUPERINTENDENT IN HIS PAST LIFE at energyenhancement.org
Osho - Christianity: The Deadliest Poison and Zen: The Antidote to All Poisons, Chapter 3: The sword and the lotus, Question 1, Why are you wasting your time sitting here, doing nothing? at energyenhancement.org
Osho - Christianity: The Deadliest Poison and Zen: The Antidote to All Poisons, Chapter 3: The sword and the lotus, Question 2, ARE THERE CERTAIN CONDITIONINGS -- SUCH AS GUILT, FEAR, JEALOUSY -- THAT ARE NOT PECULIAR TO CHRISTIANITY ALONE BUT HAVE BEEN ENDORSED BY ALL RELIGIONS, IN ALL CULTURES SINCE TIME IMMEMORIAL? at energyenhancement.org
Osho - Christianity: The Deadliest Poison and Zen: The Antidote to All Poisons, Chapter 4: This you call civilazation?, ONCE, WHEN YAKUSAN WAS RECITING A SUTRA, A MONK ASKED HIM: YOU DON'T USUALLY ALLOW US TO RECITE SUTRAS. WHY DO YOU YOURSELF RECITE A SUTRA? at energyenhancement.org
Osho - Christianity: The Deadliest Poison and Zen: The Antidote to All Poisons, Chapter 4: This you call civilazation?, Question 1, A VISITOR HERE OBSERVED THAT THERE IS AN AGELESSNESS IN THE PEOPLE AROUND YOU. WHAT IS THE EXPLANATION FOR THIS? at energyenhancement.org
Osho - Christianity: The Deadliest Poison and Zen: The Antidote to All Poisons, Chapter 5: Turning lions into sheep, ON A RAINY DAY, MONK GAO VISITED YAKUSAN, WHO COMMENTED, TODAY IT'S QUITE HUMID. I WILL BEAT THIS DRUM, SAID GAO at energyenhancement.org
Osho - Christianity: The Deadliest Poison and Zen: The Antidote to All Poisons, Chapter 5: Turning lions into sheep, Question 1, THE CHRISTIAN CHURCH DEFENDS TRUTH, HONESTY, AND LOYALTY .... at energyenhancement.org
Osho - Christianity: The Deadliest Poison and Zen: The Antidote to All Poisons, Chapter 5: Turning lions into sheep, Question 2, COULD YOU TALK ABOUT THE DIFFERENCE BETWEEN A WORKAHOLIC AND SOMEONE WHO IS TOTAL IN THEIR WORK? at energyenhancement.org
Osho - Christianity: The Deadliest Poison and Zen: The Antidote to All Poisons, Chapter 6: Good soldiers of christ, ONCE, WHEN UNGAN WAS IN YAKUSAN'S PRESENCE, THE MASTER SAID TO HIM, WHAT DOES HYAKUJO OSHO USUALLY TEACH? at energyenhancement.org
Osho - Christianity: The Deadliest Poison and Zen: The Antidote to All Poisons, Chapter 6: Good soldiers of christ, Question 1, BODHIDHARMA TOOK ZEN FROM INDIA TO CHINA AND JAPAN; YOU HAVE BROUGHT IT BACK TO INDIA, COMPLETING THE CIRCLE. IS THERE SOME SIGNIFICANCE IN THIS? at energyenhancement.org
Osho - Christianity: The Deadliest Poison and Zen: The Antidote to All Poisons, Chapter 7: Not faith, but fear, UNGAN REMAINED WITH YAKUSAN FOR SOME TIME, THEN ONE DAY DECIDED TO LEAVE: HE EXPLAINED TO YAKUSAN THAT HE HAD MADE A VOW TO STAY WITH HYAKUJO at energyenhancement.org
Osho - Christianity: The Deadliest Poison and Zen: The Antidote to All Poisons, Chapter 7: Not faith, but fear, Question 1, IS THERE ANY AUTHENTICITY TO THE ZEN THAT EXISTS IN AMERICA AND EUROPE TODAY? at energyenhancement.org
Osho - Christianity: The Deadliest Poison and Zen: The Antidote to All Poisons, Chapter 8: Fictitious father, crackpot son, YAKUSAN ONCE ASKED HIS DISCIPLE, UNGAN, I HEARD THAT YOU KNOW HOW TO DEAL WITH THE LIONS -- IS THAT TRUE? at energyenhancement.org
Osho - Christianity: The Deadliest Poison and Zen: The Antidote to All Poisons, Chapter 8: Fictitious father, crackpot son, Question 1, ONE COULD IMAGINE THAT, BECAUSE CHRISTIANS ARE ANTI-LIFE, THEY WOULD CELEBRATE WHAT THEIR RELIGION TEACHES IS THE END OF LIFE. BUT EVEN DEATH -- AS WELL AS LIFE -- IS TABOO, ANOTHER REASON TO BE MISERABLE at energyenhancement.org