HOLISTIC COMMUNICATION
CONSCIOUS Connection Management
- Holistic Human Behavior represented by The Seven Chakra System -
HOLISTIC COMMUNICATION
Shared, balanced, integrated giving and receiving in each of the seven centers.
The human experience is represented by the seven centers.
The secret key to a happy life is LOVE. Do everything with love, from the heart, and you will be free from vice, impurity, disorder, and selfishness. You will live a blameless life and have a clear conscience.
If we have underdeveloped heart and crown center experiences then we are very likely to selfishly grasp at all the other connections (and their experiences) in an attempt to pacify our anxiety and pain of separation from love and from "the beyond." This usually leads to selfish grasping, egoism, vice, error, and abuse. We create a miserable, selfish, and abusive attitude to life
All relationships involve the communication, negotiation, and cooperation of the our will in each area of life (represented by the seven centers).
This always involves give and take, unless we are dealing with tyranny and the abuse of hierarchy.
Each of the seven centers represents an area of human life.
The quality of the results of our communication depends upon:
The necessity of the situation.

The communicative skills of those concerned.

The compatibility of motivation, preference, aim, and will.
In its simplest terms, human communication often revolves around the following procedure:
Seek connection.

Connect (engage).

Express and Exchange.

Manage connection.

Disconnect.
---
HUMAN RELATIONSHIPS
Do everything with love
DO UNTO OTHERS THAT WHICH YOU WOULD HAVE DONE UNTO YOU
"BY THEIR FRUITS YOU SHALL KNOW THEM."
You can please all of the people some of the time,
some of the people all of the time,
but you cannot please all of the people all of the time.
---
CONSCIOUS SELF MASTERY: THE ART OF SUCCESSFUL LIVING.
A human being is a communicative expression of aspects and qualities of Existence.
We are all cells in the cosmic body of Existence.
Thus, a person has no independent identity that is separate from that which is provided by Existence.
Each chakra represents an arena of life, a functioning part of the human form, and has several modes of expression:
Negative programs and expressions.
Positive programs and expressions.
Ordinary Expressions.
Energetic Function.
First we need to work on our own lower chakras (Chakras 1 - 3) and rid ourselves of negative, anti-life programs. We re-program our lower chakras with the correct life-affirming programs. We put our own house in order first.
Then when our first three chakras are functioning correctly, we can heal and activate our higher chakras (Chakras 4 - 7) and their essential expression can become a reality.
We heal and integrate the seven chakras which is the most successful way of actualizing the whole person. The collectively aware and motivated person living usefully, happily, and successfully in the ordinary daily world.
In this way, we become a whole and integrated person. A wise, useful, and happy person. We can even learn how to teach others how to heal and integrate their chakras.
Who is the happiest person? The one who has the understanding, skill, and wisdom to bring happiness to others.
Remember, that all human behaviors are generic - common to all - and all negative programs can be changed to positive ones. So, don't despair if you find that currently you are experiencing the negative programs, in fact, this is all perfectly natural. It is better to become enthusiastic about finding our negative programs because, after all, we don't want them!
Simply identifying that we are running a negative program is 90% of the work done.
---
AS WITHIN, SO WITHOUT.
What is happening on the inside of a person is expressed to the world in every area of their lives.
As we journey through life, we will meet many different people and if you understand the seven center system, you can begin to understand how they are set up, what connections they make in their relationships, what emphasis they place on each center, the sorts of life-roles they are playing due to their holistic set up, and if they are suitable candidates to include in your life. You are in control of your connections. Understanding the human form based on the seven center system can liberate us from a random and confusing life.

I think it's a great system and there is nothing mystical, esoteric, or weird about it all. It is the most down to earth, common sense system i have ever discovered and it is represented in every culture throughout the history of the world.

If we know where people are "at" in the seven chakra system, then we can learn how to manage our connections with others to avoid unrealistic expectations and the inevitable disappointment that follows. We can also manage our life so that we can really begin to:
Make sound character judgments (based on observation and relevant questioning)
Avoid sick and dangerous people
Connect with the right people that meet our preferences and requirement.
Create a life that nurtures and supports every area of our life.
Be appropriate and wise.
Be in a strong position to offer a helpful service to others.


---
RELATING TO OTHERS.
Being awake in the higher centers can cause a lot of confusion if we are surrounded by people who are asleep in those areas of life. We can doubt ourselves and close down the higher centers through not understanding that every person is operating at different levels according to the development of their centers. It makes perfect sense and is 100% logical. This actually applies to any of the seven centers. For example, somebody who loves to dance may shut that area down because of the need to conform to a group norm, yet later in life, rediscovers that love and goes about developing and experiencing that activity.

When we interact and communicate with other people then we are sharing the experiences of the seven centers.

FINDING BLOCKAGES.
You will notice when a person has a blockage (repression, damage, underdeveloped) in a center because they will be unable to communicate (express themselves) or activate that area of their lives. If you spend too much time with certain people then you may feel that you are being closed down by them - this is because you cannot open that center to them and it is perfectly natural in the course of ordinary human communication to suppress (temporarily close) the activity of that center. This suppression, if continually applied, can become a permanent repression. It remains permanent until we become aware of it and do something about it.
CONFORMITY AND CONDITIONING.
Problems occur if we do not follow the correct communicative and expressive channels. For example, somebody who loves running may stop running because of conformity or conditioning. They may put on weight, simply because they have had to repress that area of their lives.
Somebody who loves to sing, may be discouraged and become a perpetual moaner (or worse) - the center becomes negative. In the higher centers we may see people repressing their creative, intellectual, and transcendent experiences simply through "conformity to group pressure."

We see how this process of adaptation to our environment initially takes place in the family and how we often have to hide our innate qualities because the family group is unable to cope with the activities of certain centers. Sadly, we can forget that we have had to close one of the centers (due to the group pressure to conform to it's norm) and we carry this blockage with us through-out life until it is either too painful, creates a disease, or we become aware and decide to heal that center and develop the qualities that it represents.

MANAGING THE INTENSITY OF YOUR CONNECTIONS.
To become conscious of how we connect we can learn how to increase and decrease the intensity at which we connect with others.
Left click on the image above to visualize the intensity of your connections with others.
---
BASE CHAKRA COMMUNICATION
Communication and relationships that we require to satisfy the basic needs of the physical body; it's survival, health, comfort, vitality, stability, and security.
In childhood, this is our communication and relationship with our family or guardians.
In adulthood, these are our survival and work relationships.
NEGATIVE EXPRESSION:
Unable to successfully communicate and relate to others concerning the maintenance and requirements of the physical body.
Greed and material obsession - Over concerned with base chakra activities.
Unemployable people, workaholics, fitness obsessives, greedy hoarders, misers, and people whose relationships only revolve around work and business.
Unhealthy, uncaring, damaged, and/or unknowledgeable relationship to the needs of the physical body.
Physical disease, discomfort, pain, stiffness, awkwardness, dysfunction of one or more parts of the body, self-consciousness, poor diet and little exercise, obesity, anorexia, body-dislike, ignorance and embarrassment concerning the body and it's functioning.
Physical abuse towards self and others, "as within, so without". Jealousy and resentment towards others and their base chakra activities. Jealousy at other's good conditions.
Financially, materially and physically reckless, careless, and irresponsible. Prodigal.
Negative communication often results in activities of sabotage, vandalism, and violence towards self or other's base chakra needs; Vandalism, theft, arson, physically abusive and destructive behavior.
POSITIVE EXPRESSION:
Clear, relevant, diplomatic, assertive, confident, balanced and comfortable expression and communication of our physical survival needs.
Meets needs and avoids greeds.
Healthy relationship with the physical body and it's needs.
Ease and comfort of movement. Flexibility and strength. Harmless and healthy diet (e.g., vegetarian), ordinary and thoughtful exercise (e.g., swimming, hatha yoga, walking, sports, gardening). Respecting and understanding the physical anatomy and it's functions.
Keeping financial accounts. Materially responsible, accountable, respectful, sensible, and careful. Prudential.
Positive base chakra communications and relationships lead to physical bodily comfort, ease of movement, health, and vitality. Appreciation and respect for other's bodies and the activities that are required to maintain physical health, stability, security, and vitality.
ORDINARY EXPRESSION:
People cooperating to satisfy base chakra functions.
Communication, relationships, and activity concerning the body and it's health, maintenance and survival. Work, money, physical health, exercise and maintenance, survival, stability, security, housing, pensions, insurance, family welfare, clothing, food and diet.
HUMANITARIAN EXPRESSION:
Cooperative physical activity for the benefit of All.
Understanding the limitations of the physical body and the benefits of cooperating within social groups - families, organizations, communities, and companies - to make survival issues lighter, easier, and more comfortable for All Living Beings.
Consideration of other's physical needs and involvement in activities that aim to improve physical conditions for living beings.
---
- SECOND CHAKRA COMMUNICATION -
AREA OF LIFE:
Sensuality.
NEGATIVE EXPRESSION:
Unable to form sweet and appropriate second chakra relationships with romantic, sexual partners. This is often due to damage in the second chakra and also outdated but active and inappropriate second chakra connection with parents.
Lust: Stray second chakra connections. Many people have unsatisfying sex lives or want more and varied sex than with their partner. If they do not consciously deal with this problem then it is highly probable that they will - often unconsciously - make stray/inappropriate second chakra connections. This can cause confusion in themselves and others and lead to inappropriate, regrettable, and negative experiences.
Unwanted and inappropriate second chakra connections can be changed with one of the Energy Enhancement healing techniques.
Painful, damaged, destructive, isolated, bitter, sour, or uncontrolled expression and relationship to the second chakra. Confused, uneducated, self-denying. Martyrdom. Sexual problems.
Communication, activities, connections and relationships are nonexistent or abusive, only concerned with selfish, uncontrolled self-gratification and pleasure or attention seeking behavior. Fair-weather relationships which only use other people to satisfy selfish pleasure seeking.
Addiction: Addicts of second chakra energy may relate to others with selfish seduction, sexual perversions, sexual abuse, incest, violation, and rape.
POSITIVE EXPRESSION:
Respect, harmlessness, sweetness, pleasure, love, enjoyment, fluidity, and flow.
Able to express, share, and enjoy pleasurable activities with others, whether that's hobbies, interests, past-times, socializing, friendships, or romantic relationships and partnerships.
Understanding and mastery of the second chakra connection.
ORDINARY EXPRESSION:
People communicating to satisfy second chakra functions. One problem here is that many, many people get stuck at this level of connecting and behaving. May all beings be happy, but there are higher and more satisfying things above this chakra.
HUMANITARIAN EXPRESSION:
The mastery of the second center connection so that time and energy can be given to social, collective, and transcendent needs.
ENERGETIC FUNCTION:
Sexual Reproduction.
---
THIRD CHAKRA COMMUNICATION
AREA OF LIFE:
Digestion
Vitality
Willpower
Activity
Achievement
NEGATIVE EXPRESSION:
Stubbornness, inertia, sloth, hyperactivity, competitive personality, anti-social activities, arrogance, immaturity, selfishness, inflated self-importance (egotism), inability to discuss and negotiate differences, boundaries, and problems concerning the expressions of the first and second chakras.
Hyper-competitive: Unhealthy and obsessive competitive attitude. Inability to relate comfortably with others. Superiority and Inferiority syndromes which reduce the ability to form mature and genuine relationships with others.
Low self-esteem and self-respect. Few, if any, assertive skills. Uses brute force, anger, hostility, aggression, and harsh verbal communication as expressions of personal willpower.
Devious, manipulative, small minded, criminally minded, and mean.
Selfish, hostile, unfriendly, uncooperative, antisocial, interactivity problems. Views life in terms of personal empire building and others are therefore the enemy, or at least of little importance unless they can be used to further the empire of the egoist.
POSITIVE EXPRESSION:
Cooperative, responsible, and socially aware. Uses will power in a balanced way. Can harmonize with groups - family, work, social. Effective and diplomatic self-assertion.
Attends to needs and avoids greed.
Ability to discuss and negotiate differences, boundaries, and problems concerning the expressions of the first and second chakras.
Personal activities are in proper and appropriate perspective to the larger picture of the unity of life.
ORDINARY EXPRESSION:
Communication at this level is all about catering for, balancing, and socializing our activites with everybody else. It's about asserting ourselves so that we can create and sustain our own life and realize that all other beings have the right to do the same.
Communication may involve "GREED and NEED" and finding correct and appropriate social boundaries - the humanitarian balance of what is mine and what is yours.
HUMANITARIAN EXPRESSION:
Social contribution. The ability to have enough energy to make a positive, social contribution to human society. Whether locally or globally.
ENERGETIC FUNCTION:
Metabolism
Vitality
---
FOURTH CHAKRA COMMUNICATION
Social and collective considerations.

How to offer a useful service to maintain or improve the lives and conditions of others.

Affinity, Empathy, Compassion, Love.
NEGATIVE EXPRESSION:
Hate, envy, revenge.
Damaged heart chakra means psychopathological disorders; Hatred, jealousy, resentment, bitterness, scorn, revenge, unnecessary aggression, violence, and cruelty. Those who "smile falsely" or not at all. Those who have no other higher emotions than sarcasm, cruelty and hate.
Closed heart chakra means no expression of its characteristics.
POSITIVE EXPRESSION:
Love, warmth, forgiveness, compassion, empathy, and a morality born from humanitarian understanding rather than duty.
Moral guidelines that are simply inherited, conditioned, or purely intellectual lip-service are bound to be broken and abused because of the "What if...?" factor, thus they are useless and hypocritical.
Moral guidelines that are genuine and heart orientated are adhered to because the person understands, often through bitter experience, that genuine moral practices are good for the one and the All.
A balanced and open heart chakra leads to the genuine desire to help other living beings and the collectivity that is Life on Earth.
ORDINARY EXPRESSION:
Affinity.
Like
Empathy
Compassion
Appropriately displayed love.
HUMANITARIAN EXPRESSION:
Activation of the Higher Self.

Activity that helps others.

Activity that improves the life for all.

Education.

Justice.

Fairness.

Collectivity.

Working for benevolent charities.
ENERGETIC FUNCTION:
Healing.
---
FIFTH CHAKRA COMMUNICATION
NEGATIVE EXPRESSION:
Closed, uncommunicative, abusive, sarcastic, trivial, irrelevant, conceited, continually harsh and stern, attention seeking and egotistical, thoughtless, rude, overbearing, domineering, control-freak, always giving orders. Lying. Confusing. Tendency to shout. Must have the center of attention. Monologue.

Unable to discuss, negotiate, or argue a point. Unable to converse properly. Finishing off other people's sentences. Always joking. Cannot express opinions and views.

Blocks the flow of communication and creativity. Either cannot give or cannot receive communication and creative energy. Jealous and envious of other people's communication and creative abilities.

Limited vocal, communicative, and creative repertoire.
POSITIVE EXPRESSION:
Balanced, thoughtful, relevant and appropriate. Honest, diplomatic, assertive, genuine. Can adjust pitch and tone of voice and be appropriate. Creative.

Can discuss, negotiate, or argue a point. Can express views, attitudes, and opinions in a reasonable way. Can share communication. Is able to listen to others. Is not concerned with being the star of the show.

Can converse. Ability to share communication energy; balanced transmitting and receiving skills. Appreciates the communicative abilities of others.

Reasonable vocal repertoire.
ORDINARY EXPRESSION:
Communicating the needs and desires of the lower self (the first three centers). Many people get stuck in the lower self, and thus all communication from them is solely concerned with their egotistical materialism.

Creativity.

Authority.
HUMANITARIAN EXPRESSION:
Communication of collective realisation and considerations.
---
SIXTH CHAKRA COMMUNICATION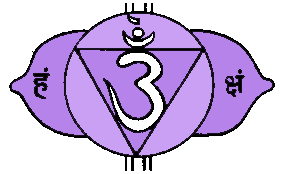 Communication using cognitive activity.
Planning, simulating, thinking, logic, reason, imagination, memory.
NEGATIVE EXPRESSION:
Uncontrolled thinking process.
Dullness and lack of imaginative or visualizing skills.
Negative, harmful, and anti-life thought patterns.
Chaos, confusion, and mental depression.
POSITIVE EXPRESSION:
"As we think, So we become."
Reasoning, Imagining, Thinking, Discriminating, Evaluating and Perceiving Abilities. Consideration. Logical and rational thinking. Mental simulation of situations and possible outcomes of activities. Forward thinking and plan making.
Mental Health: Think well and we become well. Think good, healthy, wholesome thoughts and so we become.
Thoughtfulness: Ability to reflect and examine - especially concerning our life behavior.
Clarity.
Wonder.
Considering Others.
ORDINARY EXPRESSION:
Cognitive and Intellectual activity.
Logic, imagination, and wonder.
HUMANITARIAN EXPRESSION:
Collective consideration.
Cognitive activity that brings about life improvement and enhancement.
All forms of cognitive activity that work for the welfare of Life On Earth.
---
SEVENTH CHAKRA COMMUNICATION
Communication at this level concerns transcendent considerations.
Unity of the Universe
High science
Philosophy
Wonder
Mystery of Existence
NEGATIVE EXPRESSION:
Cosmic alienation .
Feeling disconnected from life.
Lonely, abandoned, isolated.
No transcendent considerations.
No philosophy or higher thinking.
Cannot wonder.
Cannot accept the mystery of existence.
POSITIVE EXPRESSION:
---
RELATED STUDY