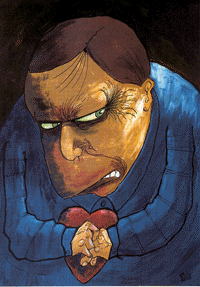 SELFISH EGOTISM
The bind-weed of selfish desire and aversion and attachment that is the product of the fall and that prevents the soul from taking charge of the body/mind/worldly character and living and loving
The problem is that of selfish, mercenary desire.
The solution is to transform this desire into Love - the genuine wish to serve health and happiness to all
DEFINITION OF TERMS
Egotism
Selfish attitude, inconsiderate of others, always wanting but never giving, narcissistic self obsession.
An excessive or exaggerated sense of self-importance and anti-social inconsideration of others.
Egotism is often accompanied by a very selfish and mercenary attitude to life. In extreme forms, egoism (as egotism) may include narcissism, antisocial and psychopathological behavior - complete inconsideration of the lives and well-being of others. Selfishness, possessiveness, and attachment.
The greatest lesson in this world is to put LOVE before selfish egotism. The problems of the world are all based upon this decision - to be loving or to be selfish?
UNHEALTHY SELF OBSESSION
Egotism is a painful mentality and radically reduces the healthy enjoyment of life for everybody.
When I think only of myself then I am miserable, narcissistic, selfish, and vain – there is no real happiness in this attitude.
When I think of others with warmth, compassion, and love then I experience meaningful connection, kind heartedness, giving, happiness, and a deep peace – this is good.
Life is an opportunity to love.
The grasping hand is never full. To be full it must give .
A psychological illness of self-love and infatuation with the Self as the individual.
Anti-Social AND ANTI-LIFE Behaviour
Self centered, disrespectful, inconsiderate, and barbaric attitude to life, often accompanied by attention seeking behaviour, narcissism, and personality disorders.
PRIDE
The person who is too proud to acknowledge their faults and weaknesses cannot improve and it is difficult for them to ask for help concerning their problems. They are too concerned and self-conscious about their self image (how they appear to themselves and others) to realize that their pride is preventing them from learning and growing.
They quickly develop egotism and personality disorders.
Humility and modesty are the opposite to egocentric pride and allow us to be less self-conscious and more open to education and learning.
INTRODUCING THE EGOTISTICAL ATTITUDE
"This little me, all puffed up with selfishness and self-importance, in the delusion of separation from the great Ocean of Life - unloving, narcissistic, vain, conceited - thinking only of me, me, me!"
Egotism, and the resulting narcissism and vice, is a direct symptom of the soul's fall from God and grace.
---
RELATED STUDY