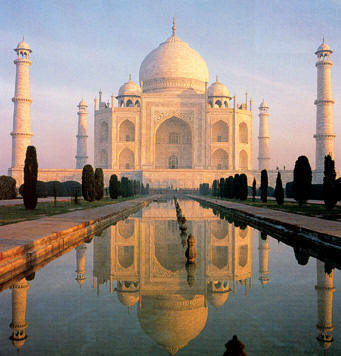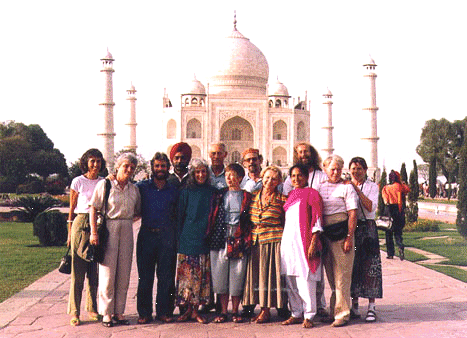 Students with your Indian Spiritual Guides Satchidanand and Devi Dhyani at the Taj Mahal
This Indian Journey will give you an experience for your Hearts with the techniques of Energy Enhancement which will re-align the bases of your mind, your heart and your Soul to appreciate all the good things of this Marvellous, Contradictory and Multifaceted Country.
This experience is the realisation of the Dream of your Life. Visit the Exotic Orient...
We will visit the Taj Mahal from a 5Star Hotel, Rishikesh the city of a Thousand Yogis in the foothills of the Himalayas, Haridwar and the nightly Arati in front of thousands on the banks of the Ganges. Sri Sathya Sai Baba in Whitefield or Puthaparti, The Ashram of Ramana Maharshi at the feet of the sacred Mountain of Arunachala - we will walk up it, at Thiruvannamalai South India, Pondicherry (Auroville) Delhi, Chennai and Mahaballipuram with the festival of dances of Indian Classical Dance Baratha Natyam.
SEE THE VIDEO
TOUR OF INDIA
BELOW
THE VIDEO TOUR OF INDIA
The Energy Enhancement Meditation Course - www.energyenhancement.org in India introduced by Swami Satchidanand and Swami Devi Dhyani. We see...
The Taj Mahal in Agra and The Red Fort.
Then there is an interview with Swami Shantananda of Vashishta Gufa (Cave) in the Himalayas above Rishikesh.
We see Haridwar and the Hindu arati ceremony there at dusk on the banks of the River Ganges where crowds of thousands view the sacred flame and chant the songs of enlightenment. Enlightened sages descend from their caves in the high Himalayas to give experiences of energy to the assambled people - a shower of flowers.
We see the temple of Hare Krishna in Vrindaban and the special ceremony of the display of the Murthys, the statues of Krishna together with the chanting of the monks and the dance of the whirling dervishes by Swami Devi Dhyani.
JANUARY 25th 2010 TOUR OF INDIA
INCLUDING LEVEL ONE OF ENERGY ENHANCEMENT MEDITATION SAMYAMA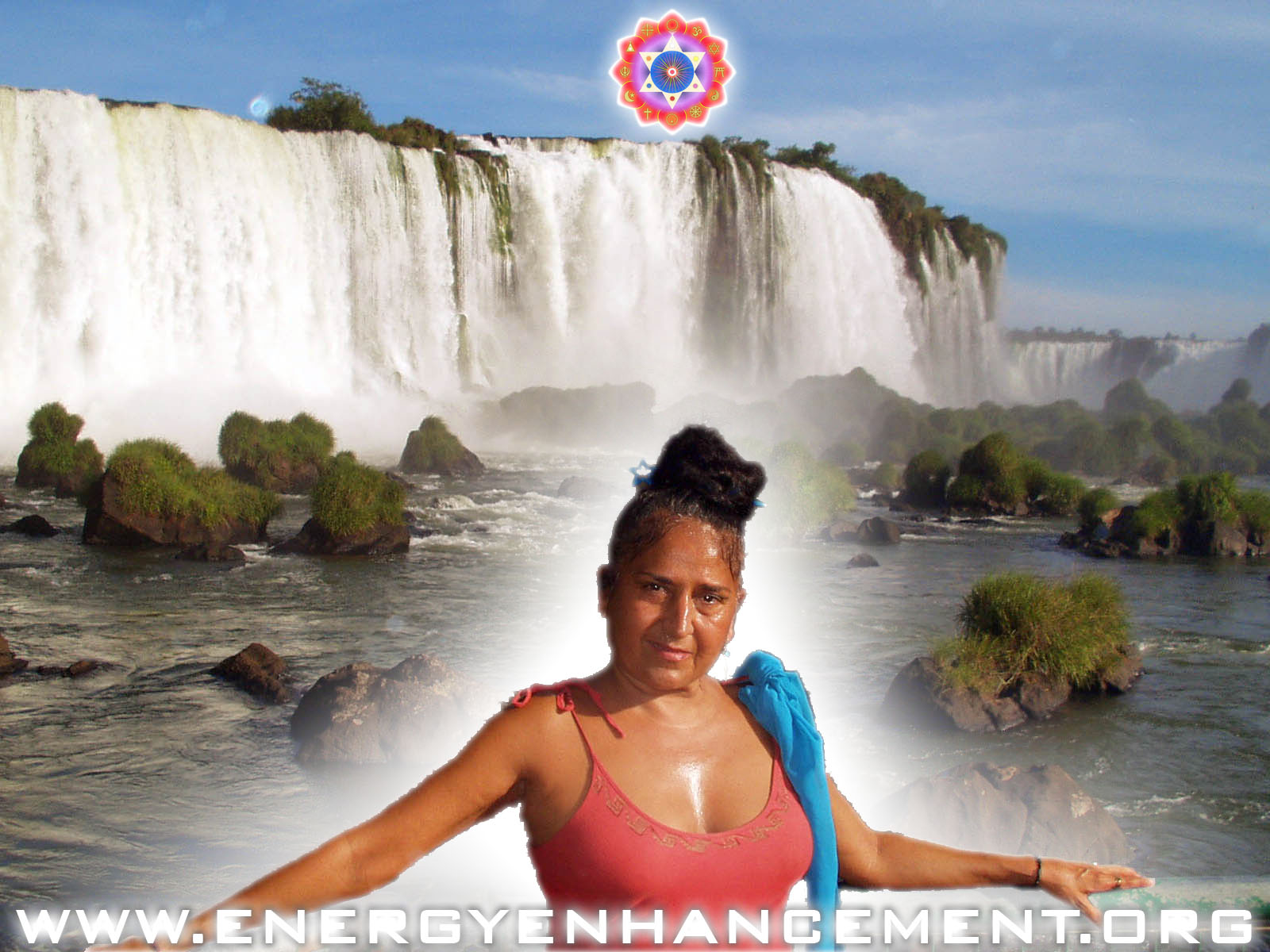 <>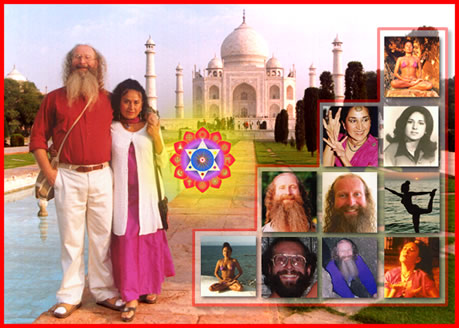 ENLIGHTENMENT..
Many people get along very well with the Energy Enhancement Streaming Videos and DVDs but how many people get enlightened from reading the Bible or the Koran?
How many people become enlightened by reading Buddha's Dhammapada? Whereas 10,000 monks became enlightened by listening to the words of the Buddha, Live, in the Purple Grove!!

The best way to learn Energy Enhancement is by meeting us - entering into the aura of the Buddhafield and studying at the feet of those who know. It has always been thus for those who urgently need the liberation of Enlightenment...
JUST SIGN UP FOR THE NEWSLETTER TO GET THE DETAILS OF THE NEXT LIVE COURSE!!!!
Now!!
COME AND GET EXPERIENCED!
EMAIL
sol@energyenhancement.org
FOR DETAILS

Satchidanand and Devi Dhyani with Tour Group at the Taj Mahal
FEEL the ENERGY of INDIA!!
India Tour
25/01/2010 Day 01: Landing in Chennai to hotel o/n
26/01 Day 02 : Chennai city tour travel on sleeper train overnight to Puttaparthi
27/01 Day 03 : Puttaparthi to hotel visit Sai Baba
28/01 Day 04 : Puttaparthi
29/01 Day 05 : Puttaparthi
30/01 Day 06 : Puttaparthi
31/01 Day 07 : Puttaparthi /Thiruvannamali
01/02 Day 08 :Thiruvannamali
02/02 Day 09 :Thiruvannamali
03/02 Day 10 :Thiruvannamali
04/02 Day 11 :Thiruvannamali / Pondicherry
05/02 Day 12 : Pondicherry
06/02 Day 13 : Pondicherry/ Mahabalipuram /Chennai hotel
07/02 Day 14 : Chennai
08/02 Day 15: Chennai/ Delhi Rajdhani Express Sleeper 0610am arrive 10.15 am
09/02 Day 16 : arrive Delhi 10.15 Hrs to hotel and relax
10/02 Day 17 : Del/Agra tour.-
11/02 Day 18 : Agra visit the Taj Mahal
12/02 Day 19 : Agra visit the city
13/02 Day 20 : Agra / Vrindavan tour
14/02 Day 21 : Vrindavan
15/02 Day 22: Vrindavan
16/02 Day 23 : Vrindavan/Delhi
17/02 Day 24 : Delhi
18/02 Day 25: Delhi /Haridwar
19/02 Day 26: Haridwar
20/02 Day 27 :Haridwar
21/02 Day 28 :Haridwar
22/02 Day 29: Haridwar/Delhi
23/02 Day 30: Delhi al Airport and out
---


PIERRE MORENCY - Here's my promised testimonial:
"Last June, I had the privilege to get my first taste of India in the Company of two wonderful, knowledgeable and fun people, Satchi and Devi. From day one, they were able to stabilize me in this strange and mysterious country.

Being a marketing speaker and a meditation practitioner, I didn't really know what to expect from my 2 week training. What I discovered was a powerful systematic way of practicing meditation and other Energy Enhancement methods.
I'm in the process of fully testing the techniques and approaches I've learned but can already feel - and prove!- tremendous changes in my life.
For instance, since I've been working on "cleaning my base chakra" (The Grounding of Negative Energies -Satchidanand) everything around me seems to be going through a massive cleansing process - Only 2 days after I returned to Canada from India, a chain reaction of events led my to change my 5 employees, change some of my major accounts and delay a move to the United States. 10 weeks after the program, things are stabilizing.
Looking back, I think the cleansing process probably saved my business and my marriage.

Thank you Satchi and Devi.

Pierre Morency
Marketing Physicist
President Morency Marketing Inc."

Hope this testimonial can serve you well.
Pierre.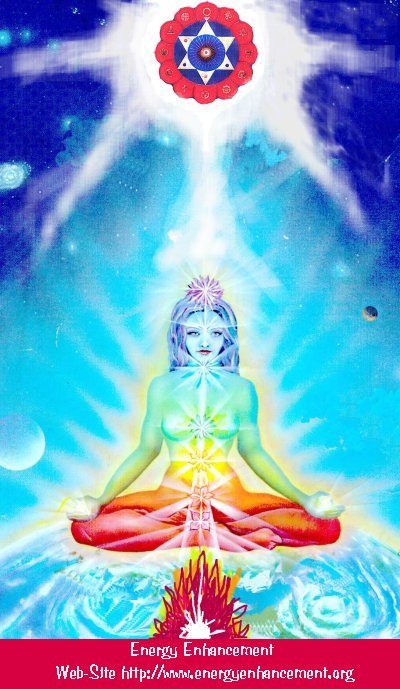 When I began my journey, many years ago, I had no idea that the 
Yoga and the Meditation which I practised, and the help from many 
wonderful teachers, would have so many good effects on my life.
I know it from my own experience, but now I have seen scientific 
proof that the old educational chestnut, that people can not improve 
their intelligence and creativity after the age of 16, is false.
That is why the most prestigious universities and colleges cherry 
pick the most intelligent people at that age for their programs, 
and then say, "Look what we did!!"
There are now research results from many hundreds of studies which 
prove that by accessing a state of consciousness above the sleeping 
and awake states, in Meditation, Intelligence and creativity can 
be infinitely improved for all of your life too.
So that the jewel within can be uncovered. So that the ordinary 
can become extraordinary. So that the extraordinary can become normal.
Here is one of our normal Energy Enhancement testimonials from Leaf, 
an American English teacher who came to India 20 years ago and stayed. 
He had the karma to be attacked by a madman with a knife about 10 
years ago. The knife did little damage but it was the fall from 
a height of 8 feet, onto his shoulder, which did the lasting damage.
The doctors said that his left arm was permanently crippled. He 
could not lift it up and had to swing it into position for 5 years 
when he found his first Reiki Master and after a year of self treatment 
was able to lift it up horizontally but no further. A tremendous improvement you will agree.
However, he had to wait another 5 years for his Energy Enhancement 
Reiki Initiation with Devi Dhyani before, over the period of one 
week of Initiation and healing, he was able to lift his arm vertically above his head.
However, this was not the most exciting thing which happened to 
him over these series of Initiations with Devi Dhyani.
Here in his own words....
Empowerment The Reiki Way
People say that I have a habit of being verbose, so I shall make 
my testimony in as few words as possible. 
In my experience with Reiki attunement with Master Devi Dhyani, 
I must say that with her magic touch, I have achieved heights that I had never imagined possible.
Having had previous Reiki training in the healing and Therapists 
Degree, I took Initiation for Reiki Three from Devi Dhyani. On the 
second day into a review course of my earlier training, Devi's attunement 
was so powerful that it gave me the confidence and courage to forsake 
a 40 year tobacco habit that had previously been unvanquishable. 
She brought about a Spiritual Healing and realisation so simple 
that it had always eluded my desires in the past. That is and was 
to undergo a rebirth and a reawakening of the spirit by the imperceptible 
infiltration of good energy from Devi replacing the bad energy in me. 
In all I would assess that the dedicated direction of Reiki Energy 
from Devi drove out the Devil's design in me and turned me into 
a potential healer of the sick in body and spirit myself, and I 
am grateful to her for the new lease on life.
Sri Leyf Thulasinadan
After one month we saw again Thulasinadan and he was still not smoking.
As always during Initiation we use energy, channelled through Energy 
Enhancement Techniques, to remove  the energy blockages from the student.
Energy with the Energy Enhancement Course, underlying the Physical 
and the Emotional, is the simplest way to remove blockages without 
going into the pain which caused them. The blockages are simply and easily removed.
Physical disease is cured and emotional pain removed. Strategies 
and bad habits no longer exist. Relationships Healed.
When all the energy blockages, the stones in the watercourse, are 
removed then there results an enlightenment, something extraordinary, 
which results in overflowing energy and pleasure, greater intelligence and creativity.
Which then becomes normal...
And all these hundreds scientific studies in many prestigious institutions 
say that this creative improvement is available to anyone, at any age.....NOW!!
Well, its the start of the year and an incredible course of Energy 
Enhancement techniques can be learnt easily on...
THE ENERGY ENHANCEMENT TOUR OF INDIA
INCLUDING LEVEL ONE OF ENERGY ENHANCEMENT MEDITATION SAMYAMA
AT THE TAJ MAHAL
1. Tour of the Taj Mahal, and of Rishikesh and Haridwar in the Foothills of the Himalayas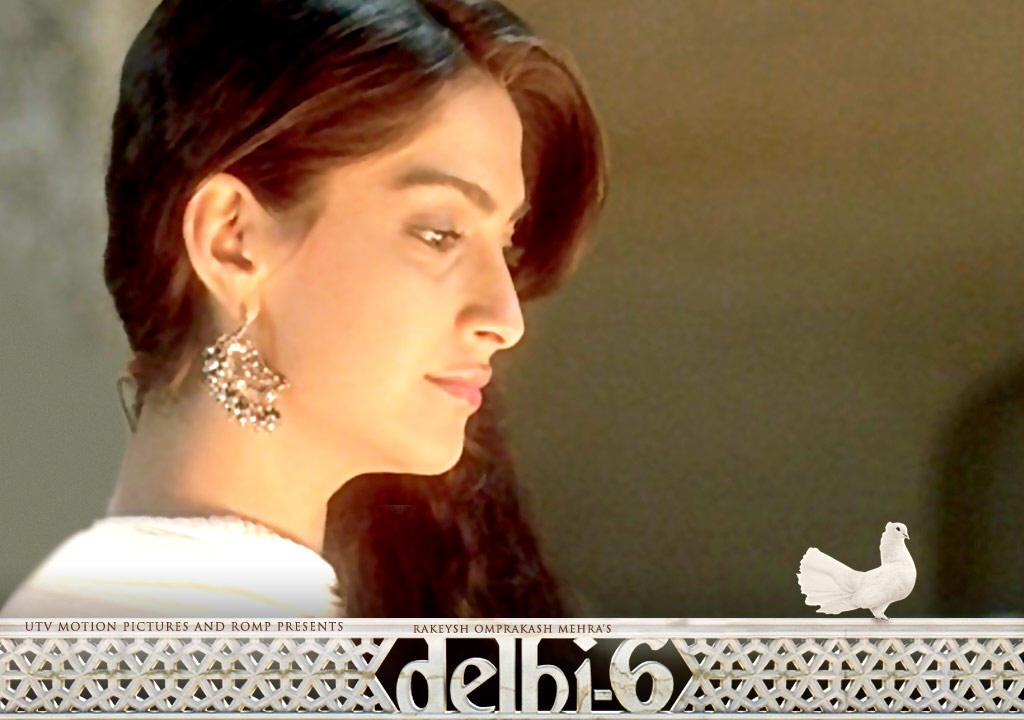 INCLUDING LEVEL ONE OF ENERGY ENHANCEMENT MEDITATION SAMYAMA
The Taj Mahal is truly one of the most beautiful of buildings...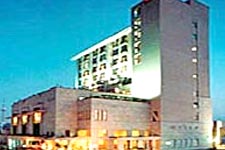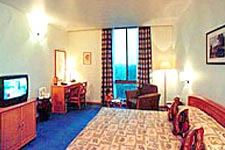 Ratings: 4 Star
Address: K.P. Block, Pitam Pura, Delhi-110088, Delhi
Accessibility:
Airport: 25 Kms., Railway Station: 12 Kms.
Locational Advantages:
Only luxurious hotel located in North West Delhi
Hotel Description:
Hotel Central Park provides the guests with a haven of comfort and hospitality in the heart of Northwest Delhi known as the finest commercial district in Delhi. City Park offers travelers a new level of luxury with the distinctive personalized touch and crisp efficiency. This towering hotel offers a wonderful view of this elegant part of the city with excellent service providers that are ready to provide the best of the service round the clock.
Accommodation at Hotel City Park, New Delhi:
Hotel city park offers 60 elegantly appointed rooms & suites that have been equiped with all types of modern facilities as tos tand upto the International standards of hotels. Room offers a spectacular view of lush green gardens. These rooms are considered to be lavishly appointed and are of comparitively larger size.
Amenities & Services at Hotel City Park, New Delhi:
Conference Halls, Bars, Restaurants, Banquets, Health and Spa Club,