OSHO
Dhammapada-Buddhism-Buddha
THE DHAMMAPADA: THE WAY OF THE BUDDHA, VOL. 7
Chapter 10: Perfection is death
Question 8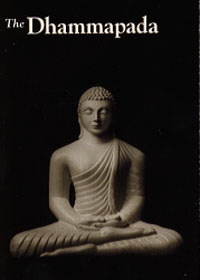 Energy Enhancement Enlightened Texts Dhammapada The Way of the Buddha, Vol. 7
The last question:
Question 8
BELOVED MASTER,
WHY ARE YOU SO MUCH AGAINST CLEVERNESS? DOES IT NOT PAY IN LIFE TO BE CLEVER?
Ageha, cleverness is only a beautiful name for cunningness. Hence I am against it. I am not against being intelligent, but an intelligent person need not be clever. It is only the unintelligent person who has to be clever; because he is missing intelligence he has to replace it with something else.
Cleverness is plastic intelligence, cultivated intelligence. It is a poor substitute. And I know in life -- at least in the short range -- it pays, but never in the long range. And the wise person has to think of the long range. You can be cunning, and for the moment it may pay, but sooner or later you will have to pay for it.
You are sowing seeds which are wrong and you will have to crop the reap... or is it "reap the crop"? You can't avoid the consequences; the consequences are bound to come.
Homer and his pretty wife were about to check out of the hotel when Homer expostulated over the amount of the bill. The hotel manager told him that was the normal rate for a double room with bath and TV.
Homer said they did not use the TV.
"I am sorry, sir," said the manager. "It was there for you to use if you had wanted it."
"Okay," said Homer, "but in that case I am going to charge you for making love to my beautiful wife."
The manager denied it, and Homer said, "That's okay. She was there for you to use if you wanted to."
The manager was so flustered he reduced Homer's bill and Homer decided to try it again the next time they went on a trip.
"Sir, that is our normal rate," said the young clerk.
"But we did not use the TV."
"I am sorry, but it was there for you to use if you wanted to."
"In that case, I will have to charge you for making love to my beautiful wife."
To Homer's chagrin the young man stammered, "Okay, okay, I will pay you. But keep your voice down, will you? I am new at this hotel and you are apt to get me fired."
Cunningness may pay in the short range, but sooner or later you will be caught in your own net. You will fall in the ditch you have dug for others. Beware of it!
I am not against being intelligent -- I am all for being intelligent -- but intelligence is a totally different quality. Intelligence is of the heart and cleverness is of the mind. Cleverness is a heady thing. Even a computer can be clever but not intelligent.
Be intelligent! But to be intelligent needs great changes in your life, in your life patterns. Intelligence is a by-product of meditativeness. If you become silent, if you become innocent, then you will be intelligent. Intelligence means responding to the situation immediately, without any preparation, without the past, without any rehearsal... just responding as a mirror reflects immediately whatsoever confronts it.
When you start reflecting whatsoever life brings in front of you and you act out of the moment, you are intelligent. But if you are clever and cunning you are using your past, your past experiences, and you are responding according to your past experiences. That is not response -- that is reaction. And that can be done by computer. You are not really human when you are bringing your past into the present and acting out of it.
Be wise, be meditative, be intelligent. Avoid being cunning. That is ugly, that is unspiritual, and that reduces you into a machine.
And you are not a machine, you are a man. Whatever can be done by a machine is not worth doing. Do that which only a man can do. Then your glory is great and then you will release great splendor in your life.
Enough for today.
THE END
Energy Enhancement Enlightened Texts Dhammapada The Way of the Buddha, Vol. 7
Chapter 10:
Dhammapada, Buddhism, Buddha. The Dhammapada: The Way of the Buddha, Vol. 7, Chapter 10: Perfection is death, Question 1, WILL YOU PLEASE TALK ABOUT THE DESIRE TO HELP PEOPLE, ITS DIFFERENCES AND SIMILARITIES TO OTHER FORMS OF DESIRE? at energyenhancement.org
Dhammapada, Buddhism, Buddha. The Dhammapada: The Way of the Buddha, Vol. 7, Chapter 10: Perfection is death, Question 2, I WANT TO BE A SANNYASIN, BUT I DON'T WANT TO WEAR ORANGE OR A MALA AND I DON'T WANT TO CHANGE MY NAME. CAN I BE A SANNYASIN TOO? at energyenhancement.org
Dhammapada, Buddhism, Buddha. The Dhammapada: The Way of the Buddha, Vol. 7, Chapter 10: Perfection is death, Question 3, I WANTED TO ASK YOU A QUESTION THE OTHER DAY, BUT WITHOUT MY ASKING YOU ANSWERED IT. HOW DO YOU MANAGE SUCH MIRACLES? at energyenhancement.org
Dhammapada, Buddhism, Buddha. The Dhammapada: The Way of the Buddha, Vol. 7, Chapter 10: Perfection is death, Question 4, I HAVE BEEN PRAYING FOR YEARS, BUT NONE OF MY PRAYERS HAS BEEN ANSWERED. WHAT IS WRONG WITH ME AND WITH MY PRAYERS? at energyenhancement.org
Dhammapada, Buddhism, Buddha. The Dhammapada: The Way of the Buddha, Vol. 7, Chapter 10: Perfection is death, Question 5, HAVING HAD THE ADVENTURE OF LOOKING THROUGH ANCIENT SCRIPTURES OF YOURS, I HAVE NOTICED THAT FOR AT LEAST TEN YEARS YOU HAVE KEPT ON REPEATING THIS LEGEND: 'THERE ARE FOUR TIMES MORE FEMALE DISCIPLES THAN MALE DISCIPLES. THE SAME WAS THE CASE WITH BUDDHA, THE SAME WITH ME TOO.' ABOUT BUDDHA I DON'T KNOW -- I WAS NOT THERE -- BUT ABOUT YOU, AFTER DOCUMENTED AND METICULOUS RESEARCH, I AM HAPPY TO INFORM YOU THAT YOU HAVE FIFTY-TWO THOUSAND, THREE HUNDRED AND EIGHTY-SEVEN FEMALE DISCIPLE AND FIFTY-THREE THOUSAND, NINE HUNDRED AND FORTY-SIX MALE DISCIPLES. AS THE OLD BOB DYLAN USED TO SAY: 'THE TIMES THEY ARE A-CHANGING' -- FORTUNATELY! WOULD YOU PLEASE SAY SOMETHING ABOUT THIS? A DISCIPLE DOES NOT LIVE ON LEGEND ONLY at energyenhancement.org
Dhammapada, Buddhism, Buddha. The Dhammapada: The Way of the Buddha, Vol. 7, Chapter 10: Perfection is death, Question 6, CANNOT ONE EVER FIND A PERFECT PARTNER IN MARRIAGE? at energyenhancement.org
Dhammapada, Buddhism, Buddha. The Dhammapada: The Way of the Buddha, Vol. 7, Chapter 10: Perfection is death, Question 7, IS THE REASON FOR TALKING SO MUCH IN FAVOR OF THE WOMEN HERE BECAUSE YOU MAY ALSO BE A LITTLE AFRAID OF THEM TOO? at energyenhancement.org
Dhammapada, Buddhism, Buddha. The Dhammapada: The Way of the Buddha, Vol. 7, Chapter 10: Perfection is death, Question 8, WHY ARE YOU SO MUCH AGAINST CLEVERNESS? DOES IT NOT PAY IN LIFE TO BE CLEVER? at energyenhancement.org