OSHO
Dhammapada-Buddhism-Buddha
THE DHAMMAPADA: THE WAY OF THE BUDDHA, VOL. 7
Chapter 10: Perfection is death
Question 2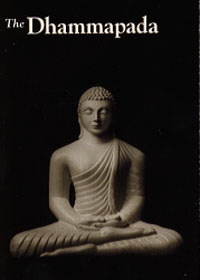 Energy Enhancement Enlightened Texts Dhammapada The Way of the Buddha, Vol. 7
The second question:
Question 2
BELOVED MASTER,
I WANT TO BE A SANNYASIN, BUT I DON'T WANT TO WEAR ORANGE OR A MALA AND I DON'T WANT TO CHANGE MY NAME. CAN I BE A SANNYASIN TOO?
Rupesh, then why bother? Then believe that you are a sannyasin. Who can prevent you from believing? You can believe anything!
It happened in Baghdad:
The caliph of Baghdad was very angry at a man who was brought to his court. The man was declaring that he is a new prophet, the new messiah. God has sent him after Mohammed, because now fourteen centuries have passed and the message of Mohammed has become old. A new dispensation is needed; "hence he has sent me to deliver the message."
Mohammedans can't tolerate such things! The caliph said, "You come to your senses, otherwise you will be in trouble!"
And he ordered that this man should be whipped, put into jail -- no food, no water for seven days, and beaten as much as possible. "Don't allow him any sleep, any rest."
For seven days the man was tortured. Then the caliph came to the jail. The man was chained to a pillar; he was looking very pale, tired, his whole body swollen, bloody. He had not even been given water, no food, no sleep, and continuous beating.
The caliph asked him, "What do you think now?"
He said, "What do I think now? I am more convinced than ever that I am the messiah, because when I was coming, God said to me, 'Listen! My messengers have always been treated very badly; Jesus was crucified, Mohammed was continuously hunted by murderers, Socrates was poisoned, Mansoor was killed. So, many tortures will happen to you.' So I am grateful," the man said to the caliph, "that you have proved to my heart's content that I am the prophet!"
At that moment a man who was chained to another pillar started laughing loudly.
The caliph asked, "Why are you laughing?"
The man said, "This man is simply lying -- because I am God myself and I have not sent this man at all!"
You can believe anything! Nobody can disturb your belief; even disturbances can become proofs that you are right. But why bother?
If you can't even change the color of your clothes, will you be able to change your soul? If you can't even change your name, which is just a fiction.... All names are fictions: you come into the world without names and then names are given to you. If you are so identified, Rupesh, with your name, how are you going to change your inner world, your identity with the body, with the mind? If you cannot drop the identity with a fictitious name, the body is too real, the mind is too real; it will be impossible for you to change that.
A poor man came home and asked his wife, "Why don't we ever have blintzes?"
"Well," replied the wife, "blintzes are expensive. They require cheese."
"Could you not leave out the cheese?"
"Maybe," she said, "but they still require eggs."
"So leave out the eggs."
"Yes," she said, "but they require butter and cinnamon and sugar."
"So leave them out," he said.
Sometime later she served him some flat cakes made practically from flour and water.
Taking a taste he said, "I don't see what rich people like about blintzes."
Next: Chapter 10: Perfection is death, Question 3
Energy Enhancement Enlightened Texts Dhammapada The Way of the Buddha, Vol. 7
Chapter 10:
Dhammapada, Buddhism, Buddha. The Dhammapada: The Way of the Buddha, Vol. 7, Chapter 10: Perfection is death, Question 1, WILL YOU PLEASE TALK ABOUT THE DESIRE TO HELP PEOPLE, ITS DIFFERENCES AND SIMILARITIES TO OTHER FORMS OF DESIRE? at energyenhancement.org
Dhammapada, Buddhism, Buddha. The Dhammapada: The Way of the Buddha, Vol. 7, Chapter 10: Perfection is death, Question 2, I WANT TO BE A SANNYASIN, BUT I DON'T WANT TO WEAR ORANGE OR A MALA AND I DON'T WANT TO CHANGE MY NAME. CAN I BE A SANNYASIN TOO? at energyenhancement.org
Dhammapada, Buddhism, Buddha. The Dhammapada: The Way of the Buddha, Vol. 7, Chapter 10: Perfection is death, Question 3, I WANTED TO ASK YOU A QUESTION THE OTHER DAY, BUT WITHOUT MY ASKING YOU ANSWERED IT. HOW DO YOU MANAGE SUCH MIRACLES? at energyenhancement.org
Dhammapada, Buddhism, Buddha. The Dhammapada: The Way of the Buddha, Vol. 7, Chapter 10: Perfection is death, Question 4, I HAVE BEEN PRAYING FOR YEARS, BUT NONE OF MY PRAYERS HAS BEEN ANSWERED. WHAT IS WRONG WITH ME AND WITH MY PRAYERS? at energyenhancement.org
Dhammapada, Buddhism, Buddha. The Dhammapada: The Way of the Buddha, Vol. 7, Chapter 10: Perfection is death, Question 5, HAVING HAD THE ADVENTURE OF LOOKING THROUGH ANCIENT SCRIPTURES OF YOURS, I HAVE NOTICED THAT FOR AT LEAST TEN YEARS YOU HAVE KEPT ON REPEATING THIS LEGEND: 'THERE ARE FOUR TIMES MORE FEMALE DISCIPLES THAN MALE DISCIPLES. THE SAME WAS THE CASE WITH BUDDHA, THE SAME WITH ME TOO.' ABOUT BUDDHA I DON'T KNOW -- I WAS NOT THERE -- BUT ABOUT YOU, AFTER DOCUMENTED AND METICULOUS RESEARCH, I AM HAPPY TO INFORM YOU THAT YOU HAVE FIFTY-TWO THOUSAND, THREE HUNDRED AND EIGHTY-SEVEN FEMALE DISCIPLE AND FIFTY-THREE THOUSAND, NINE HUNDRED AND FORTY-SIX MALE DISCIPLES. AS THE OLD BOB DYLAN USED TO SAY: 'THE TIMES THEY ARE A-CHANGING' -- FORTUNATELY! WOULD YOU PLEASE SAY SOMETHING ABOUT THIS? A DISCIPLE DOES NOT LIVE ON LEGEND ONLY at energyenhancement.org
Dhammapada, Buddhism, Buddha. The Dhammapada: The Way of the Buddha, Vol. 7, Chapter 10: Perfection is death, Question 6, CANNOT ONE EVER FIND A PERFECT PARTNER IN MARRIAGE? at energyenhancement.org
Dhammapada, Buddhism, Buddha. The Dhammapada: The Way of the Buddha, Vol. 7, Chapter 10: Perfection is death, Question 7, IS THE REASON FOR TALKING SO MUCH IN FAVOR OF THE WOMEN HERE BECAUSE YOU MAY ALSO BE A LITTLE AFRAID OF THEM TOO? at energyenhancement.org
Dhammapada, Buddhism, Buddha. The Dhammapada: The Way of the Buddha, Vol. 7, Chapter 10: Perfection is death, Question 8, WHY ARE YOU SO MUCH AGAINST CLEVERNESS? DOES IT NOT PAY IN LIFE TO BE CLEVER? at energyenhancement.org