OSHO
Dhammapada-Buddhism-Buddha
THE DHAMMAPADA: THE WAY OF THE BUDDHA, VOL. 7
Chapter 10: Perfection is death
Question 6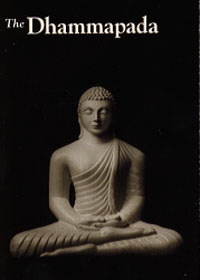 Energy Enhancement Enlightened Texts Dhammapada The Way of the Buddha, Vol. 7
The sixth question:
Question 6
BELOVED MASTER,
CANNOT ONE EVER FIND A PERFECT PARTNER IN MARRIAGE?
Sagaro, perfect people don't exist. And perfect people, if they existed, would be very boring. It is imperfection that keeps life interesting. Just think of a perfect husband, a perfect wife: they will be utterly bored!
Bertrand Russell is reported to have said: I don't want to go to heaven, for the simple reason that there will be sages and sages, all perfect. Heaven is bound to be very boring.
Just think of all perfect people -- what life can there be? Bertrand Russell is right: in hell there is much more life than in heaven. Heaven will certainly be dull and dead.
Perfection is death; perfection is not found in the world. The world lives through imperfection, because in imperfection there is growth, evolution. Perfection means you have come to a dead end; now there is no way to go further ahead. You are stuck.
You ask me, "Cannot one ever find a perfect partner in marriage?" Very difficult, almost impossible!
I have heard about a man who searched his whole life for a perfect woman, and naturally he had to die a bachelor. When he was dying, somebody asked him, "Your whole life you were searching for a perfect wife. Could you not find a single woman who was perfect?"
He said, "Who said that I didn't find her? Many times I came across a perfect woman."
Then the questioner asked, "Then what happened? Why didn't you get married?"
He said, "Because she was also looking for a perfect husband!"
In the first place, to find one person who is perfect is very difficult -- and you are trying to find two persons. Impossible! It has not happened up to now; it can't happen.
And what will make a perfect marriage? If the woman is truly a woman and the man is truly a man, there is bound to be some tension, and that tension is beautiful. In fact, that's what brings beauty to marriage. A little conflict is natural; without that conflict there will be no salt. Your food will be without salt -- it will not taste good. There will be no spice in your life. If the woman is really a woman, the man a real man, then they will be polar opposites -- and that is their attraction.
Yes, once in a while they will come close and that closeness will bring great joy, and then they will fall away again. And this will be a constant process of coming together and going away again. Each time they go away they will fight, because that's how they can go away from each other.
Fighting is nothing but a device. If you understand things, fighting is a device for separation. And each separation is beautiful because it again gives you an opportunity for a mini-honeymoon. Then you can meet again. Fighting and then persuading each other, fighting and then making things okay again, is beautiful. If there is no fight, those two persons will not be real persons.
It was the night before the wedding.
"Honey," the young man said, "I have a confession to make. If you change your mind about marrying me it is alright, but you've got to know -- I am a sadist."
"Ah baby!" cried the girl. "Am I glad you told me! I have been keeping it from you -- I'm a masochist!"
... Now this is a perfect marriage: marriage between a sadist and a masochist. You can't improve upon it.
So the two got married and went away on their honeymoon. That evening at the hotel, the eager bride threw off her clothes, fell on the bed and in a throaty voice said, "Beat me! Beat me!"
The groom stood over her, crossed his arms and replied, "Hope!"
He is a REAL sadist, because if he beats her he is not torturing her, he is simply giving her joy: she wanted to be beaten and he beats her. Instead he says, "Hope!" and just stands there with crossed hands... so even this perfect marriage failed!
I have never heard about any perfect marriage. They say perfect marriages are made in heaven. Nobody comes back from there so maybe it is true, but what kind of marriage will those perfect marriages be? There will be no tension, there will be no individuality in the man or in the woman. They will never collide, they will never fight. They will be too sweet to each other.
And too much sweetness brings diabetes!
Next: Chapter 10: Perfection is death, Question 7
Energy Enhancement Enlightened Texts Dhammapada The Way of the Buddha, Vol. 7
Chapter 10:
Dhammapada, Buddhism, Buddha. The Dhammapada: The Way of the Buddha, Vol. 7, Chapter 10: Perfection is death, Question 1, WILL YOU PLEASE TALK ABOUT THE DESIRE TO HELP PEOPLE, ITS DIFFERENCES AND SIMILARITIES TO OTHER FORMS OF DESIRE? at energyenhancement.org
Dhammapada, Buddhism, Buddha. The Dhammapada: The Way of the Buddha, Vol. 7, Chapter 10: Perfection is death, Question 2, I WANT TO BE A SANNYASIN, BUT I DON'T WANT TO WEAR ORANGE OR A MALA AND I DON'T WANT TO CHANGE MY NAME. CAN I BE A SANNYASIN TOO? at energyenhancement.org
Dhammapada, Buddhism, Buddha. The Dhammapada: The Way of the Buddha, Vol. 7, Chapter 10: Perfection is death, Question 3, I WANTED TO ASK YOU A QUESTION THE OTHER DAY, BUT WITHOUT MY ASKING YOU ANSWERED IT. HOW DO YOU MANAGE SUCH MIRACLES? at energyenhancement.org
Dhammapada, Buddhism, Buddha. The Dhammapada: The Way of the Buddha, Vol. 7, Chapter 10: Perfection is death, Question 4, I HAVE BEEN PRAYING FOR YEARS, BUT NONE OF MY PRAYERS HAS BEEN ANSWERED. WHAT IS WRONG WITH ME AND WITH MY PRAYERS? at energyenhancement.org
Dhammapada, Buddhism, Buddha. The Dhammapada: The Way of the Buddha, Vol. 7, Chapter 10: Perfection is death, Question 5, HAVING HAD THE ADVENTURE OF LOOKING THROUGH ANCIENT SCRIPTURES OF YOURS, I HAVE NOTICED THAT FOR AT LEAST TEN YEARS YOU HAVE KEPT ON REPEATING THIS LEGEND: 'THERE ARE FOUR TIMES MORE FEMALE DISCIPLES THAN MALE DISCIPLES. THE SAME WAS THE CASE WITH BUDDHA, THE SAME WITH ME TOO.' ABOUT BUDDHA I DON'T KNOW -- I WAS NOT THERE -- BUT ABOUT YOU, AFTER DOCUMENTED AND METICULOUS RESEARCH, I AM HAPPY TO INFORM YOU THAT YOU HAVE FIFTY-TWO THOUSAND, THREE HUNDRED AND EIGHTY-SEVEN FEMALE DISCIPLE AND FIFTY-THREE THOUSAND, NINE HUNDRED AND FORTY-SIX MALE DISCIPLES. AS THE OLD BOB DYLAN USED TO SAY: 'THE TIMES THEY ARE A-CHANGING' -- FORTUNATELY! WOULD YOU PLEASE SAY SOMETHING ABOUT THIS? A DISCIPLE DOES NOT LIVE ON LEGEND ONLY at energyenhancement.org
Dhammapada, Buddhism, Buddha. The Dhammapada: The Way of the Buddha, Vol. 7, Chapter 10: Perfection is death, Question 6, CANNOT ONE EVER FIND A PERFECT PARTNER IN MARRIAGE? at energyenhancement.org
Dhammapada, Buddhism, Buddha. The Dhammapada: The Way of the Buddha, Vol. 7, Chapter 10: Perfection is death, Question 7, IS THE REASON FOR TALKING SO MUCH IN FAVOR OF THE WOMEN HERE BECAUSE YOU MAY ALSO BE A LITTLE AFRAID OF THEM TOO? at energyenhancement.org
Dhammapada, Buddhism, Buddha. The Dhammapada: The Way of the Buddha, Vol. 7, Chapter 10: Perfection is death, Question 8, WHY ARE YOU SO MUCH AGAINST CLEVERNESS? DOES IT NOT PAY IN LIFE TO BE CLEVER? at energyenhancement.org