OSHO
Dhammapada-Buddhism-Buddha
THE DHAMMAPADA: THE WAY OF THE BUDDHA, VOL. 7
Chapter 10: Perfection is death
Question 7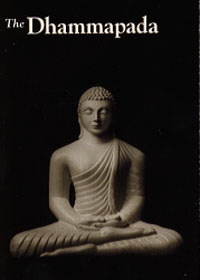 Energy Enhancement Enlightened Texts Dhammapada The Way of the Buddha, Vol. 7
The seventh question:
Question 7
BELOVED MASTER,
IS THE REASON FOR TALKING SO MUCH IN FAVOR OF THE WOMEN HERE BECAUSE YOU MAY ALSO BE A LITTLE AFRAID OF THEM TOO?
Anand Toshen, it is true! Even Buddha was afraid, so this is nothing new. For ten years continuously he refused women. He would not accept them as his disciples, he would not initiate them -- for ten years continuously. Thousands of women wanted to be initiated as his sannyasins and he would say no. He was very adamant about it. Finally he had to relax for a certain reason, out of courtesy.
When he was born, his mother died immediately after his birth and he was brought up by a stepmother. And the stepmother had served him so much that when his stepmother came and asked to be initiated as a sannyasin he could not refuse -- just out of courtesy. She was the most valuable woman in his life; without her he would not have been alive at all. He could not say no to her. And because he said yes to her then the doors were opened. Then other women came and then he could not say no to anybody else.
But one thing he said: "My religion was going to last for five thousand years; now it will last for only five hundred years, because these women are going to disturb the whole thing."
I am not that much afraid! In fact, my first disciples, the first people I initiated, were women -- just to put accounts right! Buddha was too adamant, and it does not look good.
But, Toshen, there is a truth in it....
Murphy's maxim: You can fool all of the people some of the time and some of the people all of the time, but you can't fool your own woman.
That is impossible, she is bound to find out. Nobody can befool a woman for the simple reason that she does not function through logic; she functions through love, through the heart. Her process is illogical; she simply jumps to the conclusions. She cannot argue, but she immediately arrives at the conclusions. Her process is like a quantum leap: she immediately understands, she can see through and through. The more you try to hide from her, the simpler it is for her to find it out.
Women are powerful people, not in the muscular sense but as far as their resistance is concerned, as far as their life energy is concerned, as far as their tolerance is concerned. And I am bound to be a little afraid because my whole work depends on them.
This is the first time that a commune is being run by women -- the first time in the whole history of man. I have given more power to women knowingly, because my understanding is that their functioning is graceful, insightful, loving, compassionate. It is not rude. And when I have made them the pillars of my temple, certainly I cannot speak against them!
So whatsoever I say about women, listen very cautiously! They are in many ways more powerful than men. Modern research says they are more powerful sexually. And if they are more powerful sexually, then as a corollary, remember -- spiritually they are bound to be more powerful, because it is sex energy that becomes transformed into spiritual energy.
Just the other day I was telling you: man's orgasm is local, woman's orgasm is total. Her whole body is involved in it; each fiber of her being pulsates with joy. And man became so much afraid of her joy that he has repressed, for centuries, the orgasmic qualities of women. And I can understand why he became so afraid -- because when the woman REALLY goes into orgasm she will scream, she will shout, she will go into a kind of LATIHAN. She will start saying sounds, words -- meaningless, gibberish, what Christian mystics call glossolalia.
There is a certain Christian sect which goes into an orgasmic state; it is a kind of meditation, deep meditation. I have used glossolalia on many of my sannyasins. I had to stop it, because three thousand persons going into glossolalia would disturb the whole of Poona! And neighbors started complaining to the police. But in old camps I used the method very much; it is tremendously powerful.
You simply become relaxed, in a state of let-go. You start swaying, moving. And then you allow whatsoever comes to your mind, you start saying it -- meaningless words or sounds or anything. And soon you are possessed by it. Christian mystics say it is God speaking through you. It's exactly so. Sufis call it gibberish.
Gibberish comes from the name of a Sufi mystic, Jabbar. Jabbar used it for the first time in Sufi tradition. Just as I go on speaking every day, he also used to speak -- but in gibberish! Sometimes I think that when you get tired of words -- because I am never going to be tired! -- when you say, "Beloved Master, enough is enough!" then I will start gibberish. Then I will simply sit here and say anything. You can make any sense out of it; it will be Greek, Latin, Arabic, Chinese, Sanskrit, any language you want to make out of it. The meaning you give to it will depend on you.
Jabbar helped many people, because he would go into such orgasmic joy when he would say these things that his disciples would also start. And then there would be chaos! It is because of his name in the word 'gibberish' that you still remember Jabbar, not knowingly. The English word 'gibberish' has come from Jabbar.
If a woman really goes into orgasmic joy, she will start saying things which will not be meaningful. Sheer joy, utterances of joy, like Alleluia! It does not mean anything; meaning is left far behind. It has a tremendous intensity and passion in it.
Man became afraid, because the whole neighborhood would know that you are making love to your woman. And police would come and dogs would start barking, and all kinds of things would happen! And people used to live in joint families. In one house there would be a hundred or more people -- and one woman going into orgasmic joy would create such chaos!
And more difficulties were ahead.... When a woman goes into orgasmic joy she has the capacity of multiple orgasms, which man is incapable of fulfilling. Man can have only one orgasm and the woman can have multiple orgasms -- twelve, fifteen, twenty. Then how is the man going to satisfy her? Either he will feel defeated, ashamed, poor, humiliated, or he will have to call his friends! And that too was against his ego.
Sheila and George were spending the first night of their honeymoon in a quaint medieval town in France. Sheila suggested coyly that they make love every time the old watchman rang his hourly bell. George smiled in delight at this prospect, but four rings later he pretended he had to go out for cigarettes and staggered off to the watchman's tower.
"Listen, old man," he wheezed, "do me a favor and for the rest of the night ring that bell at two-hour intervals instead of hourly. Here, I will give you some money."
"I would be happy to oblige," said the watchman, "but I cannot. A beautiful young lady has already bribed me to ring the bell every half hour."
It is because of that fear that man has repressed all of woman's orgasmic capacities. Millions of women have lived and died without knowing that they have the capacity to experience orgasm. And without knowing that you can have great orgasmic explosions, you will not be able to understand anything of spirituality; it will be almost impossible for you. The woman is more powerful sexually. It is because of her greater power that she has been repressed; it is out of fear that man has repressed her.
You are right, Toshen, I am a little afraid -- knowing perfectly well that I am doing something which has never been done before. I have to move very cautiously. It is a new experiment, but great possibilities will be released out of this experiment. If this experiment succeeds on a small scale it can succeed on a bigger scale too.
My own vision is that the coming age will be the age of the woman. Man has tried for five thousand years and has failed. Now a chance has to be given to the woman. Now she should be given all the reins of power. She should be given an opportunity to allow her feminine energies to function.
Man has utterly failed. In three thousand years, five thousand wars -- this is man's record. Man has simply butchered, killed, murdered; he has lived as if only for war. There are a few days in between two wars which we call days of peace. They are not days of peace; they are only days of preparing for the new war. Yes, a few years are needed to prepare... and again the war, again we go on killing each other. It is enough! Man has been given enough chances. Now feminine energies have to be released.
My commune is going to be rooted in feminine energy, in the energies of the mother. To me God is more a "she" than a "he." "He" is poorer; it can't include "she."
Next: Chapter 10: Perfection is death, Question 8
Energy Enhancement Enlightened Texts Dhammapada The Way of the Buddha, Vol. 7
Chapter 10:
Dhammapada, Buddhism, Buddha. The Dhammapada: The Way of the Buddha, Vol. 7, Chapter 10: Perfection is death, Question 1, WILL YOU PLEASE TALK ABOUT THE DESIRE TO HELP PEOPLE, ITS DIFFERENCES AND SIMILARITIES TO OTHER FORMS OF DESIRE? at energyenhancement.org
Dhammapada, Buddhism, Buddha. The Dhammapada: The Way of the Buddha, Vol. 7, Chapter 10: Perfection is death, Question 2, I WANT TO BE A SANNYASIN, BUT I DON'T WANT TO WEAR ORANGE OR A MALA AND I DON'T WANT TO CHANGE MY NAME. CAN I BE A SANNYASIN TOO? at energyenhancement.org
Dhammapada, Buddhism, Buddha. The Dhammapada: The Way of the Buddha, Vol. 7, Chapter 10: Perfection is death, Question 3, I WANTED TO ASK YOU A QUESTION THE OTHER DAY, BUT WITHOUT MY ASKING YOU ANSWERED IT. HOW DO YOU MANAGE SUCH MIRACLES? at energyenhancement.org
Dhammapada, Buddhism, Buddha. The Dhammapada: The Way of the Buddha, Vol. 7, Chapter 10: Perfection is death, Question 4, I HAVE BEEN PRAYING FOR YEARS, BUT NONE OF MY PRAYERS HAS BEEN ANSWERED. WHAT IS WRONG WITH ME AND WITH MY PRAYERS? at energyenhancement.org
Dhammapada, Buddhism, Buddha. The Dhammapada: The Way of the Buddha, Vol. 7, Chapter 10: Perfection is death, Question 5, HAVING HAD THE ADVENTURE OF LOOKING THROUGH ANCIENT SCRIPTURES OF YOURS, I HAVE NOTICED THAT FOR AT LEAST TEN YEARS YOU HAVE KEPT ON REPEATING THIS LEGEND: 'THERE ARE FOUR TIMES MORE FEMALE DISCIPLES THAN MALE DISCIPLES. THE SAME WAS THE CASE WITH BUDDHA, THE SAME WITH ME TOO.' ABOUT BUDDHA I DON'T KNOW -- I WAS NOT THERE -- BUT ABOUT YOU, AFTER DOCUMENTED AND METICULOUS RESEARCH, I AM HAPPY TO INFORM YOU THAT YOU HAVE FIFTY-TWO THOUSAND, THREE HUNDRED AND EIGHTY-SEVEN FEMALE DISCIPLE AND FIFTY-THREE THOUSAND, NINE HUNDRED AND FORTY-SIX MALE DISCIPLES. AS THE OLD BOB DYLAN USED TO SAY: 'THE TIMES THEY ARE A-CHANGING' -- FORTUNATELY! WOULD YOU PLEASE SAY SOMETHING ABOUT THIS? A DISCIPLE DOES NOT LIVE ON LEGEND ONLY at energyenhancement.org
Dhammapada, Buddhism, Buddha. The Dhammapada: The Way of the Buddha, Vol. 7, Chapter 10: Perfection is death, Question 6, CANNOT ONE EVER FIND A PERFECT PARTNER IN MARRIAGE? at energyenhancement.org
Dhammapada, Buddhism, Buddha. The Dhammapada: The Way of the Buddha, Vol. 7, Chapter 10: Perfection is death, Question 7, IS THE REASON FOR TALKING SO MUCH IN FAVOR OF THE WOMEN HERE BECAUSE YOU MAY ALSO BE A LITTLE AFRAID OF THEM TOO? at energyenhancement.org
Dhammapada, Buddhism, Buddha. The Dhammapada: The Way of the Buddha, Vol. 7, Chapter 10: Perfection is death, Question 8, WHY ARE YOU SO MUCH AGAINST CLEVERNESS? DOES IT NOT PAY IN LIFE TO BE CLEVER? at energyenhancement.org