OSHO
Dhammapada-Buddhism-Buddha
THE DHAMMAPADA: THE WAY OF THE BUDDHA, VOL. 6
Chapter 6: No going back
Question 6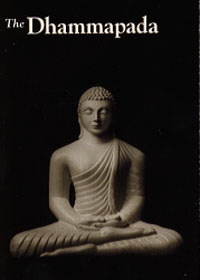 Energy Enhancement Enlightened Texts Dhammapada The Way of the Buddha, Vol. 6
The last question:
Question 6
BELOVED MASTER,
I HAVE HEARD IT SAID MANY TIMES THAT LOVE IS GOD, EXISTENCE IS GOD, GOD IS EXISTENCE, GOD CREATED THE WORLD AND THAT GOD IS A SUPERNATURAL POWER WHO ADMINISTERS THE WORLD.
I HAVE TRIED TO FEEL ALL THIS, BUT COULD NOT. ALL THESE STATEMENTS ARE MORE AND MORE CONFUSING.
KINDLY TELL ME WHAT IS GOD. AND WHEN YOU USE THE WORD 'GOD' IN YOUR LECTURES, WHAT DOES IT MEAN?
Bal Krishna Bharti, don't try to imitate what others say. They may be saying a profound truth, but by imitating them you will never reach to that truth; because they never reached to that truth by imitation. They reached to that truth by being original.
Jesus says: God is love. I say that love is God. My statement is far more penetrating than what Jesus says. Jesus says: God is love; that means God may have many other qualities, one of the qualities is love. I say love is God, there is no other quality, love is the only quality that is divine.
And you listen to these things and you try... but what are you going to do? Do you know what love is? You become worried about God -- first you will have to know what love is, and the love that you know is nothing but lust. We are not talking about lust, neither Jesus nor I, we are talking about love. And love is something so mysterious that nobody has ever been able to define it precisely, only fingers pointing to the moon.
Now what can you do? Hearing that love is God you jump into so-called love, whatsoever you think love is, and that is just unconscious sexuality; lust parading as love. And you will not find God; on the contrary, you may encounter the Devil -- and then you are puzzled.
Imitation has to be avoided. Understanding should be the only law, never imitation.
So the first thing, Bal Krishna, stop imitating. Listen to me and to others -- to Krishna, to Jesus, to Buddha, to Zarathustra -- just to understand, but don't start imitating. Don't be in a hurry, let the understanding soak into you; in a hurry you are going to do something wrong.
The traveling salesman, when marooned in the country by bad weather, was permitted to share a bedroom with the farmer's son. In due time the two of them retired. The boy dropped on his knees beside the bed, his head in his hands in prayerful attitude.
The salesman thought of the quotation, "And the little child shall lead them." He felt bad, having failed to say his prayers for many months; he dropped out on the other side of the bed and knelt.
The boy raised his head and said, "What are you doing, mister?"
"Same thing as you are, son," he replied.
"Well, mama is going to give you hell then, because the pot is on this side."
You missed it.
I will wait, so you can get it....
Get it a little more!
Imitation is not going to help, imitation will create troubles for you. Understand! Why be in such a hurry to practice? Let understanding soak so deep that it transforms your being. That is the only way of arriving at truth; imitating is never the way.
And that's what you have been doing. You say, "I have tried to feel all this, but could not."
How can you feel all this? -- it is not a question of feeling, it is not a question of thinking; it is a question of being. And being is arrived at through understanding. Just listen silently, attentively, as open as you can be. Be open to me. Let there be no hindrance, no obstruction.
Now this constant idea of practicing, of doing something immediately, is becoming a hindrance between me and you. There is no hurry. I say understanding is liberation. You need not do anything at all. If you allow me to penetrate to your very core, if you let me touch your heart, I will give you my dance, I will give you my song, I will give you my music.
You need not do anything, being with a master is enough. Doing is needed if you go into scriptures; then you have to do something, because understanding can never arise out of scriptures. But by being with a master, understanding can arise. Just a little more open heart is needed.
And you ask me what I mean by the word 'God'. I don't mean a person, I simply mean a quality, a presence. By "God" I mean godliness; the whole existence is full of godliness. And when you will come to know, you will not see a god standing before you, you will see the trees as divine, the rocks as divine, the people as divine, the animals as divine. God is spread all over the place, from the pebble to the star, from the blade of grass to the sun -- it is all divine.
Whenever I use the word 'God' it is never meant to be a person; it simply means a presence, a silent absolute presence of intelligence in existence. But first you have to become aware of this intelligence in you, only then can you know this intelligence in others.
Enough for today.
Next: Chapter 7: Forgetfulness, the only sin
Energy Enhancement Enlightened Texts Dhammapada The Way of the Buddha, Vol. 6
Chapter 6:
Dhammapada, Buddhism, Buddha. The Dhammapada: The Way of the Buddha, Vol. 6, Chapter 6: No going back, Question 1, UNIMAGINED ECSTASY, UNIMAGINED PAIN. at energyenhancement.org




Dhammapada, Buddhism, Buddha. The Dhammapada: The Way of the Buddha, Vol. 6, Chapter 6: No going back, Question 2, ARE YOU A BLACK MAGICIAN OR A WHITE MAGICIAN? at energyenhancement.org




Dhammapada, Buddhism, Buddha. The Dhammapada: The Way of the Buddha, Vol. 6, Chapter 6: No going back, Question 3, HOW TO BECOME MORE AWARE? at energyenhancement.org




Dhammapada, Buddhism, Buddha. The Dhammapada: The Way of the Buddha, Vol. 6, Chapter 6: No going back, Question 4, IF BUDDHA DID NOT REALLY NEED TO LEAVE HIS WIFE AND CHILDREN IN ORDER TO ATTAIN ENLIGHTENMENT, THEN CAN ENLIGHTENMENT HAPPEN ANYWHERE? WHY DO I FEEL THAT I NEED TO BE IN YOUR BUDDHAFIELD? at energyenhancement.org




Dhammapada, Buddhism, Buddha. The Dhammapada: The Way of the Buddha, Vol. 6, Chapter 6: No going back, Question 5, I AM IN LOVE WITH A WOMAN, BUT I WANT TO BE ABSOLUTELY SURE THAT SHE HAS NEVER LOVED ANYONE BEFORE. WHY AM I SO MUCH WORRIED ABOUT IT? at energyenhancement.org




Dhammapada, Buddhism, Buddha. The Dhammapada: The Way of the Buddha, Vol. 6, Chapter 6: No going back, Question 6, I HAVE HEARD IT SAID MANY TIMES THAT LOVE IS GOD, EXISTENCE IS GOD, GOD IS EXISTENCE, GOD CREATED THE WORLD AND THAT GOD IS A SUPERNATURAL POWER WHO ADMINISTERS THE WORLD. I HAVE TRIED TO FEEL ALL THIS, BUT COULD NOT. ALL THESE STATEMENTS ARE MORE AND MORE CONFUSING. KINDLY TELL ME WHAT IS GOD. AND WHEN YOU USE THE WORD 'GOD' IN YOUR LECTURES, WHAT DOES IT MEAN? at energyenhancement.org