OSHO
Dhammapada-Buddhism-Buddha
THE DHAMMAPADA: THE WAY OF THE BUDDHA, VOL. 6
Chapter 6: No going back
Question 3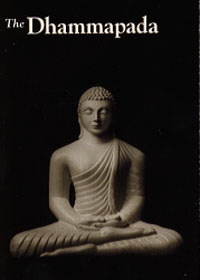 Energy Enhancement Enlightened Texts Dhammapada The Way of the Buddha, Vol. 6
The third question:
Question 3
BELOVED MASTER,
HOW TO BECOME MORE AWARE?
Pankaj, by becoming more aware, one BECOMES more aware. There is no other method to it. It is a simple process. Whatsoever you are doing, do it with such consciousness as if it is a question of life and death; as if a sword is hanging over you.
There is an ancient story in India:
A great sage sent his chief disciple to the court of King Janak to learn something which was missing in the young man.
The young man said, "If you can't teach me, how can this man, this Janak, teach it to me? You are a great sage, he is only a king. What does he know about meditation and awareness?"
The great sage said, "You simply follow my instructions. Go to him, bow down to him; don't be egoistic, thinking that you are a sannyasin and he is only an ordinary householder. He lives in the world, he is worldly and you are spiritual. Forget all about it. I'm sending you to him to learn something; so for this moment, he is your master. And I know, I have tried here, but you cannot understand -- because you need a different context to understand it. And the court of Janak and his palace will give you the right context. You simply go, bow down to him. For these few days, he will represent me."
Very reluctantly, the young man went. He was a brahmin of high caste, and what was this Janak? He was rich, he had a great kingdom, but what could he teach a brahmin? Brahmins always think that they can teach people. And Janak was not a brahmin, he was a KSHATRIYA, the warrior race in India. They are thought to be second to brahmins; the brahmins are the first, the foremost, the highest caste. To bow down to this man? This has never been done. A brahmin bowing down to a kshatriya is against the Indian mind.
But the master had said it so it had to be done. Reluctantly he went, and reluctantly he bowed down. And when he bowed down, he was really feeling very angry with his master, because the situation in which he had to bow down to Janak was so ugly in his eyes.
A beautiful woman was dancing in the court and people were drinking wine. And Janak was sitting in this group. The young man had such condemnation, but still he bowed down. Janak laughed and said, "You need not bow down to me when you are carrying such condemnation in you. And don't be so prejudiced before you have experienced me. Your master knows me well, that's why he has sent you here. He has sent you to learn something, but this is not the way to learn."
The young man said, "I don't care. He has sent me, I have come. But by the morning I will go back, because I can't see that I can learn anything here. In fact, if I learn anything from you, my whole life will be wasted. I have not come to learn drinking wine and seeing a beautiful woman dance and all this indulgence."
Janak still smiled and he said, "You can go in the morning. But since you have come and you are so tired... at least rest for the night, and in the morning you can go. And who knows -- the night may become the context of the learning for which your master has sent you to me."
Now, this was very mysterious. How could the night teach him anything? But okay, he had to be here for the night, so don't make much fuss about it. He remained. The king arranged for him to have the most beautiful room in the palace, the most luxurious. He went with the young man, took every care about his food, his sleep and when he had gone to bed, Janak left.
But the young man could not sleep the whole night, because as he looked up, he could see a naked sword hanging with a thin thread just above his head. Now, it was so dangerous that at any moment the sword could fall and kill the young man. So he remained awake the whole night, watchful, so he could avoid the catastrophe if it was going to happen.
In the morning, the king asked, "Was the bed comfortable, the room comfortable?"
The young man said, "Comfortable? Everything was comfortable -- but what about the sword? And why did you play such a trick? It was so cruel! I was tired, I had come on foot from the faraway ashram of my master in the forest, and you played such a cruel joke. What kind of thing is this, to hang a naked sword with so thin a thread that I was afraid that a small breeze... and I am gone, and I am finished. And I have not come here to commit suicide."
The king said, "I want to ask only one thing: you were so tired, you could have fallen asleep very easily, but you could not fall asleep. What happened? The danger was great, it was a question of life and death. Hence you were aware, alert. This is my teaching too. You can go, or if you want, you can stay a few more days to watch me.
"Although I was sitting there in the court, where a beautiful woman was dancing, I was alert to the naked sword above my head. It is invisible; its name is death. I was not looking at the young woman. Just as you could not enjoy the luxury of the room, I was not drinking wine. I was just aware of death which could come any moment. I am constantly aware of death. Hence, I live in the palace and yet I am a hermit. Your master knows me, understands me. He understands my understanding too. That's why he has sent you here. If you live here for a few days, you can watch on your own."
You asked me, Pankaj, how to become more aware. Become more aware of the precariousness of life. Death can happen any moment. The next moment, it may knock on your door. You can remain unaware if you think you are going to live forever. How can you live unaware if death is always close by? Impossible! If life is momentary, a soap bubble -- just a pin prick and it is gone forever -- how can you remain unaware?
Bring awareness to each act. Walking on the road, walk fully alert; eating, eat with awareness. Whatsoever you are doing, don't let the past and the future interfere. Be in the present. That's what awareness is all about. Taking a shower, just take the shower. Don't let the mind go far away, into the past, into the future. Don't allow the mind these faraway excursions, these journeys. Taking a shower, just take the shower.
Bokuju, a great Zen master, was asked, "What is your fundamental teaching? What is your fundamental practice? How did you become enlightened?"
He said, "My teaching is simple: When hungry, eat; when sleepy, sleep."
The man was puzzled. He said, "I have never heard of such a practice. I am asking about the fundamental practice and you are talking about 'When hungry, eat and when sleepy, sleep.' What kind of teaching is this?"
Bokuju said, "That I don't know, but that's how I became enlightened, and that's how many of my disciples are becoming enlightened. You can go and ask them."
But the man said, "That's what we all do. Hungry, we eat. Sleepy, we sleep."
Bokuju said, "No, there is a difference and a great difference. When I am eating, I am simply eating and doing nothing else. When you are eating, you are doing a thousand and one things in your head -- except eating; you are doing everything else. Eating is done mechanically. When you are sleeping, are you really asleep? How can you be asleep when you are dreaming? Dreaming so many dreams, the whole night; waves upon waves of dreams go on coming. Only for a few minutes, here and there, dreaming stops and you fall into deep sleep; otherwise, dreaming continues. Dreaming is a sleep distraction: you are distracted by a thousand and one things. But you are not asleep. You are not doing one thing only."
To be aware, Pankaj, one needs to do one thing at a time. And do it with full awareness, watchfulness.
A progressive kindergarten teacher wanted her charges to learn about life through firsthand experiences. So after much red tape, she was able to persuade her superiors to let her take the class of all boys to a horse racing track to learn about the pitfalls of gambling.
After they had been there a while, several of the children asked to go to the boys' room. She escorted them there under the guidance of a track employee who guarded the door for them. She saw to it that the boys had no problems and in some cases had to help them unbutton their trousers. As she moved helpfully down the line, she suddenly saw something that made her do a double take. "Are you only five years old?" she gasped.
The object of her contentions replied, "What do you mean, lady? I am riding Dandy Charger in the third race."
People go on doing things almost in a sleep. Just become a little more alert. Do whatsoever you are doing, but bring the quality of consciousness to your actions -- there is no other method. And you can bring that quality to small things and that is helpful. Sitting, just watch your breathing. The breath goes in, watch; the breath goes out, watch. Just go on watching your breathing. And it is of great help because if you watch your breathing, thinking stops.
This is something to be understood. Either you can think or you can watch your breathing. You can't do both together. Breathing and thinking are such processes that only one can exist in you -- in awareness. In unawareness, both can continue: you can go on breathing and you can go on thinking. But if you become aware, either you can think or you can breathe; and when you breathe with awareness, thinking disappears. Your whole consciousness becomes focused on breathing. And breathing is such a simple process: you need not do it, it is already happening. You can just bring your consciousness to it.
Buddha became enlightened through this simple method. He calls it vipassana, insight. Breathing brings great insight and when you are aware of breathing, the whole thought process simply comes to a stop -- and great stillness arises. After watching your breathing, it will be easy to watch your thinking directly, because breathing is a little gross.
Thinking is more subtle. Thoughts have no weight, they are weightless; they can't be measured, they are immeasurable. That's why the materialists cannot accept them. Matter means measure -- that which can be measured is matter. So thought is not matter because it cannot be measured. It is, and yet it cannot be measured; hence it is an epiphenomenon. The materialist says, "It is only a by-product, a side effect, a shadow phenomenon" -- just as you walk in the sun, a shadow follows you. But the shadow is nothing. You walk in life and thinking arises, but it is only a shadow. If you watch this shadow, this epiphenomenon, these thoughts and the processes of thought... it is going to be a more subtle phenomenon because it is not as gross as breathing.
But first, learn the process of awareness through breathing and then move to thinking. And you will be surprised: the more you watch your thinking... again, either you can watch or you can think. Both cannot be done simultaneously. If you watch, thinking disappears.
If thinking appears, watching disappears. When you have become alert enough to watch your thoughts and let them disappear through watching, then move to feeling -- which is even more subtle. And these are the three steps of vipassana. First breathing, second thinking, third feeling. And when all these three have disappeared, what is left is your being.
To know it is to know all. To conquer it is to conquer all.
Next: Chapter 6: No going back, Question 4
Energy Enhancement Enlightened Texts Dhammapada The Way of the Buddha, Vol. 6
Chapter 6:
Dhammapada, Buddhism, Buddha. The Dhammapada: The Way of the Buddha, Vol. 6, Chapter 6: No going back, Question 1, UNIMAGINED ECSTASY, UNIMAGINED PAIN. at energyenhancement.org




Dhammapada, Buddhism, Buddha. The Dhammapada: The Way of the Buddha, Vol. 6, Chapter 6: No going back, Question 2, ARE YOU A BLACK MAGICIAN OR A WHITE MAGICIAN? at energyenhancement.org




Dhammapada, Buddhism, Buddha. The Dhammapada: The Way of the Buddha, Vol. 6, Chapter 6: No going back, Question 3, HOW TO BECOME MORE AWARE? at energyenhancement.org




Dhammapada, Buddhism, Buddha. The Dhammapada: The Way of the Buddha, Vol. 6, Chapter 6: No going back, Question 4, IF BUDDHA DID NOT REALLY NEED TO LEAVE HIS WIFE AND CHILDREN IN ORDER TO ATTAIN ENLIGHTENMENT, THEN CAN ENLIGHTENMENT HAPPEN ANYWHERE? WHY DO I FEEL THAT I NEED TO BE IN YOUR BUDDHAFIELD? at energyenhancement.org




Dhammapada, Buddhism, Buddha. The Dhammapada: The Way of the Buddha, Vol. 6, Chapter 6: No going back, Question 5, I AM IN LOVE WITH A WOMAN, BUT I WANT TO BE ABSOLUTELY SURE THAT SHE HAS NEVER LOVED ANYONE BEFORE. WHY AM I SO MUCH WORRIED ABOUT IT? at energyenhancement.org




Dhammapada, Buddhism, Buddha. The Dhammapada: The Way of the Buddha, Vol. 6, Chapter 6: No going back, Question 6, I HAVE HEARD IT SAID MANY TIMES THAT LOVE IS GOD, EXISTENCE IS GOD, GOD IS EXISTENCE, GOD CREATED THE WORLD AND THAT GOD IS A SUPERNATURAL POWER WHO ADMINISTERS THE WORLD. I HAVE TRIED TO FEEL ALL THIS, BUT COULD NOT. ALL THESE STATEMENTS ARE MORE AND MORE CONFUSING. KINDLY TELL ME WHAT IS GOD. AND WHEN YOU USE THE WORD 'GOD' IN YOUR LECTURES, WHAT DOES IT MEAN? at energyenhancement.org