OSHO
Dhammapada-Buddhism-Buddha
THE DHAMMAPADA: THE WAY OF THE BUDDHA, VOL. 6
Chapter 6: No going back
Question 5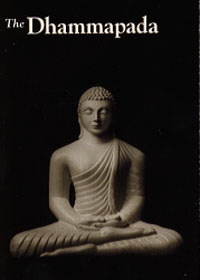 Energy Enhancement Enlightened Texts Dhammapada The Way of the Buddha, Vol. 6
The fifth question:
Question 5
BELOVED MASTER,
I AM IN LOVE WITH A WOMAN, BUT I WANT TO BE ABSOLUTELY SURE THAT SHE HAS NEVER LOVED ANYONE BEFORE. WHY AM I SO MUCH WORRIED ABOUT IT?
Ramprem, just the old male chauvinist attitude. You are not worried about yourself, whether you have loved any woman before or not. About that you are not worried, that's okay; boys are boys and everything is forgiven them. Why are you worried about the woman you love? In fact, the very desire that the woman should not have loved anybody before is unintelligent, because a woman who has not loved anybody before will be inexperienced. And life -- even with an experienced woman -- is hell. So what to say about an inexperienced woman?
If you want a driver for your car, you don't look for one who has never driven a car. If you want a typist, you don't advertise for somebody who has never been a typist. If you want a cook you ask for somebody who is experienced. Then why do you have a different logic about love? It is stupid.
The woman who has loved a few people is far more understanding; she will understand you better, she will create less trouble for you, she will help you in every possible way to come out of your own ego, unintelligence, mediocrity.
In fact, there are a few primitive societies where an experienced woman is much in demand. In India there are a few primitive tribes in Bastar where a woman will not get a husband if she has not been known to be a great lover of many many people.
A woman who has not been loved by anybody simply shows that either she is ugly or something is basically wrong with her. She must be unattractive, because nobody ever felt attracted towards her. A woman who has been loved by many people simply shows that she has some beauty, some magnetic force, some grace.
But the male chauvinist mind has for centuries desired that... for a single reason, which has now become irrelevant. The reason was that "My property should belong to my son, not to somebody else's son." That was the real fear. People were not interested in the woman, they were more interested in their inheritors; hence they were very much worried: if the woman has been in some love affair before, who knows, she may be carrying somebody else's child.
Two young men were pacing up and down in the corridor of a maternity home. The one said to the other, "You look so worried, what is the matter?"
He said, "Worried? I am in a mess! This is my vacation and this is the time my wife has chosen to give birth to a child. My whole vacation is destroyed."
The other said, "Hoo! That's nothing, this is my honeymoon! And my wife is giving birth to a child. I should be worried, not you!"
A young man was asking the doctor, "Does it happen often? My wife is giving birth to a child and we have been married only seven months."
The doctor must have been a wise old man, that type of doctor has disappeared. Now there are specialists, the ENT specialist and the dental surgeon; and somebody knows about one part and somebody else knows about another part and nobody knows about the whole man. The old physician was a wise man.
The old man said, "Yes, the first time it often happens, but never again."
People have always been very anxious, the fear is that the wife may be carrying somebody else's son. What difference does it make? In fact, when you make love to a woman, millions of living cells are released; millions, and you will not be able to recognize which is yours and which is not yours. They are so tiny, you cannot even see them with the naked eye, you will need some mechanical device, a microscope or something to see them.
Those millions of living cells start the first race of life; they struggle, they start running towards the woman's egg, which is deep down inside the womb. And one of these fellows -- who is going to win the race, who is going to reach first -- will enter the egg. And once one fellow has entered the egg, then the egg closes. Sometimes it happens that twins are born and sometimes three, four, five, six, seven, eight children also, but it happens very rarely.
You don't know which, but out of these millions of people only one is going to be your child. All other cells will die within two hours, and you will never be aware who those others were. A woman may give birth to twelve children in her whole life or eighteen at the most, but a man has the potential of creating as many children as there are people on the earth today. A single male has so many living cells, he can populate the whole earth. If all his cells can find an egg, attain to life and are born -- then one person, just one person, is enough to fill the whole earth.
You will never know how many of your children have died, millions and millions of your children have died. And what is the difference whether it comes from some other body or your own body? It comes from God.
But this foolishness has persisted. Ramprem, you should drop it.
"Darling," he breathed passionately, "am I the first man to make love to you?"
"Of course you are," she snapped, "I don't know why you men always ask the same silly question."
You are not alone, feel good! The whole earth is full of such silly people.
He held her close against him, a warm glow of satisfaction covering them both.
"Am I the first man you ever made love to?" he asked.
She studied him reflectively. "You might be, your face looks very familiar."
Next: Chapter 6: No going back, Question 6
Energy Enhancement Enlightened Texts Dhammapada The Way of the Buddha, Vol. 6
Chapter 6:
Dhammapada, Buddhism, Buddha. The Dhammapada: The Way of the Buddha, Vol. 6, Chapter 6: No going back, Question 1, UNIMAGINED ECSTASY, UNIMAGINED PAIN. at energyenhancement.org




Dhammapada, Buddhism, Buddha. The Dhammapada: The Way of the Buddha, Vol. 6, Chapter 6: No going back, Question 2, ARE YOU A BLACK MAGICIAN OR A WHITE MAGICIAN? at energyenhancement.org




Dhammapada, Buddhism, Buddha. The Dhammapada: The Way of the Buddha, Vol. 6, Chapter 6: No going back, Question 3, HOW TO BECOME MORE AWARE? at energyenhancement.org




Dhammapada, Buddhism, Buddha. The Dhammapada: The Way of the Buddha, Vol. 6, Chapter 6: No going back, Question 4, IF BUDDHA DID NOT REALLY NEED TO LEAVE HIS WIFE AND CHILDREN IN ORDER TO ATTAIN ENLIGHTENMENT, THEN CAN ENLIGHTENMENT HAPPEN ANYWHERE? WHY DO I FEEL THAT I NEED TO BE IN YOUR BUDDHAFIELD? at energyenhancement.org




Dhammapada, Buddhism, Buddha. The Dhammapada: The Way of the Buddha, Vol. 6, Chapter 6: No going back, Question 5, I AM IN LOVE WITH A WOMAN, BUT I WANT TO BE ABSOLUTELY SURE THAT SHE HAS NEVER LOVED ANYONE BEFORE. WHY AM I SO MUCH WORRIED ABOUT IT? at energyenhancement.org




Dhammapada, Buddhism, Buddha. The Dhammapada: The Way of the Buddha, Vol. 6, Chapter 6: No going back, Question 6, I HAVE HEARD IT SAID MANY TIMES THAT LOVE IS GOD, EXISTENCE IS GOD, GOD IS EXISTENCE, GOD CREATED THE WORLD AND THAT GOD IS A SUPERNATURAL POWER WHO ADMINISTERS THE WORLD. I HAVE TRIED TO FEEL ALL THIS, BUT COULD NOT. ALL THESE STATEMENTS ARE MORE AND MORE CONFUSING. KINDLY TELL ME WHAT IS GOD. AND WHEN YOU USE THE WORD 'GOD' IN YOUR LECTURES, WHAT DOES IT MEAN? at energyenhancement.org