OSHO
Dhammapada-Buddhism-Buddha
THE DHAMMAPADA: THE WAY OF THE BUDDHA, VOL. 7
Chapter 4: A real man is unpredictable
Question 5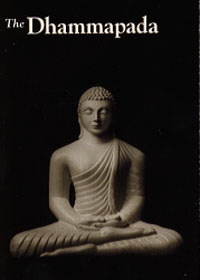 Energy Enhancement Enlightened Texts Dhammapada The Way of the Buddha, Vol. 7
The last question:
Question 5
BELOVED MASTER,
IS MAN PREDICTABLE?
Tosho, man is not predictable -- if he is a man. But very few men are really men -- they are machines. Machines are predictable. Man has freedom. You cannot predict Buddha, but you can predict the so-called ordinary people. They are predictable -- they go on doing the same thing again and again. You know what they have been doing up to now and according to that you can predict what they are going to do tomorrow.
Small children are not predictable because they are not yet converted into machines.
Preparing to give a small boy an aptitude test, a psychiatrist told his nurse to put a pitchfork, a wrench and a hammer on the table.
"If he grabs the pitchfork he will be a farmer. If he grabs the wrench he will be a mechanic. And if he grabs the hammer he will be a carpenter," the doctor explained.
The boy fooled everyone -- he grabbed the nurse.
Man has become so mechanical that even animals sometimes behave in a more unpredictable way than man.
Experimental psychologists like to tell a story about a professor who investigated the ability of chimpanzees to solve problems. A banana was suspended from the center of the ceiling, at a height that the chimp could not reach by jumping. The room was bare of all objects except several packing crates placed around the room at random. The test was to see whether a lady chimp would think of first stacking the crates in the center of the room and then of climbing on top of the crates to get the banana.
The chimp sat quietly in a corner, watching the psychologist arrange the crates. She waited patiently until the professor crossed the middle of the room. When he was directly below the fruit, the chimp suddenly jumped on his shoulder, then leaped into the air and grabbed the banana.
Tosho, man -- a real man -- is not predictable, because he lives moment to moment. He does not live out of the past and he does not live out of any ideology for the future. He simply lives THIS moment. He responds to the situation, he is responsible; hence he is not predictable.
My sannyasins have to become unpredictable. The more unpredictable you are, the more you are human.
Next: Chapter 5: Truth is that which is
Energy Enhancement Enlightened Texts Dhammapada The Way of the Buddha, Vol. 7
Chapter 4:
Dhammapada, Buddhism, Buddha. The Dhammapada: The Way of the Buddha, Vol. 7, Chapter 4: A real man is unpredictable, Question 1, WHEN THE MOMENT COMES THE LEAF LETS GO ITS TENDER HOLD AND GREETS ITS DYING WITH INNER GRACE. IS IT THEN THAT THE WAY IS OPEN FOR LIFE TO EMBRACE ITS OWN E'ER THE LEAF TOUCHES DOWN? at energyenhancement.org
Dhammapada, Buddhism, Buddha. The Dhammapada: The Way of the Buddha, Vol. 7, Chapter 4: A real man is unpredictable, Question 2, IN EXISTENCE WHENEVER AN ENLIGHTENED PERSON APPEARS, BOTH THE BAD AND THE GOOD FORCES START FUNCTIONING. AS HISTORY TESTIFIES, OFTEN THE BAD FORCES WIN. A JESUS IS CRUCIFIED, A SOCRATES IS POISONED, A MANSOOR IS CHOPPED, BUDDHA, MAHAVIRA ARE STONED. AS SUCH, A LARGE PART OF HUMANITY REMAINS IN UTTER DARKNESS. BELOVED MASTER, WILL THIS STATE OF AFFAIRS REMAIN AS IN THE PAST? WILL THE SAME PHENOMENON CONTINUE AFTER YOU LEAVE? PLEASE THROW SOME LIGHT. at energyenhancement.org
Dhammapada, Buddhism, Buddha. The Dhammapada: The Way of the Buddha, Vol. 7, Chapter 4: A real man is unpredictable, Question 3, I AM A STRONG MAN, BUT I CANNOT FIND A WOMAN WHO TRULY LOVES ME. WHAT IS MISSING IN ME? I HAVE COME HERE TO FIND A SOULMATE. CAN YOU HELP ME? at energyenhancement.org
Dhammapada, Buddhism, Buddha. The Dhammapada: The Way of the Buddha, Vol. 7, Chapter 4: A real man is unpredictable, Question 4, I HAVE COME ACROSS A STATEMENT BY R.D. LAING THAT MADNESS IS NOT BREAKDOWN, IT IS BREAKTHROUGH. OUR MEDITATION CAMPS, WHENEVER THEY ARE CONDUCTED, ARE SEEN AS A BREAKDOWN, EVEN BY PSYCHIATRISTS. IS IT JUSTIFIED AND ETHICAL FOR PATIENTS OF DEPRESSION TO BE GIVEN DYNAMIC MEDITATION? PLEASE ADVISE. I AM MERELY A SURGEON at energyenhancement.org
Dhammapada, Buddhism, Buddha. The Dhammapada: The Way of the Buddha, Vol. 7, Chapter 4: A real man is unpredictable, Question 5, IS MAN PREDICTABLE? at energyenhancement.org