OSHO
Dhammapada-Buddhism-Buddha
THE DHAMMAPADA: THE WAY OF THE BUDDHA, VOL. 7
Chapter 4: A real man is unpredictable
Question 1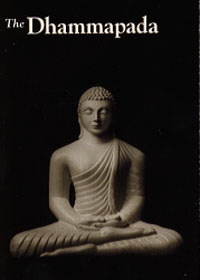 Energy Enhancement Enlightened Texts Dhammapada The Way of the Buddha, Vol. 7
The first question:
Question 1
BELOVED MASTER,
WHEN THE MOMENT COMES THE LEAF LETS GO ITS TENDER HOLD AND GREETS ITS DYING WITH INNER GRACE. IS IT THEN THAT THE WAY IS OPEN FOR LIFE TO EMBRACE ITS OWN E'ER THE LEAF TOUCHES DOWN?
Yes, Amitabh, that's the secret of life and death both, the secret of the secrets: how to allow existence to pass through you totally unhindered, unobstructed, how to be in a state of absolute nonresistance. Buddha calls it TATHATA -- suchness.
The ego is resistance. Let-go means disappearance of the ego. When you are just a hollow bamboo, existence sings millions of songs through you. It transforms you into a beautiful flute. But you have to be a hollow bamboo, utterly empty, so there is nothing to obstruct the flow.
A total yes is sannyas, an unconditional yes: yes to all, to life and to death -- because death is not against life but is life's ultimate culmination, its highest peak. Yes to joy and yes to sadness too, because joy cannot exist without sadness. Joy is possible only if sadness creates the background. They are joined together so intrinsically that they are inseparable. And man's whole effort is to separate them. Man goes on trying to do the impossible -- he wants to live without death. Now that is utter stupidity! Life implies death; death is at the very core of life. The only way to deny death is to deny life too.
So the people who have tried to deny death have died; before death has come they are no longer there. They have not lived at all. In denying death they had to deny life too, because the more you live the more you become available to death. When life is at the peak, death is the closest. Avoid death and you will have to avoid the peaks of life. You will have to live in a lukewarm way, neither dead nor alive, which is far worse than death itself.
And so is the case with all the polar opposites: destroy one and the other is automatically destroyed. You cannot save the other; they are like two aspects of the same coin.
Seeing it, Amitabh, a great understanding arises. One relaxes. One says yes, to life, to death, to darkness, to light, to sadness, to joy, to all that is without any choice. That choiceless understanding is enlightenment, is buddhahood.
You say, "When that moment comes the leaf lets go its tender hold and greets its dying with inner grace...."
That's how YOU have to learn to die. The way of the leaf is the way of the sannyasin too. And your hold has to be tender; otherwise it will be difficult to let go. Your hold has to be almost not a hold at all. Your hold cannot be a clinging. Only those people cling who don't understand this polar game of existence, and their clinging destroys all. They have to die, but their death becomes graceless. They have to die, as everybody else, but their death becomes agony.
The word 'agony' comes from AGON -- agon means struggle. Agony means struggle. They die fighting. The whole fight is an exercise in futility: they are not going to win, but still they go on trying. Millions of people have tried and failed; still we are such fools, we go on repeating the same pattern. We still hope that "Maybe I am the exception, maybe I can manage somehow."
Nobody has been able to manage, not because they have not tried enough, not because they have not tried strongly, but because it is not possible in the very nature of things. They have done all that can be done, nothing has been left undone, but death is bound to happen -- in fact it has already happened in your very birth. To be born is one pole; the other pole is hidden in it.
One starts dying the moment one starts breathing. The first moment of birth is also the first moment of death. Yes, it takes seventy, eighty years to complete the process. Death does not come suddenly after eighty years; it grows, it grows every moment. It is growing now.... Life is one wing, death is another wing, and both wings are yours. And you are trying to fly with one wing? This is how you create misery for yourself, failure and frustration. Accept both.
Let your hold be tender, so tender that it can be dropped at any moment and there will be no struggle in dropping it, not even a moment's delay -- because even a moment's delay is enough to miss the point, to miss the grace of it.
My work here consists of teaching you how to live and how to die, how to be joyous and how to be sad, how to enjoy your youth and how to enjoy your old age, how to enjoy your health and how to enjoy your illness. If I teach you only how to enjoy your health, your joy, your life, and the other part is neglected, then I am teaching you something which is going to create a division in you, a split in you.
I teach you the totality of existence. Don't possess, don't hold anything, don't cling. Let things come and pass. Allow things to pass through you, and you remain always vulnerable, available. And then there is great beauty, great grace, great ecstasy. Your sadness will also bring a depth to you, as much as your joy. Your death will bring great gifts to you, as many as life itself. Then a man knows that this whole existence is his: nights and days, summers and winters, all are yours.
In remaining vulnerable, open, relaxed, you become a master. That's a strange phenomenon, very paradoxical: in remaining surrendered to existence you become victorious. And these moments will be coming to you again and again. My whole effort is to bring more and more of such moments, such penetrating moments, for you. Don't behave stupidly, don't go on repeating old strategies, old patterns of your mind. Learn new ways of being.
And the greatest thing to learn is not to hold onto anything: to your love, to your joy, to your body, to your health. Enjoy everything -- your health, your body, your love, your woman, your man -- but don't cling. Keep your hands open -- don't become a fist. If you become a fist you become closed -- closed to the winds and the rains and the sun and the moon, closed to God himself. And that is the ugliest way to live; it is creating a grave around yourself. Then your existence is windowless. You go on suffocating inside and you are suffocating because you think you are creating safety and security for yourself.
I have heard an ancient Sufi parable:
A king was very much afraid of death, as everyone is -- and the more you have, the more, of course, you are afraid. A poor man is not as much afraid of death. What has he got to lose? What has life given to him? He remains unconcerned.
That's why in poor countries you will see again and again a great indifference about death, poverty, starvation. The reason is, people have lived in such poverty for so long that now they are not so worried about death. Death comes to them as a relief -- relief from all the miseries and anxieties, relief from starvation, suffering, poverty.
People coming from richer countries think, "Why are they so indifferent to death?" The reason is simple: there is nothing to cling to. Their life has not given anything to them. Their life is so poor that death can't take anything away from them; it can't make them poorer than they already are. But the more you have, the more you become afraid of death. The richer the society, the more fear of death.
In poor societies the taboo is sex, and in richer societies the taboo is death. That is an indication whether the society is rich or poor -- you can just look at what their taboo is. If they are very much against sex that means they are poor; if they are very much against death, even afraid to mention it, that simply means they are rich. Hence it is a very difficult encounter between poor countries and richer countries -- their taboos clash.
This is happening every day here, because my people have come from all over the world and the poor Indian society has the taboo against sex. Sex is their problem, sex is their fear. Birth is their fear, not death. They think of how to stop birth, they ponder over birth control methods. In richer countries the scientists go on searching how to postpone death. In poor countries the problem is how to postpone birth.
So the king was very much afraid, naturally. He had so much and death would take everything away; and he had wasted his whole life in accumulating. How to protect himself? And in accumulating so much wealth he had created many enemies and they were always in search of an opportunity to cut off his head, to shoot him.
He took advice from old, wise people of his country. They told him to make a castle with only one door -- no windows, no other doors, just a single door to enter into and to come out of. He would be safe. And on the door he could place a one-thousand-strong security force so it would be impossible for anybody to enter.
The idea was appealing. He made a big castle with no windows, no doors, except the one door which was guarded by one thousand warriors.
The neighboring king, his friend, was also afraid of death. He heard about this castle and he came to see. He was very much impressed. He said, "I will immediately start working, I will immediately create a castle for myself -- this is so safe and so secure!"
When his friend was departing -- the king had come out of the castle to say goodbye to him -- he again appreciated the castle. While he was appreciating the castle, a beggar sitting by the side of the road started laughing loudly. Both the kings were shocked and they asked him, "Why are you laughing? Have you gone mad? And don't you know how to behave in the presence of kings?"
The beggar said, "I could not control myself. Excuse me! But I used to be a king myself, and let me tell you the truth of why I am laughing. I have been watching, because I beg here on this road. I have been watching... the castle is being built, but I am puzzled: I say to you, there is only one mistake, one error, which is going to prove fatal."
The king said, "What is that mistake? You tell us, we will correct it." The king was ready to listen, and not only to listen but to correct it.
The beggar said, "You do one thing: you go inside and tell your people to close the door also, forever, because this door is going to prove dangerous. Death will enter from here! These one thousand warriors will not be able to prevent death, they will not even be able to see it. So close the door completely. Instead make a wall, and you be inside the castle and you will be safe forever! Nobody can kill you, not even death can enter in."
But the king said, "That means I will be already dead! If I cannot come out, what is the point of living?"
And the beggar said, "That's why I am laughing. You are ninety-nine point nine percent dead! Only one door is left, so only that much you are alive."
The more safe you are, the more dead you are. And this is not a beautiful death, the graceful death of the leaf, of the rose petal falling towards the ground, moving back to the source. It is an ugly death, man's invention. A natural death is beautiful; man has made it ugly. Man has made EVERYTHING ugly; whatsoever man touches becomes ugly. If he touches gold it turns into dust.
Amitabh, let this understanding penetrate as deeply as possible. Let this become your very core, your insight. Yes, it is so. Don't possess, don't hold tight. Remain relaxed, remain nonpossessive. If something is available, enjoy it; when it disappears, let it disappear with gratitude -- gratitude for all that it has done for you, with no grudge, with no complaint. And you will know the greatest joys of life and death, light and darkness, of being and nonbeing both.
Next: Chapter 4: A real man is unpredictable, Question 2
Energy Enhancement Enlightened Texts Dhammapada The Way of the Buddha, Vol. 7
Chapter 4:
Dhammapada, Buddhism, Buddha. The Dhammapada: The Way of the Buddha, Vol. 7, Chapter 4: A real man is unpredictable, Question 1, WHEN THE MOMENT COMES THE LEAF LETS GO ITS TENDER HOLD AND GREETS ITS DYING WITH INNER GRACE. IS IT THEN THAT THE WAY IS OPEN FOR LIFE TO EMBRACE ITS OWN E'ER THE LEAF TOUCHES DOWN? at energyenhancement.org
Dhammapada, Buddhism, Buddha. The Dhammapada: The Way of the Buddha, Vol. 7, Chapter 4: A real man is unpredictable, Question 2, IN EXISTENCE WHENEVER AN ENLIGHTENED PERSON APPEARS, BOTH THE BAD AND THE GOOD FORCES START FUNCTIONING. AS HISTORY TESTIFIES, OFTEN THE BAD FORCES WIN. A JESUS IS CRUCIFIED, A SOCRATES IS POISONED, A MANSOOR IS CHOPPED, BUDDHA, MAHAVIRA ARE STONED. AS SUCH, A LARGE PART OF HUMANITY REMAINS IN UTTER DARKNESS. BELOVED MASTER, WILL THIS STATE OF AFFAIRS REMAIN AS IN THE PAST? WILL THE SAME PHENOMENON CONTINUE AFTER YOU LEAVE? PLEASE THROW SOME LIGHT. at energyenhancement.org
Dhammapada, Buddhism, Buddha. The Dhammapada: The Way of the Buddha, Vol. 7, Chapter 4: A real man is unpredictable, Question 3, I AM A STRONG MAN, BUT I CANNOT FIND A WOMAN WHO TRULY LOVES ME. WHAT IS MISSING IN ME? I HAVE COME HERE TO FIND A SOULMATE. CAN YOU HELP ME? at energyenhancement.org
Dhammapada, Buddhism, Buddha. The Dhammapada: The Way of the Buddha, Vol. 7, Chapter 4: A real man is unpredictable, Question 4, I HAVE COME ACROSS A STATEMENT BY R.D. LAING THAT MADNESS IS NOT BREAKDOWN, IT IS BREAKTHROUGH. OUR MEDITATION CAMPS, WHENEVER THEY ARE CONDUCTED, ARE SEEN AS A BREAKDOWN, EVEN BY PSYCHIATRISTS. IS IT JUSTIFIED AND ETHICAL FOR PATIENTS OF DEPRESSION TO BE GIVEN DYNAMIC MEDITATION? PLEASE ADVISE. I AM MERELY A SURGEON at energyenhancement.org
Dhammapada, Buddhism, Buddha. The Dhammapada: The Way of the Buddha, Vol. 7, Chapter 4: A real man is unpredictable, Question 5, IS MAN PREDICTABLE? at energyenhancement.org