OSHO
Dhammapada-Buddhism-Buddha
THE DHAMMAPADA: THE WAY OF THE BUDDHA, VOL. 7
Chapter 4: A real man is unpredictable
Question 2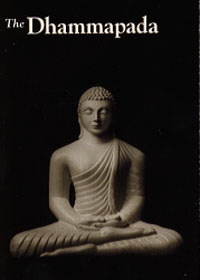 Energy Enhancement Enlightened Texts Dhammapada The Way of the Buddha, Vol. 7
The second question:
Question 2
BELOVED MASTER,
IN EXISTENCE WHENEVER AN ENLIGHTENED PERSON APPEARS, BOTH THE BAD AND THE GOOD FORCES START FUNCTIONING. AS HISTORY TESTIFIES, OFTEN THE BAD FORCES WIN. A JESUS IS CRUCIFIED, A SOCRATES IS POISONED, A MANSOOR IS CHOPPED, BUDDHA, MAHAVIRA ARE STONED. AS SUCH, A LARGE PART OF HUMANITY REMAINS IN UTTER DARKNESS. BELOVED MASTER, WILL THIS STATE OF AFFAIRS REMAIN AS IN THE PAST? WILL THE SAME PHENOMENON CONTINUE AFTER YOU LEAVE? PLEASE THROW SOME LIGHT.
Dharma Bhikkhu, the first thing to understand is: don't divide existence into good and bad, into God and Devil, into forces of good and forces of evil. That division is a wrong way to look at reality. Existence is one. In existence Jesus and Judas are not separate, but players in the same drama. Can you think of Jesus without Judas? You think Christianity was founded by Jesus alone? Then you are utterly wrong -- fifty percent by Jesus, fifty percent by Judas. And in fact, Judas has played a more important role than Jesus himself.
Hence I don't call Christianity "Christianity"; I call it "Crossianity," because the cross has become the symbol. And who is responsible for the cross? Judas is responsible for the cross. Without Judas, the story of Jesus will lose all its glory. Judas gives the contrast; he is the blackboard on which Jesus becomes a silver line. He is the black cloud, and Jesus shines forth as a lightning energy -- but without the black cloud you will not be able to see the lightning either.
Do you see stars during the day? They are there, but you can't see them. To see them you will need the dark night -- the darker the night, the more shining are the stars. The night is more starry because more and more stars appear as the darkness deepens. Will you say that darkness is against the stars? It enhances them, it nourishes them.
So the first thing to remember, Dharma Bhikkhu, is that existence is not divided into two camps. It is one game, it is one play; we are all players in it, and the enemy is as much needed as the friend.
It is not accidental that before Jesus was caught he kissed Judas and washed his feet. Christians think this is just saintliness, holiness. My observation is: it is understanding; it has nothing to do with saintliness or holiness. A tremendous understanding!
Jesus is saying, "Although Judas is going to betray me, he has to fulfill his role and I have to fulfill mine -- and we are part of the same drama." This is the Eastern insight: that the forces of light and the forces of darkness are not really separate, they only appear so.
If Socrates was not poisoned you would have forgotten him long ago. And he was going to die anyway, so the people who poisoned him helped his work, they really served his cause. They made his name immortal.
There have been many Sufi mystics of the same status as al-Hillaj Mansoor, but how many names do you remember? Do you remember even the name of the master of Mansoor? All names have been forgotten. Mansoor has become an eternal light, for the simple reason that he was killed, brutally killed -- yes, chopped into parts. Jesus' death compared to Mansoor's looks very human, compassionate. Mansoor was killed part by part. First his legs were cut off, then his hands, then his eyes were taken out, then his tongue was cut out, then his head was cut off -- in parts, in pieces.
But Mansoor became the most precious name in the whole Sufi tradition; and the tradition is rich: Bahauddin, Jalaluddin, Hassan, Rabiya, Mansoor's own master, Junnaid, and thousands of others who have become enlightened.
These two traditions in the world have created the most enlightened people: one is Zen, born out of Buddha's insight, and another is Sufism, born out of Mohammed's insight. These two traditions have created the greatest light in the world. But you cannot find a single name in Zen compared to Mansoor, for the simple reason that no Zen master was chopped up, killed, crucified.
If Jesus has conquered almost the whole world -- because almost half of humanity is under his impact -- what is the reason? Is Mahavira in any way lagging behind in his enlightenment? Is Kanad not capable of transforming the whole world? They are as capable as Jesus, but they don't have their Judas -- the cross is missing. They died in their beds, they died in an ordinary way. As far as their inner being is concerned they died in an extraordinary way, but who is going to see and understand it? Jesus' death becomes such an historical phenomenon, so significant, that history is divided at that point: before Jesus and after Jesus. Jesus becomes the line of division. Nobody else has been so significant. Why?
And you say, Dharma Bhikkhu, "Often the bad forces win."
No, never. In the first place, the good and the bad are not enemies -- playing a game of hide-and-seek. And in the second place, the good always wins because the good is bigger than the bad. Jesus is far bigger than Judas, and Socrates is far bigger than the people who poisoned him, and Mansoor is far bigger than the people who killed him.
Good is infinite; bad is just a part in it, a small part -- intrinsic, necessary, inevitable, but a small part. It serves good.
No, by Jesus' crucifixion the forces of evil have not won -- they can't win, it is impossible. God is always victorious. His ways are strange: sometimes he conquers you in such a strange way that you can't see the point immediately. He conquers through Jesus by crucifying Jesus -- a strange method, a mysterious way, but such are the ways of God.
And thirdly, it is always going to remain the same; about that, there is going to be no change. And I don't think that there is any need for any change either; it is perfectly right. It is far more beautiful to die on the cross than to die in Sassoon Hospital!* Just the idea of dying in Sassoon Hospital is frightening. I am not afraid of death, but I am afraid of Sassoon Hospital!
Next: Chapter 4: A real man is unpredictable, Question 3
Energy Enhancement Enlightened Texts Dhammapada The Way of the Buddha, Vol. 7
Chapter 4:
Dhammapada, Buddhism, Buddha. The Dhammapada: The Way of the Buddha, Vol. 7, Chapter 4: A real man is unpredictable, Question 1, WHEN THE MOMENT COMES THE LEAF LETS GO ITS TENDER HOLD AND GREETS ITS DYING WITH INNER GRACE. IS IT THEN THAT THE WAY IS OPEN FOR LIFE TO EMBRACE ITS OWN E'ER THE LEAF TOUCHES DOWN? at energyenhancement.org
Dhammapada, Buddhism, Buddha. The Dhammapada: The Way of the Buddha, Vol. 7, Chapter 4: A real man is unpredictable, Question 2, IN EXISTENCE WHENEVER AN ENLIGHTENED PERSON APPEARS, BOTH THE BAD AND THE GOOD FORCES START FUNCTIONING. AS HISTORY TESTIFIES, OFTEN THE BAD FORCES WIN. A JESUS IS CRUCIFIED, A SOCRATES IS POISONED, A MANSOOR IS CHOPPED, BUDDHA, MAHAVIRA ARE STONED. AS SUCH, A LARGE PART OF HUMANITY REMAINS IN UTTER DARKNESS. BELOVED MASTER, WILL THIS STATE OF AFFAIRS REMAIN AS IN THE PAST? WILL THE SAME PHENOMENON CONTINUE AFTER YOU LEAVE? PLEASE THROW SOME LIGHT. at energyenhancement.org
Dhammapada, Buddhism, Buddha. The Dhammapada: The Way of the Buddha, Vol. 7, Chapter 4: A real man is unpredictable, Question 3, I AM A STRONG MAN, BUT I CANNOT FIND A WOMAN WHO TRULY LOVES ME. WHAT IS MISSING IN ME? I HAVE COME HERE TO FIND A SOULMATE. CAN YOU HELP ME? at energyenhancement.org
Dhammapada, Buddhism, Buddha. The Dhammapada: The Way of the Buddha, Vol. 7, Chapter 4: A real man is unpredictable, Question 4, I HAVE COME ACROSS A STATEMENT BY R.D. LAING THAT MADNESS IS NOT BREAKDOWN, IT IS BREAKTHROUGH. OUR MEDITATION CAMPS, WHENEVER THEY ARE CONDUCTED, ARE SEEN AS A BREAKDOWN, EVEN BY PSYCHIATRISTS. IS IT JUSTIFIED AND ETHICAL FOR PATIENTS OF DEPRESSION TO BE GIVEN DYNAMIC MEDITATION? PLEASE ADVISE. I AM MERELY A SURGEON at energyenhancement.org
Dhammapada, Buddhism, Buddha. The Dhammapada: The Way of the Buddha, Vol. 7, Chapter 4: A real man is unpredictable, Question 5, IS MAN PREDICTABLE? at energyenhancement.org