OSHO
Dhammapada-Buddhism-Buddha
THE DHAMMAPADA: THE WAY OF THE BUDDHA, VOL. 7
Chapter 2: The greatest rebellion ever tried
Question 5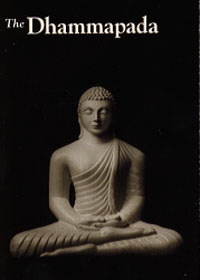 Energy Enhancement Enlightened Texts Dhammapada The Way of the Buddha, Vol. 7
The fifth question:
Question 5
BELOVED MASTER,
WHAT IS YOUR FUNCTION HERE AS A MASTER?
Geeto, it is a difficult question, because I have to do so many things -- without doing them, that is the most difficult part of it! I never leave my room, but I have to do many things, conceivable, inconceivable.
But the basic function of the master is to force people out of their unconsciousness. It is a thankless job, because you have to hit them hard -- their ideas, their notions, their middle-class, bourgeois philosophies. All that they have thought is great, all that they have thought is true, you have to go on telling them that it is all nonsense, that it is just bullshit! And of course they feel hurt.
Rizzutti was sitting in the neighborhood bar. Next to him sat McIntyre who had had more than enough beer and was staring at his empty glass.
He turned to Rizzutti and asked, "Say, did you spill a glass of beer on me?"
"Absolutely no!" answered the Italian.
McIntyre turned to the man on his other side. "Mister, did you by any chance throw a glass of beer in my lap?"
"No!" snapped the man.
"Just what I have been suspecting," said the Irishman. "It is an inside job!"
You are as unconscious as that. You don't even know what is happening to you as an inside job! Even that has to be brought to your notice. And you try to escape from seeing any truth, because it will shatter many of your old ideas, and you have become very acquainted, familiar with them. You feel cozy surrounded with your old nonsense.
Whenever you are forced to see a new idea you shiver -- because it is not only a question of seeing one single new idea. Allow one single new idea in your being and you will have to change your total vision, because then you will start seeing that this new concept, this new vision, does not fit with anything old.
I have heard a story about Count Keyserling -- his grandson is here, a sannyasin. Count Keyserling was one of the most famous German thinkers. He traveled far and wide in the East; he was fascinated by the East. The grandson must have something of Count Keyserling in him, hence he has come to me.
When Count Keyserling was in China, a friend presented him with a beautiful box, two thousand years old, but with a condition which has been fulfilled for two thousand years: that the box's face has to be towards the East. A beautiful piece of art work, a great work of art! With that condition, for two thousand years whosoever had it has followed it.
Count Keyserling went with it. He placed the box in his drawing room facing towards the East, but then the whole drawing room was unbalanced. The box looked odd, so the whole drawing room had to be redone. But then the whole drawing room was no longer fitting with the house! But Count Keyserling was a man of his word -- he changed his whole house... but then the garden was not fitting, so he had to change the garden. And then he became afraid, because when he changed the garden the house was not fitting in the neighborhood. Now, he could not do anything with the neighborhood!
Then he wrote a letter to the friend who has given the box, "Please take this box back -- I don't know how I can fulfill the condition. I will have to change the whole world! Now the neighborhood, then the town, then the district, then the province, then the country.... This is too much!"
If you start seeing just a ray of light, a new light, you will have to change your whole world.
The friend wrote to Count Keyserling, "Don't be worried, that's exactly the message: that even a small box can change your whole world. It is an ancient Taoist symbol; a message is contained in it. You have understood the message."
Allow a single insight of a buddha in you and you will never be the same. That's my function here as a master: to give you something which will not fit with you but which will be so tremendously significant for you that you will be ready to change for it, that you will be ready to risk everything for it.
A zookeeper was headed for the kangaroo cage right around feeding time when, much to his surprise, the kangaroo jumped right over the ten-foot fence and went hopping out of sight. The startled zookeeper dashed up to the cage and confronted a woman who was standing in front of the cage.
"What happened?" he asked.
"I have not the faintest notion," she replied. "All I did was tickle him a little."
"Well, lady," he replied, "I guess you had better tickle me in the same place -- I am the one who has to catch him now!"
My function is to tickle you in the right place -- because it is a long long journey, a pilgrimage, and you are to catch hold of God. Less than that is not going to fulfill you.
Next: Chapter 2: The greatest rebellion ever tried, Question 6
Energy Enhancement Enlightened Texts Dhammapada The Way of the Buddha, Vol. 7
Chapter 2:
Dhammapada, Buddhism, Buddha. The Dhammapada: The Way of the Buddha, Vol. 7, Chapter 2: The greatest rebellion ever tried, Question 1, FROM WHERE DOES FRESHNESS COME? at energyenhancement.org
Dhammapada, Buddhism, Buddha. The Dhammapada: The Way of the Buddha, Vol. 7, Chapter 2: The greatest rebellion ever tried, Question 2, WHY DOES GAUTAMA THE BUDDHA INSIST THAT LIFE IS ALWAYS MISERY? at energyenhancement.org
Dhammapada, Buddhism, Buddha. The Dhammapada: The Way of the Buddha, Vol. 7, Chapter 2: The greatest rebellion ever tried, Question 3, WHAT IS SO FUNNY ABOUT YOUR DRIVING TO DISCOURSE IN A ROLLS ROYCE? at energyenhancement.org
Dhammapada, Buddhism, Buddha. The Dhammapada: The Way of the Buddha, Vol. 7, Chapter 2: The greatest rebellion ever tried, Question 4, I KNOW NOW THAT I AM ALRIGHT JUST AS I AM, BUT HOW CAN I MAKE SURE THAT OTHERS KNOW THAT TOO? at energyenhancement.org
Dhammapada, Buddhism, Buddha. The Dhammapada: The Way of the Buddha, Vol. 7, Chapter 2: The greatest rebellion ever tried, Question 6, WHY AM I NOT GETTING ENLIGHTENED SOON? WHY IS THERE SO MUCH DELAY? at energyenhancement.org
Dhammapada, Buddhism, Buddha. The Dhammapada: The Way of the Buddha, Vol. 7, Chapter 2: The greatest rebellion ever tried, Question 6, WHAT IS YOUR FUNCTION HERE AS A MASTER? at energyenhancement.org