OSHO
Dhammapada-Buddhism-Buddha
THE DHAMMAPADA: THE WAY OF THE BUDDHA, VOL. 7
Chapter 2: The greatest rebellion ever tried
Question 4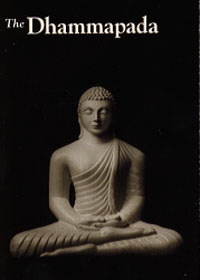 Energy Enhancement Enlightened Texts Dhammapada The Way of the Buddha, Vol. 7
The fourth question:
Question 4
BELOVED MASTER,
I KNOW NOW THAT I AM ALRIGHT JUST AS I AM, BUT HOW CAN I MAKE SURE THAT OTHERS KNOW THAT TOO?
Deva Kamma, I know how you are feeling!
Alan, a real ladies' man, rushed into a Catholic church. He slipped into the confession booth and said, "Father, Father, I just made love to a woman twenty-five times!"
"Are you married?" asked the priest.
"No," said Alan, "and I am Jewish, not Catholic, but I had to tell someone!"
You start telling people! They will think you crazy because this is a very strange world: if you talk about your misery nobody thinks you are crazy. If you start saying that "I am tremendously happy, ecstatic! I am feeling fantastic, just far out!" then people start thinking you are going nuts, something is wrong with you.
Just the other day a letter came to me that "Sarvesh is again going nuts." And all that the poor man was doing was just expressing his ecstasy. Seeing the new commune place he became so ecstatic that people thought that he is going crazy.
In this world to be insane is alright. To be sane is difficult, because the majority consists of insane people. To be sane is really difficult.
Nobody will believe you, Kamma, and people will laugh at you. And it happens: when inside you are feeling a great joy and everything seems to be fitting perfectly well, humming, you want that others should know it. It is a natural by-product -- otherwise buddhas would have remained silent. Why did Gautama the Buddha speak at all? Why did Mahavira speak? When he was unenlightened he went to the mountains; when he became enlightened he came back to the world. And this has always been the case: people have gone to the mountains, to the forests, to the jungles, in the search for truth. They have gone into silence, but when they attained they rushed back, they have not lost a single moment. They have rushed back to the marketplace to shout from the housetops!
But then there are dangers. The danger is that people will think you are mad. The danger is that they will think you are a nuisance. The danger is that they will think that you can create trouble in the society, because a few others may become interested in your ideas.
It is not accidental that Socrates is killed, Jesus is killed, Mansoor is killed. The society protects itself and its sanity -- its so-called sanity, which is really not sanity at all.
So, Kamma, if you are ready to take the risk, say it to people, don't be afraid. That's the only way they will come to know about it. But remember: then you have to accept joyfully whatsoever they do to you. Then don't throw the responsibility on me -- I am warning you right now. Now start advertising!
Malcolm G. Krebbs was the last of the old diehards who believed in doing business without advertising, and like so many others he found that his philosophy just did not work anymore. So he finally went to an advertising agency, but with great misgivings. Mr. Krebbs just could not manage to understand the principle behind advertising until his account executive explained it to him like this: "Doing business without advertising is like winking at a girl in the dark -- you know what you are doing, but nobody else does."
And that's how you are feeling, Kamma, right now. You can go on winking in darkness -- nobody will know. Come into the light and wink... and then suffer the consequences!
But my people won't take it badly. They are becoming slowly slowly aware of such phenomena. They will accept you -- but outside the commune there will be trouble for you, so be cautious. MY people will understand. If they can understand me -- this far, far gone guy -- what about you, Kamma? You are just a beginner!
Dugan, a delivery man from near Hyannisport making his first trip to New York, saw the sign CLIMB THE STAIRS AND SAVE FORTY DOLLARS ON A NEW SUIT. The Irishman went up and was immediately shown a number of shoddy garments by Spiegal, the eager salesman. Dugan refused to bite.
Spiegal knew that Zimmer, the boss, was watching him, so he made a special effort with the next number. Spiegal whirled the customer around and around before the mirror crying, "It fits like a glove! You look like a movie star!"
When the Irishman again said no, Zimmer took over, produced one blue serge suit and made the sale in five minutes. As Dugan left, the boss said, "You see how easy it is when you know how? He went for the first suit I showed him."
"Yeah," agreed Spiegal, "but who made him dizzy?"
Here I am making my people so dizzy... you don't worry, you can say anything! But outside the commune be a little cautious. Don't laugh loudly. Don't be so loving, so much hugging and so much kissing....
It almost always happens: the deeper you go, such great joy arises, and with joy, as a by-product, the desire to share. But there is no other way -- you have to share.
Start sharing, first with my crazy people -- that way you will learn the art -- and then if you feel that you are confident enough, then start sharing with strangers, outsiders; people who have no idea of what meditation is; people who have no idea what it means to go inwards, what it means to know oneself, what it means to be silent, to be empty. They have very strange ideas. They think the empty mind is a Devil's workshop. The empty mind is GOD'S workshop, because meditation means nothing but emptiness.
First start talking to the people who can understand your language, and then shout from the housetops. I am a firm believer in advertising, don't be worried!
A minister who believed firmly in advertising had a sign erected in front of his church which proclaimed: IF YOU ARE TIRED OF SIN, COME IN!
Some enterprising member of his congregation who also believed in advertising, however, scrawled the additional message: "If you are not, call Grandview 9-6001."
Next: Chapter 2: The greatest rebellion ever tried, Question 5
Energy Enhancement Enlightened Texts Dhammapada The Way of the Buddha, Vol. 7
Chapter 2:
Dhammapada, Buddhism, Buddha. The Dhammapada: The Way of the Buddha, Vol. 7, Chapter 2: The greatest rebellion ever tried, Question 1, FROM WHERE DOES FRESHNESS COME? at energyenhancement.org
Dhammapada, Buddhism, Buddha. The Dhammapada: The Way of the Buddha, Vol. 7, Chapter 2: The greatest rebellion ever tried, Question 2, WHY DOES GAUTAMA THE BUDDHA INSIST THAT LIFE IS ALWAYS MISERY? at energyenhancement.org
Dhammapada, Buddhism, Buddha. The Dhammapada: The Way of the Buddha, Vol. 7, Chapter 2: The greatest rebellion ever tried, Question 3, WHAT IS SO FUNNY ABOUT YOUR DRIVING TO DISCOURSE IN A ROLLS ROYCE? at energyenhancement.org
Dhammapada, Buddhism, Buddha. The Dhammapada: The Way of the Buddha, Vol. 7, Chapter 2: The greatest rebellion ever tried, Question 4, I KNOW NOW THAT I AM ALRIGHT JUST AS I AM, BUT HOW CAN I MAKE SURE THAT OTHERS KNOW THAT TOO? at energyenhancement.org
Dhammapada, Buddhism, Buddha. The Dhammapada: The Way of the Buddha, Vol. 7, Chapter 2: The greatest rebellion ever tried, Question 6, WHY AM I NOT GETTING ENLIGHTENED SOON? WHY IS THERE SO MUCH DELAY? at energyenhancement.org
Dhammapada, Buddhism, Buddha. The Dhammapada: The Way of the Buddha, Vol. 7, Chapter 2: The greatest rebellion ever tried, Question 6, WHAT IS YOUR FUNCTION HERE AS A MASTER? at energyenhancement.org