OSHO
Dhammapada-Buddhism-Buddha
THE DHAMMAPADA: THE WAY OF THE BUDDHA, VOL. 6
Chapter 2: Many are called; few are chosen
Question 3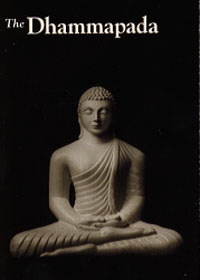 Energy Enhancement Enlightened Texts Dhammapada The Way of the Buddha, Vol. 6
The third question:
Question 3
BELOVED MASTER,
LET US SEE YOU GET OUT OF THIS ONE, YOU TRICKY RASCAL! YOU TELL US OFTEN THAT SANNYAS DOES NOT MEAN RENOUNCING THE WORLD, BUT THE EGO. YET WHEN WE DECIDE TO STAY WITH YOU WE END UP RENOUNCING OUR HOMES, JOBS, MONEY AND POSSESSIONS; OUR PRIVATE SPACE, SOMETIMES OUR FAMILY AND FRIENDS TOO. WE DON'T MAKE ANY FORMAL RENUNCIATION, BUT IT HAPPENS ANYWAY, AND WE FLOURISH AND ARE PERFECTLY HAPPY. YOU ARE SO DEVIOUS, IT IS BEAUTIFUL!
Sannyas can have two possibilities. One is a formal renunciation. That means repression, that means escape. That is ugly. That has been the way in the past. It is life-negative; it is anti-life. It promises you all the joys in heaven. In fact, it is out of greed that you renounce the world. The formal renunciation is pseudo; it is plastic. It is not a real flower, it has no fragrance. On the contrary, deep down it is a great greed: greed for the other life, for eternal life, for the joys of heaven.
Just look in the scriptures of the world and you will be surprised. The way they describe heaven or paradise is nothing but the dream of a very greedy, sensuous, materialistic mind. It has nothing to do with religion at all.
In the Mohammedan idea of heaven there are beautiful women; they always remain young. And not only beautiful women. Because in Mohammedan countries homosexuality has been a long long tradition, young boys are also available, beautiful young boys. And rivers of wine -- you need not go to a pub!... rivers of wine. Drink, swim, dive deep into the wine! And trees are of gold, and flowers are of diamonds and emeralds. What kind of dream is this? Whose dream is this? Greed projected. It is not renunciation. It looks like renunciation but it is not.
And the same is the case with the Hindu heaven and the Christian paradise. In fact, the Christian word 'paradise' comes from the Arabic FIRDAUS. Firdaus means a walled garden of pleasure, just as emperors and great kings used to have a walled garden of pleasure. In order to gain it you have to renounce this world.
If you look at it in the true light, then the so-called worldly people are not so worldly, not so materialistic as the so-called otherworldly. It is because of this that this country, which thinks itself very religious, is not at all religious; it is very materialistic: on the surface is religion, but deep down is the desire for pleasures.
The second kind of sannyas -- the kind I am introducing into the world -- is not one of formal renunciation. In fact, I never use the word 'renunciation' at all. I say: Sannyas is rejoicing. Rejoice in life, in love, in meditation, in the beauties of the world, in the ecstasy of existence -- rejoice in everything! Transform the mundane into the sacred. Transform this shore into the other shore. Transform the earth into paradise.
And then indirectly a certain renunciation starts happening. But that happens, you don't do it. It is not a doing, it is a happening. You start renouncing your foolishnesses; you start renouncing rubbish. You start renouncing meaningless relationships. You start renouncing jobs which were not fulfilling to your being. You start renouncing places where growth was not possible. But I don't call it renunciation, I call it understanding, awareness.
If you are carrying stones in your hand thinking that they are diamonds, I will not tell you to renounce those stones. I will simply say, "Be alert and have another look!" If you see yourself that they are not diamonds, is there any need to renounce them? They will fall from your hands on their own accord. In fact, if you still want to carry them you will have to make a great effort, you will have to bring great will, to still carry them. But you cannot carry them for long; once you have seen that they are useless, meaningless, you are bound to throw them away.
And once your hands are empty you can search for the real treasures. And the real treasures are not in the future -- as they used to be in the old concept of sannyas. The real treasures are right now, here.
A very handsome young chap was recently hired in a large accounting firm. In a short while the young man came to Mr. Diamond, his department head, and said, "I am sorry to tell you, but some of the young ladies in this office are tempting me sorely."
"Be firm, young man," was the reply, "and you will get your reward in heaven."
A few weeks later the lad complained again. "Mr. Diamond," he said, "I don't know what to do! This time it is that beautiful redhead who is pursuing me."
"Resist, my son, and you will get your reward in heaven."
"I don't know how much longer I can resist," the young man said. "By the way, Mr. Diamond, what do you think this reward will be that I will get in heaven?"
"A bale of hay, you jackass!"
Yes, that's what you will get! If your renunciation is to get something in the other world, you will simply get a bale of hay, you jackass! Because it is greed projected, and greed is going to remain unfulfilled. The so-called religious people are greedy for the eternal -- and you become religious only when greed disappears totally.
Heaven is not somewhere else: it is a way of living. So is hell -- a style of life. Hell is living unconsciously; heaven is living consciously. Hell is your own creation, so is heaven. If you go on living unconsciously, through your unconscious desires, instincts, motives -- of which you are not the master but only the victim -- then you create hell around yourself. But if you start living a conscious life, a life of bringing more and more light to the deep, dark corners of your being, if you start living full of light, your life is moment-to-moment ecstasy.
There is no need for trees to be of gold. They are perfectly beautiful as they are. In fact, a tree of gold will be a dead tree. And the roses need not be of diamonds; roses of diamonds will not be roses, they will not be alive. And only stupid people need rivers of wine. A man who lives consciously is so drunk with the sheer joy of breathing, with the sheer joy of being, with the joy of the birds singing and the sun rising in the morning... he is so drunk with existence that he needs no other drug -- alcohol, LSD, mescaline or marijuana. He needs nothing! He is always in a psychedelic ecstasy, and that ecstasy is something his inner being releases; it is his own fragrance. Not only is he drunk -- whosoever comes to him, stays with him, becomes drunk with his being.
I am a drunkard! If you allow yourself to be here and available to me, you are bound to become drunkards.
That's what has happened. I am not devious, I am simply a drunkard! And I am not trying in devious ways to make you renounce the world; I am simply trying to make you aware of the real world. When the real is known the false disappears. To know the real as real is enough: the false disappears -- it becomes insubstantial.
If you are here with me, it is not that you had to renounce your family; on the contrary, you are here with me because you have found your family here. If you have dropped out of your job, it is not because of your being here; on the contrary, you have found your creativity here, you have found your joy here. You have found your real, authentic work; hence the false has disappeared. It is a transformation process.
But my emphasis is never on renouncing anything; my emphasis is on rejoicing more and more. And your rejoicing is bound to change your life patterns. You can't remain the same when you meditate, when you become aware. How can you remain the same? How can you go on doing the same foolish things? It was possible when you were unconscious; it is impossible when you become conscious.
A soldier just returning from three years overseas arrived at a camp near his home town. He was naturally very anxious to see his wife, but try as he would he could not possibly wrangle more than two hours' leave.
After six hours' absence he came back to the camp. "Why the hell are you four hours AWOL?" barked the sergeant.
"Well, you see," said the soldier, "when I got home I found my wife in the bathtub, and it took me four hours to dry out my uniform!"
When you live an unconscious life you live in a different way.
When Tom, the rising young insurance executive, appeared at his friend Ed's home in the early morning hours, asking to be put up for the night, Ed was concerned by his friend's hollow-eyed appearance. "What happened, Tom? You and your wife had a fight?"
"Yeah, when I got home last night I was really beat, tired as hell, so when she asked me for fifty dollars for a new dress...."
"Yeah?"
"Well, I guess I must have been half asleep or something, because I said, 'Alright, but let us finish this dictation first.'"
Are you all British, or what? Can't you get such a simple joke? Living an unconscious life you are even bound to miss jokes!
The moment you change from mind to meditation your whole life is going to be affected. It is natural. If it is not affected, that will be something unnatural. Your relationships are bound to change.
For example, a man may believe that he loves his wife. The moment he starts meditating it will become clear and transparent whether he loves her or not. He may never have loved her. He may simply be using her as a sex object, or he may be using her as a mother substitute. He may be using her because he is unable to be alone, but he may never have loved her. He may be dependent on her; she may have great utility.
But to use another human being is immoral, ugly -- and to pretend that you love.... And I am not saying that you are consciously doing it; it may be just an unconscious thing. You may not even be aware that you don't love her; you may also think that you love her. You may not be deceiving her deliberately; you may be deceiving her and you may be deceived yourself too.
But if you start meditating, things will become clear. You will have more light in your life; just as when you bring a candle into a dark room you start seeing clearly. In the darkness the window looked like a door; now it is no longer a door. Or the painting, the frame of the painting, in the darkness and dimness looked like a window; it is no longer a window. Now that you see things clearly you cannot behave in the old way. You will have to change; you will have to rearrange your whole life.
That's what happens to every sannyasin. If your love was true, it will be deepened; if it was false, it will disappear. If your respect for your parents was just a formality, it will disappear; if your respect for your parents was a reality, it will become more and more profound. The work that you were doing -- if it was your heart's fulfillment, you will go deeper into it.
A painter will become a greater painter, a musician will have new visions, a poet will have new insights -- if the poet was really a poet, only then. If the poet was just playing with arranging words and was writing poetry just to become famous and the poetry was not his love affair, he was not ready to sacrifice his life for it, then poetry will disappear. But it is not renouncing anything. You are not renouncing anything! A few things are disappearing; a few other things will appear.
One thing is certain: after meditation, after MY sannyas, whatsoever happens is going to give you more fulfillment, more maturity, more rootedness, more centering. It will become a life which does not only grow old but also grows towards heights and depths. You will start living not only a horizontal life but a vertical life too. You will live on the horizontal as far as it is needed; otherwise ninety percent of your energies will start moving in the vertical dimension, towards heights and depths.
Then this earth, this world, becomes only an opportunity to grow. And the man who is using the world, the earth, this life, as an opportunity to grow is on the right track. If you not only grow in age but you also become grown-ups, then you have lived rightly. And it is not renunciation: it is rejoicing, it is being grateful to God.
Your society, your parents, your teachers, your priests, your politicians, they have all tried to impose something upon you, and you are carrying all that. But anything imposed on you will remain a burden and you will be crushed under the weight of it, and the weight will go on growing every day.
The function of the master is to undo what the teachers, priests, parents and politicians have done to you. Here I only make things clear to you. I don't impose any discipline. I don't give you any character. I simply give you more consciousness, more light. Then you have to find your character. Then you have to find your life-style, your life pattern.
I give you just a small candle; then you can find your path into the darkness of life. And even a small candle is enough. If a little space around you becomes lighted and you can take three, four steps in the light, that's enough; because by the time you have taken four steps, the light goes four steps ahead of you. With a small candle one can pass through ten thousand miles of darkness.
And I am not against life at all, as the old sannyas was. The old sannyas had a very strange idea: that if you want to attain to God, you have to be anti-life -- as if God were against life. If God was against life, life would not exist even for a single moment. Who goes on nourishing life? Who goes on pouring energy into life?
The great Indian poet, Rabindranath, has said, "Whenever a child is born, I dance, I rejoice. Why? Because a new child gives me an absolute certainty that God has not yet become hopeless, that he still hopes. Each new child brings this certainty to the world, that God is still interested in humanity, that he has not abandoned the project, that he still hopes that buddhas will be born, that he still goes on creating new children, that he is not tired, that his hope is infinite and his patience is infinite."
God loves the world. It is his creation. To deny it is to deny him. If you deny the painting, you have denied the painter. If you condemn the poetry, you have condemned the poet. If you reject the dance, you have rejected the dancer. And this stupid logic has been going on for centuries: accept God, praise God, and deny life! And these same people went on saying again and again that God created the world. Then why did he create the world? So that you can renounce it? So that you can reject it? So that you can condemn it and become great saints?
God created the world as an opportunity to grow. Growth needs many many opportunities, challenges.
I have heard a story:
A farmer, an old farmer, mature, seasoned, one day was very very angry with God -- and he was a great devotee. He said to God in his morning prayer, "I have to tell it as it is -- enough is enough! You don't understand even the ABC of agriculture! When the rains are needed there are no rains; when the rains are not needed you go on pouring them. What nonsense is this? If you don't understand agriculture you can ask me -- I have devoted my whole life to it. Give me one chance: the coming season, let ME decide and see what happens."
It is an ancient story. In those days people had such trust that they could talk directly to God, and their trust was such that the answer was bound to happen.
God said, "Okay, this season you decide!"
So the farmer decided, and he was very happy because whenever he wanted sun there was sun, whenever he wanted rain there was rain, whenever he wanted clouds there were clouds. And he avoided all dangers, all the dangers that could become destructive to his crops; he simply rejected them -- no strong winds, no possibility of any destruction to his crops. And his wheat started growing higher than anybody had ever seen; it was going above man's height. And he was very happy. He thought, "Now I will show him!"
And then the crop was cut and he was very puzzled. There was no wheat at all -- just empty husks with no wheat in them. What happened? Such big plants -- plants big enough to have given wheat four times bigger than ordinary wheat -- but there was no wheat at all.
And suddenly he heard laughter from the clouds. God laughed and he said, "Now what do you say?"
The farmer said, "I am puzzled, because there was no possibility of destruction and all that was helpful was provided. And the plants were going so well, and the crop was so green and so beautiful! What happened to my wheat?"
God said, "Because there was no danger -- you avoided all dangers -- it was impossible for the wheat to grow. It needs challenges."
Challenge brings integrity; otherwise a person remains hollow, empty. If all facilities are provided for you and there is no danger in your life, you will remain hollow and empty. God gives life with all its dangers.
My sannyas is to accept this challenge. To live dangerously is what my sannyas is all about. The more dangerously you live, the more risks you take, the more you grow, the more you become integrated, crystallized, the more your soul becomes a clear-cut, well-defined phenomenon. Otherwise it remains vague, cloudy, doubtful.
I am all for life. If you ask me, God and his creation are not two separate things. The creator has become his own creation. The creation and the creator are one. I am in immense love with life. And this is my message to you: Love life totally! Get involved with life! Don't hold back, because whatsoever you hold back will remain empty. Become committed to life: a multidimensional commitment is needed.
Scientists say that even the greatest human beings use only fifteen percent of their potential -- even the greatest! What about normal people? They use only five to seven percent of their potential. Just think: if every person was using one hundred percent of his potential, if each person was a torch burning from both ends together, with intensity, with passion, with love, then life would be a sheer celebration. And you would see so many christs and so many buddhas walking on the earth! But because of this old idea of renunciation we have missed much.
I want to bring a totally new concept of sannyas to the world: a sannyas that loves, a sannyas that knows how to become committed, a sannyas that goes to the deepest core of life.
But nobody else can decide it for you. Not even I can decide for you. I can only make things clear to you. I can give you the map, but you have to go, you have to journey, you have to move. And remember one thing: my map will really be MY map and it can't be exactly your map. It may give you a few hints, a few indications, but it can't exactly be your map because you are a totally different person. You are so unique that nobody else's map can be your map. Yes, by understanding my map you will become aware of many things about yourself, but you are not to follow it blindly; otherwise you will become a pseudo human being.
Listen to me, to my words, to my silence, to my being. Try to understand what is happening here, what is transpiring here, and then decide on your own. Don't throw the responsibility on anybody else's shoulders. This is the way to grow. This is the way to arrive.
Next: Chapter 2: Many are called; few are chosen, Question 4
Energy Enhancement Enlightened Texts Dhammapada The Way of the Buddha, Vol. 6
Chapter 2:
Dhammapada, Buddhism, Buddha. The Dhammapada: The Way of the Buddha, Vol. 6, Chapter 2: Many are called; few are chosen, Question 1, I AM CONFUSED ABOUT WHICH PATH I AM ON. SOMETIMES I FEEL FILLED WITH JOY WHEN PLAYING, SINGING, DANCING OR FIGHTING WITH OTHERS AND I CAN ONLY SEE MYSELF BY LOOKING AT OTHERS. AT OTHER TIMES I CAN'T STAND TO BE WITH ANYONE OR RELATE AT ALL; I AM ONLY HAPPY BEING COMPLETELY WITH MYSELF. WHEN I AM WITH PEOPLE, I JUDGE THAT I AM ESCAPING MY ALONENESS AND WHEN I AM WITH MYSELF, I JUDGE THAT I AM AVOIDING LOVE. ISN'T IT POSSIBLE TO BE ON BOTH PATHS, ALTERNATING BETWEEN THEM? HOW CAN I TELL WHEN I AM USING ONE TO ESCAPE THE OTHER? at energyenhancement.org




Dhammapada, Buddhism, Buddha. The Dhammapada: The Way of the Buddha, Vol. 6, Chapter 2: Many are called; few are chosen, Question 2, CAN SOMEONE WHO IS NOT OPEN WAKE UP? at energyenhancement.org




Dhammapada, Buddhism, Buddha. The Dhammapada: The Way of the Buddha, Vol. 6, Chapter 2: Many are called; few are chosen, Question 3, LET US SEE YOU GET OUT OF THIS ONE, YOU TRICKY RASCAL! YOU TELL US OFTEN THAT SANNYAS DOES NOT MEAN RENOUNCING THE WORLD, BUT THE EGO. YET WHEN WE DECIDE TO STAY WITH YOU WE END UP RENOUNCING OUR HOMES, JOBS, MONEY AND POSSESSIONS; OUR PRIVATE SPACE, SOMETIMES OUR FAMILY AND FRIENDS TOO. WE DON'T MAKE ANY FORMAL RENUNCIATION, BUT IT HAPPENS ANYWAY, AND WE FLOURISH AND ARE PERFECTLY HAPPY. YOU ARE SO DEVIOUS, IT IS BEAUTIFUL! at energyenhancement.org




Dhammapada, Buddhism, Buddha. The Dhammapada: The Way of the Buddha, Vol. 6, Chapter 2: Many are called; few are chosen, Question 4, I HAVE MANY FRIENDS, BUT THE QUESTION: WHO IS A REAL FRIEND? ALWAYS ARISES IN MY MIND. WILL YOU SAY SOMETHING ABOUT IT? at energyenhancement.org




Dhammapada, Buddhism, Buddha. The Dhammapada: The Way of the Buddha, Vol. 6, Chapter 2: Many are called; few are chosen, Question 5, WHY ARE THOUSANDS OF PEOPLE FROM ALL OVER THE WORLD COMING TO YOU? at energyenhancement.org