OSHO
Dhammapada-Buddhism-Buddha
THE DHAMMAPADA: THE WAY OF THE BUDDHA, VOL. 6
Chapter 2: Many are called; few are chosen
Question 1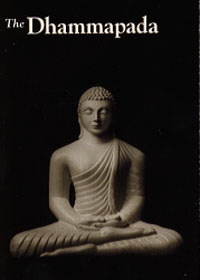 Energy Enhancement Enlightened Texts Dhammapada The Way of the Buddha, Vol. 6
The first question:
Question 1
BELOVED MASTER,
I AM CONFUSED ABOUT WHICH PATH I AM ON. SOMETIMES I FEEL FILLED WITH JOY WHEN PLAYING, SINGING, DANCING OR FIGHTING WITH OTHERS AND I CAN ONLY SEE MYSELF BY LOOKING AT OTHERS. AT OTHER TIMES I CAN'T STAND TO BE WITH ANYONE OR RELATE AT ALL; I AM ONLY HAPPY BEING COMPLETELY WITH MYSELF. WHEN I AM WITH PEOPLE, I JUDGE THAT I AM ESCAPING MY ALONENESS AND WHEN I AM WITH MYSELF, I JUDGE THAT I AM AVOIDING LOVE.
ISN'T IT POSSIBLE TO BE ON BOTH PATHS, ALTERNATING BETWEEN THEM? HOW CAN I TELL WHEN I AM USING ONE TO ESCAPE THE OTHER?
Prem Indivar, there is no goal and no path for people like you -- you are just crazy! Buddha is talking about sane people. Buddha is a very rational person: he divides, categorizes. But there is a third category Buddha is not aware of. The Sufis know about the third category; they call them MASTAS -- the mad people.
There is no need for you to alternate, because alternating between one path and the other you will always feel this problem -- the judgment. When you are on one you will think that you are missing the other, and this will become an unnecessary anguish.
Simply be wherever you are. Enjoy the moment, all the moments -- the moments of love and the moments of meditation -- and don't be bothered with the other. In a particular moment, be totally in it. Playing, loving, dancing, singing, forget that there is another path. And while you are feeling silent, still, alone, and enjoying your aloneness, forget that there is any path called love.
It is not a question of consciously alternating between the two; otherwise you will become divided, schizophrenic, and to be schizophrenic is to fall below normal sanity. Mastas, the really mad people, don't fall below sanity -- they go above it, they transcend it. They both look mad; both are no longer in the world of reason: one has fallen below it, one has gone above it. In a sense they are alike and in a sense they are absolutely different.
Indivar, you are a masta. Rejoice in being whatsoever you are. And this is the best that can happen to a man, what is happening to you. It is just natural for you to be sometimes with others and enjoying their company, and sometimes to be with yourself and enjoying your own company. It is like day and night for you. You need not choose: the day is followed by the night of its own accord. It is like summer and winter. It is not a question of choice on your part; it is something spontaneous and natural that is happening to you. I am tremendously happy with you -- so simply be as you are. Drop this judgment.
So let me state it clearly. There are three possibilities: one, meditation; second, love; third, one can just be crazy -- no question of choice, no question of deliberately going on a certain path, forcing yourself on a certain path.
And there are many here who are in the same situation. At least twenty questions have come to me, and the problem is the same. If there is no question for you and you can enjoy meditation without ever being worried about love, then that is your path. If you can enjoy love without ever being dragged by meditation, distracted by meditation, that is your path. If you find yourself in a deep synthesis, that both are happening, then that is your path.
My whole effort here is to help you to be your natural self. Any imposition is a violation. Indivar, rejoice in being whatsoever you are. There is no goal for you, no path for you. Rejoicing is the goal, rejoicing is the path.
In fact, we are all where we should be, we are already there. The paths are needed to awaken us. Don't be disturbed by the word 'path', because it gives you the idea that you have to go somewhere, reach somewhere; it is because of the language. We have to use words, and every word is loaded with our mundane meanings.
Hence the buddhas have always found it difficult to commune with you. You can't understand silence, because you can't be silent. That is the best thing, if you can sit silently with a buddha even for a single minute... and all is conveyed.
Here, being with me, my real message is between the words -- the pauses, the intervals -- not in the words. Read me between the lines, not in the lines, and you will be able to understand me more.
There is a beautiful story:
A mystic received a letter. The letter had come from another mystic, but the letter from him was absolutely empty, nothing was written on it. There had been a problem: the man who had written the letter was older in age, but the man to whom the letter was written was older in enlightenment; he had become enlightened first. So how to start the letter?
In India, if you are writing to an older person you have to be very respectful. So how to start? How to address the person? He is younger, physically, so you cannot show respect, you have to show love. But he is older as far as enlightenment is concerned, so you cannot talk to him as if you are talking to a young man, younger than you; you have to be respectful.
The mystic was puzzled. And if you cannot start the letter, how can you write it? So he sent the paper empty.
The other mystic received it. He read it, rejoiced in it. He was so happy that a disciple who was sitting close by asked, "You look so happy -- can I also read the letter?"
The letter was passed to the disciple, then he read it and rejoiced in it.
Then the third person who was present became interested -- there seemed to be something very mysterious! But this man was not a disciple; just out of curiosity he had come to see the man. He said, "Can I also have a look?"
Both the master and the disciple hesitated. They looked at each other -- what to say to this man? The man became even more intrigued. He said, "Is there something very mysterious in it?"
They said, "There is really nothing in it! It is a very rare letter, you will not understand its language. That's why we are hesitating. We don't want to offend you, but if you insist you can see."
The man looked this side and that side -- there was nothing at all. He returned the letter without saying anything and rushed out -- both these people seemed to be mad!
Buddhas cannot use silence with you, because then you will not understand; you will escape. They have to use words -- words which have YOUR meanings, so they have to be very very alert in choosing their words, but even then those words are inadequate.
The word 'path' is so inadequate that Lao Tzu always uses "the pathless path." Now what is the sense of saying "pathless path"? It is empty paper. "Gateless gate," "effortless effort," "action in inaction" -- WU-WEI: all these contradictions together, paradoxes together, are just to shake and shock you out of your sleep. Otherwise there is no path and there is nowhere to go. You are already there -- you have been always there. All that is needed is: Wake up!
And, Indivar, I can see you are coming out of your dreams, your sleep. I can see you turning and tossing in your bed! The morning is not very far away.
Please don't be worried about the paths, because that worry can keep you asleep. Don't judge any moment. Don't compare any moment with another moment, because every comparison is a thought process and every thought process keeps you attached to the mind. Relax. Whatsoever happens, allow it to happen. Be in a let-go.
And I am saying these things to you because that is the easiest thing for you; just be in a let-go. God is going to come to you, you are not going to find him. The goal is going to happen to you. And it can happen anywhere; there is no path leading to it. In fact it is our own reality; we simply have to be alert to see.
In Japan there is the beautiful story of a really great buddha, Hotei. In Japan he is called the Laughing Buddha, because the moment he became enlightened he started laughing.
People asked him, "Why are you laughing?"
He said, "Because I have become enlightened!"
"But," they said, "we can't see any relationship between enlightenment and laughter. What is the point of laughing?"
Hotei said, "I am laughing because I was searching for something which was already in me. I was searching the seeker; it was impossible to seek it. Where can you seek the seeker? How can you know the knower? It was like a dog chasing its own tail or you chasing your own shadow; you cannot catch hold of it. It was so ridiculous, the whole effort was so absurd! That's why I am laughing: I have always been a buddha! Now it looks very strange that for millions of lives I remained unconscious. It seems unbelievable how I went on missing myself. Now that I have known, a great laughter is arising in me."
And it is said he continued to laugh till his death; that was his only message to the world. He must have been a man like Indivar -- just crazy, far out!
Next: Chapter 2: Many are called; few are chosen, Question 2
Energy Enhancement Enlightened Texts Dhammapada The Way of the Buddha, Vol. 6
Chapter 2:
Dhammapada, Buddhism, Buddha. The Dhammapada: The Way of the Buddha, Vol. 6, Chapter 2: Many are called; few are chosen, Question 1, I AM CONFUSED ABOUT WHICH PATH I AM ON. SOMETIMES I FEEL FILLED WITH JOY WHEN PLAYING, SINGING, DANCING OR FIGHTING WITH OTHERS AND I CAN ONLY SEE MYSELF BY LOOKING AT OTHERS. AT OTHER TIMES I CAN'T STAND TO BE WITH ANYONE OR RELATE AT ALL; I AM ONLY HAPPY BEING COMPLETELY WITH MYSELF. WHEN I AM WITH PEOPLE, I JUDGE THAT I AM ESCAPING MY ALONENESS AND WHEN I AM WITH MYSELF, I JUDGE THAT I AM AVOIDING LOVE. ISN'T IT POSSIBLE TO BE ON BOTH PATHS, ALTERNATING BETWEEN THEM? HOW CAN I TELL WHEN I AM USING ONE TO ESCAPE THE OTHER? at energyenhancement.org




Dhammapada, Buddhism, Buddha. The Dhammapada: The Way of the Buddha, Vol. 6, Chapter 2: Many are called; few are chosen, Question 2, CAN SOMEONE WHO IS NOT OPEN WAKE UP? at energyenhancement.org




Dhammapada, Buddhism, Buddha. The Dhammapada: The Way of the Buddha, Vol. 6, Chapter 2: Many are called; few are chosen, Question 3, LET US SEE YOU GET OUT OF THIS ONE, YOU TRICKY RASCAL! YOU TELL US OFTEN THAT SANNYAS DOES NOT MEAN RENOUNCING THE WORLD, BUT THE EGO. YET WHEN WE DECIDE TO STAY WITH YOU WE END UP RENOUNCING OUR HOMES, JOBS, MONEY AND POSSESSIONS; OUR PRIVATE SPACE, SOMETIMES OUR FAMILY AND FRIENDS TOO. WE DON'T MAKE ANY FORMAL RENUNCIATION, BUT IT HAPPENS ANYWAY, AND WE FLOURISH AND ARE PERFECTLY HAPPY. YOU ARE SO DEVIOUS, IT IS BEAUTIFUL! at energyenhancement.org




Dhammapada, Buddhism, Buddha. The Dhammapada: The Way of the Buddha, Vol. 6, Chapter 2: Many are called; few are chosen, Question 4, I HAVE MANY FRIENDS, BUT THE QUESTION: WHO IS A REAL FRIEND? ALWAYS ARISES IN MY MIND. WILL YOU SAY SOMETHING ABOUT IT? at energyenhancement.org




Dhammapada, Buddhism, Buddha. The Dhammapada: The Way of the Buddha, Vol. 6, Chapter 2: Many are called; few are chosen, Question 5, WHY ARE THOUSANDS OF PEOPLE FROM ALL OVER THE WORLD COMING TO YOU? at energyenhancement.org