OSHO
Dhammapada-Buddhism-Buddha
THE DHAMMAPADA: THE WAY OF THE BUDDHA, VOL. 6
Chapter 2: Many are called; few are chosen
Question 2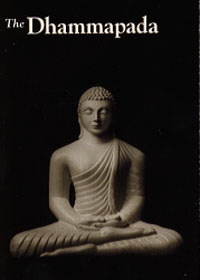 Energy Enhancement Enlightened Texts Dhammapada The Way of the Buddha, Vol. 6
The second question:
Question 2
BELOVED MASTER,
CAN SOMEONE WHO IS NOT OPEN WAKE UP?
Deva Ashoka, it is impossible to wake up if you are not open. Opening to existence is what waking up is all about: open to the sun, to the moon, to the rain, to the wind, open to this whole celebration of the trees, of the rocks, the earth and the stars, of animals, birds, people. Existence is a celebration, a continuous festival, a carnival. If you are not open, if you are closed, if you don't have any windows and doors towards existence, how can you wake up? Waking up and being open are synonymous.
People remain closed in their minds. They never come out of their minds and they never allow reality to penetrate to their hearts. A very transparent China Wall divides them from the world. And the world is divine, existence is God. And why do people remain closed? -- they are afraid, afraid of being open, because when you are open you are insecure, unguarded. When you are open you are vulnerable. When you are open you don't know what is going to happen, everything is a surprise. You are moving into the unknown; each moment brings the unknown to your door.
The closed mind is afraid of the unknown; the closed mind is interested in the known. Why? -- because with the known it is easier to manage. The mind knows everything about it, it is clever and efficient about it. But a closed mind is really below normal; it is not yet human. It cannot be intelligent.
Intelligence needs constant challenges, encounters with reality, because only through those encounters is your intelligence sharpened; your potential becomes actual.
Deva Ashoka, it is impossible to remain closed and wake up. You are trying that, I know! But it is not possible in the very nature of things. I feel deep compassion for you. I want to help you, but you won't allow me. You won't allow me to take your hand in my hand. You won't allow my energy to touch your heart, to move it, to bring a dance to it. You remain alert -- you remain alert only to guard yourself. You are afraid, afraid of falling in deep love, because the moment you fall in deep love the ego disappears. It is a kind of death, and one cannot be guaranteed what will happen afterwards.
Resurrection always looks like a myth, although it happens, it is inevitable. If you are ready to die, resurrection happens.
The last words of Jesus were, "Forgive these people, because they know not what they are doing. And I don't ask anything from you: let thy will be done, let thy kingdom come."
This is surrender! This is totally opening up to God: no complaint, no grudge, not even against those who are murdering him. The trust is total; it is because of this fact that the resurrection happens. It may not be an historical fact that Jesus revived after three days, but it is a metaphysical fact. And a metaphysical fact is far more real than an historical fact; it shows something of the depth of human beings. If you can die as an ego, you will be resurrected as a buddha, as a christ.
Come out of your mind, Ashoka! But we go on moving in circles....
The mother took her son to the psychiatrist and complained that he was always thinking about sex.
The doctor drew a square on a piece of paper, looked at the boy and asked, "Son, what comes to your mind when you see this drawing?"
The kid answered, "Looks like a window."
The doc said, "What do you think is going on behind that window?"
"People are behind that window," replied the kid. "They are huggin', kissin' and makin' love."
The doctor drew a circle and asked, "What comes to your mind when you see this?"
The kid said, "That's a porthole."
"And what do you think is going on behind that porthole?" inquired the doctor.
"Ah," said the kid, "There are people behind that porthole with their clothes off, drinking, making love and having a ball."
The doctor said, "Son, would you mind leaving the room? I would like to discuss this with your mother."
The boy got up to leave and as he reached the door he turned around and said, "Hey, Doc, can I have those dirty pictures you drew?"
A closed mind goes on interpreting life, existence, according to one's own prejudices and concepts, unconsciously acquired, and hence remains unavailable to the reality. Even if you come across a buddha, even if you meet Christ or Krishna or Confucius, you will miss. They can talk to you about the ultimate, but you will listen only about the mundane. They will talk about the sacred, but you will not listen to what THEY are saying; you will listen according to your closed mind. It has fixed ideas.
It was the nurse's day off, and the doctor stuck his head into the waiting room to ask, "Who is next?"
One guy got up and said, "Me, Doc."
"What's your trouble?" asked the doctor. So the guy told him. The doctor grabbed him by the arm, pulled him into his office and balled him out: "Never do that again, especially not in a roomful of people. Next time just say that your nose or your eyes bother you."
A couple of weeks went by and the fellow came back. The nurse was off again, and when the doctor asked, "Who is next?" the same guy said, "I am."
The doctor asked, "What is your trouble?"
The guy replied, "My ear's bothering me."
"What is wrong with it?"
"I can't urinate out of it!"
Even great advice is of no use -- you will come to your own conclusion again and again.
Ashoka, that's how you have been missing much that is possible here. Be open -- you have nothing to lose. Be open! Just look: what you can lose if you open up? What have you got? But people go on guarding their emptiness, their nothingness, their begging bowls, so much afraid.
In India we have a story that once a naked man was asked, "We never see you taking a bath."
He said, "I never take a bath, because if you put your clothes on the bank and you go to take a bath in the river, somebody may steal them."
The people who were asking said, "But you are naked! Why should you be worried about the clothes?"
But man is not ready even to see that he is naked. He wants to believe that he has beautiful garments. Who wants to see one's nakedness?
And, Ashoka, you are empty, you are naked. There is nothing to lose. Relax and open. And you have all to gain, you have everything -- the whole universe to gain. Just by waking up one becomes the master; otherwise one remains a slave.
Next: Chapter 2: Many are called; few are chosen, Question 3
Energy Enhancement Enlightened Texts Dhammapada The Way of the Buddha, Vol. 6
Chapter 2:
Dhammapada, Buddhism, Buddha. The Dhammapada: The Way of the Buddha, Vol. 6, Chapter 2: Many are called; few are chosen, Question 1, I AM CONFUSED ABOUT WHICH PATH I AM ON. SOMETIMES I FEEL FILLED WITH JOY WHEN PLAYING, SINGING, DANCING OR FIGHTING WITH OTHERS AND I CAN ONLY SEE MYSELF BY LOOKING AT OTHERS. AT OTHER TIMES I CAN'T STAND TO BE WITH ANYONE OR RELATE AT ALL; I AM ONLY HAPPY BEING COMPLETELY WITH MYSELF. WHEN I AM WITH PEOPLE, I JUDGE THAT I AM ESCAPING MY ALONENESS AND WHEN I AM WITH MYSELF, I JUDGE THAT I AM AVOIDING LOVE. ISN'T IT POSSIBLE TO BE ON BOTH PATHS, ALTERNATING BETWEEN THEM? HOW CAN I TELL WHEN I AM USING ONE TO ESCAPE THE OTHER? at energyenhancement.org




Dhammapada, Buddhism, Buddha. The Dhammapada: The Way of the Buddha, Vol. 6, Chapter 2: Many are called; few are chosen, Question 2, CAN SOMEONE WHO IS NOT OPEN WAKE UP? at energyenhancement.org




Dhammapada, Buddhism, Buddha. The Dhammapada: The Way of the Buddha, Vol. 6, Chapter 2: Many are called; few are chosen, Question 3, LET US SEE YOU GET OUT OF THIS ONE, YOU TRICKY RASCAL! YOU TELL US OFTEN THAT SANNYAS DOES NOT MEAN RENOUNCING THE WORLD, BUT THE EGO. YET WHEN WE DECIDE TO STAY WITH YOU WE END UP RENOUNCING OUR HOMES, JOBS, MONEY AND POSSESSIONS; OUR PRIVATE SPACE, SOMETIMES OUR FAMILY AND FRIENDS TOO. WE DON'T MAKE ANY FORMAL RENUNCIATION, BUT IT HAPPENS ANYWAY, AND WE FLOURISH AND ARE PERFECTLY HAPPY. YOU ARE SO DEVIOUS, IT IS BEAUTIFUL! at energyenhancement.org




Dhammapada, Buddhism, Buddha. The Dhammapada: The Way of the Buddha, Vol. 6, Chapter 2: Many are called; few are chosen, Question 4, I HAVE MANY FRIENDS, BUT THE QUESTION: WHO IS A REAL FRIEND? ALWAYS ARISES IN MY MIND. WILL YOU SAY SOMETHING ABOUT IT? at energyenhancement.org




Dhammapada, Buddhism, Buddha. The Dhammapada: The Way of the Buddha, Vol. 6, Chapter 2: Many are called; few are chosen, Question 5, WHY ARE THOUSANDS OF PEOPLE FROM ALL OVER THE WORLD COMING TO YOU? at energyenhancement.org