Add to Onlywire
Del.icio.us
Digg
Reddit
Technorati
OSHO Dhammapada-Buddhism-Buddha
THE DHAMMAPADA: THE WAY OF THE BUDDHA, VOL. 4
Chapter 8: Meditate a little bit
Question 5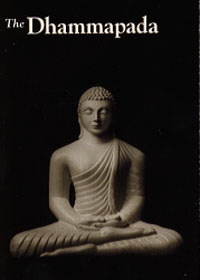 Energy Enhancement Enlightened Texts Dhammapada The Way of the Buddha, Vol. 4
The last question:
Question 5
BELOVED MASTER,
I AM A VERY JEALOUS PERSON, PARTICULARLY AS FAR AS MY WIFE IS CONCERNED. EVEN IF SHE LOOKS AT ANYBODY, I BECOME ENRAGED. WHAT SHOULD I DO?
Gyaneshwar, it has nothing to do with your wife. If the wife is not there you will be jealous about something else.
Remember always: don't be too much concerned about outer causes, because causes are not outside you. Outside are only excuses; causes are inside you. You are full of jealousy; the wife simply functions as an excuse. Don't be too much worried about the excuse, because that is wasting time. Look inside yourself: why are you jealous?
Jealousy means ego, jealousy means unconsciousness. Jealousy means that you have not known even a moment of joy and bliss; you are living in misery. Jealousy is a by-product of misery, ego, unconsciousness.
Forget all about the wife; otherwise you will remain concerned about the wife, and that is a way of escaping from the real cause. The real cause is always inside. And not only about jealousy, remember, about all problems -- greed....
Somebody comes to me and says, "I am very greedy about money. How can I get rid of this greed for money?" It is not a question of money. Greed is greed. If you get rid of money you will become greedy for God; greed will still be there.
The night Jesus was saying goodbye to his disciples, one of the disciples asked him, "Lord, you are leaving us. There is one question, and it is on the minds of all your disciples. In the kingdom of God you will be sitting at the right side of God himself -- obviously, you will be his right hand. And who will be sitting next to you? Amongst us twelve, who will be the second to you? That is the most important thing in our heads. Please say something about it; otherwise, once you are gone it will be impossible for us to decide and we will be quarreling and fighting over it."
Now, this is jealousy. Now, what kind of disciples has Jesus? As far as my observation goes, Jesus was not very fortunate about his disciples. Buddha was far more fortunate. Never in the whole life of Buddha has a disciple asked such a stupid question. And these are the apostles, the twelve apostles -- his messengers to the world!
Remember, if greed is dropped about money, immediately it will take another object, it will become focused on something else. So the first thing to remember: it has nothing to do with your wife, it has something to do with yourself. Forget about the wife completely, keep her out of the problem. She is not the problem, YOU are the problem! Take responsibility, and then things start changing.
If you take the responsibility, if you think, "I am responsible, nobody else," you will not be angry with the wife. You will not be fighting and nagging, you will not be nasty with her. You will start looking deeper and deeper. And in that very search you will become aware. That's what awareness is, that's how one becomes aware.
And when you are fully aware of your jealousy you will be surprised, you are in for a surprise: when you are fully aware of it, it disappears. It simply disappears, not leaving even a trace behind it.
Two men had had enough of the world so they decided to leave their wives, kids and jobs for the peace and quiet of the wilderness. They stopped for supplies at a sporting goods store owned by a wise old man.
"Take this," said the old storekeeper to the renunciates as he handed them a board lined with mink fur, with a small slit cut out in the middle which was also lined with fur.
"No way!" cried the men. "We know what that board is for and I tell you we are through with that kind of thing forever!"
But the wise old man slipped the board into one of the packs while they were not looking, and the men left.
Three years later one of the men returned to the old man's sporting goods store.
"Well, hello!" cried the storekeeper. "Where is your partner?"
"Dead," said the returning survivor.
"What happened?"
"I shot him."
"But why?"
"Well," said the man, "I caught him in bed with my board."
It is not a question of the wife -- even a board will do: "MY board!..." It is a question of the ego, and the ego exists only when you live in an unconsciousness, in a darkness. The ego exists only in the dark night of the soul.
Bring a little light inside. Meditate a little bit. Sit silently, doing nothing, looking inwards. In the beginning you will find only rubbish. Don't be worried -- go on looking. Within three to nine months the rubbish will be gone, and a silence will start dawning on you and a stillness will arise.
In that stillness you will become aware of yourself and of the whole that surrounds you. That state is samadhi, and to know it is to know all, to be it is to be all.
Enough for today.
Next: Chapter 9: Awake to the law
Energy Enhancement Enlightened Texts Dhammapada The Way of the Buddha, Vol. 4
Chapter 8