Add to Onlywire
Del.icio.us
Digg
Reddit
Technorati
OSHO Dhammapada-Buddhism-Buddha
THE DHAMMAPADA: THE WAY OF THE BUDDHA, VOL. 4
Chapter 8: Meditate a little bit
Question 4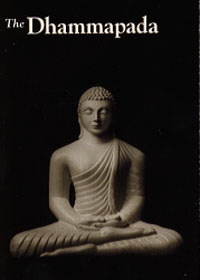 Energy Enhancement Enlightened Texts Dhammapada The Way of the Buddha, Vol. 4
The fourth question:
Question 4
BELOVED MASTER,
"HE HAS TAMED HIS HORSES...." YES! BUT HOW TO DO IT? WHAT IS THE WAY TO TAME THEM? I EITHER CONTROL, REPRESS AND STOP MYSELF, OR I AM LED BY MY SENSES AND DRIVEN BY MY "ANIMAL." WITH BOTH I FEEL NOT AT EASE AND I CONSTANTLY MOVE FROM ONE SIDE, REPRESSION, TO THE OTHER -- DRIVEN.
HOW TO COME OUT OF THIS TRAP? IS WATCHING AND AWARENESS ALL THERE IS TO DO?
Prem Sohan, do you think watching and awareness is a small thing? You ask me, "Is watching and awareness all there is to do?"
Just do it! -- and you will know that nothing is left to be done anymore. Don't philosophize about it, don't go on thinking about it. Of course, the word 'awareness' does not seem very big. And if you look in the dictionary the meaning is there: it is not so fantastic, it is not that far out.
You know your problems existentially, and you know the solution only intellectually -- that is the problem. You will have to know your solution also existentially. Awareness contains all the religions of the world, all the scriptures of the world, all that has ever been said by all the enlightened people. This simple word contains all; it is like a small key. Don't throw it "... because it is so small -- how can it open the doors, all the doors of the great palace?" It is a master key! And keys are not that big; you don't have to carry them in trucks, you can keep the key in the pocket. It is just a small thing, but it can unlock great doors, many doors. If it is a master key it can unlock all the locks.
Awareness is the key.
You say, "How to tame...? I either control, repress and stop myself, or I am led by my senses and driven by my 'animal'."
Yes, these are the two alternatives if you don't attain to awareness. Either you will repress and control -- which is ugly, which will make you unnatural, which will make you ill at ease with yourself, which will drive you ultimately into a kind of insanity... because you are repressing your own energies, which need to be transformed, not repressed. And energies repressed are dangerous; they will explode.
And your senses have their own aliveness. If you repress them you will become dull, you will become insensitive. You will become insensitive to beauty, to joy, to music, to poetry, to all that has any intrinsic value.
That's why your so-called monks, your mahatmas, your saints, are utterly insensitive. They can't see any beauty anywhere, they can't see any joy anywhere. And if you live with them for a few days you will know they are joy-killers; they will destroy your joy also, they will make you embarrassed if you are happy. They will ask such questions as, "Why are you happy? What is there to be happy about in this life? Life is misery! Why are you laughing and giggling? What is there to laugh about? Crying is okay, tears are accepted -- they are religious. But giggling? -- that is not religious."
Just the other day one person has written to me, "You must be the first enlightened one who is telling jokes." Yes, that is true -- at least I can claim that much originality! Otherwise it is very difficult to claim any originality in this world; there is nothing new under the sun. For millions and millions of years man has existed and thousands and thousands of enlightened people have existed; they have done almost everything that can be done. I was really searching what to do -- something new! Then I stumbled upon jokes. I said, "This is right!"
If you repress you will become humorless, you will lose all sense of humor. Your saints cannot laugh, and a man who cannot laugh is not a man; he becomes subhuman. Horses don't laugh, buffaloes don't laugh, donkeys don't tell jokes to each other. Laughter is absolutely human; no other animal laughs. And if one morning, just going for a walk, a donkey suddenly starts laughing, you will go crazy! You will not even be able to report to anybody that this has happened; they will think that you are mad.
It is man's privilege to laugh. Laughter has something divine about it; laughter has something which is available only to man. Only man can laugh, because he can sense the absurd, the ridiculous; because he can see through and through, and he can see all around such stupidity pretending to be wise, fools pretending to be intelligent, intellectual -- the intelligentsia.
Never repress. Repression will destroy all that is human in you. And once the human is destroyed you cannot attain to the divine, because humanness is the bridge.
Man is a bridge between the animal and the divine. And the animal is also beautiful because the animal has aliveness. That is exactly the meaning of the word 'animal'. It comes from 'anima' -- aliveness, life, vitality. Your saints become nonvital because they destroy the animal. They don't tame it, they destroy it -- to destroy they find easier.
Taming needs art, it needs great art. To kill a tiger is simple. To ride on the tiger and come back home... it is dangerous and it is arduous and it needs great art. And so is the case with all your senses: they have their own sensitivity, a little intelligence of their own. Have you observed it? -- that your senses have their own intelligence, their own small minds.
You are asleep and a cockroach starts crawling -- what else in India? -- a cockroach starts crawling up your leg, and you remain asleep and the leg simply throws the cockroach away. The leg has its own intelligence, its own built-in alertness; it functions on its own. Your sleep remains undisturbed. You eat -- your stomach must have its own intelligence; otherwise it is a very complicated process to digest, to transform bread into blood. Scientists have not yet been able to do it mechanically. They have not been able to create machines which can transform bread into blood. Your stomach must have an intelligence of its own -- and it does not ask you at all. Once you have taken anything down the throat you forget all about it; now it is up to the stomach to do the whole work. And the work is really complicated, immensely complicated: sorting out different elements, sending those different elements to different parts of the body....
You have wounded your hand. Immediately your hand, your blood circulation, your body starts a healing process. Your mind is not needed at all.
Remember that forcing your senses into some repressed state will take your vitality. You will not be fresh, you will not be young, you will not be flowing. That's what has happened to humanity at large: because of wrong religious teachings, people have become dull, stupid.
There is one woman in Soviet Russia who can read with her fingers -- and not braille; she can read ordinary books with her fingers, with closed eyes, blindfolded. She says that she can see through the fingers. There are people whose fingers are so sensitive, by touching you they will know much about you that even you may not be aware of. Just shaking hands with you they know much about you. Your hand gives them a kind of information: whether it is cold or warm, friendly or unfriendly, or indifferent. A sensitive person, just by shaking hands with you, has already become aware of many things about you, has already known much about you.
Each sense has its beauty and has to contribute to your intelligence. So please, don't repress, don't control.
While rambling along the railroad tracks, Isaac found twenty dollars. He walked a little further and felt his corns pinch. "Feet," he said, "I'm gonna buy you a brand-new pair of shoes."
He continued his walk, but soon felt the hot sun on his forehead. "Old top," promised Isaac, "I'll get you a cool, shady hat."
Just then Isaac's stomach grumbled. "Okay, belly," he said, "I will buy you a fine meal."
Isaac resumed his journey. Five minutes later, he stopped in shock. He looked downward at the front of his pants and hollered, "Hey, big stiff, who told YOU we came into big money?"
Each sense of the body has its own intelligence. No sense has to be curtailed; each sense has to be given freedom joyously. Each sense has to be nourished in its aliveness. Only then will you know that all your senses create an orchestra, a great melody.
But I understand your trouble; this is the trouble of almost everybody in the world. Either you control or you start indulging, and you don't know how to remain exactly in the middle. Indulgence is also destructive. Repression is destructive, indulgence is destructive -- because these are two extremes. One fasts for many days; he is trying to control, repress his hunger, his body's needs. Another eats too much, goes on stuffing.
It is said that Nero used to have four physicians always around him because he was a lover, a mad lover, of food; he was obsessed with food. He would eat too much, and the physicians' work was to help him vomit so that he could eat again. And this he would do many times in the day. Otherwise you can eat only once, if you live in a primitive, aboriginal part of Africa... because for centuries they have eaten only once, and that is enough. If you live in India you will eat twice, if you live in America five times. But Nero was eating sometimes even twenty times a day. Now, this is indulgence, mad indulgence! This is again going to dull your senses. His belly must have been going berserk, his body must have been feeling a kind of insanity.
One has to be in the middle, the golden mean. That is Buddha's teaching.
There is a beautiful story in Buddha's life:
He came to Shravasti, one of the greatest cities of those days. It must have been something like the Paris of India of those days, because its beauty is described so much in the scriptures. And Buddha also must have loved the town very much, because in his forty-two years' teaching he came at least twenty times to Shravasti; that is the most times he ever visited any place. Sarnath he visited only once -- because of the mosquitoes. Sarnath has really big mosquitoes; Poona mosquitoes are nothing, Poonaites are nothing!
When I was staying with a Buddhist monk in Sarnath, we had to sit behind a mosquito net the whole day -- he in his bed, I in mine -- and we had to talk.... I told him, "This is my first and last visit. I am not coming back again to Sarnath."
He said, "Do you know, Buddha himself never visited twice."
I had not known that. I said, "You tell me...."
He said, "Yes, he came here only once -- to Shravasti twenty times, Sarnath only once. What is the reason?" And we joked.
I said, "The reason is clear: he didn't have mosquito nets. In the first place, these mosquitoes must have tortured him. And these are really monsters, not mosquitoes -- very big ones! Poor Buddha must have escaped!"
He only remained one day there. Shravasti he went to twenty times; he stayed twenty rainy seasons in Shravasti. Now Shravasti has almost disappeared; a small village is thought to be where Shravasti used to be. It was a big city -- ten lakhs of people -- one of the most beautiful in the country.
And the king of Shravasti was Shrona. He must have loved beauty; he made the city so beautiful -- beautiful lakes and roads and palaces. And he invited all kinds of artists, musicians, poets -- his court was full of talented people. He had the most beautiful women around him. He lived in utter luxury. His days were spent moving from one pleasure to another. Naturally, soon he got fed up, tired, wearied.
And then Buddha came. He was feeling so bored with life, this Shrona, that he went to listen to Buddha -- maybe he has something to say. He was feeling so meaningless, so utterly meaningless, that he had started lately to contemplate suicide. Seeing Buddha and his divine beauty, his grace -- and Shrona was a very aesthetic person -- seeing Buddha he immediately fell in love with him.
He didn't go back to his palace. He asked Buddha with folded hands, "Give me sannyas. Initiate me."
Buddha hesitated a little bit because he knew everything about Shrona and his life; it would be difficult for him. He may not have tasted water for years; alcohol was the only thing that he used to drink. He had indulged so much that for a moment Buddha was hesitant.
But Shrona said, "Don't hesitate. I am fed up with my life, I am finished with it! If you don't give me sannyas I will commit suicide -- and that will be your responsibility!"
My own observation is also this: that a man really becomes a sannyasin when he comes to the point where there are only two possibilities: either suicide or sannyas.
Buddha had to initiate him immediately, because he did not want to be responsible for his suicide. But what Buddha had not expected started happening. Shrona became just the opposite of what he had been up to now. Up to now he had been absolutely indulgent in everything, in every possible thing. Now he became a great ascetic, so much so that he started torturing his body, he became a masochist. He would lie down on thorns, he would stand in the hot sun. He would not live as other sannyasins were living -- moderately, balanced, the life of the golden mean. No, he moved to the other extreme. Within six months it was impossible to recognize him, he had become so thin, so dark. He was a beautiful person; he had become ugly. He was starving himself. Buddhist sannyasins used to eat once a day and he used to eat only thrice a week, and that too, so little!
It happens: people can move to the extreme very easily. Mind lives in extremes -- from one extreme one can jump to the other extreme very easily. The most difficult thing is to remain in the middle, because to remain in the middle you will need awareness. Moving from one extreme to the other you don't need awareness. You were unconscious before as an indulgent person, now you are unconscious as a great ascetic. First you were stuffing yourself with food and you were unconscious, now you are starving yourself and you are unconscious.
The man of consciousness stays in the middle: neither too much nor too little. He always gives to the body what is needed, to the mind what is needed. His life has a very very rhythmic quality to it. He responds to his requirements very consciously, responsibly, but he does not go in an insane manner this way or that.
After six months Buddha had to go to him. Shrona had wounds all over the body because he was lying down on thorns. He was stinking because he had stopped taking baths; he thought that too was luxury....
In India, Jaina monks don't take any baths, they don't clean their teeth, because that is thought to be too materialistic -- you are decorating the body. It is very difficult to talk to Jaina monks. They used to come to me before, but fortunately they no longer come here. It was so difficult to talk to them because their breath smell is simply unbelievable, their body odor is intolerable! But that is thought to be a great renunciation.
Buddha went to see Shrona. He was ill, with wounds all over the body, almost dying. Buddha asked him one question: he said, "Shrona, I have come to ask one question of you. I have heard that when you were a king you used to play beautifully on the sitar. You were a great lover of the sitar and you had practiced your whole life."
Shrona said, "Yes, that is true."
Buddha asked him, "So I have come to ask you one thing: if the strings of the sitar are too loose, will there be any music?"
Shrona said, "No, how can there be any music? If the strings are too loose, music cannot be created."
Buddha said, "Then if the strings are too tight, will there be any music?"
Shrona said, "No, that too is not possible. If the strings are too tight, they will be broken."
Buddha said, "Then tell me, when is music possible?"
Shrona said, "There is a point exactly in the middle when you cannot say the strings are loose and you cannot say the strings are tight. It is a great art to bring the strings to that middle point -- exactly in the middle, neither leaning to this side nor to that; no leaning at all, exactly in the middle."
Buddha stood up and he said, "Shrona, I have nothing else to say. I just came to remind you that life follows the same law. Be in the middle. You have moved from a too loose life to a too tight life. That's why you are not attaining to the music called nirvana, the music called meditation."
Prem Sohan, that exact middle cannot be found without awareness. And don't say, "Is watching and awareness ALL there is to do?"
Yes, it is all. It is more than you need, more than you will ever need. It will fulfill all your needs. It will teach you how not to repress and how not to indulge. It will make you so alert that you will be just a witness. And when one is just a witness of one's senses, one enjoys and yet one remains above. One becomes a lotus leaf, in the water and yet untouched by the water.
Next: Chapter 8: Meditate a little bit, Question 5
Energy Enhancement Enlightened Texts Dhammapada The Way of the Buddha, Vol. 4
Chapter 8