Add to Onlywire
Del.icio.us
Digg
Reddit
Technorati
OSHO Dhammapada-Buddhism-Buddha
THE DHAMMAPADA: THE WAY OF THE BUDDHA, VOL. 4
Chapter 8: Meditate a little bit
Question 2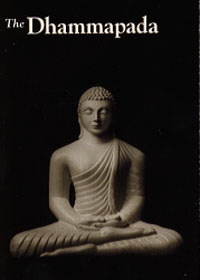 Energy Enhancement Enlightened Texts Dhammapada The Way of the Buddha, Vol. 4
The second question:
Question 2
BELOVED MASTER,
WHY ARE THE FRAUDS WORSHIPPED BY PEOPLE, AND PEOPLE LIKE JESUS, BUDDHA AND SOCRATES CONDEMNED, STONED AND KILLED?
Saroj, the buddhas have always been condemned by the ordinary masses, but the ordinary masses are not responsible for it. They are unconscious. We cannot make them responsible for it. They can't help it -- they are fast asleep. And the buddhas disturb their sleep; the buddhas make every possible effort to wake them up. Nobody wants to be disturbed in one's sleep, and one may be having beautiful dreams, sweet, nice dreams....
People want to remain unconscious. Consciousness is unknown to them and they are naturally afraid of the unknown. With the known they are secure, safe, and everybody else is just like them.
When buddhas happen, they create a great disturbance. They cannot help it, either. When they become awakened they come to know such bliss, such silence, such heights of ecstasy, such orgasmic joy, that it starts overflowing, that great compassion arises in them. They can see people moving, walking in sleep; they start shaking them, shocking them.
So it is an absolutely natural phenomenon. People become angry because you are disturbing their dreams -- their anger can be understood. Buddhas become compassionate -- they cannot help it. When you are blissful, compassion comes as a shadow, it follows you. Out of their compassion, they start waking people up. Naturally there arises a conflict.
And the people simply want not to be disturbed. They don't want awakening, they want opium. It feels very good; at least it keeps them unaware of the real problems of life.
Buddhas know it perfectly well, that trying to wake people up is getting into danger. But it is worth it.... And because they now know they are indestructible -- they have come to know the eternal in themselves, what can the people do? They can crucify -- let them crucify. The body is going to die anyway. They can torture, but the torture cannot reach to the buddhas. The suffering remains on the outside, it cannot come in. The buddhas remain alert, watchful, witnessing. Everything is outside; nothing can penetrate into their innermost core.
So they don't feel that they should avoid waking people up, disturbing people. The moment they become awakened they rush to the masses. When they were not awakened they went to the forests, to the mountains, to some place where they could be alone. All the buddhas -- Jesus, Mohammed, Mahavira, Gautama -- they all went into solitude. They avoided the masses when they were themselves asleep. But the moment they became awakened, the moment they saw the beauty and the benediction of life, the moment they saw the eternal beauty of existence, they rushed back to the marketplace -- all of them -- to give the message to the people, because the people are starving for spiritual food, although they are not aware that they are not nourished. Their souls are asleep; they are alive but not really alive.
And when buddhas speak to these people they bring a totally new kind of language. People cannot understand it. They can only misunderstand it -- they are bound to misunderstand it, it is so new!
Jacobs went into Levine's clothing store to ask the price of a suit on display in the window.
"You picked the best suit in the place," said Levine, "and to show you that I like to do business with a man who has got such good taste, I am gonna make you a special proposition. I will not ask you one hundred dollars for the suit. I will not ask you ninety. I will not ask you seventy. Sixty dollars is the price for you, my friend."
Jacobs replied, "I won't give you sixty, I won't give you fifty. My offer is forty."
"Sold," said Levine. "That's the way I like to do business -- no chiseling."
People have a certain language -- their language. Buddhas speak a totally different language; it comes from a different plane. People live in fear; buddhas live in freedom. People live in misery; buddhas live in ecstasy. How can they communicate? Communication is impossible.
Lanagan, aged eighty-eight, was on his deathbed and Father Feeney was trying to administer the final blessing.
"Open your eyes," said the father, "we have got to save your immortal soul."
Lanagan opened one eye, closed it, and tried to doze off. He was having a nice sleep. "Come on, now!" cried the priest. "If you don't want to go to confession, at least answer me this: do you renounce the Devil and all his works?"
"Well, I don't know, Father," said Lanagan opening his eyes. "At a time like this it ain't smart to antagonize anybody!"
The people want to be left alone -- don't disturb them. But buddhas are bound to disturb them. If somebody is responsible then buddhas are responsible, because they are conscious people. And I say it on my own authority: if people are against me, the responsibility is mine, not theirs -- they are doing the natural thing. But what can I do? I am also doing the natural thing -- but we exist on different planes.
And this struggle is bound to continue forever.
Three explorers -- a priest, a businessman, and a Sufi -- were passing through a dangerous jungle. As the days went by, the number of hostile wild beasts who circled around them became larger and larger. Eventually they had to take refuge in a tree.
After a council of war they decided that one of them should go for help, since if they stayed as they were, fear, hunger and fatigue would eventually force them to fall into the jaws of the ravenous beasts.
But they could not decide who should go. "Not me," said the priest, "for I am a man of God, and I should stay to comfort whoever is left behind."
"Not me," said the businessman, "because I am paying all the expenses of the trip."
The Sufi said nothing, but suddenly pushed the priest off his branch. He fell to the ground, and immediately a fierce pack of hyenas picked him up, fought off all the other animals, and placed him reverently on the back of the largest of their number. Then, guarding him carefully, they escorted him towards safety.
"A miracle!" cried the businessman. "After your cruelty, divine guidance has intervened to save that good man. I am, from this moment on, converted to a good and holy life."
"Steady on," said the Sufi, "for there is, after all, another explanation."
"What other explanation can there possibly be?" shouted the businessman.
"Simply this: that it takes one to know one," said the Sufi, "and the smallest always recognize their leader and honor him...."
Saroj, you ask me, "Why are the frauds worshipped and buddhas tortured?"
The frauds are understood easily; they speak the same language as the people. The frauds are understood because the frauds are serving people in their sleep, they are offering them opium. The frauds are understood, respected, worshipped, because the frauds are not a disturbance -- not at all.
P.D. Ouspensky has dedicated his great book -- one of the greatest ever written, IN SEARCH OF THE MIRACULOUS -- to his master, George Gurdjieff, with these words: "To my master, George Gurdjieff, who disturbed my sleep forever."
Next: Chapter 8: Meditate a little bit, Question 3
Energy Enhancement Enlightened Texts Dhammapada The Way of the Buddha, Vol. 4
Chapter 8