Add to Onlywire
Del.icio.us
Digg
Reddit
Technorati
OSHO Dhammapada-Buddhism-Buddha
THE DHAMMAPADA: THE WAY OF THE BUDDHA, VOL. 4
Chapter 6: Is this the way it is?
Question 5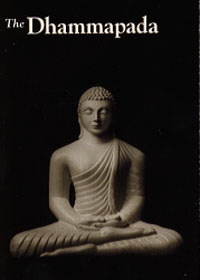 Energy Enhancement Enlightened Texts Dhammapada The Way of the Buddha, Vol. 4
The fifth question:
Question 5
BELOVED MASTER,
I hear the Indians bragging too much about their spirituality. What do You say about it?
Sahajo, Indians have nothing else to brag about! Forgive them, be compassionate to them. They don't have money, they don't have big houses, they don't have big cars, they don't have anything of science, technology. It is very difficult for them to maintain their ego; spirituality is their shelter. And spirituality is a commodity. You can brag about it very easily because nobody can prove that you don't have it, neither can you prove that you have it. It is so invisible that either you accept it or you don't accept it -- but you cannot prove it.
And why particularly, spirituality? It sometimes happens that if you are very greedy you will pretend just the opposite, because that is the only way to hide the greed. If you are a very angry person, you may pretend to be very polite, compassionate, loving, because that is the only way to hide your anger. If you are obsessed with sex, you may start talking about BRAHMACHARYA -- celibacy. The opposite is the way to hide it.
The Indian mind is utterly materialistic, and the only way to hide it is to talk about, brag about, spirituality. Yes, there have been a few people in this country -- a Buddha, a Mahavira, a Patanjali, a Krishna -- who were utterly spiritual. But such people have been everywhere! Heraclitus, Pythagoras, Socrates, Plotinus, in Greece -- the same type of people, the same quality, the same fragrance. Lao Tzu, Chuang Tzu, Lieh Tzu, Mencius, in China -- the same perfume. Christ, Eckhart, Francis, Bohme -- the same dimension. Spiritual people have been everywhere; it is nobody's possession. But Indians brag about it, I know.
Sahajo, I can understand your question, because what you see all around is just the opposite. That's why they brag about spirituality. Each Indian thinks that just by being an Indian he is a Buddha. It is not so easy to be a Buddha! And Buddha has nothing to do with being an Indian.
In fact, Buddha was not an Indian, he was a Nepalese. He was born on the border of India and Nepal; in fact, now that part is in Nepal. And the statue of Buddha that you see does not look like a Nepalese, or does it? It is not a true statue. It does not look like Bahadur! Nepalese are closer to Chinese, Tibetans, Japanese -- the Mongol type. Buddha's statue does not look like a Nepalese, not at all.
The statues were not made at the time of Buddha nor when he died. The statues were made five hundred years later. And you will be surprised to know, they were made in imitation of Alexander the Great. Alexander had come to India by that time, and he had a beautiful face, the Greek features. The statue of the Buddha is Greek! The man himself was Nepalese; the statue is Greek.
And all the scriptures that you read about Buddha are not original. Some have been translated from Tibetan, some from Chinese, some from Japanese. The originals were destroyed by the Hindus -- and now the same Hindus go on proclaiming that they are the inheritors of Buddha. Buddhists were killed by the Indians!
A time came after Buddha's death, after seven or eight hundred years, when all the Buddhists either were killed or they had to escape out of India. India was completely cleaned of Buddhists. Yes, they were killed, burned alive. Those who were fortunate escaped. In a way that was a blessing, because the people who escaped, the monks, they escaped to Tibet, to China. Those who were not too much afraid, they escaped to Tibet -- Tibet was very close. Those who were very much afraid went to China, to Mongolia, to Korea, to Taiwan, they simply never stopped, they went on and on! That's how the whole of Asia was converted to Buddhism. The whole credit goes to the Hindus. And now these same Hindus go on claiming that, "We have given birth to Buddha." Feel ashamed!
But India is poor and very materialistic. Poor people cannot be otherwise; a poor person is bound to be materialistic, grossly materialistic. But then where to feed one's ego? India has nothing else to brag about. Spirituality is a good commodity -- invisible, unprovable. Anybody can say, "I have experienced God." You cannot disprove it. Maybe he is right, maybe he is not right, but it is beyond proof this way or that.
But don't be worried about these stupid people who go on talking about spirituality, not knowing even the ABC of it. Yes, they may know something about the Vedas and the Upanishads. They may have crammed a few sutras, they may repeat them parrotlike, but they don't understand what they are saying -- because their lives belie it.
"Excuse me, sir," said the Indian, "but aren't you the gentleman that fetched my son out of the lake yesterday?"
"Why, yes, I am," said the embarrassed rescuer. "But that's alright -- let's just say nothing more about it."
"Say nothing about it?" shrieked the Indian. "Indeed, man, where is his cap?"
He is not even grateful! He has not come to say thanks to the person that, "You have saved the life of my child." He is worried about the cap....
A Mexican, an Italian and an Indian were discussing what they would do if they awoke one morning to discover that they were millionaires. The Mexican said he would build a bullring.
The Italian said he would hire thirty hookers -- one for each night of the month.
The Indian said he would go to sleep again and see if he could make another million.
If you watch the Indian mind, it IS materialistic. And it is not that it is materialistic only today -- it has always been, because twenty-five centuries ago Buddha was telling people not to be materialists, and he was talking to the Indians. And even before Buddha, almost twenty-five centuries before Buddha, Parshvanath was telling Indians not to be materialists.
India has given the greatest materialist philosophy to the world: the philosophy of the Charvakas. The Greek philosopy of Epicurus is nothing compared to the philosophy the Charvakas have given to the world. The word CHARVAKA is significant; it comes from CHARUVAK. Charuvak means sweet message, beautiful message. Another name of the philosophy of the Charvakas is LOKAYAT. Lokayat means popular; in which the majority of the people believe.
Maybe it is because of the Indian materialism that a Buddha, a Mahavira, a Parshvanath, a Neminatha, were possible. When people are too materialistic, a few intelligent people are bound to get bored by the whole thing. It becomes nauseating, it becomes sickening! Life works in a very strange way: when the society is materialistic, a few avant-garde people start becoming spiritualists.
Now the West is very materialist, and a great longing for spirituality is arising there. That's why you have come here. You don't see many Indians here. They believe they already know. They believe they have nothing to do -- no more research, no more inquiry. And they have become very cunning. Poor people are bound to become cunning.
Poverty is the root cause of all sins, of all crimes. So they start learning devious ways. They start becoming hypocrites: they say one thing, they do another thing. They start learning how to wear masks. You can see it, not only in the ordinary people, but in the so-called leaders and saints, political and religious. You will not find such hypocrites anywhere else.
An airplane crossing the Atlantic ran into engine trouble. After dumping all the baggage to lighten the load, the pilot informed the passengers that three people would have to jump in order to save the rest.
"We need three volunteers," announced the pilot.
Immediately an Englishman left his seat, shouted, "God save the Queen!" and jumped out.
In a little while a Frenchman got up and said, "Long live France!" and took the plunge.
Five minutes later an Indian politician in pure snow-white, handspun clothes, stood up, screamed, "Long live Mahatma Gandhi!" and threw a Mexican out the door.
Next: Chapter 6: Is this the way it is?, Question 6
Energy Enhancement Enlightened Texts Dhammapada The Way of the Buddha, Vol. 4
Chapter 6