Add to Onlywire
Del.icio.us
Digg
Reddit
Technorati
OSHO Dhammapada-Buddhism-Buddha
THE DHAMMAPADA: THE WAY OF THE BUDDHA, VOL. 4
Chapter 6: Is this the way it is?
Question 1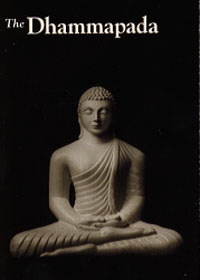 Energy Enhancement Enlightened Texts Dhammapada The Way of the Buddha, Vol. 4
The first question:
Question 1
BELOVED MASTER,
IT SEEMS TO ME THAT BEING HERE WITH YOU MEANS TO LET GO OF EVERYTHING -- NOT ONLY THE MISERY, FEAR, SADNESS AND THE SO-CALLED NEGATIVE SPACES, BUT ALSO THE HAPPY, LOVING, FLOWING FEELINGS, THE SO-CALLED POSITIVE SPACES THAT HAVE ALWAYS BEEN MY GOAL. BELOVED MASTER, IS THIS THE WAY IT IS?
Anand Hareesh, the positive and the negative, the night and the day, the summer and the winter, birth and death -- they are not separate. If you want to let go of one, you will have to allow the other also to go.
That is one of the greatest dilemmas: people want the positive to remain with them -- but if the positive remains, the negative remains as its shadow. The positive will not have any meaning without the negative. If you don't know what darkness is you will not be able to see light at all. If you want to see light you will have to be ready to experience darkness too. You cannot avoid death if you cling to life. It is life that brings death in.
And everybody wants to cling to the positive spaces and everybody wants to avoid the negative spaces. This is impossible -- this is against the eternal law.
If you watch carefully you will see that if the negative is torturing you too much then the positive is only a cover-up. What do you mean when you say that you are happy? You simply mean that "At this moment my unhappiness is covered up." What do you mean when you say that "Now I am relaxed"? It simply means that the tensions have gone deeper into the unconscious; now you are oblivious of them.
But sooner or later they will assert, sooner or later they will have their own time. You cannot remain with the positive forever. The negative and positive always balance each other: you will have as much happiness as you are ready to have unhappiness.
Hence one of the mysteries: the more affluent a society is, the more miserable it is. There is no other country more miserable than America, for the simple reason that America has now the highest peak of happiness; it cannot avoid the lowest depth. The peaks are possible only with valleys -- the higher the peak, the deeper the valley.
In India people feel very satisfied. The reason is they don't know the peaks of happiness; hence they don't know the valleys of unhappiness. They live more or less on neutral ground, neither positive nor negative. This is not true contentment, this is simply absence of positive spaces -- hence the negative spaces are also absent.
America is really in a mental torture, in a great psychological upheaval. No society has ever been in such a state. Individuals, of course, have been.
Gautam Buddha was the son of a king. He had all the joys -- that's why he became aware of the misery of life. It is not accidental that all the twenty-four TIRTHANKARAS of the Jainas were kings. Buddha was a king, Rama and Krishna were kings, all the Hindu AVATARAS were kings. There is something in it, something very fundamental. Why have beggars not become tirthankaras, avataras, buddhas? For the simple reason that they don't know what happiness is -- how can they be aware of the misery of life?
Buddha says: Life is DUKKHA -- pure misery. Only a buddha can say it because he has known the peaks. Knowing the peaks is simultaneously becoming aware of the valleys. If you live intensely, passionately, you will be more aware of death than the person who lives in a lukewarm way, who lives only so-so, who is not intense and passionate in his life. He cannot be very alert about death. The deeper you plunge into life, the greater will be your awareness of death. The positive and the negative continuously balance each other.
The Indians have played a trick upon themselves. They have become neutral: "Don't go to the heights of joy; that is the way to avoid the depths of misery, pain, sorrow." But this is not true revolution. True revolution is not by becoming indifferent, by becoming lukewarm, by living a very very dull life. Real revolution happens through transcendence.
These two words have to be understood because the difference is very delicate and subtle: 'indifference' and 'transcendence'. Indifference simply means you avoid the positive to avoid the negative. Transcendence means you avoid nothing, neither the positive nor the negative. You live the positive in its totality and you live the negative in its totality, with a new quality -- and that quality is that of a witness. You live totally but at the same time you remain silently alert, aware.
You know happiness surrounds you but you are not it; you know unhappiness surrounds you but you are not it. You know it is day but you are not it, and you know it is night but you are not it. You know now you are alive but you are not it; then when you will be dying you will know you are not it. This is transcendence.
NETI, NETI -- neither this nor that -- is the secret formula of transcendence: neither positive nor negative. But it does not mean NOT to live the positive and the negative. If you avoid living you will become dull, very dull; you will lose all intelligence.
That's the difference between the old sannyas and my new vision of sannyas. The old sannyas teaches you indifference, neutrality: "Don't go to the heights so you need not fall into the depths." Simple mathematics! "Don't be happy, then you will not be unhappy." How can you be unhappy if you have never been happy? "Don't rejoice, then there will be no sorrow, and don't laugh, then tears will not be possible." This is simple mathematics, but not the truth of transcendence, not the truth of real sannyas.
The real sannyas means: laugh deeply, but remember you are not the laughter; and cry and weep deeply, let the tears flow, be total in it, and yet alert, a flame inside watching it all.
Hareesh, you are to transcend, not to renounce. If you renounce you miss the point. And when I say, "Let go!" I simply mean don't cling. I am not saying to you don't try to be happy. Make every possible effort to be happy, joyous, but remember that sadness will follow -- that is natural. Accept it, and when it comes, don't run away from it, don't escape from it. That too is beautiful, part of life, part of growth; without it there is no maturity. Go deep into it.
Joy has something to contribute to your growth, and sorrow too. Joy brings a freshness, the freshness of the morning dew. Joy brings youth, joy brings a dance to your heart. Sadness also brings many gifts but you escape from sadness; hence you never become aware of the gifts. Sadness brings a silence which no joy can ever bring. Joy is always a little noisy; sadness is utterly silent. Joy is always a little shallow; sadness is deep, it has depth. Joy always makes you forget yourself; it is easier to drown yourself in joy, to be intoxicated with joy. It keeps you unconscious. Sadness brings an awareness because you cannot drown yourself in it. You cannot participate, you have to stand outside -- because you don't want it!
The first lessons of witnessing happen in sadness. One learns witnessing in sadness and only then, later on, the same witnessing can be applied to the moments of pleasure. But it is by witnessing that one transcends.
And when I say, "Let go of it all, the positive and the negative," I simply mean don't cling, don't be identified. I am not saying, "Renounce!" Live, and yet live above. Walk on the earth, but no, don't let your feet touch the earth. Yes, there is an art to it.
And that's what sannyas is all about: the art of living in the world without being part of it, the art of living life without being identified with it. That's what real let-go is.
The old sannyas is that of indifference. Exactly that is the word used in the old scriptures: a sannyasin becomes UDASIN -- indifferent to all that is -- VAIRAGYA. He becomes cold and detached. He escapes from the world of duality. He moves into a monastery or into the Himalayan caves, lives alone, lives without joy, without sadness.
A kind of death he lives: he is already in his grave, he lives not. His life is not worth calling life. He has fallen below humanity; he is closer to the animals than to human beings. Hence his search for the caves, forests, jungles, mountains, deserts -- he is afraid of being with human beings. He wants to fall below human beings, because human beings are bound to be divided by this great polarity, positive and negative, and he is afraid of it.
But the real sannyasin -- the sannyasin of my vision -- lives in the world, in the thick of it, in the dense world. He renounces nothing. He lives life as totally as possible, because if God has given life it means there is something to attain through it. Only by living it can it be attained, only by living it is there something to be learned. Transcendence has to be learned; that is the great gift of life.
If you become more and more conscious, let-go will happen and yet you will be here and now, and more than ever before. You will eat and you will taste more. You will love and you will have deeper orgasmic experiences. You will play and your play will have something of the spiritual in it. Your ordinary life will become sacred.
Only one thing has to be introduced: witnessing.
Next: Chapter 6: Is this the way it is?, Question 2
Energy Enhancement Enlightened Texts Dhammapada The Way of the Buddha, Vol. 4
Chapter 6