Add to Onlywire
Del.icio.us
Digg
Reddit
Technorati
OSHO Dhammapada-Buddhism-Buddha
THE DHAMMAPADA: THE WAY OF THE BUDDHA, VOL. 4
Chapter 6: Is this the way it is?
Question 3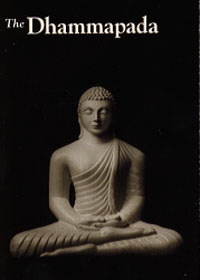 Energy Enhancement Enlightened Texts Dhammapada The Way of the Buddha, Vol. 4
The third question:
Question 3
,
WHY ARE PEOPLE SO MUCH AGAINST YOU?
Sudheer, they are not so much against me as they are afraid of me. Out of fear they are against, but the root cause is fear. And why are they afraid? -- because they don't understand. It is misunderstanding. It always happens, it is bound to happen; it is nothing new.
I say one thing, they understand something else because their minds are prejudiced. They have been brought up in certain traditions and I am breaking all traditions! They have been brought up to think in certain ways, and my whole effort here is to take you beyond thinking.
People are conventional, conformist, traditional. And to me religion is rebellion -- rebellion against all conventions, against all conformities, against all traditions. Religion is never a tradition, can never be a tradition. Science can be a tradition but religion never.
Science is really a tradition. Withdraw Newton -- for a moment think as though Newton was never born -- then there can be no Albert Einstein. Albert Einstein is possible only if Newton happens first. Science is a tradition, it is a continuum. Withdraw one brick and the whole edifice falls.
But I am possible without there ever being a Christ. I am possible not because there has been a Mahavira or a Patanjali, not because there has been a Buddha or a Confucius or Lao Tzu. Religion is not a continuum; it is an individual phenomenon, it is an individual flowering. You can become awakened even if you are not aware of anybody ever becoming awakened before. You are not related with the past in the same way as science is related.
That's why scientific truths, once discovered, become the property of everybody else. Albert Einstein worked hard for thirteen years to discover the theory of relativity; now you can read all about it within hours -- you need not discover it again. Edison worked for years, at least for three years, to discover the first electric light bulb; now you can go on producing electric light bulbs -- you don't need Edisons to produce them. Ordinary laborers knowing nothing of electricity can do the job -- they ARE doing it.
But religious truths are totally different: you have to discover them again and again. What Buddha discovered does not become universal property. It dies with him, it disappears with him; it is an individual flavor. That is the beauty of religion: that it never becomes a commodity in the marketplace. Hence science can be taught in the schools, colleges, universities; religion cannot be taught. Religion cannot be taught at all; you cannot be informed about religion. You have to discover it on your own.
Yes, you can get the inspiration, but inspiration is not information. You can be inspired by the presence of a buddha, you can become afire. You can attain to a burning longing to be like a buddha, but you will have to discover everything on your own. And you will not be able to give it to your children as a heritage. All that you can give, all that you can impart, is an intense longing for truth, that's all -- but not truth itself.
Hence it is very difficult for the masses to understand what I am saying. It was difficult when Buddha was here, it was difficult when Jesus was here -- it will be difficult always because the masses live according to the past. They are fed, continuously brought up, in traditional ways. They have been told what is right, what is wrong; they have been told whether God exists or not, and they have learned all these things. And they have accumulated so much information that their minds are full of knowledge; they think they already know.
So when anybody comes and brings a new dispensation into the world, when anybody brings a new revelation, when anybody becomes available to God, becomes a vehicle of God, the people are disturbed, their prejudices are shattered. Their old conceptions are not strengthened -- on the contrary, they start feeling, "If this man is right then we have been wrong all along... not only we but our forefathers and their forefathers." This goes against their ego. They would rather cling to their own ego than listen to the truth.
And then because of their prejudices they go on hearing something which is not said. I say one thing, they immediately interpret it according to their own ideas. They don't listen in silence; they listen through all kinds of barriers of thoughts.
For example, there are Jews, Mohammedans, Hindus, Christians, Jainas, Buddhists, Sikhs -- all kinds of people are gathered here. Do you think when I say something the Jew hears the same as the Jaina, the Mohammedan hears the same as the Christian, the Buddhist hears the same as the Hindu? Impossible! The Mohammedan has his own ideas....
For example, if I am talking about rebirth, then the Christian, the Jew and the Mohammedan are a little on guard, unconsciously, because they have been told there is only one life; they cannot trust that there are many lives. But when I am talking about rebirth the Hindu is happy, absolutely willing. The Buddhist is willing, the Jaina is willing, absolutely willing. There is no problem in their minds. Not that they are agreeing with me -- they are happy because I am agreeing with them! And that's how it is about each single statement.
Words don't have any clear-cut meanings -- they can't have; otherwise each communication will become very scientific. Words have many meanings, many nuances, so when you hear a word you can give it a color of your own. You can hear in your own personal, private way. You have your own private meaning.
When I talk about God, the Buddhist listening here will immediately stop listening, it is absolutely automatic. Automatically he will be turned off. God? -- he has been told that the whole idea is nonsense. And when Buddha has said that the whole idea is nonsense, it has to be so. And not only Buddha -- for twenty-five centuries many other mystics who have attained to the ultimate have been telling him that God is not there. But the Hindu, the Mohammedan, the Christian, the Jew, they are absolutely willing, immensely happy that yes, I am talking about God -- their God! The Jaina and the Buddhist will not be happy; they don't believe in God.
When I talk about the soul, the Jaina will be happy, the Hindu will be happy, the Mohammedan, the Christian, the Jew -- everybody except the Buddhist. He does not believe in the soul either. He says there is no individual entity, everything is a flux. Just as the Ganges goes on changing every moment, just as you cannot step in the same river twice, you cannot meet the same individual again. There is nothing permanent, nothing at all. Except change, everything changes. The Buddhist, the moment I talk about soul or God, stops listening. He says, "This is not for me." Not that he does it consciously -- these are unconscious habits, conditionings.
It is not so much that people are against me; the reality is they don't understand what I am talking about, or they understand something totally different which is not being talked about. They are not aware what I am doing here. They don't come here, they depend on newspapers. Some third-rate journalist comes and reports something -- what can he report about meditation? He has never meditated.
Look at the stupidity of the world! You don't send a journalist to report about a surgeon if he does not know anything about surgery -- or do you? If there is going to be a conference of surgeons, you send somebody who is well acquainted with the world of surgery; only he can report. If physicists are meeting, papers are read and discussed and you send somebody, you have to send an expert who knows what physics is. And modern physics is a very very evolved phenomenon; it needs years of studies. One has to be a physicist. You can't depend on a general journalist who goes on reporting about mediocre politicians and their stupid speeches. You don't send the same type of journalist to report when physicists are talking; you have to send a special person or you have to appoint a physicist to report about the conference, because only he will be able to understand.
It is said that when Albert Einstein was alive, only twelve persons really understood -- all over the world -- what he was talking about. Now, who is going to report about him? Only one of these twelve may be able to report about Albert Einstein and his theory of relativity in such a way that at least some glimpse becomes possible to the common masses.
But when you send a journalist here, you never inquire, you never require that he should be a meditator, that he should know something about meditation, something about yoga, something about Sufism, Zen, Tao, Tantra. No, these are not the requirements.
Any Tom, Harry, Dick is thought to be perfectly capable of reporting about meditation, about Tantra, about Tao, about Zen, about Sufism. And people depend on his reports, and he has never meditated in his life. He has never had a single moment of meditation. He knows nothing of a state of no-thought. He knows nothing of those intervals, those spaces, where mind disappears, ego disappears, time disappears. How can he understand?
Just by watching people sitting silently, will you be able to understand anything? If somebody is sitting silently with closed eyes...? You can take a picture of the person but you will not be able to take a picture of the inner happening. You can see people dancing, you can see them like Sufis, whirling dervishes; you can see them dancing and you will report that you saw people dancing, jumping -- but how are you going to know their inner world?
You should participate! You should dance yourself. You should have a taste of it. Only then you may be able to report something of it -- only something, not all of it, because all of it is impossible to report, all of it is inexpressible.
And when these people report, who don't understand, their report is only sensational. And then the masses read them, and they read even that report according to their own ideas. Then misunderstanding upon misunderstanding, layers and layers of misunderstanding! I must be the most misunderstood man in this country at this moment.
Carolyn, a curvaceous traveling saleslady, was waiting her turn to register at a motel when she overheard the desk clerk tell Zabroski, the man in front of her, that he had just gotten the last room. She waited for the Pole to leave the desk and then approached him.
"There is not another motel within miles and I am dead tired," she pleaded. "Look -- you don't know me, I don't know you, they don't know us, we don't know them. How's about me spending the night with you?"
"I don't care," said Zabroski.
They went to his room; he took off his clothes and so did she. "Listen," she said, "you don't know me, I don't know you, they don't know us, we don't know them. Let's have a few drinks. I've got a bottle."
After they had gotten a little high, she cuddled up to him and whispered, "You don't know me, I don't know you, they don't know us, we don't know them -- let's have a party."
"Hey," said the Pole, "if I don't know you and you don't know me and they don't know us and we don't know them -- who the hell we gonna invite?"
Now the word 'party' is creating the trouble! The Pole is going to understand according to his idea of a party. Carolyn has something else in her mind -- a real party!
What I am saying is totally different from what is being understood by the outsiders. But that is natural and I accept it. I have no grudge, no complaint about it. It's how it is going to be.
I can be understood only by those who are in deep love, who are in deep trust with me. I can be understood only by those who are ready to put their minds aside. In that state of silence, something from me can stir your heart, can trigger a process of understanding.
Next: Chapter 6: Is this the way it is?, Question 4
Energy Enhancement Enlightened Texts Dhammapada The Way of the Buddha, Vol. 4
Chapter 6