Add to Onlywire
Del.icio.us
Digg
Reddit
Technorati
OSHO Dhammapada-Buddhism-Buddha
THE DHAMMAPADA: THE WAY OF THE BUDDHA, VOL. 4
Chapter 4: Truth is very simple
Question 4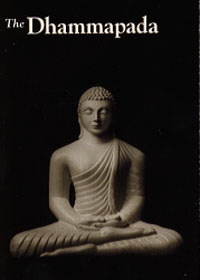 Energy Enhancement Enlightened Texts Dhammapada The Way of the Buddha, Vol. 4
The fourth question:
Question 4
BELOVED MASTER,
WHEN YOU SPOKE ABOUT GOOD, EVIL, AND THEIR RESULTANT KARMAS, WERE YOU SAYING THAT CONSCIOUS ACTS ARE INTRINSICALLY BLISSFUL AND UNCONSCIOUS ACTS INTRINSICALLY PAINFUL, OR IS THERE SOMETHING MORE TO IT? ALSO, DOES IT FOLLOW THAT ALL BLISS IS A RESULT OF CONSCIOUSNESS AND ALL SUFFERING THE RESULT OF UNCONSCIOUSNESS?
Prem Vidya, there is nothing more to it. It is a simple phenomenon: consciousness is intrinsically blissful. Bliss is not a result; it is inbuilt in consciousness. It does not come from the outside; it flowers inside consciousness. It is the fragrance of the flowering consciousness. When the rose of consciousness opens, the fragrance is bliss.
And when your being closes in unconsciousness, that dead and stale air, that stink, that darkness, is misery. That too is intrinsic, because now the fresh air cannot flow through you; your doors, your windows, are all closed. Now the sunrays cannot reach inside you. You are not available to rain, to wind, to sun. You have become isolated from existence. You have become a monad, windowless. You have become encapsulated, completely closed into your own self, into your own ego. You have disconnected yourself from this immensely beautiful, blissful existence; hence, misery. It is not really a result; it is unconsciousness itself, another name for it.
And people ARE living unconsciously, but they don't see it. They go on saying they are living in misery and they want not to live in misery, but they always throw the responsibility on something else, somebody else. Either it is fate or it is the society, the economic structure, the state, the church, the wife, the husband, the mother -- but always somebody else.
Religion starts in your life when you take the responsibility on yourself. To take the responsibility for your misery is the beginning of change, because even to accept that "I am responsible for whatsoever I am," is the beginning of consciousness. You are coming out of a state of drunkenness in which you have lived for centuries.
Poteen is an Irish illegal brew that can burn holes in steel plate. After a pint of it Flaherty saw so many animals in his room that he put a sign on his house, FLAHERTY'S ZOO.
The local sergeant went to reason with him and was no sooner in than he was offered a glass of the Mountain Dew. When the policeman staggered out thirty minutes later he raised his hand for silence, although there was nobody. "Ish alright, men. The worst is over. He sold me half the elephants."
You are living in a state of drunkenness. You don't need alcohol -- alcohol is circulating in your blood already. You don't need marijuana, LSD, mescaline, no -- you are already stuffed with it. You are born unconscious! But because everybody else is like you, you never become aware of it.
Only when awakening starts happening in you, then you become aware, comparatively, that up to now you have lived in a kind of sleep, that you have been a sleepwalker, a somnambulist, that whatsoever you have done up to now has been done unconsciously. And because you were doing things unconsciously and moving blindly in life, like driftwood, with no sense of direction, with no idea where you are going, with no idea who you are, how can you hope to be blissful? You can only be miserable, more or less.
When you are a little less miserable you call it happiness. It is not really happiness, but a little less misery than the normal. When it is a little too much you enter into anguish. But these are all degrees of your misery, sometimes less, sometimes more, but you have not known happiness yet. Yes, you have known pleasure....
Pleasure is when you forget your misery. Misery remains -- you forget your misery. You go to the movie, you become so much focused on the movie, you become so much involved in the story, that you forget yourself, that for two, three hours you are as if you are not. But outside the movie house you are back to your routine self and to your routine misery.
The stupidity is that because of your unconsciousness you suffer, and when you want to avoid your suffering you drink alcohol so that you can forget your suffering. It is because of unconsciousness that you are miserable; then you try to become more unconscious so that you need not know that you are miserable. This way you go on deeper and deeper into the unconscious. And these states of coma you think are very very great. These are just blank spaces when you become fast asleep, so totally unaware that you cannot remember that you are miserable.
And in these unconscious states, created by chemicals, you can believe that you are having some happiness, you can imagine; it depends all on your imagination. Many people have experimented with LSD -- the most evolved psychedelic up to now. And the result of many experiments is that people who are hoping that they will attain to great bliss come out reporting that they reached paradise and they saw angels and light and color and had beautiful poetic experiences. And the people who go into the experiment with the idea that this is wrong, that this cannot give bliss, that it is bound to give misery, come back reporting that they have been in hell and they have suffered much -- they have suffered hellfire.
The reason is clear: whatsoever you imagine starts looking real under the impact of LSD. If you are against it, if you believe that it is evil, you will come across evil. It simply magnifies your imagination, whatsoever the imagination. If it is dark and black, then you fall into a black hole.
If it is beautiful then, like Aldous Huxley, because he believed that LSD is the latest religious discovery, that LSD can take people to ecstasy, to samadhi.... What Buddha attained after six years and Mahavira attained after twelve years, and Kabir and Nanak etcetera, after years of struggle with the unconsciousness to become conscious, can be attained through LSD very easily -- just a very small quantity of LSD has to be taken.
He believed that sooner or later we will refine LSD more and more and we will create the ultimate psychedelic he called SOMA, in remembrance of the old Vedas -- because in the Vedas it is said that the seers used to drink a certain juice called SOMA RASO, and that juice used to bridge them to God. Huxley says in the future the ultimate psychedelic will be soma. You can inject it yourself into your body and you will be transported into paradise.
Now this is sheer foolishness! This is all nonsense. But Huxley is a sincere man. What he is saying is not false; he has experienced it through LSD, because he believed in it. It is his belief projected, it is his imagination magnified.
Another person of the same integrity, Rahner, who is against LSD and against all psychedelic trips, came with just the opposite report: that LSD takes you to hell, that it throws you into hellfire, that it creates such tortures that you cannot imagine -- even Adolf Hitler could not have dreamed about them. And he is also sincere. Both are right because both have been deceived by their own minds.
Man is already unconscious; now these people are trying to make him even more unconscious, as if this much unconsciousness is not enough!
Vidya, as far as buddhas are concerned, as far as I am concerned, consciousness cannot be attained by any chemical. Unconsciousness can be produced by chemicals, because unconsciousness is a very gross, lower phenomenon. Consciousness is the highest peak of growth, of opening, of coming home; it is not possible through the chemicals. It is possible only if you go on sharpening your intelligence; if you go on working on your witnessing soul; if you become more and more a witness of all that you do, of all that you think, of all that you feel. If you are miserable -- as everybody is -- then remember, it simply shows you are unconscious.
Don't fight with misery; that won't help. You can push misery from here and there; it will remain. Don't throw responsibility on others. Don't say, "Because of this wife I am miserable; if I change the wife I will not be miserable." You can go on changing -- no woman of this world is going to make you blissful. If you think, "The husband is the cause of my misery," you can change....
In America people are changing very fast, but misery is growing, not lessening. You can count a person's misery by knowing how many divorces he has gone through. The more divorces the more miserable he becomes, because the more divorces, the more hopeless he becomes.
In a country like India you can hope. You cannot divorce easily; the major part of the country cannot even conceive of divorce. The only possible way to get rid of your wife is to hope for another life -- even then one never knows! You may become too much hooked to each other that in other lives you also may continue. And particularly women go on praying in the temples, "Give me the same husband again -- for a hundred lives!" And if their prayers are fulfilled then there is no hope. But at least one can postpone: "After death.... This life is finished, nothing can be done. Now this woman or this man is my fate." So accept it and console yourself. Remain contented. Hope for the best and expect the worst!
But in India people seem to be more at ease because they know: "This woman is creating trouble." At least this much is a great consolation: "This man is creating trouble." But in America even that hope is not possible -- people have changed their husbands and wives so many times.
I have heard:
A man and a woman were sitting taking their breakfast and their children were playing in the garden -- and then a fight broke out among the children.
The wife said, "Look! Your children and my children have ganged together and they are beating our children!"
One boy, a small boy, was bragging about his daddy, and he was saying, "He is the greatest daddy possible."
The other boy said, "That's nothing! He has been my daddy before. I know him -- we have discarded him. He is very old-fashioned, out of date; you have got a secondhand daddy!"
I have heard about one man who changed his wife eight times, hoping that this time he would find a better woman who will not create misery, but each time he was surprised to know that he had found the same kind of woman again.
In fact, if the chooser is the same how can you choose something different? You fall in love with the same kind of woman again and again, because YOU remain the same. Your state of consciousness or unconsciousness remains the same, your MIND is the same. Who is going to choose? You fall in love with a certain kind of woman -- who walks this way, who has a certain kind of nose and a certain kind of voice and face and figure. A certain type of woman -- a certain type of psychology she has -- and you become attracted towards her. When you come closer and live together you find misery. You divorce. Again you start looking. But you are the same person -- you will again find the same kind of woman. How can you find another kind of woman? You will not be interested in another kind. The same kind of woman will attract you, will fascinate you, and again you will be in the same trap. Only the name changes, the trap remains the same.
Don't throw your responsibility on others; that's what keeps you miserable. Take the responsibility on yourself. Remember always, "I am responsible for my life. Nobody else is responsible. So if I am miserable then I have to look into my own consciousness; something is wrong with me, hence I create misery around me."
This is the beginning, a great beginning, the first seed of transformation. You are already becoming conscious if you take the responsibility on your own shoulders. You are already becoming conscious; the first ray has happened.
Yes, Vidya: consciousness is intrinsically blissful and unconsciousness, intrinsically miserable. There is nothing more to it; it is very simple.
Laws of life are always very simple. Truth is always very simple. Truth is not occult, truth is not esoteric. Truth is very obvious -- and because it is very obvious, that's why people don't see it. People go on missing the obvious, people go on missing the simple, because they think truth must be very complex. Hence they go on looking for something complex -- and truth is not complex. They go on looking far away -- and truth is very close by. They go on looking into mysteries, into mystic, occult, esoteric teachings.
And there are people who go on exploiting because they know there are people who cannot be satisfied with simple truth. They write rubbish but in such a way that it looks very occult. They write in such a way that you cannot really understand what they are writing. And people think that if they cannot understand then there must be some great mystery in it.
Truth is very simple, and because it is very simple you don't look at it. You will have to learn, you will have to become aware, of the simplicity and obviousness of truth. There is nothing more to it. It is simply this: consciousness is bliss, unconsciousness is misery.
Next: Chapter 4: Truth is very simple, Question 5
Energy Enhancement Enlightened Texts Dhammapada The Way of the Buddha, Vol. 4
Chapter 4