Add to Onlywire
Del.icio.us
Digg
Reddit
Technorati
OSHO Dhammapada-Buddhism-Buddha
THE DHAMMAPADA: THE WAY OF THE BUDDHA, VOL. 4
Chapter 4: Truth is very simple
Question 1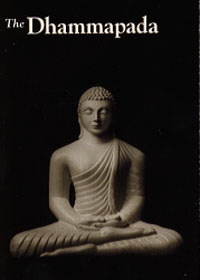 Energy Enhancement Enlightened Texts Dhammapada The Way of the Buddha, Vol. 4
The first question:
Question 1
BELOVED MASTER,
WHAT DOES ENLIGHTENMENT FEEL LIKE?
Prem Geetam, enlightenment is not a thought nor a feeling. In fact, enlightenment is not an experience at all. When all experiences have disappeared and the mirror of consciousness is left without any content, utterly empty; no object to see, to think about, to feel; when there is no content around you; the pure witness remains -- that is the state of enlightenment.
It is difficult, almost impossible, to describe it. If you say it feels blissful, it gives a wrong meaning to it -- because bliss is something contrary to misery and enlightenment is not contrary to anything. It is not even silence, because silence has meaning only when there is sound; without the contrast of sound there is no experience of silence. And there is no sound, there is no noise. It is not the experience of one, because what can "one" mean when only one is left? One can have meaning only in comparison with the other, with many. It is not light because it is not darkness. It is not sweet because it is not bitter.
No human word is adequate to express it, because all human words are rooted in duality... and enlightenment is a transcendence; all duality left behind.
That's why Buddha says it is SHUNYA. When he says it is shunya, void, emptiness, he does not mean that it is emptiness; he simply means it is empty of all content.
For example, a room can be called empty if all furniture has been removed, not a single thing is left inside -- you will call the room empty. It is empty of all that it used to contain before, but it is also full -- full of emptiness, full of roominess, full of itself. But nothing can be said about its fullness, its plenitude, because human language has no word for it. We have been trying for centuries to call it God, to call it nirvana, to call it moksha, but all words somehow fail.
It is difficult to translate something from prose to poetry, more difficult to translate from poetry to prose, because prose is on a lower level, poetry is on a higher level. It is difficult to translate from one language to another language, although all languages exist on the same plane. Why is it difficult to translate? -- because there are subtle nuances to words. Those nuances are lost in translating, and those are the real things.
This is impossible: to translate something for which no word exists, to translate something that is transcendental into the languages which belong to the world of duality. It is like talking about light with a blind man; talking about beautiful music to one who cannot hear, who is deaf; talking to a person who is suffering from fever and whose taste is lost about "sweet." The taste of sweetness is meaningless; he has lost all taste. But a little bit is possible because he used to taste before; he can remember.
But you cannot even remember when you used to taste God; you have completely forgotten the taste. Maybe in your mother's womb there was some experience similar -- maybe not exactly the same, but similar.
I cannot tell you what it feels like, but I can show you the way. I can push you into the abyss... that is the only possibility. You can also taste it, and then you will become as dumb as I am, you will become as dumb as all the buddhas have been.
Just try to see the point of translating.
Rabindranath was given the Nobel Prize for his book GITANJALI. He had written it in his own mother tongue, Bengali. It has a different beauty in Bengali. Bengali has a music to it; it is one of the most beautiful languages in the world. It has a certain flavor of the heart. Its very constitution is poetic, it is MADE of poetry, the language itself. Hence GITANJALI in its original form is an altogether different experience.
Rabindranath himself translated it into English, but he felt very miserable. For years he tried. He knew English perfectly well, but he could see the difference -- the difference was vast. While the original was somewhere on Everest, the translation was just on the plains; the difference was vast. In translation something was lost, something which was really precious.
He asked a very famous Englishman, C.F. Andrews, to help him. Andrews was enchanted with the beauty of the book, because he knew nothing of the original. That's why you are enchanted with the words of buddhas, because you don't know anything of the original. If you knew anything of the original then the words of the buddhas would look just rubbish compared to the original; compared to those virgin peaks of the Himalayas the words will look mundane, of the marketplace. They ARE of the marketplace, they are meant for the marketplace.
Andrews was enchanted. Rabindranath said, "But I have shown you the book to help me."
Andrews suggested only four corrections; they were grammatical. Each language has its own grammar. He said, "These four words you change; they are a little bit grammatically wrong."
Rabindranath immediately changed those words. Then he went to England. In a poets' gathering -- a great English poet, Yeats, had called a gathering of the poets, the critics, and the people who love poetry, to listen to Rabindranath's GITANJALI -- Rabindranath read the poetry. They were all fascinated; it was something superb, something rarely known in the West, because it has the same quality as the Upanishads. If you have read Kahlil Gibran... it has the same quality.
But Yeats stood up and said, "Everything is perfectly right except that in four places something is wrong."
Those were exactly the four words that were suggested by C.F. Andrews.
Rabindranath said, "I am puzzled, surprised, I cannot believe it. These are the words suggested by C.F. Andrews. They are more grammatical. My own originals were these...."
Yeats said, "Your original words are right. Although they are not grammatical they have poetry in them, a flow. These words suggested by Andrews are grammatically right" -- Andrews had the mind of a schoolmaster -- "but they are like rocks in the path of a stream; they don't help the flow. You be UNgrammatical, because poetry can afford to be nongrammatical, but poetry cannot afford not to be flowing. The flow has to be maintained; the greater the flow, the better the poetry."
Even in the ordinary world, from one language to another language, it is such a problem....
"Name?" queried the immigration official.
"Sneeze," replied the Chinese proudly.
The official looked at him: "Is that your Chinese name?" he asked. "Sneeze?"
"No, Amelican name."
"Then, let us have your native name."
"Ah Choo."
Now "Ah Choo" becomes "Sneeze"....
In ordinary languages, too, translation is a very difficult phenomenon, one of the most difficult arts; and the greater the poetry, the more difficult it is. The greatest poetry remains untranslated.
But to talk about enlightenment is impossible, for so many reasons: no content which can be talked about; nobody as an ego to feel, to say, to describe. The object disappears, and with the object the subject disappears, remember, because they are part of a duality -- object and subject -- they are together. If there is no object, the subject disappears immediately. That's why Buddha says it is a state of ANATTA, a state of no ego, of no I. No content, no watcher... then what is left? The whole is left, the total is left! But that total can only be pointed at, not described, not defined.
And my whole effort here is to help you towards that existential state. But don't ask how it feels. There is nobody to feel it, there is nothing to feel it; there is nothing to be felt either. An absolute silence... and a silence which is not in contrast to sound. A pure love, but a love that knows nothing of hate. Fullness, but a fullness which is utterly empty. That's how words become useless, and mystics' statements look very paradoxical.
Ludwig Wittgenstein has said: Nothing should be said if the experience is inexpressible -- if it cannot be said then it should not be said. But that too is a problem. The mystic cannot agree, I cannot agree. It cannot be said, yet efforts have to be made. No effort is going to do justice to the experience -- all those who have known have been perfectly aware -- but still efforts have been made, efforts not really to describe it but efforts to create a longing in you.
And the real longing arises not because of the master's words, but because of the master himself, his presence. If you are in love with the master then his presence starts opening some unknown doors in you. Once in a while a window suddenly opens and you have a glimpse. Once in a while you are transported into other worlds, into other dimensions. The master's presence has to be tasted -- that is the taste of enlightenment. The master's presence has to be allowed to sink deep into you; that is the only way to know something of it.
Jesus says: Eat me. The last night, when he is saying goodbye to his disciples, he breaks the bread and says, "This is me. Eat me, digest me. And whenever you eat, and whenever you break bread, remember." And then he offers wine to his disciples and says, "This is my blood -- drink me, and whenever you drink wine, remember me."
Yes, it is a nourishment of the soul, hence the bread; and yes, it is wine, because it intoxicates you with the divine.
Come closer to me, Geetam! Drop your armor, drop your defenses. Drop your mind. Forget yourself more and more so that you can come closer and closer. In that intimacy something is bound to transpire.
Next: Chapter 4: Truth is very simple, Question 2
Energy Enhancement Enlightened Texts Dhammapada The Way of the Buddha, Vol. 4
Chapter 4