OSHO
SUFISM
THE SECRET
Chapter 20: The World Of No-Thing
Question 1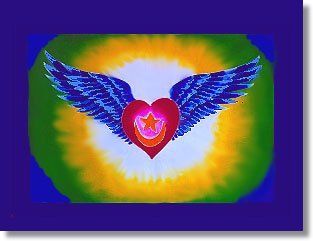 Energy Enhancement Enlightened Texts Sufism The secret
The first question:
Question 1
IS THERE A DIFFERENCE BETWEEN THE REAL SELF AND NO-SELF
Aneesha, the no-self is the real self; there is no difference at all. It is just a different way of expressing the same thing. The "real self" is a positive way of expressing it, and "no-self" the negative way.
But always remember, the negative is far better than the positive. The greatest Masters of the world have always expressed in the negative way for a certain reason: the positive can deceive you, can easily deceive you. If it is said that you have a real self, what are you going to understand by it? You will think of whatsoever you understand about yourself, that the real self will be a purified state of the same thing, higher, holier, more dignified, deathless, divine -- but you will conceive of it according to the idea of the self that you already have. Your real self will become only a modified idea, a decorated idea of the false self. That is the danger.
The real self is utterly different; not only utterly different from your false self, it is diametrically opposite to it. You cannot have any idea of the real self through the unreal self. The unreal has to cease for the real to be. The unreal has to go absolutely.
What idea can you have of light if you know only darkness? Whatsoever you will think of light will remain a form of darkness. You know darkness.
That's why Buddha has chosen a negative way. He does not talk about the real self, atma, soul, atta. He talks about anatta, no-self, anatma, absence of self. He negates the whole idea of the self because the idea of the self will carry, will remain continuous with, your false idea of the self.
You have to disappear as you are, then the real arises. You don't have any idea, not even in your dreams, of what is the real. You are unreal and you live in unreality. You live in dreams, you are fast asleep. You cannot conceive of what awakening is going to be.
Only one thing can be said: whatsoever you know will not be there. This is the negative way of saying it.
Sufis have also chosen in the same way. They say fana -- first dissolve, dissolve in toto. Nothing is to remain of you; and only then that great transformation. When you are absent, God becomes a presence in you -- but only then. That condition has to be fulfilled.
The danger with the positive expression is this: that any positive expression is bound to be limited. The positive means the defined. Only the negative can be undefined, only the negative can be unbounded. The positive immediately becomes a thing, and you are not a thing. You are a no-thing; that's why Buddha says you are a nothing. Remember always, "nothing" does not mean nothing, it simply means "no-thing".
But we live in the world of things, we are surrounded by things. And it is very easy to think of our own self as another thing -- luminous, divine, but still a thing. It is not a thing, it is a no-thing. It is not even a person, it is only a presence. It is not even a flower, but only a fragrance.
In our "thingified" culture, personal existence has lost all significance. We are continuously surrounded by things, man-made things. Things distract the human person from the fact that he is a no-thing. Maybe that's why we are so interested in things. "Have as many things as you can, go on accumulating things. The more things you have, the more you ARE": this is our logic.
When you have a great bank balance you feel you are. The moment the bank balance disappears you start disappearing. People commit suicide when they go bankrupt, as if their soul was in the bank. Their bank balance was their soul. How can they live now without a soul?
Just watch how attached you become to things. Your house, your many scientific gadgets, which are nothing but toys -- how deeply you become obsessed with them. And slowly, slowly you forget completely that you are a no-thing.
Not only that you forget that you are a no-thing, you forget that your wife is not a thing, that your child is not a thing. Surrounded by things and things, living in a thingified culture.... That is the real name for a materialist culture. One tends to forget all that is spiritual, and one tends to reduce everything into a thing. Even persons are reduced.
When you meet a woman and you fall in love, she is a person. Sooner or later you reduce her into a thing -- she becomes a wife. A wife is a thing; a woman is a person. If you really love any woman you will not reduce her to a wife. A wife is a function. If you really love a man you will not reduce him to a husband. A husband? It is a legal contract, a formality. To be in love with a man, undefined, indefinable, has beauty; to reduce him to a contract, to reduce him to a function, to reduce him to a husband, means you have reduced him into a thing.
But whatsoever you do, a person remains a person and he cannot be reduced into a thing. And that creates trouble. The wife remains a woman, whatsoever you think. She remains a woman. You can believe that she is a wife, but still she is a woman -- vast, unpredictable. That creates trouble. You would like her to be as predictable as a thing, as your car, as your tape recorder, as your TV -- predictable, manipulatable, controllable, always obedient. And she tries, but still there is something inside her which is not a thing at all -- a no-thing, a freedom. That asserts. And whenever that freedom asserts, there is trouble.
And you also have that freedom, and whenever your freedom asserts there is trouble.
We love people, but our love is not real love because we go on reducing them into things. Real love will raise them higher, higher than the person. Real love will make them presences. Watch. When you meet a man or a woman, the other is a person. If your love is not real, the person will disappear and there will be a thing, a wife, a husband, et cetera. If your love is real, if you respect the nothingness of the other person, the innermost unbounded infinity and eternity of the person, you will raise him or her into a presence. The person will disappear; there will be a presence, a very, very vital presence. But the presence cannot be predictable, and the presence cannot be manipulated. The presence means freedom. It is as free as the fragrance of a flower.
Because no person can really be reduced totally and finally into a thing, people stop loving people. They start loving things. It is more safe that way. Watch yourself. Do you love things? That means you have forgotten completely who you are and you have forgotten completely that God exists as a presence in existence. And you will never be able to have any communion with God.
Millions of people only go on gathering things, go on possessing things. Finally what happens? They are possessed by things. If you try to possess things you will be possessed by things. And this is the ugliest state a man can fall to.
Things seem solid -- certainly they are solid. There is no need to believe in things; there is no need to trust. They are so solid, they are there, tangible. Their existence needs no proof. Things seem solid; they are solid. And, the no-thing seems to be in danger today, because that no-thing that you are is not solid. It is not tangible, it is not visible. You cannot touch it, you cannot see it, you cannot hear it. Unless you have a heart to feel it, your senses are incapable of knowing anything about it. It is not an experience of your senses; it is something transcendental to the senses.
Deep concern, care, respect, love, responsibility, the giving of self to another, these are not thing-like activities; and when you start believing too much in things these activities start disappearing.
That's why I say this country thinks it is religious. It is not! It believes in things. There are two kinds of people in this country, but both believe in things. One kind is called the worldly: that kind goes on accumulating things. The other kind is called the other-worldly, spiritual, religious: he goes on renouncing things. But both are focused on things, both concentrate on thing -- one to possess, one to dispossess. But their eyes remain focused on things.
I call this country one of the most materialistic countries in the world. But it is living in a great illusion, and the illusion is created because the people who renounce things appear to be religious. It is not a question of possessing things or renouncing things.
A religious person is one who has started living in the world of no-things, who knows how to love, how to pray, how to meditate -- because meditation is not any solid thing. You cannot show it to anybody. And neither is love a commodity. You cannot sell it in the marketplace; you cannot profit out of it. The religious person is one who starts entering into the world of no-things. And the beginning has to be with the acceptance, with the celebration of your own no-thinghood, of your own nothingness.
It is far better to use the negative expression so that you don't start thinking about yourself as a thing.
Aneesha, symbols are significant because a symbol creates its own center in you, and starts creating a reality around it. For example, if you believe that you are a soul, your whole life is going to be different. It will be settled by that symbol of the soul. If you believe that you are a no-self, anatta, a silent nothingness, an utter emptiness, that you are a nobody, that will transform your whole life. It is going to be different.
The person who thinks "I am a soul" will live differently from the person who thinks "There is nobody inside me." What will be the difference? The person who thinks "I am a soul" will be alienated. He will think himself separate from existence. That's what alienation is.
The word "alienation" comes from a Latin root, alienare, which means "to make strange or to separate what once was united." The person who thinks "I am" certainly will have to draw lines around himself to make it clear who he is -- "I am not the tree, I am not the rock, I am not the woman I love, I am not the child I have given birth to, I am not this earth, I am not the sun." He will have to go on defining himself, "what I am not." He will have to eliminate millions of things; then a tiny space will be left of which he will think "I am." This is alienation.
The positive language used down the ages by the religious people has created great alienation. Man has become a stranger in a world which is his home. He feels homeless, uprooted, an outsider.
And the reason is a wrong symbol. Change the symbol, and you see how your life starts changing. Small changes sometimes bring great revolutions. Just a slight change. Symbols are significant; they create their own world. Each symbol creates a world. A symbol is a seed.
Just think that you are a no-self. Now, there is no need to draw any boundary around you. How can you draw one? You are not. You cannot draw a boundary when you are not. You need not think "I am not the tree, and I am not the rock, and I am not the earth, and I am not the people who are here." You will have to think in a totally different way. You will have to say, "Because I am not, that means I am all. Because I am not, that means I am not a wave in the ocean, but the ocean itself. I am not means God is. " And suddenly you belong to the world and the world belongs to you, and it is your home. And that brings great peace and great joy: you are not alienated.
Alienation is bound to create some kind of neurosis, schizophrenia, some kind of great paranoia, because if you are, then you are against this whole world. And you are so small, and the world is so vast, there is no possibility of your ever being the conqueror. Now the whole stupid idea of conquering nature arises. Once you accept that you are a self, now you have to conquer, you have to prove. You have to conquer other selves; you have to conquer nature; you have to prove yourself.
The greatest teachers have always been negative. They don't say that you are, they say you are not; and the beauty of that negativity is immense, incalculable, immeasurable.
Remember the significance of the symbol. The symbol is just a center around which you become integrated.
The opposite of symbolic is diabolic. The symbol draws people together and generates action. The diabolic is what pulls apart and enervates. Without a symbol creating unity and involvement, people slip into diabolic apathy. Apathy creates sleep and an illusion as if the problems have been solved. But they are not solved.
A symbol is a seed, a creative seed. Choose the symbol very intelligently. Much will depend on it; your whole life may be decided by the symbol you choose. If you choose a wrong symbol, you will be moving in a wrong direction. The function of the Master is to give you right seeds, right symbols. Sannyas is a symbol, nothing else, a symbol around which you can create a new vision, a new perspective.
There are people who have forgotten the significance of symbols. They start falling apart, they start falling to pieces. There is nothing to keep them together. The symbol keeps you together, it is like glue. It gives you direction, it gives you meaning, it gives you a possible future, it makes you aware of your potentiality.
And if you don't choose a right symbol, then your life will become diabolic; it will become disintegrated, fragmentary. And when a person becomes disintegrated and fragmentary, his life takes the color of apathy, indifference. He drags, he is bored, he somehow manages to live. He simply waits for death to come and deliver him. His life can't have any poetry, his life can't have any splendor, his life can't have any dance. There is nothing to dance for.
Man is a symbolic animal; that is my definition of man. Man cannot live without symbols. It is because of this great need that religions have always existed. They have existed because man needs symbols.
This century is the first in the whole of human history which is living without symbols -- and suffering much, unnecessarily. When you don't have symbols you start disintegrating. Modern man lives in apathy, boredom. He is continuously tired and weary of existence. There is nothing to hold him together, he is always falling apart. He has no center, he is only a circumference. He can't have any richness of being.
So choose a right symbol. And no-self is far better than the self.
Aneesha, you ask, "Is there a difference between the real self and no-self?" There is no difference in reality. When you arrive, the no-self is the real self. But there is a difference before you have arrived. When you are on the journey there is a difference.
And my suggestion is choose the negative, and there is far more possibility of your reaching the positive by choosing the negative. If you choose the positive you will be lost. Then your self will be nothing but a sanctified idea of your ego.
Next: Chapter 20: The World Of No-Thing, Question 2
Energy Enhancement Enlightened Texts Sufism The secret
Chapter 20:
Osho - Talks on Sufi Stories: The secret, Chapter 20: The World Of No-Thing, Question 1, IS THERE A DIFFERENCE BETWEEN THE REAL SELF AND NO-SELF at energyenhancement.org
Osho - Talks on Sufi Stories: The secret, Chapter 20: The World Of No-Thing, Question 2, IS POETRY THE VOICE OF WONDER, OR AN AVOIDANCE OF MOVING CLOSER TO THE SOURCE, A SENSUOUS LINGERING? at energyenhancement.org
Osho - Talks on Sufi Stories: The secret, Chapter 20: The World Of No-Thing, Question 3, OSHO, WHY DO POLITICIANS GO ON MISUNDERSTANDING YOU? at energyenhancement.org
Osho - Talks on Sufi Stories: The secret, Chapter 20: The World Of No-Thing, Question 4, PLEASE SAY SOMETHING ABOUT MADNESS. I HAVE SEEN THAT PSYCHIATRISTS KNOW NOTHING ABOUT IT IN SPITE OF ALL THEIR EFFORTS at energyenhancement.org
Osho - Talks on Sufi Stories: The secret, Chapter 20: The World Of No-Thing, Question 5, OSHO, WHO IS A MASOCHIST AND WHO IS A SADIST? at energyenhancement.org