ENLIGHTENMENT COMES THROUGH MEDITATION AND NON-ATTACHMENT.
BY SATCHIDANAND AND ENERGY ENHANCEMENT
---
I read from time to time the wonderful chapters of Krishnamurth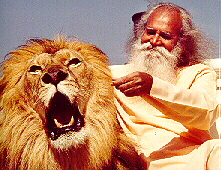 y and every one of them starts with a description of the beauty of life. As you can see right, my Master, Swami Satchitananda used to enjoy his life with passion, too. Here he is with a Lion!!!
We are appreciating that at the moment in Argentina in the country with a beautiful house with swimming pool and many fruit trees in the garden. Cool at night yet a wonderful 33 centigrade during the day with sun. Every morning I am awoken at six by the morning chorus of the birds just like the winning recordings of birds you receive from the BBC.
We have many wonderful students here learning the secrets of Enlightenment and Energy Eanhancement. Blue Buddha from Colorado, Julia who presents radio and television programs and Carla a heart sweet and beautiful young puppy dog actress of 23 years.
The Yoga Sutras of Patanjali say that Enlightenment, Illumination, Yoga comes from Meditation AND Non-Attachment.
Now, the word meditation is is the root of Medicine. That which cures. That which heals. That which throws out all negativity all energy blockages in the system.
But as that work of Meditation continues and the Psychic Bodies get cleaner and all the bad memories are thrown out and forgotten and the root of these bad memories, the Energy Blockages are reduced and the energy starts to flow once more in the energetic system called a human being. Then the released and purified energy starts to feed that system of wanting, attachment and desire called the Ego.
That is why Enlightenment comes first with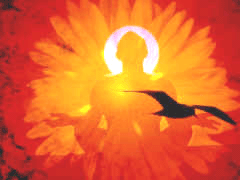 meditation which gives energy and then with non-attachment which is the other side of Enlightenment. The reduction of desire and attachment, the reduction of that mass of wanting and selfish desire called the ego.
In Energy Enhancement we have special excercises which reduce the wanting and desire of the ego and yet it is nice to know in advance that which we are about to do. What is necessary.
Here I use the word of the Soul and that word is necessity. Not wanting or desire but NECESSITY!!!
And it is good to know in advance therefore, a little more about attachment so that we may know how to deal with it properly.
First you must know that attachment is the way of the universe. Goethe said, "Connect, only Connect!!" and connection is what we do. We are all connected. We are all part of each other and the Universe itself. This is a fact and yet it is the blockages which prevent that connection and it is the dependence upon, the addiction to that connection for energy which creates the vampirism of the ego.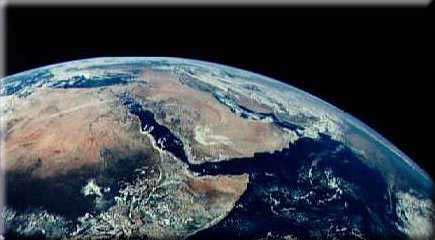 In this Universe even this planet the Earth is connected to and evolves through its connection to the seven sacred planets and the seven sacred suns. These sacred planets and suns supply the energy of evolution to the earth and are completely necessary to its moving forward upon the path of evolution.
The same with people. We evolve through energetic connections first with our fathers and mothers and later through our friends and teachers and lastly through connections with the enlightened and ascended masters. This is the science of impression, through the third Law of Thermodynamics which says that "Energy always flows from areas of high energy to areas of Low energy"
So high levels of positive energy from the enlightened always flows into those with low levels of positive energy, the unenlightened. In the same way high levels of negative energy, energy blockages, always flow from the unenlightened into their friends with more purity and also the enlightened.
This fact of positive energy flow from the enlightened both of quantity and quality, creates a stimulation of the energetic centers, the chakras, and also as the negativity is absorbed by the enlightened, a purification of the unenlightened.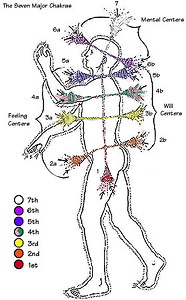 Energy Enhancement teaches that we can connect from Chakra to Chakra giving from the right side of the chakra and receiving energy from the left side. If any side of the chakra is blocked there comes a problem. A blockage on the right side prevents you giving energy and you become a vampire because you can only receive. A blockage on the left side prevents you receiving therefore you will be drained by your partner because you can only give. And the problem is multiplied because these are your blockages and the other side, the partner can also have blockages with similar results turning them or you into a vampire at that chakra level.
As we evolve and start having more quality and quantity of energy we start to give and receive energy to all our friends and relations and it is these energies which we absorb and the lack of understanding of how to deal with them, which causes all the infirmities like cancer and heart disease.
We absorb all the negative energy and energetic blockages from all people at a lower energy level, and it is the lack of ability of dealing with these energies we absorb from everyone around us which causes the diseases of cancer, heart disease, and indeed everything which kills us!!
The cure is enlightenment and all these diseases and the pain involved which pushes us, from lifetime to lifetime in the direction of that which will completely cure us, - Enlightenment.
Love is the energy of change. And these flows of energy occur through energetic attachments which are completely necessary. They occur in everyone and yet are more potent, more energetic and more safe from the enlightened.
Everyone needs to learn the techniques of enlightenment. All it means is that you can handle yourself and the energies you absorb. You know what you are doing.
So, attachment only becomes a problem when we forget the definition of non-attachment given in the Yoga Sutras of Patanjali.
For those who are not enlightened The Yoga Sutras help with this…. "Non Attachment is the conscious self Mastery of one who does not move towards the people to whom we are attached, and that which we see or hear about."
When enlightened, we have been given the energy of Ascended masters to confirm us in our place. That energy is not given lightly because it can be used for bad purposes for example to support the ego. So Ascended masters are looking for those people to whom they can safely give that energy, to confirm them in that place from which they cannot fall. The chakras are excited to that level where they cannot lose the energy which has been given.
And what prevents that is the addiction to the energies of attachment. In Spanish it is called "appego" Attachment to people and things so that you must have them. It is the source of all jealousy and the prevention of people moving forward on the path of Enlighenment.
The Ego is like a puppy-dog who is always doing the wrong thing. Eventually we must experience all the bad results of this ego addiction.
The Chinese say, "The Lord have mercy on those who get what they want!!"
Every human being is sick, is capable of turning on you and doing bad things to you, eventually, in time, even those whom you love with passion and intensity. The passion and intensity is good and necessary in order to give energy, but do not expect anything back in return from any individual. .
Gautama Buddha said, "Meditation is for those who Understand the Urgency of the Situation and the Reality of Enlightenment"
hERE ARE A FEW LITTLE PIECES FROM THE dHAMMAPADA OF THE BUDDHA.
GOTO…
https://www.energyenhancement.org/buddhism/oam_dhammapada.htm
FROM THE DHAMMAPADA OF THE BUDDHA
Choices.
We are what we think. All that we are arises with our thoughts. With our thoughts we make the world. Speak or act with an impure mind And trouble will follow you As the wheel follows the ox that draws the cart.
We are what we think. All that we are arises with our thoughts. With our thoughts we make the world. Speak or act with a pure mind And happiness will follow you.
As your shadow, unshakable. "Look how he abused me and hurt me, How he threw me down and robbed me." Live with such thoughts and you live in hate.
"Look how he abused me and hurt me, How he threw me down and robbed me." Abandon such negative and egotistical thoughts, learn to understand, to be compassionate (not false pity), to be wise, to forgive, and live in love.
Hate never yet dispelled hate. Only understanding, compassion, wisdom, forgiveness, and love dispels hate. This is the law of life. Ancient and inexhaustible. You too shall pass away. Knowing this, how can you quarrel?
How easily the wind overturns a frail tree. Seek happiness in the senses, Indulge in food and sleep, And you too will be uprooted. The wind cannot overturn a mountain. Temptation cannot touch the one who is awake, strong and humble. Those who enlighten themselves and respect the dharma.
If a man's thoughts are muddy, if he is reckless and full of deceit, how can he wear the yellow robe?
Whoever is enlightened of his own nature, bright, clear and true, he may indeed wear the yellow robe.
Mistaking the false for the true and the true for the false, we overlook the heart and fill yourself with desire and delusion. See the false as false, The true as true.
Look into your heart. Follow your nature. An unreflecting mind is a poor roof. Passion, like the rain, floods the house. But if the roof is strong, there is shelter. Whoever follows impure thoughts suffers in this world and the next.
In both worlds he suffers and how greatly when he sees the wrong he has done. But whoever follows the dharma Is joyful here and joyful there. In both worlds he rejoices and how greatly when he sees the good he has done. For great is the harvest in this world, and greater still in the next. However many holy words you read, however many you speak, what good will they do you if you do not act upon them?
Are you a shepherd who counts another man's sheep, Never sharing the way? Read as few words as you like and speak fewer. But act upon the dharma. Give up the old ways - Passion, enmity, folly - that are rooted in the selfish and mercenary disease of the ego.
Know the truth is in the heart and find peace. Share the way.
---
Wakefulness.
Wakefulness is the way to life. The unenlightened - deluded by the dark clouds of ignorance and egoism - sleep and appear as dead.
The enlightened is awake in the heart, identifies with the eternal and infinite spirit, and thus by making this wise identification achieves immortality! How? Simply by changing.
He watches. He is clear. How happy he is! For he sees that hearty wakefulness is life. How happy he is, following the path of the awakened.
With great perseverance he meditates - the mind quietens and the heart of creation opens. AHA! The pot of gold is in the middle of the rainbow. Only the linear mind thinks in terms of extremes. Seeking freedom from ego and negativity and finding happiness in Truth and the Eternal Loving energy of the heart - the source of all manifest and various creations. So awake, reflect, watch.
Work with care and attention. Live in the way and the light of love and wisdom will grow in you. By watching and working the enlightened makes for himself an island which the flood of ignorance and egoism cannot overwhelm.
The fool is careless but the enlightened guards his watching. It is his most precious treasure. He never gives in to desire. He meditates. And in the strength of his resolve he discovers true happiness. He overcomes the ego's selfish desire which is the root of all trouble. How can one be happy by being selfish? How can love flourish when imprisoned by the selfish and tyrannical ego?
From the tower of his wisdom he looks down with dispassion upon the sorrowing crowd until he is enlightened. From the mountain top he looks down at those who live close to the ground.
Then when the aspirant is enlightened they can live an ordinary, peaceful, interesting, and loving life free from egoism and ignorance. With peace of mind and firmly returned to the home of the heart, the enlightened serve life without the disturbance of ignorance and ego.
How wonderful it is to be able to watch our mind, ego, and personality. How foolish to take it personally. How great to enlighten the process.
Those who know their mind and dislike the waywardness of egoistical thoughts burns through every bond with the fire of his vigilance. Those who know their mind and dislike egoism and confusion can learn from those who have overcome such things. He has found his way to peace.
ENERGY ENHANCEMENT AGAIN
"Before you can have an enemy, first you must have a friend!!" If they want to give it is good. But remember that as you heal them, there will be less and less need for the healing. The flows of energy between you will stop eventually and there will be no more need for you to be together. Learn how to move on and be happy to be alone, and be happy to be with others.
The enlightened know this and thus do not get attached to or need those whom they help. They know the Law of the Universe is that as you give, the return comes back to you tenfold from other directions and not necessarily from those whom you help.
The flows of energy in love can be intense and just as addictive as anything on this planet. And yet when our work is finished, when the baby is born, we must be capable of letting go. And my teacher, Swami Satchidananda said, "Creating the enlightened person is like creating a baby!!"
We must be like the mother who has given the energy of evolution to her sons and daughters, and yet when they need to move on the university to get necessary qualifications to move along on this path we call life, says, "GO!!" instead of crying and weeping and wailing and saying, "How can you leave me who gave you life" Then we become like a bear who crushes the life out of those he loves, "A Bear Hug!!"
"If you love someone, set them free!!" says the song.
The enlightened can direct intense flows of the energy of evolution to their students, and yet when the work is done they say, "Go to the other side of this planet and do likewise!!"
This is true non attachment, yet paradoxically it only becomes necessary after giving energy through attachments.
When our work is finished on this planet we must be capable of letting the body go also.
Like Gollum in the lord of The Rings we are all split. We have our good sides and our bad sides. In order to do anything we usually take a vote and the bad side wants nothing to do with that which will destroy him. To decide to take that path we must see the bad results of the addiction to "My Precioussss, Mi Tesoro" Because attachment to anything is addiction to the ring, and it is this ring which is the ego itself.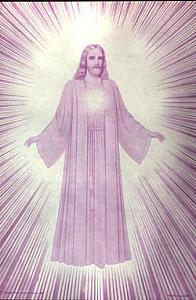 The Enlightened know that we cannot be happy through receiving anything to which there are ties. If anything is expected back, then there is pain. "People who make appointments always get disappointments!!" Give without expectation of return. Depend upon no-one and upon anything which can be taken away.
My last advice is, learn the techniques of Energy Enhancement, "Become Enlightened", "Be a Light unto Yourself!!"
Satchidanand, 3rd January 2004
ENERGY ENHANCEMENT
THE CORE ENERGY TECHNIQUES !!
ENERGY ENHANCEMENT, !!! ULTIMATE !!!!!! ANCIENT !!! !!! EFFECTIVE !!!!! SUCCESSFUL !!!


1. Get into Intense alignment with Your Own Kundalini Energy and Immediate Access to the Meditative State.

2. Remove your Energy Blockages with The Circulation of the Energies, the Kundalini Kriyas, Ancient Taoist Energy Circulations which have worked effectively for 5000 years to help all towards ENLIGHTENMENT.

3. The Grounding of all your Negative Energies through Alchemical VITRIOL - Become Incredibly POSITIVE and ENERGETIC!!

4. Alignment with Your Higher Self - INCREASE YOUR IQ, INCREASE YOUR LUCK, ACCESS YOUR HIGHEST ENERGIES!! ACHIEVE WHAT YOU WERE PUT ON THIS PLANET TO DO.

5. Learn how to USE and Increase the LOVE of Your Heart Center to ZAP YOUR NEGATIVE EMOTIONS AND DEVELOP PSYCHIC POWERS TO HEAL YOURSELF AND OTHERS.

6. Overcome ENERGY VAMPIRES - MASTER ENERGY PROTECTION AND MAINTAIN YOUR HIGH ENERGIES!!

7. EXPERIENCE INCREDIBLE RELATIONSHIPS WITH ENERGY ENHANCEMENT - THE CORE ENERGY TECHNIQUES

8. ENERGY ENHANCEMENT Techniques are the source of all Successful spiritual training courses over the last 5000 years. Become a Jedi Master, a Gandalf, a Transmitter of the FORCE a Bringer of the Light!!

GET MORE ENERGY!!!
ENERGY ENHANCEMENT -
!!! ULTIMATE !!!
!!! ANCIENT !!!
!!! EFFECTIVE !!!
!!! SUCCESSFUL !!!

Goto and SIGNUP NOW!!
https://www.energyenhancement.org/HomeStudyMeditationCourse.htm

CLICK BELOW TO GO TO
Take your time, this site has much new wonderful information.
MEDITATION TESTIMONY
INTO THE VITRIOL!!
Here is an experience by Blue Buddha on the third of January 2004. All of the people on our Energy Enhancement Courses get such spirital experiences. The course is experience based. Satchidanand.
As I was being taught the meditation Energy Enhancement Level One Stage Three - VITRIOL, The Grounding of Negative Energies, for the second or third time as I have been taught these first Level of Energy Enhancement Meditation in India in the winter of 2001.
Now I have returned to Argentina this year to be with Devi and Satchi and to learn Levels Two and Three prior to becoming (I hope) a Teacher of Energy Enhancement.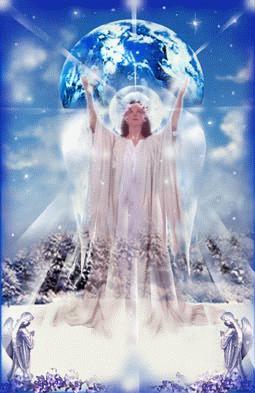 My persistant blockage in the Sacral area gave way and a thin stream of Gold Light which passed through the blockage. I was using the water and earth path of the Kundalini Kriyas and the Gold Light passed into the cave of the Earth.
As the thread began to make contact with the source, I began to experience terrible heart pains. Acute pains in the heart.
I realized by direct perception that this pain was caused by a blockage in the heart center and that it was directly causing the blockage in the sacral area. I was able to remove the blockage in the heart AND for a second I felt dizzy, unconnected with the selfish self and Totally Blissed out!!!
I WAS FOR A SECOND A TOTAL BEING OF LIGHT!!!
The moment passed, I reconnected with the Self and returned to my meditation....
Once you experience "True light" you are aware that something other than your daily life exists. This can be a blessing as you strive for that light again as you know that your life can be so much better.
TESTIMONY
AUGUST 2003
Here are a few small pieces you could use for testimony about your EE course. Anything else, just ask:
Intro
I have known Saatchi and Devi for around 12 years now and I can say that they are some of the few people I trust with a degree of confidence. That trust does not come from the fact that they know all the answers to our questions. Everything to them is a game, a very serious game, that they play every day with one intention: to eliminate the pain and suffering in life.
Saatchi and Devi approach each situation with a freshness and enthusiasm that often takes me by surprise. Something that can seem most ordinary can become the most extraordinary experience when our attention and intention is place upon it. Joy can be found in the most unexpected places and all because we are willing to experience life (here and now).
Sharing With Others
This year there were 4 students in total (including myself) at the training course. Everybody came with their own experiences and knowledge. It made for a rich atmosphere of learning and exchange on an intellectual level, but there is more to experience beyond the clever systems and edifices. As well as talk we need to practice and through our daily exercises and development it becomes clearer what is right for you as a being and your relation to the world outside.
Being in close proximity for even a relatively small period, you start to notice peoples reactions, moods and discomfort. Meditating with a group brings you closer together and I found that the sensitivity to other member's pain was often apparent. On one occasion I was performing a self-healing session when another student came into the room and started some practice next to me. Almost instantly I started to experience a pain in my stomach that I associated with my own healing process. After some time of working on the pain it subsided. On reflection I asked the other student if he had felt some discomfort in his abdomen and he replied that he had come into the room to relax because he was suffering from a case of indigestion.
WE ARE ALL CONNECTED ALL OF THE TIME. "THERE IS NO SEPARATION" AND WE ARE TOLD THIS BY ALL THE SPIRITUAL MASTERS AND YET WE SEEM TO NEED TO EXPERIENCE THIS BEFORE WE BELIEVE IT. THE CONNECTIONS OF RELATIONSHIPS IS THE SUBJECT OF ENERGY ENHANCEMENT LEVEL THREE, THE MASTERY OF RELATIONSHIPS.
YOU MUST FEEL IT BEFORE YOU CAN HEAL IT!!
AND NOW WE LEARN THAT BY HEALING OURSELVES WE ARE HEALING THE OTHER, AND LATER THAT WE ARE HEALING THE WHOLE PLANET.
WE GIVE EXPERIENCES LIKE THIS TO EVERYONE ON THE ENERGY ENHANCEMENT COURSE BECAUSE, "ENERGY ENHANCEMENT IS THE REAL THING"
SATCHIDANAND
The sharing of experiences with others, trying to heal ourselves and those around us makes us more happy and joyful. Being able to deal with things as they come is becoming a more useful skill as I develop and grow in this wide world. The best thing about a community isn't the intellectual, emotional or physical bonds that we make. It is the shared purpose and commitment to trying, no matter what the circumstances.
Food
It is no good talking about how good food is if we never try and test it. All food is partly poisonous and it is our direst need to reject the substances that will cause us the greatest harm. Using Energy Enhancement techniques we were able to question the suitability of the food, to allow us to choose whether or not to eat it.
Not only could the food source be contaminated by pesticides and fertilisers, for transportation it could be sprayed and packed with preservative, for preparation it could be contaminated and cooked badly and eventually combined on the plate with other foods that just do not help us absorb any nutrients and expel the toxins. Food is one source of fuel for our bodies and we must take care in order not to become dull, tired and heavy.
I make many mistakes in choosing food. The Energy Enhancement techniques allow me to realise when my body has become intoxicated and to speed up the process of neutralising any harmful effects.
Pain Gone
Through the training we used many practices and meditations to cleanse the body. Do you know how your body feels? You may say it fits like an old suit and accept when there is discomfort or stiffness. The body is a wonderful mechanism and it needs to be exercised to work efficiently. One law of nature: Use it or Lose it!
Starting to practice anything causes discomfort while the body adapts to the new conditions and stresses. Yoga practices help us explore the body and to locate areas of tension and to dissipate them using posture, relaxation and breathing.
Even though the last time I visited Saatchi and Devi was some 3 years ago, I was quite pleased to notice that I hadn't lost any degree of my flexibility and had gained some strength. I noticed this since we tried hard for some time, the purpose of such a course. My blockages seemed familiar and comfortable.
Through the practices I noticed that one area was particularly stiff after rigorous practice and told this to the group. The next days I worked intensively on trying to dissolve and dissipate the pain there. During a morning session of intense meditation I found that the discomfort was going and I was left with a feeling of elation and joy. I'm always willing to share my experiences with the group so I explained how this pain had rather suddenly evaporated. Saatchi told me, "I was feeling it for a few days now and decided that you didn't need it any more." Quite matter-of-factly he said this and I understood that it wasn't such a simple issue.
During my stay I found that there were (and still are) areas of discomfort in the body and they can be healed through sensitivity and the application of various techniques. As one level of coarse discomfort is removed, another finer and more subtle level is revealed, going deeper into ones own body, emotions, mind and soul. I have a lot more work to do and am grateful for the teachings that have led me to start to experience and trust more.
Strategies
As babies, we rely so long on our mother and father as provider and protector. We needed their attention to keep us healthy and from harm. As we become aware of ourselves as children in society we fight for attention from others, to get what we (think we) want. Always reacting to the fashions and trends around us. Constantly pushing the limits and the standing back to confirm our position is still tenable in the group.
Now we have grown up is it still relevant to keep these stereotypes and modes of behaviour that served us so long. Are these protection mechanisms so important now that we have (supposed to) matured?
Looking at the strategies takes a lot of honesty. Recognising them in others is the first and easiest stage. Having a critical personality it was easy for me to recognise people playing out their strategies.
Recognising these strategies being played out by myself is another matter. I would ignore or deny that I did these things, not wanting to shatter my personal image that I have built up. Now I still try to recognise the strategies being used by everyone (including myself) and then try to act appropriately. Healing oneself is the first stage; after that you can try to help others.
Connecting To A Higher Source
And once we realise that we can heal ourselves, we can start to take control of our internal and external connections. We can realise that our family and friends are real people with real problems and pain (just like ourselves). They are trying to do their best in the current circumstances, reacting to the things that are going on around them.
Energy Enhancement teaches us to move on to a higher source of energy, one that doesn't have demands on time, energy or have any expectations. We have to constantly stay connected with it. We have to be open and prepared to accept this and it doesn't necessarily make life easier. With power comes responsibility and one of the tasks we have is to heal ourselves and the world around us.
Being with Saatchi and Devi over these few years has allowed me to go deeper into my own life, past, experiences and emotions. They have supported me to develop my own capacity for healing and encouraged me to be true to my self (my soul).
We are all wonderful beings with tremendous capacities and talents. Let's use them.
TESTMONIAL.. WHAT CARLITA SAYS…..

My name is Carla. I am 23 years old and I'm studying Corporeal Expression at college including dance.

I was looking for a change and also for a way of protecting and maintaining my energy. Then I saw a poster of a lady sitting in meditation with the light of the soul shining down upon her head and somewhere inside my voice told me, "Follow this Light" and this is how I met Satchi and Devi.

I do not have a lot of money nor my father, but they were very kind to me in reducing the cost of the course, however, they insisted on some kind of payment. My Father offered to let me work with him in his painting profession for a few weeks so I was able to give them something before the course started.

The techniques they taught me on the Energy Enhancement Course have changed my life!!

The first day Satchi taught me how to sit. By moving the position of my posture slightly I could feel the flow of energy from the center of the earth into the center of the universe. Satchi explained that what I was feeling was Kundalini Energy. If I followed it, he said, It would lead me to Enlightenment.

Satchi and Devi opened their hearts to me and took me as one of their family. Hearts only speak to Hearts, they said, And you have a good heart!! A good student is always grateful they said…..

They not only teaching me these wonderful Techniques of Energy Enhancement but also they taught me how to eat properly and how to avoid the poisonous traps of pesticides set for the unwary by the modern genetic genocide mindset.

And most important, they taught me how to love myself and to make my dreams come true.

I have new friends now.


THANK YOU SATCHI AND DEVI!!!

CARLA, January 2004


"During Energy Enhancement meditation, I have had some very interesting experiences. I do not want to speak of them here as I see them as being personal, but I can say that they have been very unexpected and very positive. So I see that the experiences during meditation as part of the Energy Enhancement Course were experiences of Energy. Of gaining Energy and of in my case of Energy Initiation. Energy Enhancement is just that, it enhances your energy, and not just in my case. On speaking to the other participants on the course I found they had similar yet different experiences."
Mat, August 2003
And here are a few Practises of the Boddhisattva from the Dalai Lama.
GOTO…..
https://www.energyenhancement.org/buddhism/37_Bodi_practices.html
First Practice
The possession of this human base, this precious vessel so difficult to obtain, in order to liberate others and ourselves from the ocean of samsara, allows us to hear, reflect, and meditate day and night without distractions. This is the practice of the bodhisattva.
Second Practice
Towards our friends and those we love run the waters of attachment, towards our enemies burns the fire of aversion; in the obscurity of ignorance, we lose sight of what should be abandoned and what should be practised. Therefore, renunciation of one's country and home is a practice of the bodhisattva.
Third Practice
When we abandon our harmful surroundings, our illusions diminish, and because we have no distractions our practice of virtue develops spontaneously, leaving us with a clear mind, Our trust in the Dharma grows. To live in solitude is a practice of the bodhisattva.
Fourth Practice
One day old and dear friends will separate, goods and riches obtained by great effort will be left behind. Consciousness, a guest of the body, this temporary dwelling, will depart. From this moment on, to renounce all attachment to this life is a practice of the bodhisattva.
Fifth Practice
If we have harmful companions, the three poisons are increased, our reflection and meditation becomes degraded; love and compassion are destroyed. To abandon dangerous company is a practice of the bodhisattva.
Sixth Practice
To rely on a spiritual friend who has eliminated all illusions, whose competence in the teachings and practice is complete, and whose qualities increase like the crescent moon; to cherish this perfect guru more than one's own body is a practice of the bodhisattva.

GO FOR IT!!!!
SATCHIDANAND


ENERGY ENHANCEMENT
THE CORE ENERGY TECHNIQUES !!
CLICK BELOW TO GO TO
Take your time, this site has much new wonderful information.
Do not buy the enmity of one man for the love of a thousand men.

Al Ghazzali (Essential Sufism)
---

Illness itself is one of those forms of experience by which one arrives at the knowledge of God ...
It is, so to speak, the cord of love by which God draws to Himself the saints.

Al-Ghazzali
---
Asking good questions is half of learning.

Muhammad (Essential Sufism)

---
A donkey with a load of holy books is still a donkey.

Traditional (Essential Sufism)
---
Whatever you have in your mind - forget it;

Whatever you have in your hand - give it; Whatever is to be your fate - face it!
Abu Sa'id (Essential Sufism)

---
For every sin but the killing of Time there is forgiveness.
Traditional (Essential Sufism)
---
If someone remarks: "What an excellent man you are!" and this pleases you more than his saying, "What a bad man you are!" know that you are still a bad man.

Sufyan al Thawri (Essential Sufism)
---
A seeker went to ask a sage for guidance on the Sufi way.

The sage counseled,
"if you have never trodden the path of love, go away and fall in love;

then come back and see us."
Jami (Essential Sufism)
---
"I searched for God and found only myself. I searched for myself and found only God".
Sufi Proverb
---
IF words come out of the heart, they will enter the heart, but if they come from the tongue, they will not pass beyond the ears.
Al-Suhrawardi (Essential Sufism)
---
Arrogance and conceit in a person may be recognized by three signs:
When alone does he feel gloomy, and in company feel happy?
When people praise him, does he perform more worship?
When they speak badly of him, does he perform very little worship?
Al Ghazzali (Essential Sufism)
---
Pray for what you want, but work for the things you need.
Modern Traditional (Essential Sufism)
---

Beyond our ideas of right-doing and wrong-doing,
there is a field. I'll meet you there.
When the soul lies down in that grass,
the world is too full to talk about.
Ideas, language, even the phrase 'each other'
doesn't make sense any more.

Jelaluddin Rumi
in Coleman Barks The Essential Rumi (Haper San Franscisco, 1995,) p. 36

---

The Thing we tell of can never be found by seeking, yet only seekers find it.

Bayazid Bistami (Essential Sufism, p. 37)


---
You've no idea how hard I've looked for a gift to bring
You. nothing seemed right. What's the point of bringing gold
to the gold mine, or water to the Ocean. Everything I came
up with was like taking spices to the Orient. It's no good
giving my heart and my soul because you already have these.
So- I've brought you a mirror. Look at yourself and
remember me.

Jalaluddin Rumi

---
Happy are those who find fault with themselves instead of finding fault with others.
Muhammad (Essential Sufism)
---
If men had been forbidden to make porridge of camel's dung, they would have done it, saying that they would not have been forbidden to do it unless there had been some good in it.

Muhammed (Essential Sufism)
---
What is done for you - allow it to be done.

What you must do yourself - make sure you do it.
Khawwas (Essential Sufism)
---
Only that which cannot be lost in a shipwreck is yours.
Al-Ghazzali; in Llewellyan Vaughan-Lee: Travelling the Path of Love" Inverness, CA: Godlen Sufi Center, 1995, p. 109
---
Enlightenment must come little by little-otherwise it would overwhelm.

Idries Shah

---
Whatever we perceive in the world around us tends to reflect who we are and what we care about most deeply, as in the old saying, "When a thief sees a saint, all he sees are his pockets."

Robert Frager, Heart, Self & Soul, The Sufi Psychology of Growth, Balance and Harmony
---
We have all had the experience of failing time after time in changing old habits.Then suddenly these old habits lose their hold on us. What was so attractive suddenly becomes unattractive. This is a sign that God has accepted our repentance.
At this point, my sheikh used to say that we are no longer responsible for those old sins. We have truly changed and we are now someone who is not even tempted to commit them.

Robert Frager, Heart, Self & Soul, The Sufi Psychology of Growth, Balance and Harmony p. 71