OSHO
Dhammapada-Buddhism-Buddha
THE DHAMMAPADA: THE WAY OF THE BUDDHA, VOL. 7
Chapter 6: Don't take enlightenment seriously
Question 3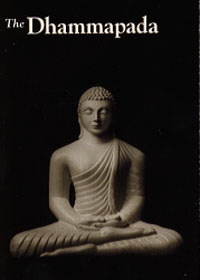 Energy Enhancement Enlightened Texts Dhammapada The Way of the Buddha, Vol. 7
The third question:
Question 3
BELOVED MASTER,
I AM UNABLE TO UNDERSTAND WHY GAUTAMA THE BUDDHA RENOUNCED HIS BEAUTIFUL WIFE.
Kamalesh, it seems you must be a bachelor!
Murphy's definition of a bachelor: A rolling stone who gathers no boss.
Murphy's definition of marriage: A man is incomplete until he is married; then he is really finished.
You don't understand what poor Buddha suffered! Only married people know it, but very few married people have the courage to say it.
I have heard an anecdote:
Maxim Gorky, Anton Chekhov and Leo Tolstoy, the three great Russian novelists, were sitting on a bench in a park and chitchatting. Naturally they started talking about the phenomenon called woman.
Chekhov was very bitter; he was abusing women like anything. Gorky was also not in any way sympathetic.
When they both were finished they asked Tolstoy, who was keeping quiet. Tolstoy said, "If you really want to hear the truth you will have to wait."
They said, "What do you mean by 'You will have to wait'? How long?"
He said, "I can't say how long, but you will have to wait. I can say the truth only when one of my legs is in the grave. I will say the truth and jump into the grave! Then I don't want to be outside the grave, because if my wife comes to know about it then my life, which is already hell... I don't know what will happen to me!"
And remember, the same is the case with women: if you ask them, they will tell the same stories about the husbands.
There is an ancient Arabic saying:
The gods gave man fire, and he invented fire engines. They gave him love, and he invented marriage.
Marriage, up to now, has been such a suffering! It is because of marriage that monasteries have existed -- the whole credit goes to marriage! Otherwise there would be no monks and no nuns. It is seeing the ugliness of marriage, millions of people simply decided never to get into it, or even those who had already got into it escaped.
The woman has suffered much, but her suffering has been of a different quality: she has suffered because her freedom has been taken away from her. Man has dominated her, made her a slave. Man has also suffered... because remember one simple law of life: If you make others suffer, the suffering is bound to rebound on you. Man made the woman a slave, physically... and the woman? She made the man a slave spiritually. In fact, man's suffering has been much deeper than the woman's suffering.
There is now the Women's Liberation movement. Some daring men are needed to start a Men's Liberation movement, because man's slavery became spiritual -- and spiritual slavery is far more dangerous.
Murphy's definition of cooperation: An exchange between a woman and a man in which she coos and he operates.
Kamalesh, you seem to be absolutely unaware of the phenomenon of marriage -- which is destructive to both man and woman. Love is creative, marriage is destructive. But love is not dependable: this moment it may be there and the next moment gone. And man wants permanent things; he is obsessed with permanent things. He wants security, safety, he wants to cling. Hence love is not reliable, so he created marriage.
Marriage is a plastic flower. Love is a real rose, but the real rose is beautiful in the morning; by the evening it is gone. Nobody can say when it will disappear, when the petals will start falling. Just a strong wind and it is no more, just a strong sun and it is no more. But the plastic flower will be there; come rain, come sun, come anything, the plastic flower will be there. In fact, plastic is the only permanent thing in the world.
Now ecologists are very much worried about plastic because you cannot destroy it. You go on throwing plastic bottles and containers and they all go on accumulating in the earth or in the sea. Sooner or later they will surround the whole earth and they will destroy the fertility of the earth, because they cannot melt, merge, become one with the earth.
The real flower goes back to the earth, becomes earth again. Then again a new flower will arise. But the plastic flower sticks, remains forever. It is dangerous; it is a hindrance in the circulation of life processes.
Marriage is a plastic flower -- marriage is an institution. And who wants to live in an institution?
If Buddha escaped, you should not be worried; it is understandable. He must have suffered!
"Daddy, what is polygamy?"
"Polygamy is a situation in which a man can have more than one wife."
"Okay. So what do you call a situation in which a man can have only one wife?"
"Monotony, my son, monotony."
Marriage is monotonous, it is utter boredom. Two persons are just hooked with each other.
Buddha was courageous -- at least he escaped. Not much of a courage, but some courage still is there: he escaped.
I am teaching my sannyasins a far more courageous way: don't escape, but try to live in love. And start forgetting the whole idea of marriage -- slowly slowly.
A recently divorced man was feeling so depressed he decided to consult a psychiatrist. The doctor listened to his complaints and then had this to recommend, "I think you ought to get married again, Mr. Jones.... Buy a house, have some kids; live like other men. You will be back to your old self in no time."
"No thanks, Doc," said Mr. Jones. "I would rather commit suicide."
Once you have known the ugliness of marriage there are only two possible ways. One is, escape from it like Buddha, which I don't approve of because that doesn't change much. Yes, it helps Buddha -- he gets out of it -- but the world continues the same.
My own suggestion is, drop the very concept of marriage -- live in love. And if love continues, good; if it disappears, good. What is the harm in it? Anything that appears one day is bound to disappear one day; that's how things are -- the way of things, the natural way. Allow it. Don't cling, don't be possessive. Live passionately while it is there, and when it is gone it is gone. Feel grateful for all that it has done to you. Say goodbye. Don't complain, don't have any grudge.
The newspaper account of George's tragic death read: "His friends could give no reason why he should have committed suicide. He was a bachelor."
Kamalesh, you must be a bachelor! One thing is good about being a bachelor: you will not commit suicide. And if you commit suicide you will leave everybody in a puzzle. Nobody will be able to figure out why. You are not yet experienced about this so-called relationship business. You seem to be utterly inexperienced. Hence you say, "I am unable to understand why Gautama the Buddha renounced his beautiful wife."
Certainly he had a very beautiful wife, but beauty of the body is so superficial that within a week you start not looking at it. You start ignoring it, you start forgetting it.
Ask any husband for how many years he has not looked at his wife's face -- and he used to think before that she is a beautiful woman. Ask any wife how long she has not looked at her husband's face. Years may have passed.
Do a small experiment: close your eyes and try to remember your wife's or your husband's face. You will not be able to remember it. You may be able to remember the face of your neighbor's wife, but not your own wife; it is almost impossible. If you can do it you are a rare specimen, you are a wonder! It does not happen. If you try to remember your wife's face, everything will go dizzy. Thousands of other faces will appear, but not your wife's face. Why?
You have not looked at the poor woman for years, for the simple reason that marriage makes things so certain. Marriage makes things so dead and dull. Marriage takes all surprise and wonder away. Marriage makes you take your wife for granted, your husband for granted. What is the need to look at your wife? She will be there tomorrow and the day after tomorrow and forever. You look at people when you know you may not be able to look at them again. Marriage kills; it makes something tremendously beautiful very ugly.
Yes, Buddha had a beautiful wife, but then he became tired -- tired of the whole repetitive game. He was a very alert man, intelligent. If he was as stupid as millions of others are he would have lived without any effort to go through a radical change. He would have simply repeated the whole circle of life -- eating, drinking, reproducing -- he would have lived and died. But he became aware that life can't be only this repetition. Life must be something more, life has to be something more. There must be some hidden secret in it which we are missing because of our repetitiveness.
He escaped not exactly from the wife: he escaped to know the truth of life. It was not basically escaping from the wife; it was not an escape FROM but an escape FOR. That's why, when he attained the truth, the first thing he did was to come back to the palace to share his new vision, his insight, with his wife. He remembered her.
He felt that this much he owed to her. He had come to ask her forgiveness because he had escaped, left her. He had not even asked her permission. He had not even told her that he was going away. He escaped like a thief and had come back to apologize. A man of great grace: even after becoming enlightened he came to apologize to somebody who is not enlightened.
His disciple, Ananda, said to him. "This does not look right, an enlightened person going to the unenlightened to apologize, to ask her, 'Forgive me.'"
Buddha said, "I know it does not look right, but this much I owe to her. I have to complete, finish things; otherwise something remains hanging. And more than that, my going to her will help her to come to me; otherwise -- she is a very proud woman -- she will not come to me. And she will go on carrying that grudge, that wound; she will suffer unnecessarily. And what I have found I am going to share with everybody, why not with my wife? What wrong has she done to me?"
He went to his wife. The wife was very angry, naturally. She shouted, screamed; she did all that a woman will do in such a situation. And Buddha stood there utterly silent, not even uttering a single word. Then suddenly she became aware that he has not said a single word. She wiped her tears, looked at Buddha, saw that he is so silent and so beautiful, and a totally different kind of beauty: the beauty of the inner. He is radiating, he is luminous.
She asked him, "Why are you not answering me?"
Buddha said, "How can I answer? I am no longer the same person that had left you. You look at me, you observe! Look into my eyes, feel my presence! I am not the same person -- that person is dead. I am a totally new being, I am reborn! And I have come to share my joy, my finding, with you, because I love you. And the old love was not love, it was exploitation; this new love is really love. The old love was just lust. Now I want to give all that I have known to you, for no other reason, but just for giving's sake. Just sharing will make me so blissful. If I can help you in any way I will feel tremendously obliged."
The wife became a sannyasin; she was initiated.
You ask me, Kamalesh, "I am unable to understand why Gautama the Buddha renounced his beautiful wife."
In fact he has not renounced the wife: he has renounced the whole marriage system, he has renounced the old way of life. The wife was just a part of it. He renounced the way he had lived up to that moment.
When he left his palace he was twenty-nine years old; when he came back, twelve years had passed... he had become enlightened. He had come to know the truth, the meaning, the significance, of existence. He had come to know the great celebration that goes on and on: the celebration you call God. He had come to share his celebration with his wife, with his child, with his father, with his stepmother, with his friends. Whosoever was ready, he was ready to give to them. And he transformed their lives.
Gautama the Buddha is the only man in the whole history of human consciousness who has transformed so many people. The debt of humanity is immense, unpayable.
Next: Chapter 6: Don't take enlightenment seriously, Question 4
Energy Enhancement Enlightened Texts Dhammapada The Way of the Buddha, Vol. 7
Chapter 6:
Dhammapada, Buddhism, Buddha. The Dhammapada: The Way of the Buddha, Vol. 7, Chapter 6: Don't take enlightenment seriously, Question 1, HOW DID YOU BECOME ENLIGHTENED? at energyenhancement.org
Dhammapada, Buddhism, Buddha. The Dhammapada: The Way of the Buddha, Vol. 7, Chapter 6: Don't take enlightenment seriously, Question 2, DO I EVER SEE ANYBODY OR ANYTHING AS THEY REALLY ARE? at energyenhancement.org
Dhammapada, Buddhism, Buddha. The Dhammapada: The Way of the Buddha, Vol. 7, Chapter 6: Don't take enlightenment seriously, Question 3, I AM UNABLE TO UNDERSTAND WHY GAUTAMA THE BUDDHA RENOUNCED HIS BEAUTIFUL WIFE at energyenhancement.org
Dhammapada, Buddhism, Buddha. The Dhammapada: The Way of the Buddha, Vol. 7, Chapter 6: Don't take enlightenment seriously, Question 4, WHEN YOU SAY, 'WAKE UP, BE CONSCIOUS, COME OUT OF YOUR DREAMS!' -- AND TO MAKE IT CLEAR YOU GIVE EXAMPLES -- INSTEAD OF GOING DEEPLY INTO IT WE LAUGH AS IF IT IS A JOKE. HOW DO YOU FEEL? at energyenhancement.org