OSHO
Dhammapada-Buddhism-Buddha
THE DHAMMAPADA: THE WAY OF THE BUDDHA, VOL. 7
Chapter 6: Don't take enlightenment seriously
Question 2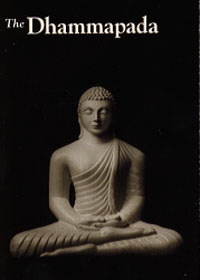 Energy Enhancement Enlightened Texts Dhammapada The Way of the Buddha, Vol. 7
The second question:
Question 2
BELOVED MASTER,
DO I EVER SEE ANYBODY OR ANYTHING AS THEY REALLY ARE?
Prem Shanta, mind is incapable of seeing. Mind is blind -- blind with a thousand and one prejudices, blind with concepts, ideologies, philosophies, religions, blind with your past experience. Your eyes are so much covered with dust, layer upon layer, that you can't see that which is. And whatsoever you see is your interpretation of reality, not reality itself. You never hear what is said to you, you never see what confronts you. You see that which you want to see; you see that which you are capable of seeing. And you hear that which you want to hear; you hear that which you already believe in.
Your mind continuously goes on screening; it allows only that which fits with it, it does not allow anything in which does not fit with it. It is on a constant vigilance; it guards.
I am talking to you here: three thousand people, that means three thousand meanings! When I am saying anything I am saying it with one particular meaning, but when it reaches to you it takes an individual color -- you give it your own color. Immediately it is something else. Unless you learn how to listen without the mind, how to see without the mind....
That's what meditation is all about: putting the mind aside, seeing without any prejudice, without any a priori conclusion, without any conclusion at all. When your eyes are functioning just like mirrors, simply reflecting that which is, neither condemning it nor appreciating it... when your eyes are nonjudgmental, when you don't say, "This is good, this is bad. This should be, this should not be" -- when you don't say anything, you simply reflect... then you see that which is -- otherwise not, ordinarily not.
You have to disappear to see the reality as it is. If you are there, the more you are there, the less you see the real.
A number of showgirls were entertaining troops at a remote army camp. They had been at it all afternoon and were tired and very hungry. At the close of their performance, the major asked, "Would you girls like to mess with the enlisted men or the officers this evening?"
"It really doesn't matter," spoke up a shapely blonde, "but we've just got to have something to eat first."
Preoccupied mind! They are hungry, the hunger is too much there. Now everything they hear they will hear through this hunger.
Fast one day and then go to M.G. Road, and you will see only restaurants, hotels, and you will not see anything else. And for the first time you will start smelling food smells coming from the restaurants and hotels. And you have passed the same road many times, but you have never smelled so intensely. Fast two, three days and your nose becomes so sensitive to food odors, to the aroma of food, that you will be surprised -- your nose has never been so sensitive.
If you are hungry and you look at the full moon, you may see just a chapati! It is impossible to see the full moon.
The Jewish lady and her son were walking along the beach when a tidal wave crashed on them. When the water receded the boy was gone.
"Ah Merciful Father," the mother pleaded. "Please return my beautiful child. I will be so grateful -- I will never cheat on my income tax or my husband again, I will stop smoking, I will do anything -- anything!"
Just then another wave loomed up and her small son was standing there. She clasped him to her bosom, looked at him a moment and once again turned her eyes heavenward.
Looking up she said, "But he had a hat!"
Now, the Jewish mind... she can't forget the hat! The son is back -- so what! Where is the hat?
Everybody has a certain mind. All minds are your choices. When you look without the mind you look without any choice. Then you are choicelessly aware. That's the real way to see things as they are.
Shanta, ordinarily you don't see the real existence, you only project your ideas. That's why you go on missing the great beauty that surrounds you, the splendor that is all over. You cannot see god, not because he is absent but because your mind is so full of ideas ABOUT god -- Christian ideas about god, Hindu ideas about god, Jewish ideas about god. You can't see god if you go on carrying these ideas.
God is a simple reflection; it is not a philosophy, it is not ideology. Knowingly, unknowingly, we are all full of ideologies -- political, religious, social -- and we go on looking through them.
A politician was bitten by a dog, and a few days later his doctor told him that the lab tests were positive, that the dog had rabies, and that he too was infected.
The politician pulled out a notebook and began writing furiously.
"Now, take it easy," said the doctor. "No need to start writing your will. You will pull through."
"Will, hell!" snapped the politician. "This is a list of the people I am going to bite."
Now before he forgets, before he really goes insane, he wants to make a list. A politician is a politician, even if he is on the verge of going mad! He must be making the list of all his political enemies. He is not much concerned about his own problem -- he wants to use his problem to create problems for others. He is much more concerned about who he is going to bite; he wants to be ready for that. That is the basic political mind: the political mind is not interested in himself; it is more interested in harming others, how to topple others, how to destroy others.
The religious person is much more interested in his own joy. The politician is much more interested in seeing others miserable; his joy is only in seeing others miserable. Now, such a mind is incapable of seeing anything good in life -- impossible. He can't see any beauty, he can't see any grace. He has none, how can he see it? You can see only that which you are.
And if you want to see that which is, then you have to disappear completely. You have to be utterly empty, a nobody, a no-mind, just an empty space. Then life bursts forth with all its splendor.
Next: Chapter 6: Don't take enlightenment seriously, Question 3
Energy Enhancement Enlightened Texts Dhammapada The Way of the Buddha, Vol. 7
Chapter 6:
Dhammapada, Buddhism, Buddha. The Dhammapada: The Way of the Buddha, Vol. 7, Chapter 6: Don't take enlightenment seriously, Question 1, HOW DID YOU BECOME ENLIGHTENED? at energyenhancement.org
Dhammapada, Buddhism, Buddha. The Dhammapada: The Way of the Buddha, Vol. 7, Chapter 6: Don't take enlightenment seriously, Question 2, DO I EVER SEE ANYBODY OR ANYTHING AS THEY REALLY ARE? at energyenhancement.org
Dhammapada, Buddhism, Buddha. The Dhammapada: The Way of the Buddha, Vol. 7, Chapter 6: Don't take enlightenment seriously, Question 3, I AM UNABLE TO UNDERSTAND WHY GAUTAMA THE BUDDHA RENOUNCED HIS BEAUTIFUL WIFE at energyenhancement.org
Dhammapada, Buddhism, Buddha. The Dhammapada: The Way of the Buddha, Vol. 7, Chapter 6: Don't take enlightenment seriously, Question 4, WHEN YOU SAY, 'WAKE UP, BE CONSCIOUS, COME OUT OF YOUR DREAMS!' -- AND TO MAKE IT CLEAR YOU GIVE EXAMPLES -- INSTEAD OF GOING DEEPLY INTO IT WE LAUGH AS IF IT IS A JOKE. HOW DO YOU FEEL? at energyenhancement.org