OSHO
Dhammapada-Buddhism-Buddha
THE DHAMMAPADA: THE WAY OF THE BUDDHA, VOL. 6
Chapter 8: Everything is possible
Question 4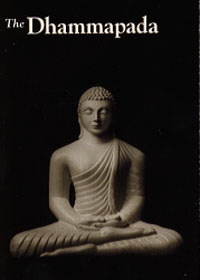 Energy Enhancement Enlightened Texts Dhammapada The Way of the Buddha, Vol. 6
The last question:
Question 4
BELOVED MASTER,
IS IT REALLY DIFFICULT TO UNDERSTAND YOU?
Dhammo, it is the same old story. It has always been difficult to understand people like me. Not that you are not intelligent enough to understand, but because you are too knowledgeable. You already think you know and that is the trouble. Come to me not knowing anything, don't come to me as Hindus, Buddhists, Christians; otherwise you will misunderstand. I am saying simple things, but if you have a preoccupied mind, you are going to miss them.
"It was terrible, mother," complained the curvy teenager. "I had to change my seat four times at the movies."
"Some man started bothering you?" asked her mother.
"Yes," said the girl. "Finally."
An American girl visiting England went to a posh party. She was dancing with a rather stuffy Englishman when her necklace became unfastened and slipped inside the back of her gown. So she asked her partner to retrieve it.
Though he felt rather uncomfortable about it, he courteously attempted to reach the necklace. After a couple of tries, he finally said, "I am awfully sorry, but I am having trouble getting to it."
"Try further down," she instructed.
Just then he noticed that all eyes in the room were on him, and he blushed beet-red. He whispered to the lovely American, "I feel such a perfect ass!"
"Never mind about that," she said. "Just get the necklace!"
Different languages.... I speak one language, you speak another language. By the time words reach to you they have a totally different meaning. Unless you start listening to me in the same silent space in which I am speaking to you, misunderstanding is inevitable. But it can be avoided. Be a little bit more meditative, learn the ways of being more silent -- and many of you are learning, and many of you have become aware of it, and many of you are tasting me without misunderstanding me at all.
It is going to happen to you too, Dhammo. You are new; just get a little seasoned, a little ripe and mature. And the only maturity required here is to sit with me absolutely empty, so I can resonate within you, so I can touch your heart, so I can play upon the harp of your heart.
Then the sounds created will not come from your mind; otherwise, if you keep the mind between me and you, then whatsoever meaning you arrive at is your own; I have nothing to do with it, it has nothing to do with me either.
Wait a little, Dhammo, become a little more silent, learn how to be in communion with me. It is a love affair to be with a master, a love affair which is inexpressible in words; but one can get attuned, it is an attuning. Slowly slowly, the disciple falls into accord with the heart of the master. He breathes the way the master breathes, his heart beats in the same rhythm as the master's heart. Then understanding comes so naturally; just as your shadow follows you, understanding follows silence.
Enough for today.
Next: Chapter 9: Mind is a fraud
Energy Enhancement Enlightened Texts Dhammapada The Way of the Buddha, Vol. 6
Chapter 8:
Dhammapada, Buddhism, Buddha. The Dhammapada: The Way of the Buddha, Vol. 6, Chapter 8: Everything is possible, Question 1, TO ME, THE MOST BEAUTIFUL PASSAGE IN THE CHRISTIAN SCRIPTURES ENDS WITH THE WORDS, AND JESUS WEPT. IT OCCURS WHEN HE APPROACHES JERUSALEM FOR THE LAST TIME, LOOKS DOWN ON IT IN HIS COMPASSION, SEES ALL OF THE FOOLISHNESS, FUTILITY AND PATHOS OF MANKIND -- AND WEEPS. BELOVED MASTER, DOES THE BUDDHA WEEP? at energyenhancement.org




Dhammapada, Buddhism, Buddha. The Dhammapada: The Way of the Buddha, Vol. 6, Chapter 8: Everything is possible, Question 2, WHAT IS COINCIDENCE? at energyenhancement.org




Dhammapada, Buddhism, Buddha. The Dhammapada: The Way of the Buddha, Vol. 6, Chapter 8: Everything is possible, Question 3, WHY DO YOU GO ON SPEAKING AGAINST KNOWLEDGE? I HAVE NEVER HEARD YOU SPEAK AGAINST IGNORANCE at energyenhancement.org




Dhammapada, Buddhism, Buddha. The Dhammapada: The Way of the Buddha, Vol. 6, Chapter 8: Everything is possible, Question 4, IS IT REALLY DIFFICULT TO UNDERSTAND YOU? at energyenhancement.org