OSHO
Dhammapada-Buddhism-Buddha
THE DHAMMAPADA: THE WAY OF THE BUDDHA, VOL. 6
Chapter 8: Everything is possible
Question 1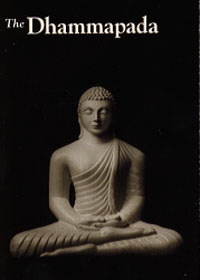 Energy Enhancement Enlightened Texts Dhammapada The Way of the Buddha, Vol. 6
The third question:
Question 3
BELOVED MASTER,
WHY DO YOU GO ON SPEAKING AGAINST KNOWLEDGE? I HAVE NEVER HEARD YOU SPEAK AGAINST IGNORANCE.
Sargam, knowledge hinders, ignorance never does. Knowledge makes you egoistic, ignorance never does. Knowledge is nothing but hiding your ignorance, covering it up. If there is no knowledge, you will know your ignorance because there will be nothing to hide it. And to know that "I am ignorant" is the first step towards real wisdom. Hence I never speak against ignorance, ignorance has something beautiful about it. One thing that is beautiful about ignorance is that it can give you the right direction to move.
Socrates says: I know only one thing, that I know nothing. But Socrates is one of the wisest men of the world.
It happened that a few people had gone to the temple of Delphi, and the oracle at Delphi declared that Socrates is the wisest man, the greatest wise man ever. Those people rejoiced very much because they had come from Athens. They came back, they went to Socrates and they said, "You should also rejoice. Have you heard or not? The oracle at the temple of Delphi has declared you the greatest wise man on the earth."
Socrates said, "There must be something wrong, some misunderstanding, because I am the most ignorant; I know only one thing, that I know nothing. You go back and you tell the oracle that Socrates says he is the most ignorant person in the world."
They went back, they told the oracle and the oracle laughed and said, "That's why I have declared him the wisest man in the world."
Hence I never speak against ignorance. Ignorance also has another beautiful thing about it: that it is yours. Knowledge is always borrowed. And something that is yours cannot be taken away from you. It cannot be stolen, robbed, but knowledge can be taken away from you very easily. It is borrowed.
And when you are ignorant you don't have any pretensions, you are simple, you are innocent. Ignorance has the quality of innocence about it. That's why children are so innocent, because they are so ignorant. Primitive people are so innocent because they are so ignorant; they are not cunning, they cannot be. They don't have enough knowledge to be cunning. Before you can be cunning you have to be educated. Before you can be cunning you need a university degree; the more universities there are, the more cunningness there is in the world. The more people become knowledgeable, the more they are deceptive, cunning, oppressive. And they go on finding ways to exploit others.
Ignorance is pure, unadulterated. From ignorance move towards wisdom, not towards knowledge. If ignorance becomes meditative it becomes wisdom; if ignorance becomes interested in more and more information then it becomes knowledge. To be knowledgeable is not going to help at all. Wisdom liberates. Wisdom is as much yours as your ignorance is yours.
Knowledge not only deceives others, it deceives you too. When you know answers parrotlike, you start thinking that you really know. Because you can read and you can write, you start to think that you know; because you can understand words you start thinking that you know; because your intelligence is covered with intellectuality, you start thinking that you are intelligent -- but you are not intelligent, only intellectual.
Intelligence is part of wisdom, intellectuality is part of knowledge.
Yes, Sargam, I speak against knowledge because there is nothing more dangerous than knowledge. It hinders you from knowing yourself. Knowledge hinders you from knowing, because it gives you plastic, synthetic, false things to play with and you forget all about the real thing. Don't start believing in words; it is the most dangerous game one can play. Don't be a parrot, otherwise you will be going farther and farther away from your inner source.
One very hot day a dog was walking along a road when he saw a take-away food shop. He went in and asked for a can of lemonade.
"Get out!" said the shopkeeper. "Dogs are not allowed in food shops."
"But look here," said the thirsty canine, "you've got a big sign outside that says, WE SERVE HOT DOGS!"
Just knowing the words is not enough. And the more words you know, the more confused you are going to become, because you don't know, your words are just on the surface. If somebody scratches a little bit more, your ignorance is bound to show. People go on pretending.
When I was a student in the university, I had a professor who was not even very knowledgeable -- wisdom was out of the question. But he had this habit of pretending. Whenever anybody would mention any name of a philosopher, author, poet, mystic or a name of some book, he would immediately say, "Yes, I have read the book, it is beautiful," or this or that, he would make some comment. But I could see in his eyes that the answer he was giving was hollow, he had not read the book, he knows nothing about the person and nobody had ever seen him in the library. I had gone to his house also, and I had not seen any books there. I inquired in the library -- he had been in the university for ten years -- not a single book had been taken out in his name, and nobody had ever seen him reading, except the newspaper. He was not reading anything else, and that too, he used to borrow from the neighbors. I inquired everywhere, and I became absolutely certain that he was simply pretending.
One day I invented three names, just invented. I told him, "Have you read, sir, Nomineo's book?"
He said, "Yes." Now, there is no person like Nomineo....
I asked him, "Can you tell me the name of his book?"
He looked a little puzzled; he said, "I must have read it many years ago, I have forgotten the name. You can inquire in the library."
I said, "You come along." In the library there was no name like Nomineo and no book he had written, because he has never been -- so how could he write a book?
I told him, "The other two names were also inventions and you have agreed, and a few other books also you have agreed that you read -- they don't exist!"
He took me aside and said, "Listen, don't tell it to anybody but I don't know a thing about these books. But one has to keep one's face. I don't want to look stupid."
People go on trying to pretend to be what they are not. Knowledge gives you the greatest pretension; you can quote Buddha, Jesus. And you don't understand what they are saying and you will always do something wrong. You will interpret them in a wrong way.
In India there are thousands of commentaries on the Bhagavadgita. Now if Krishna was either mad or insane then there could be thousands of meanings to his words. But Krishna was very particular about what he wanted to say. How then can you explain these thousands of commentaries? These are people imposing their meanings on Krishna. If he comes back and looks at the commentaries he himself will be puzzled, he himself will be in some difficulty trying to decide what his meaning really was. And these people are very argumentative.
Anybody can prove anything. Shankara proves that the Gita is the philosophy of renouncing the world; the world is illusion, and the Gita preaches renunciation -- and he proves it beautifully. His contemporary, Ramanuja, proves just the opposite: that the Gita teaches one to live in the world and be a devotee of God. It does not preach renunciation, it teaches the art of living in the world with prayer.
And Lokmanya Tilak finds something else; he says the Gita preaches action. Of course with great detachment -- but you have to act.
These three are the paths, ancient paths. The paths of no-action, inaction, that is Shankara's finding in the Gita. The path of action, that is Lokmanya Tilak's finding in the Gita. And the third is the path of devotion; Ramanuja is finding the third in the same book. And then there are different variations of the theme.
Knowledgeable people can go on imposing their own ideas of those who have known. The right way to come across a book like the Bible, Gita or Koran is not to have any ideas, not to have any knowledge. Encounter them with great silence, just like a mirror, reflecting only, not interpreting; then you will be able to see the real meaning, their meaning -- not your meaning imposed on their meaning. And the man who can become a mirror need not go to the Gita, the Koran or the Bible, he can find the message in the trees, in the song of the birds, in the clouds, in the sun, in the moon. He can find it anywhere, because God's message is written all over existence. His signature is on each leaf; you just have to be mirrorlike, silent, meditative, with no thought, with no knowledge.
That's why I speak against knowledge. It is knowledge that has become your imprisonment.
Betty was constantly losing her boyfriends because of her grandmother's tendency to say the wrong things to them in her attempt to be modern.
One day, her current boyfriend arrived while Betty was upstairs changing, and the old lady started to brag about her granddaughter.
"I think Betty would rather screw than eat," Granny chatted cheerfully to the young man. "There is hardly a young man around she has not screwed with, and she even has a record to screw by."
The young man blushed, stammered, grabbed his hat, and beat it out the door.
A moment later Betty came downstairs, noted his absence and said, "Alright, Granny, what did you say this time?"
"Nothing," protested the old lady, "I was just telling him how much you liked to screw, when he ran out the door."
"Oh my goodness, Granny, how many times must I tell you, the word is not 'screw', it is 'twist'!"
What happens to Jesus in your mind, what happens to Buddha in your mind is exactly something like that. Your mind does both the things, it twists, it screws. Put your knowledge aside, just go in deep innocence, in deep ignorance, and then you will be able to find what truth is. Truth is not found by knowledge, it is found by silence. And knowledge is noisy.
Next: Chapter 8: Everything is possible, Question 4
Energy Enhancement Enlightened Texts Dhammapada The Way of the Buddha, Vol. 6
Chapter 8:
Dhammapada, Buddhism, Buddha. The Dhammapada: The Way of the Buddha, Vol. 6, Chapter 8: Everything is possible, Question 1, TO ME, THE MOST BEAUTIFUL PASSAGE IN THE CHRISTIAN SCRIPTURES ENDS WITH THE WORDS, AND JESUS WEPT. IT OCCURS WHEN HE APPROACHES JERUSALEM FOR THE LAST TIME, LOOKS DOWN ON IT IN HIS COMPASSION, SEES ALL OF THE FOOLISHNESS, FUTILITY AND PATHOS OF MANKIND -- AND WEEPS. BELOVED MASTER, DOES THE BUDDHA WEEP? at energyenhancement.org




Dhammapada, Buddhism, Buddha. The Dhammapada: The Way of the Buddha, Vol. 6, Chapter 8: Everything is possible, Question 2, WHAT IS COINCIDENCE? at energyenhancement.org




Dhammapada, Buddhism, Buddha. The Dhammapada: The Way of the Buddha, Vol. 6, Chapter 8: Everything is possible, Question 3, WHY DO YOU GO ON SPEAKING AGAINST KNOWLEDGE? I HAVE NEVER HEARD YOU SPEAK AGAINST IGNORANCE at energyenhancement.org




Dhammapada, Buddhism, Buddha. The Dhammapada: The Way of the Buddha, Vol. 6, Chapter 8: Everything is possible, Question 4, IS IT REALLY DIFFICULT TO UNDERSTAND YOU? at energyenhancement.org