OSHO
Dhammapada-Buddhism-Buddha
THE DHAMMAPADA: THE WAY OF THE BUDDHA, VOL. 6
Chapter 10: Happiness: the death of the ego
Question 5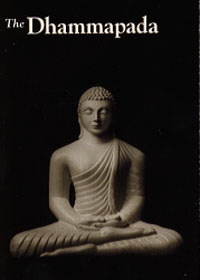 Energy Enhancement Enlightened Texts Dhammapada The Way of the Buddha, Vol. 6
The fifth question:
Question 5
BELOVED MASTER,
WHY ARE THERE SO MANY JEWS HERE?
Harish, Jews are very intelligent people, one of the most intelligent peoples on the earth. They had to be intelligent; otherwise they would not have survived. And because they are intelligent they are always searching for new pastures, new worlds, new life-styles, new ways of seeing, living and being. It surprises everybody.
There are almost fifty percent Jews here. This may be the only place in India where there are so many Jews, because in India there are not any Jews, none at all. And if things go on growing as they are growing, soon you will find another Israel here! And why are Jews coming? -- because they are intelligent, they are always ready to accept anything new and they are ready to drop the old.
In fact, seeing the intelligence of the Jews it seems almost unbelievable that they killed Jesus. The more I have come in contact with the Jews -- and I have thousands of Jews as my sannyasins -- the more I have become puzzled about the phenomenon. Why could they not accept Jesus? Maybe it was not really the Jews who killed him but the Roman emperor, Roman imperialism. Romans have always been cruel and they have not proved themselves very intelligent either. It may have been just that Jews were used as an excuse and the Romans wanted to kill Jesus.
And the Jews were not independent people in those days, they were part of the Roman Empire. It is possible that the Romans used the Jewish priests as a facade, because they would not have liked to kill Jesus directly -- that may have created a revolution in the country, a rebellion. It is a simple diplomacy to use Jews themselves to kill Jesus; then there will be no rebellion, no revolution, no problems arising.
In fact, they pretended on the surface that they were not interested in killing Jesus, and from the back door they may have insisted. To the public they showed that "We are absolutely out of the game. If Jews want to kill him, they can kill him; if they don't want to kill him we are ready to forgive him." And from the back they may have been goading the Jews to kill Jesus. That's more possible, because Jews are not such unintelligent people that they would destroy their own greatest flowering.
Jesus was their greatest flowering. He was the climax of the Judaic approach to life. Jesus was born a Jew and died a Jew -- he was not a Christian, remember; he has not even heard the word 'christian'. And if he comes back he will find himself more in tune with the Jews than with the Christians, because he lived the life of a Jew. He was well acquainted with Jewish scriptures, he quoted Jewish scriptures. He said again and again that "Whatsoever has been said before by other prophets I am saying to you" -- giving it a more contemporary expression, of course, but he was not against Moses, Abraham, Ezekiel. He was not against the old prophets; he was fulfilling their prophecies, he was the very fulfillment.
Why should Jews kill him? There is every possibility that the Romans did it. They were afraid of his growing power.
The political powers always become afraid of anybody who starts becoming powerful in any way. Although Jesus was not interested in politics, not interested in political power, his language could be misinterpreted very easily. He was talking about the kingdom of God, but the Romans started thinking that he is talking of bringing the kingdom of Jews; he wants to become the emperor himself. They must have been apprehensive of his growing popularity.
Many many people were turning to him, coming to him, listening to him, becoming disciples, becoming initiates. Of course it was a religion now, but any moment religion can take the turn and become politics. Hence the politicians always become very alert and cautious.
They are doing the same to me. I am not interested in politics, I am not interested in that stupid game at all, but they are very much afraid. And the best way to kill me will be to find a sannyasin, a Judas, to kill me; that will be the best way. Then there will be no problem.
If a sannyasin kills me, then the whole responsibility falls on my own shoulders or on the shoulders of my sannyasins. The sannyasin may not be a true sannyasin, he may be just a detective, a spy, a government man, who has taken sannyas just to kill me. That will be the easiest and the most diplomatic way.
And there are many spies here: German spies and Italian spies and Indian spies. One Indian spy took sannyas. I gave him sannyas -- not only that I gave him sannyas, but I told him, "You become part of the ashram. Why live outside?" He was a little puzzled! Not only that, I told him that "Because you are an L.L.B., a practicing advocate... and we need a department, a law department; there are at least twenty-five cases against me in the courts, so we need our own legal department. You be in charge of it!" I had made him the head. He escaped after one month, because he became more and more interested in me, became more and more interested in meditation, and I gave him access to all the files and everything, because he was the head of the law department. I gave him every access, so if he wants to report anything to the government he can -- there is nothing to hide! My trust in him became such a heavy burden on the poor man. If I had suspected him he would have remained here; but because I trusted him so deeply, he escaped. He said that he would be coming back, but he has not come. Almost eight months have passed.
He became so afraid of me that he sold his house where he used to live, because I am sending my sannyasins to his house in Patiala, in Punjab, to find out what happened to him -- we need him! He has sold his house and escaped from Patiala too, and he has not given his address to anybody in Patiala. But I am in search! I am going to find him, wherever he is. Now I have told my sannyasins in Delhi to search for him. We need him! I never allow people to escape so easily.
Jews are intelligent people; hence they are always the first to accept new ideas, original ideas, new visions, new dreams.
A Jew and a Catholic were sharing the same compartment on a train. The Jew took an apple out of his suitcase and ate it, core and all. The Catholic looked a little surprised and asked, "Do you always eat the core as well?"
"Of course," explained the Jew. "That's why we are so intelligent -- we get that way by eating the core. And you happen to be a lucky fellow, because I have just one apple left which I will sell to you for fifty dollars."
The Catholic accepted the offer, thinking to himself that fifty dollars for intelligence was a good deal. He bought the apple and ate it, core and all.
After sitting silently gazing out of the window for a while he said, "Now that I think of it, for fifty dollars I could have bought a whole crate of apples."
"See," said the Jew, "it has started working already!"
The Jews have survived out of sheer intelligence. They have lived without a country, without a homeland. They have lived through all kinds of tortures, all kinds of concentration camps, gas chambers; still they have survived. The people who were bent upon destroying them are no more. Where are the Nazis? -- gone down the drain. The people who wanted to destroy Jews absolutely, to annihilate them, are no longer anywhere, but Jews are there.
In fact, all those tortures, gas chambers, concentration camps, imprisonments, all those things have given them an integrity, a solidity. A tremendous intelligence is released in them; it is always released when you have to face great challenges. In fact, no other race has been facing such great challenges as the Jews.
Naturally they are always the first to accept anything that is new, they are always the first to drop the old. That is the sign of intelligence.
Two Jews meet on the street.
"How are you, Solomon?" says Irving.
"Terrible!" says Irving. "Ah, what a catastrophe! My son is converting to Christianity!"
"Funny thing," says Irving. "My son too is converting to Christianity! Let us go to the synagogue and pray."
Irving and Solomon run into their friend Myron who asks where they are going. When they tell Myron that their sons are converting to Christianity, Myron says, "Funny thing, my son is converting to Christianity too. I will go with you to the synagogue and pray."
Well, Myron and Irv and Sol meet their friend Herman, tell him their story and Herman says, "Funny thing, my son is also converting to Christianity! Let us go and pray."
This goes on for a while until a large group of Jews reach the synagogue. There they see the rabbi sitting on the front steps with his head in his hands. When the rabbi hears their story he replies. "Funny thing, my son is converting to Christianity. Let us all pray."
The group goes into the synagogue, lift their eyes to heaven and the rabbi says, "Oh God, please help us. All our sons are converting to Christianity!"
Suddenly they hear thunder, lightning flashes across the sky, and a deep voice intones, "Funny thing...."
Next: Chapter 10: Happiness: the death of the ego, Question 6
Energy Enhancement Enlightened Texts Dhammapada The Way of the Buddha, Vol. 6
Chapter 10:
Dhammapada, Buddhism, Buddha. The Dhammapada: The Way of the Buddha, Vol. 6, Chapter 10: Happiness: the death of the ego, Question 1, WHY DOES MISERY FEEL SO SAFE AND HAPPINESS SO THREATENING? at energyenhancement.org




Dhammapada, Buddhism, Buddha. The Dhammapada: The Way of the Buddha, Vol. 6, Chapter 10: Happiness: the death of the ego, Question 2, WHAT DOES LOVE MEAN? at energyenhancement.org




Dhammapada, Buddhism, Buddha. The Dhammapada: The Way of the Buddha, Vol. 6, Chapter 10: Happiness: the death of the ego, Question 3, WHAT IS tathata -- TOTAL ACCEPTANCE? at energyenhancement.org




Dhammapada, Buddhism, Buddha. The Dhammapada: The Way of the Buddha, Vol. 6, Chapter 10: Happiness: the death of the ego, Question 4, I WANT TO THROW THIS UGLY MIND OUT OF MY SYSTEM. HOW TO DO IT? at energyenhancement.org




Dhammapada, Buddhism, Buddha. The Dhammapada: The Way of the Buddha, Vol. 6, Chapter 10: Happiness: the death of the ego, Question 5, WHY ARE THERE SO MANY JEWS HERE? at energyenhancement.org




Dhammapada, Buddhism, Buddha. The Dhammapada: The Way of the Buddha, Vol. 6, Chapter 10: Happiness: the death of the ego, Question 6, YOU REALLY GET US!! WE ARE ALL RUNNING AROUND LIKE HEADS WITHOUT CHICKENS!!! IS IT LOVE -- OR IS IT MEDITATION? AH DEAR! SQUACK SQUACK! BELOVED MASTER, WHAT IS A PATH? at energyenhancement.org