OSHO
Dhammapada-Buddhism-Buddha
THE DHAMMAPADA: THE WAY OF THE BUDDHA, VOL. 6
Chapter 10: Happiness: the death of the ego
Question 1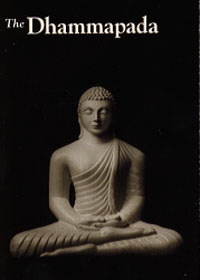 Energy Enhancement Enlightened Texts Dhammapada The Way of the Buddha, Vol. 6
The first question:
Question 1
BELOVED MASTER,
WHY DOES MISERY FEEL SO SAFE AND HAPPINESS SO THREATENING?
Deva Surabhi, happiness is threatening and misery is safe; safe for the ego. Ego can exist only in misery and through misery. Ego is an island surrounded by hell; happiness is threatening to the ego, to the very existence of the ego. Happiness rises like a sun and the ego disappears, evaporates like a dewdrop on the grass leaf.
Happiness is the death of the ego. If you want to remain a separate entity from existence as almost everybody is trying to do, you will be afraid of being blissful, cheerful. You will feel guilty in being blissful. You will feel suicidal because you are committing a suicide on the psychological level -- the level of the ego.
It almost always happens that people enjoy a few moments and then afterwards they feel very guilty. The guilt arises because of the ego. The ego starts torturing them, "What are you doing? Have you decided to kill me? And I am your only treasure. Killing me? You will be destroyed. Killing me is destroying yourself."
We are so much identified with the ego that when the ego says such things, they have a great appeal, attraction, conviction in them. The reality is just the opposite -- we are not our egos. In fact because of the ego we are not growing, the ego is like a rock preventing your growth. Remove the rock and you will start growing, growing into a big tree -- with great fulfillment, flowering.
But in the beginning it will feel as if throwing the rock away is throwing all safety. The rock was preventing many things. It was preventing rain from coming to you and you were thinking it is safer. In fact the rain is nourishing. If it had reached you, you would have started growing. The rock was preventing the sun and you were thinking it is a shelter: it prevents the heat of the sun from reaching to you. But that heat is needed, that heat is life.
What is destructive to you, you have been told by the society is not destructive; not only that it is not destructive but it is a shelter, a protection, a security. That idea has become deeply rooted in you. Hence, Surabhi, you feel misery is safe. Everybody feels like that. That's why everybody chooses to be miserable; it is your choice. Everybody chooses hell. It is your responsibility. If the whole earth is living in hell it is nobody else's responsibility. It is our decision -- a deliberate decision to live in hell because in hell the ego can remain.
The ego can remain when it is dark, dismal, no sun on the horizon. When the sun arises on the horizon, the sun of awareness, then the ego starts disappearing like the darkness. Of course if you feel identified with the darkness then the sunrise is threatening. But if you disidentify yourself with the ego then you will be able to welcome the sun, it is not threatening anymore. It is a thrill, adventure, it is new life, new birth, it is resurrection.
The ego is a grave. To come out of the ego you will need to come out of the grave. Don't think that the grave is safe. It appears safe because you have never ventured outside it. You have never been adventurous. You have not known the taste of danger, insecurity. Once you have tasted danger and insecurity you will never go back to the grave. It is better to live for a single moment but to live totally, than to lie down in a grave for a thousand years.
That is not life, it is avoiding life. Come out of your misery, Surabhi, come out of your ego, come out of your grave and accept the threatening happiness. Accept the danger of going to the heights, because those who go to the heights can fall -- they are risking.
Risk all because life is only for those gamblers who can risk all. But by risking all you become the beloved of existence, of God. By risking all you become worthy, by risking all you become a soul. Without risk there is no soul in you, you are just hollow, nothing inside you. Without risking there is no significance, no poetry, no song, no dance, no ecstasy in your life. No celebration at all.
Celebrate, dance, let joy fill your heart, let it overflow. And if the ego dies, let it die. Help it to die because it is not you. You are something transcendental to body, mind, ego and all. You are part of God, part of eternity.
Don't be worried, you cannot die. Even if you want to die, you cannot die -- you are eternal. So, in fact there is no fear, no need to be afraid. Death is impossible, only the ego can die. So if you remain identified with the ego then the fear remains there. Once ego is dropped, death disappears and fear disappears, anxiety disappears, anguish disappears; and the energy that was involved in fear, anxiety, anguish is released.
That same energy becomes your dance, your celebration.
Next: Chapter 10: Happiness: the death of the ego, Question 2
Energy Enhancement Enlightened Texts Dhammapada The Way of the Buddha, Vol. 6
Chapter 10:
Dhammapada, Buddhism, Buddha. The Dhammapada: The Way of the Buddha, Vol. 6, Chapter 10: Happiness: the death of the ego, Question 1, WHY DOES MISERY FEEL SO SAFE AND HAPPINESS SO THREATENING? at energyenhancement.org




Dhammapada, Buddhism, Buddha. The Dhammapada: The Way of the Buddha, Vol. 6, Chapter 10: Happiness: the death of the ego, Question 2, WHAT DOES LOVE MEAN? at energyenhancement.org




Dhammapada, Buddhism, Buddha. The Dhammapada: The Way of the Buddha, Vol. 6, Chapter 10: Happiness: the death of the ego, Question 3, WHAT IS tathata -- TOTAL ACCEPTANCE? at energyenhancement.org




Dhammapada, Buddhism, Buddha. The Dhammapada: The Way of the Buddha, Vol. 6, Chapter 10: Happiness: the death of the ego, Question 4, I WANT TO THROW THIS UGLY MIND OUT OF MY SYSTEM. HOW TO DO IT? at energyenhancement.org




Dhammapada, Buddhism, Buddha. The Dhammapada: The Way of the Buddha, Vol. 6, Chapter 10: Happiness: the death of the ego, Question 5, WHY ARE THERE SO MANY JEWS HERE? at energyenhancement.org




Dhammapada, Buddhism, Buddha. The Dhammapada: The Way of the Buddha, Vol. 6, Chapter 10: Happiness: the death of the ego, Question 6, YOU REALLY GET US!! WE ARE ALL RUNNING AROUND LIKE HEADS WITHOUT CHICKENS!!! IS IT LOVE -- OR IS IT MEDITATION? AH DEAR! SQUACK SQUACK! BELOVED MASTER, WHAT IS A PATH? at energyenhancement.org