THE ENERGY ENHANCEMENT DVD AND STREAMING VIDEO COURSES
PLUS 7 FREE DVDS WITH DVD COURSES
ENERGY ENHANCEMENT MEDITATION STREAMING VIDEO DVDS - TALKS WITH THE MASTER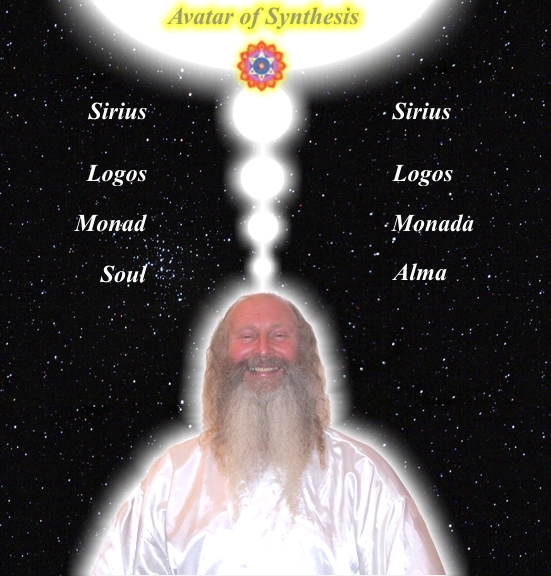 Hello Satchidanand,



Thanks for the the Streaming Video EE Level 1 Meditation.

Your last response must be full of love and light because I was able to watch those videos you sent me and practise meditation on the same day. It's a breakthrough for me.

Here's my first time experience with the EE Initiation 1 Meditation:

First, I have trouble straightening my spine (lower back) like you did in the video when I'm sitting on the floor in the cross legged posture. I will work on this, and I think stretching would probably help with this, right?

I also find myself having a hard time maintaining the posture. Like you said in the video, I'm a beginner, so I have to frequently adjust my posture throughout the meditation.

I'm not sure when I have aligned my spine correctly.

I

feel a cool, refreshing sensation when I think I'm aligned properly, like the feeling you get when you walk into an air conditioned room on a hot summer day. It's a very wonderful feeling. Is this a symptom of aligning my spines correctly or is it all just my imagination?

A few minutes into the meditation, I can feel that my body starts to shake. I feel that the shaking comes from my heart beat, though I'm not sure, it could be the result of staying in the posture for the first time - my muscles could just be worn out.

I tried to follow the breathing you mentioned in the video during meditation, but I keep getting the urge to pause and stop breathing in between the in and out breaths. Should I ignore or follow my urge?

Today, I definitely feel that I have more energy. I feel the extra energy comes from the area of my body where my hands were placed during meditation.

I also loved the first talk!

Thanks again for your response.

Andy

IF A SIMPLE STUDENT CAN GET THIS ENERGY, THIS POWERING UP FIRST TIME WITH ONE INITIATION STREAMING VIDEO - AND EVERY STUDENT GETS THESE EXPERIENCES - THINK WHAT IS POSSIBLE FOR YOU!!

Hello Andy,



First, this is not your imagination.

Spiritual Kundalini Energy is real and this is your first meeting with it!!

First, use a cushion.

Use a BIG cushion sufficient to get your spine in alignment with the energies from the center of the Universe into the center of the earth.

Go with the feeling to hold the breath when you feel to.

Do not do it all the time. Just when you feel it!

You have to feel when you are in alignment. Air conditioned will do.

Then understand that it is possible to be more aligned, closer to the center.

Search.

Keep searching for the center.

Shaking is normal, but usually it is the result of energy blockages - tell me more next time.

Meditate every day, twice a day.

Try to increase your periods of meditation - do not push too much - easily.

Power Up!!

Get back to me with more experiences.

Copy to the blog!!

Love and Light


Satchidanand

...The straight spine is just a spine in alignment.

In reality the spine is curved forwards from the base, opening the abdomen, allowing breathing deeply into the abdomen.

The spine at the heart center is open, big heart, spine curved forwards there. Open your Heart!!

I say this on the video.

The shaking is a blockage symptom!!

Emotions, negative emotions which you cannot control, instead of the emotion of Love, are also symptoms of Energy Blockages

Level 2 is the removal of blockages.

Before that, you need to imagine the energy of your long out breath breathing through the blockage. Breath it out and burn it up in the center of the earth.

Remember, anger and fear are not you. It is the removable blockage!!

Experience of Energy Blockages and their symptoms is part of the course. You need to overcome the symptoms and eventually remove the blockage.

The blockage has been there for years. The energy of meditation makes it visible and thus removable!!

Love and Light,

Satchidanand

You're right! I watched the Video again, and I was surprised how much information I missed the first time.

My spine is curved a bit backwards when I sit, and I think this is due to my lack of flexibility. But, I can feel that my spine is more able to "curve forwards at the base" as I sit more and more.

I always looked for ways to improve my posture, and I found the methods of stretching through the heart and the back of the head perfect for it. Thanks for the great Video! And thank you Satchidanand for giving me these awesome suggestions!

I'll practise diligently to get into alignment and then remove all the Energy Blockages!

Andy

THE ENERGY ENHANCEMENT STREAMING VIDEO HOME STUDY COURSE - BEST VALUE

See 89 Energy Enhancement YouTube STREAMING VIDEOS..

http://www.youtube.com/results?search_query=Swamisatchidanand&search=Search

CLICK ABOVE!!
THE ENERGY ENHANCEMENT STREAMING VIDEO HOME STUDY COURSE - BEST VALUE
See 89 Energy Enhancement YouTube STREAMING VIDEOS..
http://www.youtube.com/results?search_query=Swamisatchidanand&search=Search
ENERGY ENHANCEMENT ONLINE STREAMING VIDEO INTERNET COURSE LEVEL ONE AND LEVEL TWO
LEVEL ONE - GAIN THE ENERGY YOU NEED TO POWER UP!!
LEVEL TWO - REMOVE ENERGY BLOCKAGES WHICH AFFECT YOUR HEALTH, YOUR MIND AND EMOTIONS, AND YOUR INNER PEACE!!!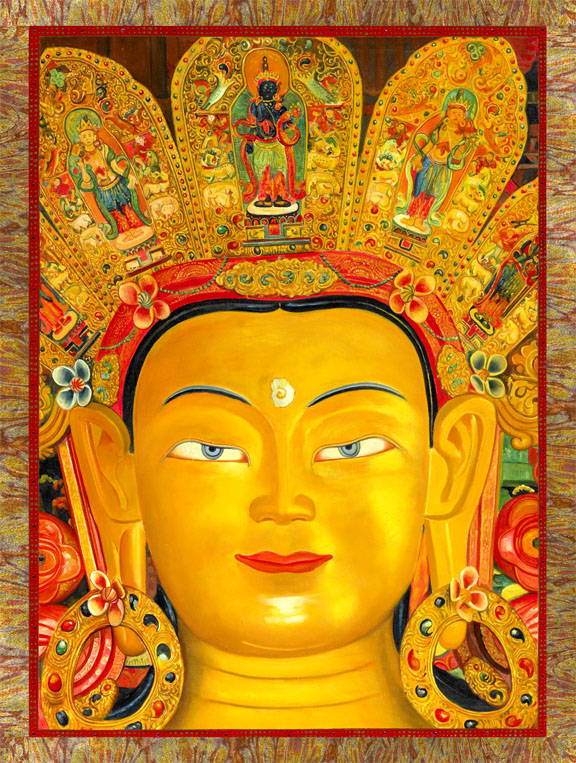 IN THE COMFORT OF YOUR OWN HOME – GAIN THE INCREDIBLE BENEFITS OF THE KUNDALINI KRIYAS, THE GROUNDING OF NEGATIVE ENERGIES, DRAIN THE LAST DREGS OF YOUR VITRIOL. LEARN ENERGY ENHANCEMENT LEVEL ONE AND LEVEL TWO OF THE COURSE ON ENERGY ENHANCEMENT

GAIN THE ENERGY YOU NEED TO POWER UP!!

PASSWORDS TO THE ADDRESSES OF THE ONLINE STREAMING VIDEOS SENT BY EMAIL - BUY BY PAYPAL OR CREDIT CARD FULL PRICE OR DEPOSIT WITH 11 MONTHLY PAYMENTS.

EMAIL sol@energyenhancement.org for details

ENERGY ENHANCEMENT SATCHIDANAND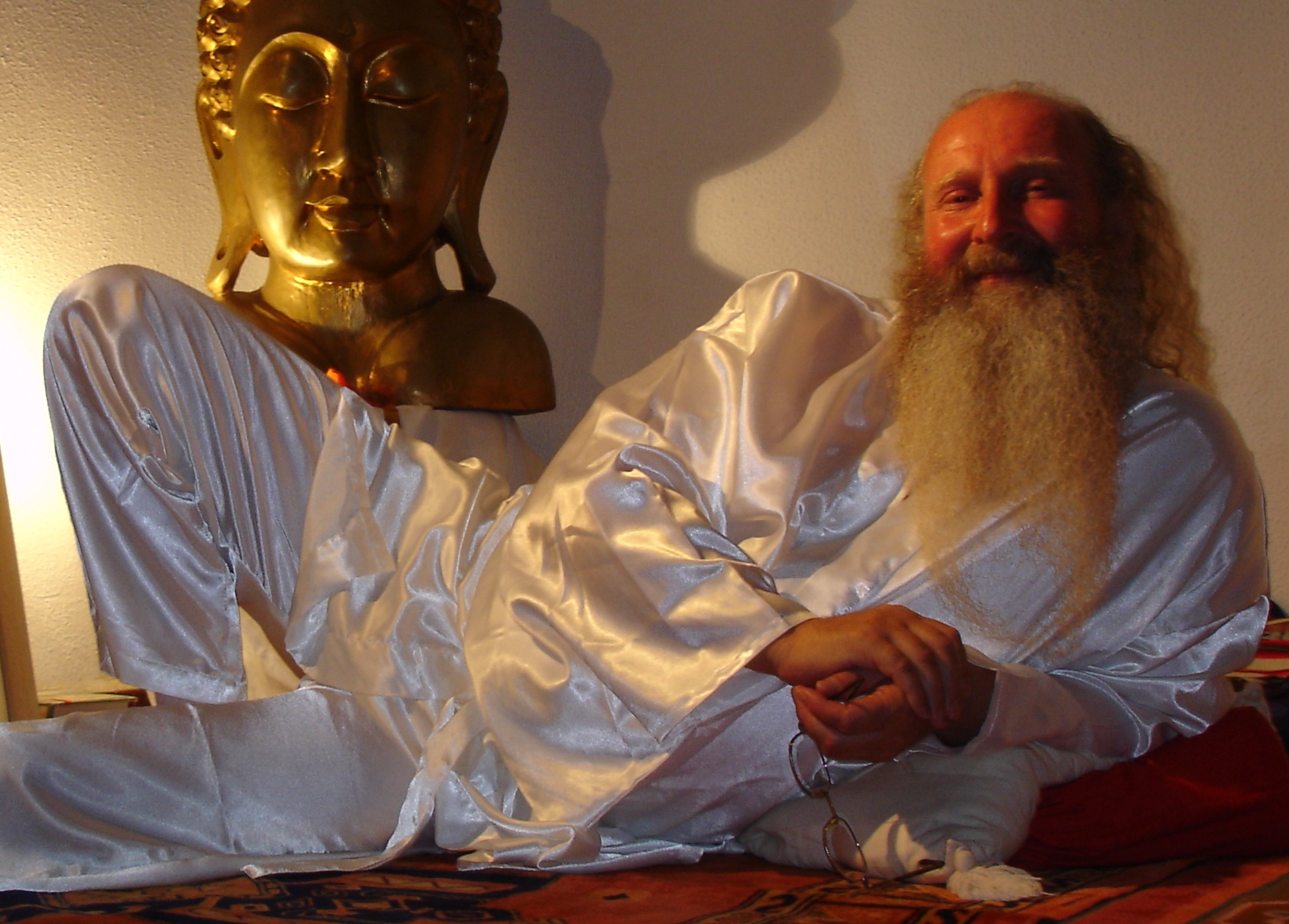 A Very Happy Guru Purnima to You! From "J"



A little sweetness I found today from Mahayogi Baba Gorakhnath Ji:

The Verse:

"Sapt dhAtu kA kAyA pyanjarA, tA mAnhi jugati bin sUvA|
Satguru milai to ubarai bAbU, nanhi to parlai hUvA"

Translation:

This body of ours is a cage made up of seven elements. In it is the individual (un-liberated) soul held captive, or encaged, like a parrot inside a cage, because it is ignorant of the skill or the art of getting liberated (from this cage). If it (the soul) is fortunate enough to find a true Guru, it can (by learning & practicing the right way) be emancipated, or else its salvation or deliverance is impossible and it is sure to undergo extreme suffering.

The Story of the Parrot and the Sage:

Once upon a time there lived a hermit. He made his livelihood on alms. Everyday he would go to a limited number of houses and say aloud, "Ram Ram Karai, Bhavasagar Tarai" (One who keeps on reciting the name of Lord, swims across the ocean of existence, i.e. transcends the cycle of birth & death). He subsisted solely on whatever he received from these few houses.

One day as he was asking for alms at a house, an encaged parrot, at the door of the house who had been listening to his repeated chanting, "Ram Ram Karai BhavAsagar Tarai", got annoyed and intervened, "Baba! Why are you preaching a falsity?"

"Why? What makes you say so, my dear?" asked the recluse.

The parrot explained, "What you say might be true in theory, but it is not true practically. You might have learnt this theory from some books, or must have heard from other sages, and keep on repeating the same thing without having examined its truth; I know the reality.

You see, my master has taught me to chant "Ram, Ram" and I have been doing this everyday for several years. I needn't say, I am here enslaved in this cage; whereas, ironically, my friends never say "Ram, Ram" and yet keep flying freely in the sky, enjoying total freedom. Now what would you say of that?"

The Sadhu who had been listening patiently to the parrot said calmly, "My dear son! It is true that you keep reciting "Ram, Ram" regularly, but, in fact, you do not know the right way, the real art to do so. This is why you have been held captive in this cage." The parrot began to find interest in the talks of the sage.

It requested, with the sparkle of hope in its eyes, the sage to teach him the right method. The recluse explained the method and asked it to practice secretly and not to reveal to the master until it had mastered the art. The parrot did so; he had been taught to practice "pranayama." Slowly, he became adept enough to hold his breath for several minutes altogether. So, one day when he saw the master coming to him for regular feeding, he lay quietly in the cage holding his breath. When the master came to the cage and opened the door to feed it, he found the parrot lying totally still. He shook it, thinking it might have gone to sleep. But when the parrot showed no response, no signs of movement, the master took him out of the cage, assuming it to be dead, and threw it outside his house.

"Zooooooooom!"… the parrot flew away high into the sky thanking the Sadhu for teaching the right way.

With Love and Devotion,

"J"
THE GURU STUDENT RELATIONSHIP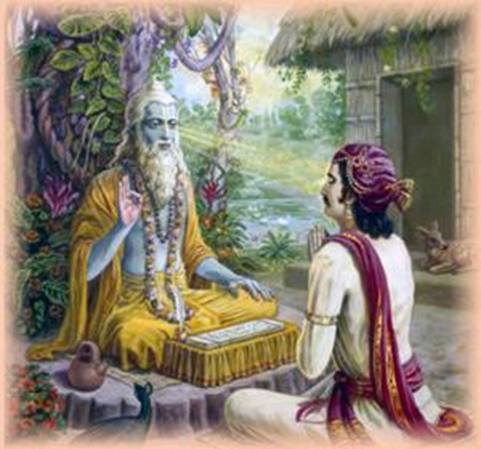 SATCHIDANAND IS A SERIOUS STUDENT OF ENLIGHTENMENT HAVING BEEN TAUGHT BY ZEN MASTER HOGEN OF JAPAN AND SWAMI SATCHIDANANDA OF VIRGINIA - YOGIRAJ AND STUDENT OF SWAMI SIVANANDA OF RISHIKESH
Siva Samhitã, iii, 10-19: "Now I shall tell you how easily to attain success in Yoga, by knowing which the Yogis never fail in the practice of Yoga. Only the knowledge imparted by a Competent Teacher through his lips is powerful and useful; otherwise it becomes fruitless, weak and very painful.
And this is why - by coming into the Buddhafield of Energy surrounding Energy Enhancement Satchidanand obtained through many years of meditation with many enlightened masters, you obtain Shaktipat- an infusion of energy to help you get into a permanent state of meditation.
EMAIL sol@energyenhancement.org for details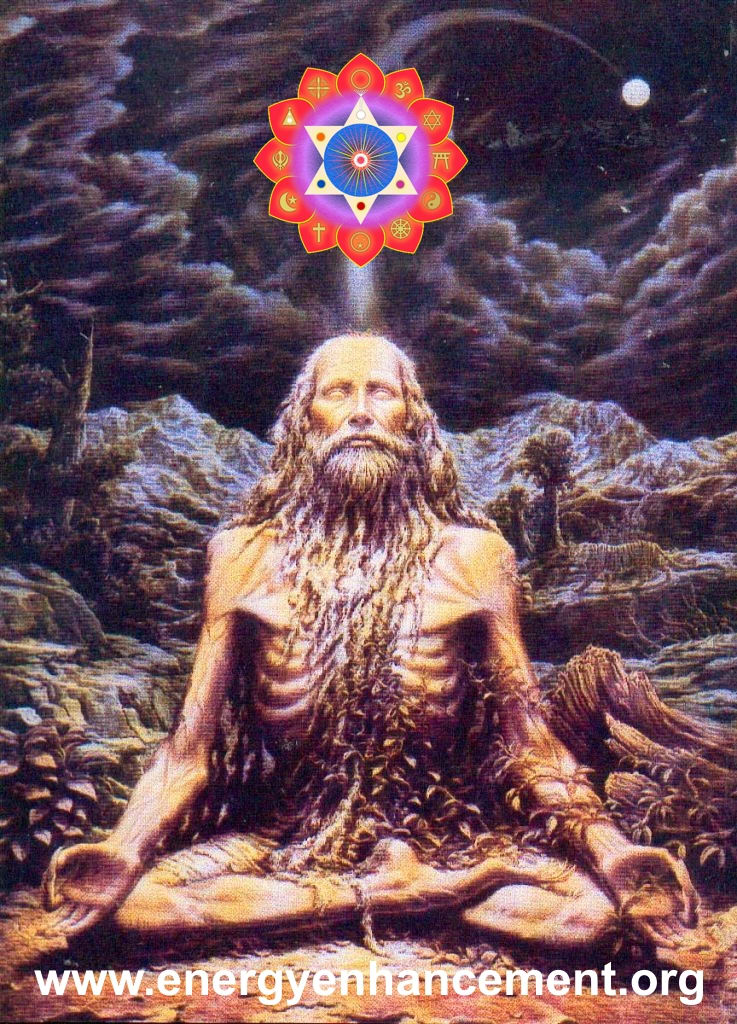 THE ENERGY ENHANCEMENT STREAMING VIDEO HOME STUDY COURSE - BEST VALUE
See 89 Energy Enhancement YouTube STREAMING VIDEOS..
http://www.youtube.com/results?search_query=Swamisatchidanand&search=Search
EMAIL sol@energyenhancement.org for details
"J" DVD COURSE LEVEL 2
Beloved Satchiji and Mataji,

I know you did something, whether consciously or not doesn't matter. I can only bow to your lotus feet in sweet gratitude for your help.

The details of the depth and intensity of what I've been going through the last several weeks aren't worth mentioning. Perhaps I'm dealing with extra-heavy stuff or maybe everyone goes through this when they find the real, honest Truth that EE is. I don't know, but I can tell you that I sincerely pray for all your students–past, present and future–that no one else should have to experience this as I am. I do not believe that I am being lazy or will-less when I reaffirm that I really think I have to come to a live course before I will see any real success.

I worked the last 6 days and "should have" gone in again today, but I chose to lock the door, turn off the phone, and spend my New Moon/Solar Eclipse Sunday in front of my computer to complete watching DVD 1 of Level 2. I have just now accomplished my goal and I am amazed that this window was opened for me. What a blessing.

I had to burst out in laughter as I listened to INITIATION 9, because I immediately knew why I had been psychically paralyzed from moving past INITIATION 8 until I wrote to you last week (which took a tremendous amount of effort to break through even to do that!).
INITIATION 9 - THE REMOVAL OF ENERGY BLOCKAGES - is perhaps the most powerful, insightful, cosmic, depth-charging piece I've ever experienced in all my lifetimes—I literally felt the gears locking into place as I watched and listened. I was receiving downloads in my soul throughout that remain there untapped consciously for now, but I could feel their luminosity and comfort.

I'm spiritually energized but physically exhausted and I have a long, tough week ahead. I wanted to ask a few questions if you don't mind:

1. I am very much in love with all your students on the DVDs. Honey and Dhiren talk about their spiritual masters that they work with on the blockage removal process. Did they have those spiritual masters before in their conscious awareness or did they discover them on the EE course? Should I be looking to my former teachers or the beings that I feel drawn to and assume they are or ask them if they will be my spiritual masters? Will they manifest to me when they decide it's appropriate so I should just be patient? I would love some guidance on this.

2. Just a note that it was 85º Fahrenheit here today but when you were talking about the blockages above the head up to Sirius and beyond I felt like I was freezing cold, shaking, and it didn't subside for a long time.

3. When Ramiro (I think) was talking about being in his hotel and doing fine but coming to where you were and finding all those leeches on him and you asked why that happened, my immediate response was because he was in the Buddhafield and your light cleared him to see what he couldn't see out of your immediate presence. Am I way off here? I expected that to be everyone's first answer so I'm wondering what I missed.

Your most recent email (today's, "J", ENERGY ENHANCEMENT LIFE GAMES - A Game Worth Playing") seems a little bit different (the first, main link, that is) and I like it very much. Not sure if I'm imagining that but it "feels" better...

Now I must stop for the evening and prepare for tomorrow and the week. I don't know if I sufficiently expressed my awe and thankfulness earlier but I could never have had this glorious day without your help, and I wanted you to know that I know that. And I appreciate it beyond words. Thank you sincerely.



With deep love and respect,

"J"