Hatha Yoga: The Yoga of the Physical Body.
---
Shalabhasana: The Locust Pose.
---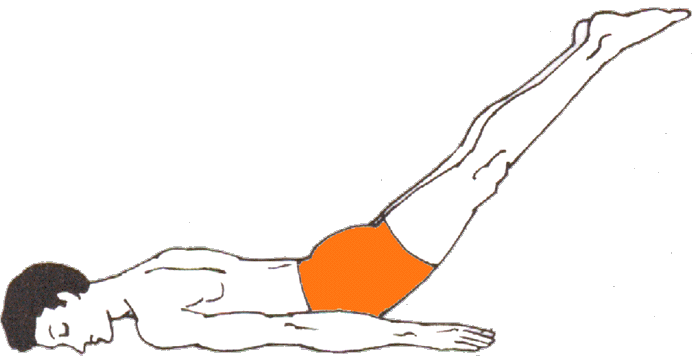 ---
Instructions.
Lie on the stomach with the hands under the thighs, palms facing downward.

Stretch the legs and tense the arms.

Raise the legs and abdomen as high as possible without bending the legs.

Practise up to 5 times maximum per hatha yoga session.
---
Breath.
Inhale deeply in the lying-down position.

Retain the breath inside while raising the legs and abdomen.

Exhale while returning to the starting position.
---
Concentration.
Spiritual: On Vishuddhi chakra.

Physical: On the abdomen, lower back, or heart.
---
Sequence.
---
Limitations.
Not to be practised by sufferers of peptic ulcer, hernia, intestinal tuberculosis or people with a weak heart.
---
Benefits.
This asana tones and adjusts the functioning of the liver and other abdominal organs, especially the intestines, pancreas, and kidneys.

It is very useful for relieving and eliminating diseases of the stomach and bowels, and it stimulates the appetite.

It strengthens the lower-spine and heart, and tones the sciatic nerves.
---
EE MEDITATION ENLIGHTENMENT TEXTS