Energy Enhancement YOGA AND YOGA TEACHER TRAINING
email sol@energyenhancement.org
NOT INSTEAD OF, AS WELL AS!!
for details of Energy Enhancement Yoga teacher Training with your Energy Enhancement Course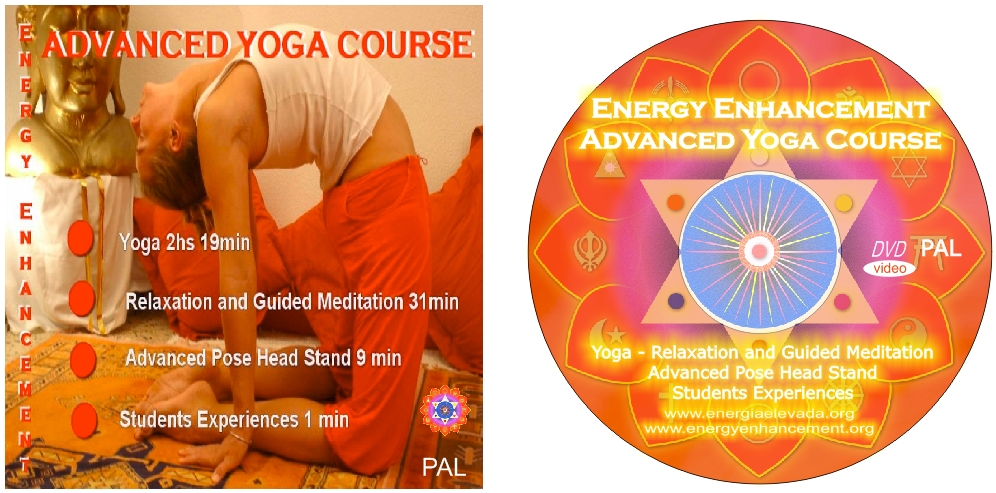 This DVD now given FREE with the Energy Enhancement DVD Course Or you can buy it separately on this page!!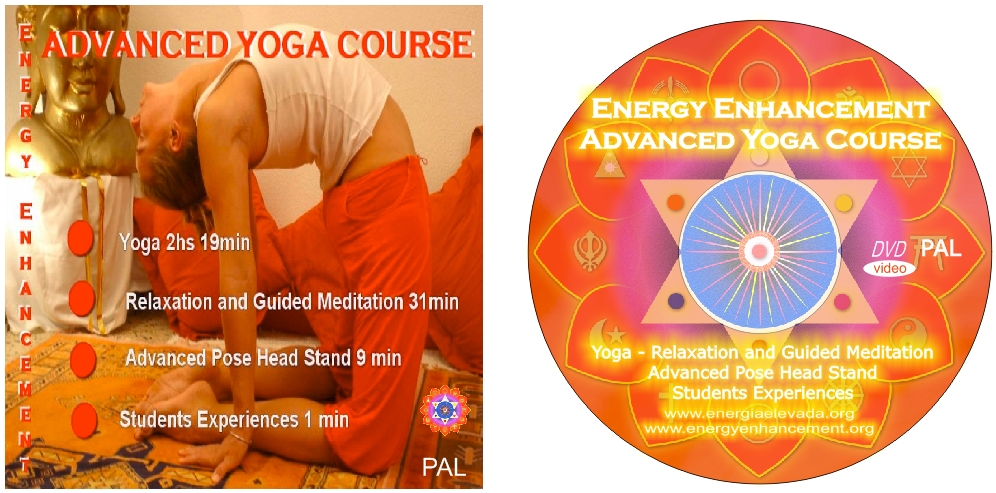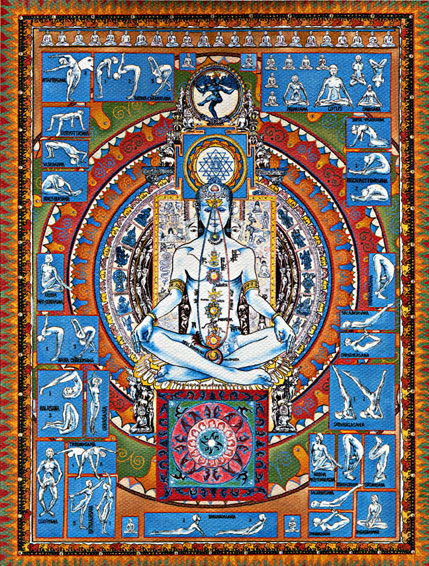 THE REMOVAL OF VASANAS
I felt very emotional and started to shake and cry as the waves of negative energy released through my body down to my feet and then to 'ground'. This reaction completely surprised me as I thought Yoga was all about stretching the muscles, developing agility and finally achieving calm. Anna Andersen on her Energy Enhancement Yoga Teacher Training Course

VIDEO EXCERPTS FROM THE ENERGY ENHANCEMENT VIDEO COURSE
If you are tired of all the many systems of meditation which leave questions unanswered and where the path to enlightenment is ill defined and uncertain then don't delay end the suffering as soon as possible – learn Energy Enhancement.
Jean, FROM THE SEPTEMBER 2005 ENERGY ENHANCEMENT COURSE
SEE FULL TESTIMONIALS FROM THE SEPTEMBER 2005 ENERGY ENHANCEMENT COURSE IN SPAIN - CLICK HERE!!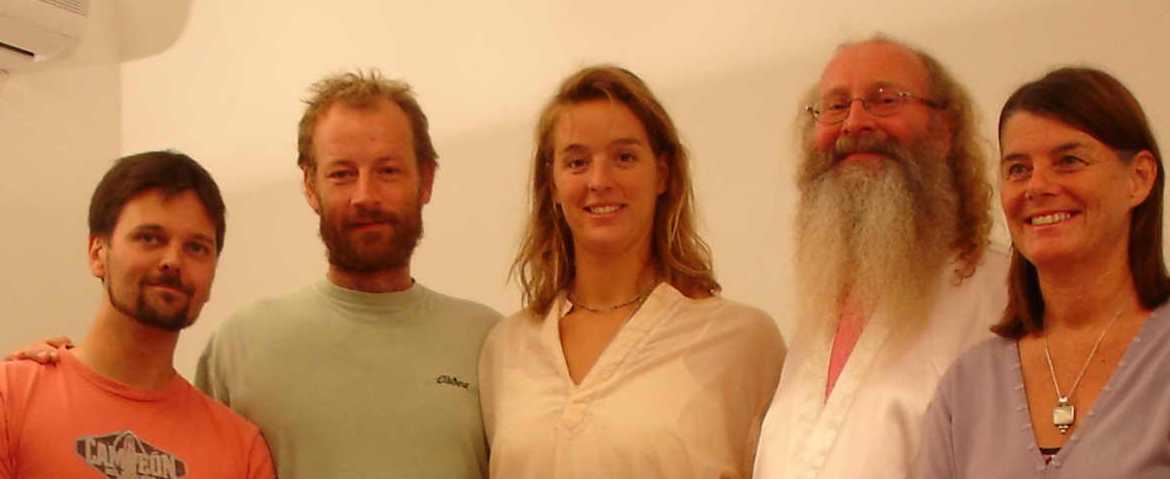 Some of the course members from The Energy Enhancement September
Course with Satchidanand. Jean, Thomas, Amy and Vanessa.
"Next, I came across a particularly stubborn blockage to remove, and knew that I would have to prepare myself well during meditation. I consciously sourced as much energy from above to flow through my body, and in doing so, rather than my body being filled with golden light, I had somehow tapped into an immense source of white light. As well as feeling this increased energy stream through my body, I realised I had involuntarily suspended breathing somewhere near the top of an in breath. My body felt like a beacon of light, with more than enough energy to direct toward a blockage and watch it dissolve in an instant.

Since that time I am always connected to and able to source the white light from above my head. Many times during this process I just forget to breathe as though my breathing is just naturally suspended. I am now living in the Light!!
My energies are naturally far higher than when I arrived on the Energy Enhancement course just two weeks ago. I am experiencing the fruits of meditation which normally arrive, if they do, after twenty years of meditation and it has only taken me two weeks."
Thomas Blair September 2005 Course in Spain
Come for an Energy Enhancement YOGA & Yoga Teacher Training Retreat
WITH CERTIFICATION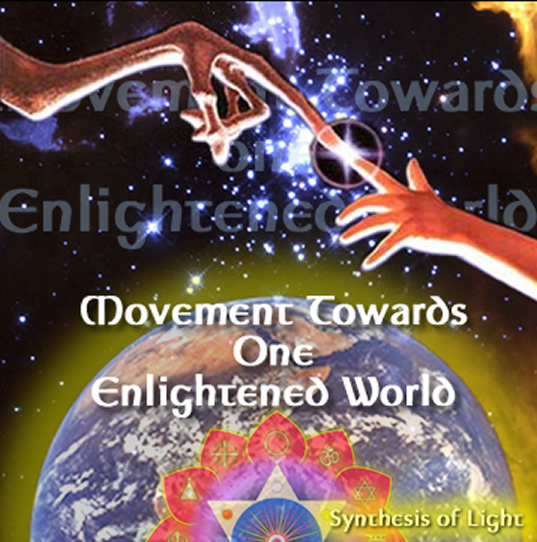 JOIN IN OUR VISION OF ONE ENLIGHTENED HARMONIOUS WORLD.
SPEED UP THE PROCESS OF ENLIGHTENMENT
TRANSMUTE AND DISSOLVE ALL TRAUMA AND NEGATIVE ENERGY
VISIT THE ENERGY ENHANCEMENT HOME PAGE CLICK HERE!!
Being an Energy Enhancement Yoga Teacher gives you the ability to Ground all the Negative Energies of your Students as they release their negative energies in your Yoga Classes. Usually, if you do not have the talent, the Siddhi or psychic power to do this through many lifetimes of work on yourself, you will become ill in your first year of teaching.
This is the difference between Energy Enhancement and "Normal" Yoga.
Increase Your Spiritual Energy!!
For those wanting to do more than just get an Energy Boost with our Energy Enhancement Course, this Energy Enhancement Yoga Teacher Training Course presents the opportunity to learn techniques towards a Yoga Teaching Training qualification and learn Meditation Techniques from Energy Enhancement.
We Teach Yoga as a Support to the Meditative Energy Enhancement Process
Everyone will be given the information on preliminary techniques for Energy Enhancement which are Yoga, pranayama and Energy Enhancement Meditation techniques from the Energy Enhancement Meditation Course. Those seeking a yoga qualification can put more intensity into the learning of Yoga and Meditation. From the totality of these techniques including meditation, you will pick up methods applicable to you and your clients condition.
This yoga teacher training course gives depth to an Energy Enhancement retreat. Even if you never intend to teach you will gain for yourself from being taught what and how to teach Yoga and practise Energy Enhancement Meditation Techniques. To gain the opportunity to have meaningful work wherever in the world you chose to live.
Courses in The Energy Enhancement Center in Spain.
Or on Energy Enhancement Courses in Peru and India.
Or, Let us Come to you Wherever you live in the World
Schedule
7am - 11am The Yoga Teacher Training and Meditation Techniques starts early with sessions in Yoga, meditation, chanting and then theory.
11am Breakfast
12pm-4pm The afternoon is free for rest, self study, sauna or beach and sharing.
4pm Main Meal
6pm -10pm The evening session is like the early session with sessions in Yoga, meditation, chanting and then theory. "And so to bed..."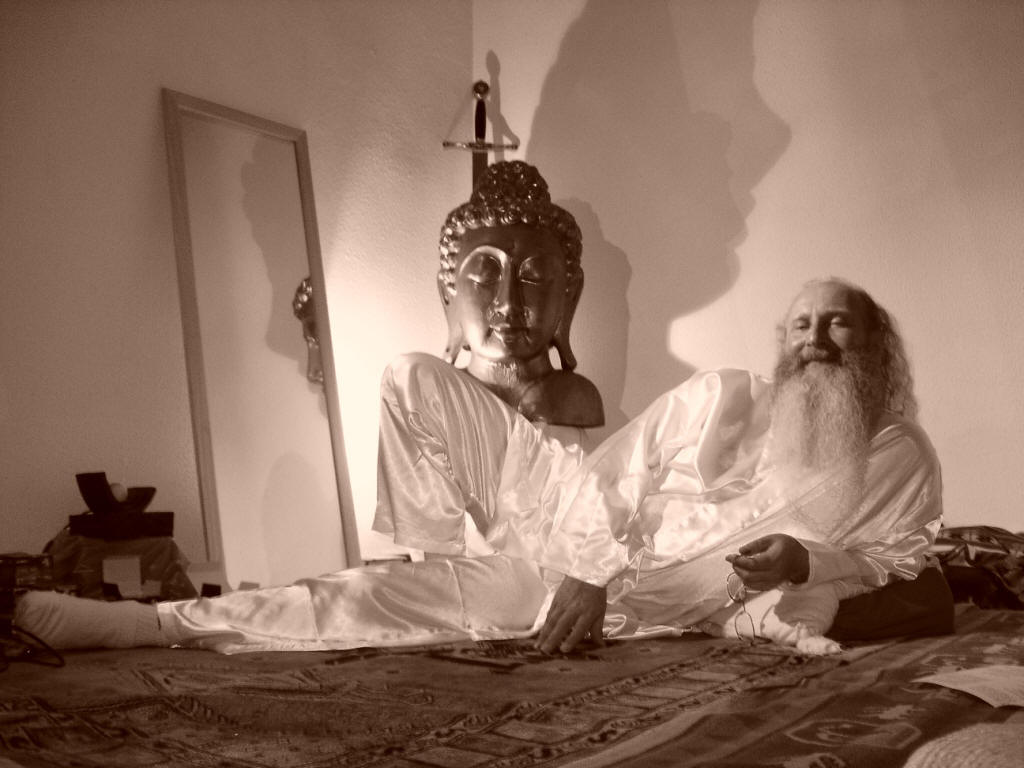 AMY ZANTRAS ENERGY ENHANCEMENT YOGA EXPERIENCE
I got the great opportunity to be a student of satchis advanced yoga class.
After practising yoga by myself over two years with many advanced teachers I really was astonished by the effect i got after just this one Energy Enhancement class.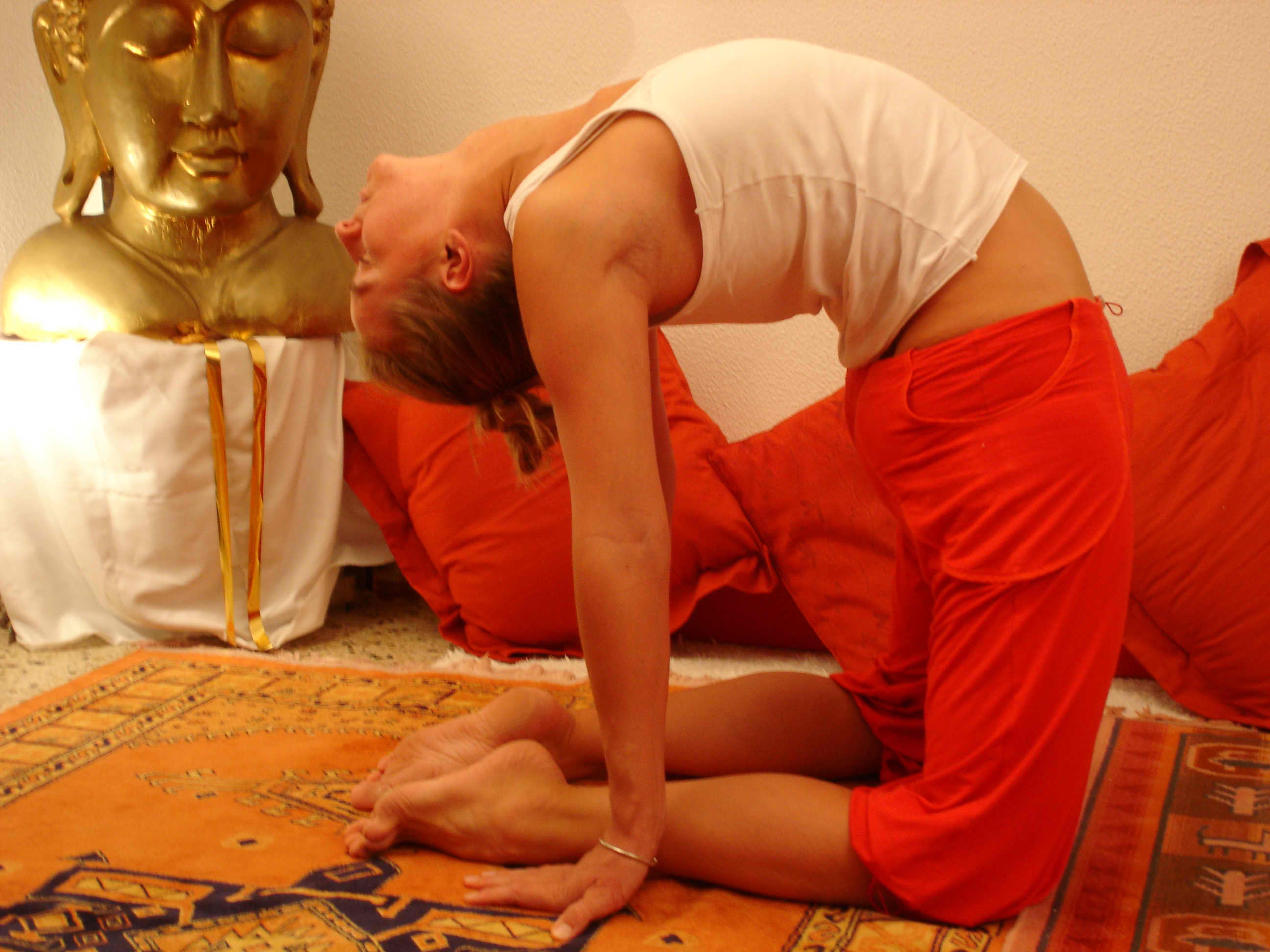 I would like to tell you about different benefits i got from this 2 hour experience.
ENERGY ENHANCEMENT YOGA CLASS INTRODUCTION
Already at the beginning of the class i appreciated the introduction to hear what Journey we will go on for the next 2 hours. The Introduction told me....
My body and my mind got prepared by letting them know that this will be a very individual journey and that i do not need to pass my own limits. i need to find the border of what i can do and feel and breathe in to this posture.
To improve i do a little more just before i come out from the posture. i work with the strength and the flexibility of the body to attain a perfect balance within and without. The breathing i use as a tool to deepen the relaxation in between the postures. And in the posture itself it helped to find my limits and to release the tension points using breathing, visualisation of the Golden Light and Advanced Energy Enhancement Techniques.
During the whole lesson i was to keep the eyes closed, to get more attention and focus on myself and to not get distracted.
DURING THE ENERGY ENHANCEMENT YOGA CLASS
During the lessons i did not feel any sense of time. The work i did went so deep and conscious that there was no time to think really.
Between the relaxations i did postures within my own capacity and conscious breathing, and noticing the point of tension which i tried to release by breathing into them or using the energy enhancement techinques.
In the relaxation, which for me is just as important as the posture itself, i got time to sense the body and its reaction on the action i did from the posture. To come to the point of consciousness and unconsciousness helped me to release even more tightness, which i sometimes could even feel in the repetition of the posture, by getting further in to it.
The soothing and present voice of Satchi gave me a stability, confidence and a sense of being taken care of in the lesson.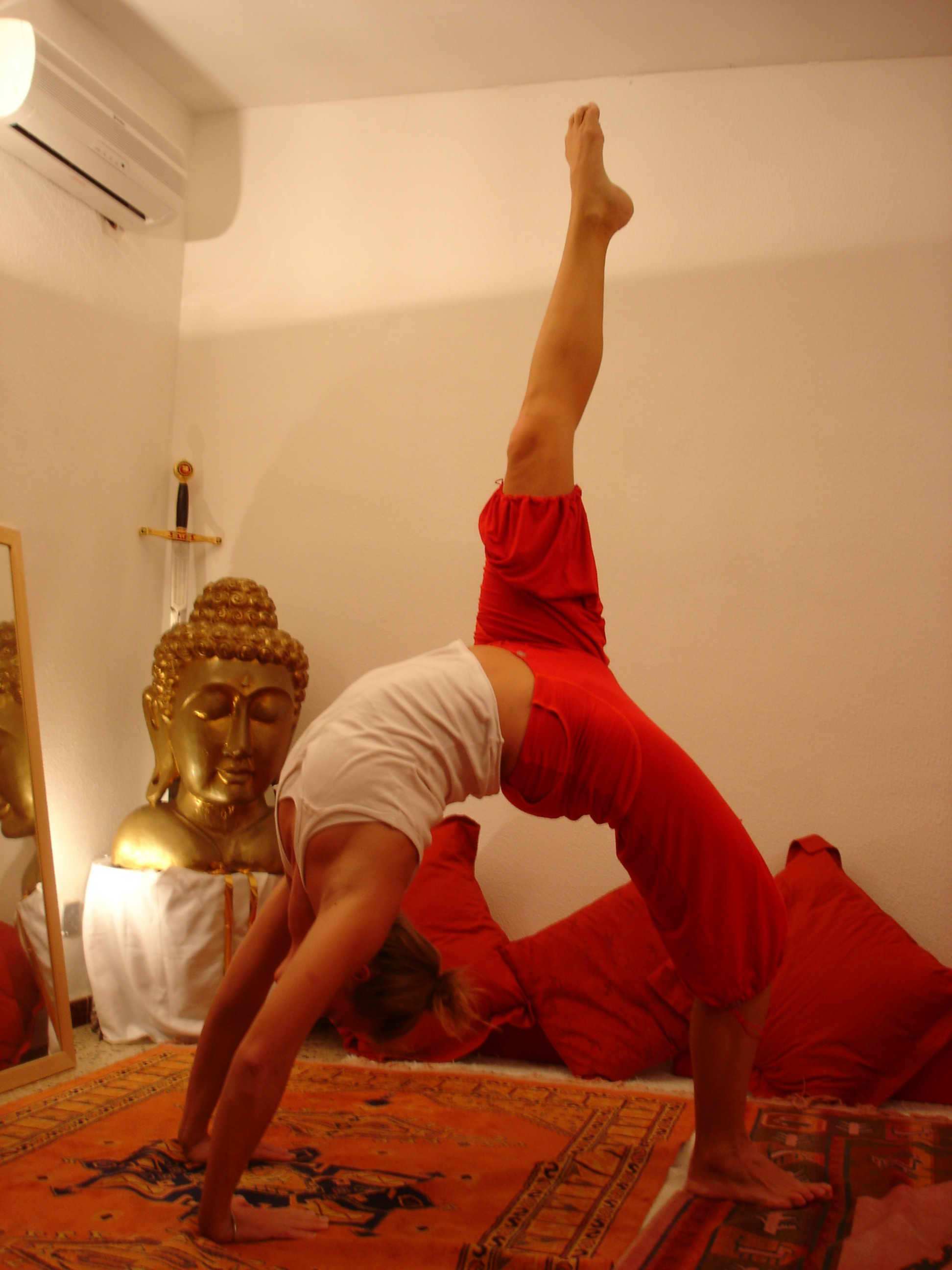 ENERGY ENHANCEMENT YOGA IMPROVES MEDITATION
After the lessons i did a meditation which was more powerful and focussed than my normal meditation. The moment i closed my eyes i fell in to a deep focused potent meditation. I felt this strong power of goodness and willpower in me with which i could work effectively.
I spent the whole ninety minutes deep in meditation just sitting on the floor without any cushion and I did not notice it until after an hour when I stretched my legs. So deep!!
The whole time I spent getting in touch and sourcing the universal energy field and the connection was just so much bigger and more intense than my normal meditation.
Satchi said I spent my time in Samadhi, a very concentrated and higher level of meditation. This is the purpose of the Energy Enhancement Sequence of Yoga Postures which can be used by any level of practitioner from beginners to the more advanced, in the Satchidanand Buddhafield.
THE RESULTS OF ENERGY ENHANCEMENT YOGA
The rest of the evening i felt like a rocket which was ready to leave. Strong, powerful, resourced, energy, myself.
Thank you so much for a great experience and another insight of how powerful yoga actually is. Feeling that yoga is another path to the fullfillment of finding the true self, absolutness, kaivalyam.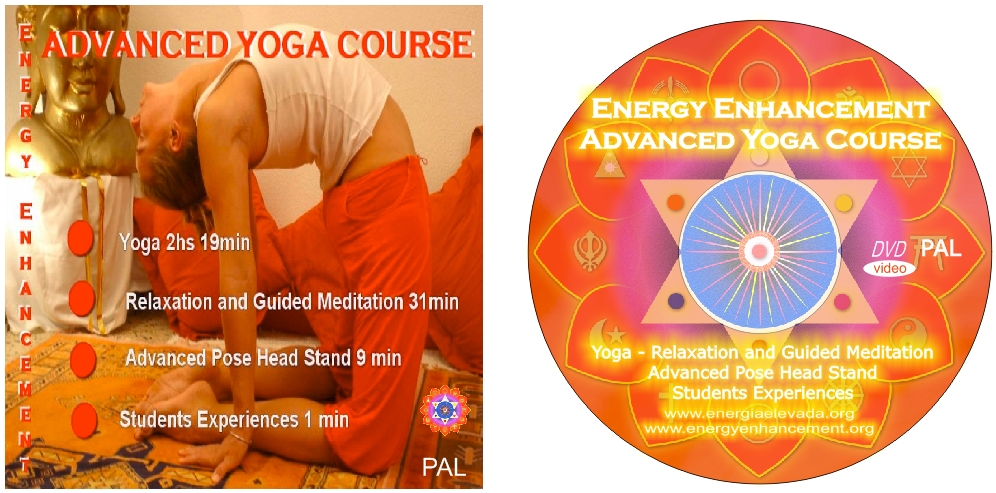 This DVD, A VIDEO RECORDING OF THE ABOVE EXPERIENCE, now given FREE with the Energy Enhancement DVD Course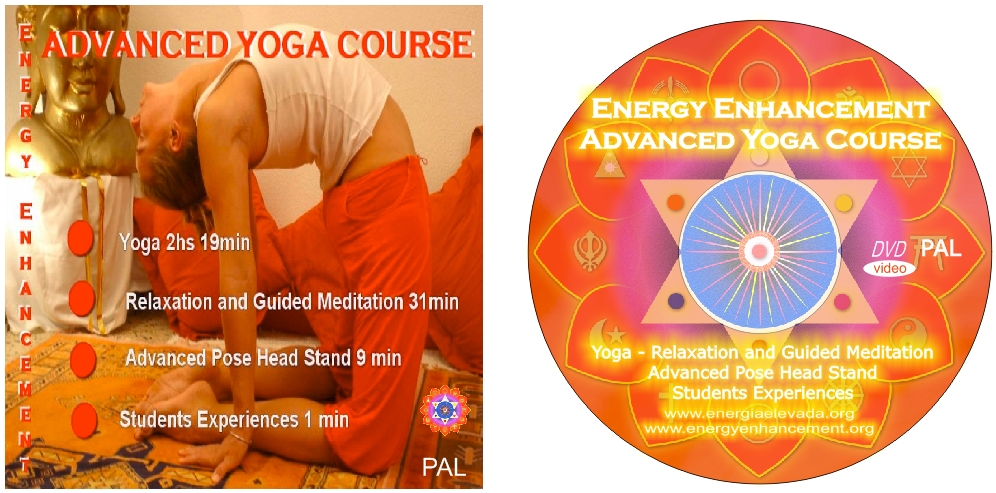 AMY ZANTRAS EMAIL FROM INDIA.
HAPPY BIRTHDAY SATCHI

HAPPY HAPPY BIRTHDAY. I WISH YOU ALL THE BEST AND MORE!!


i am really glad i met you and devi. all your knowledge and teachings have had a life Changing impact on me, which will let me see the world with new eyes again and not only eyes as i learnt but also from different chakras. thank you.


i arrived safely in india. went to shop already some indian clothes, but first of all i energetically cleaned my room with the monks chanting and put some energy enhancement protection columns around it. the moskitos - i could not really be bothered about these, but i will get the moskito net for the bed and for the windows too, to be sure to be sure.


of course i already checked the food. they put me already on quite a diet and they always serve rice, which drops down as a rock using the Psychic Power of energy enhancement initiation 5, so I know all rice here in india contains pesticides. some stuff goes up , but not a lot, so i will go for the bananas instead and always have some in my room from now on.


i feel as if i am not quite arrived yet. i do not quite realise that i am here in india in an ashram yet for the next six months, learning more about yoga even if the horns on the street outside keep reminding me.


i am always off on thursdays and also will have some time in between to do some Energy Enhancement meditation. i also did meditation before going to bed and it is helpful for me to still write down stuff i grounded in my spiritual diary, to just know what i work on next.
one of the next Energy Enhancement meditations will also be the situation of leaving the Energy Enhancement September 2005 course. Of being attached to an Energy Enhancement place where i felt comfortable and felt at home. Of having people around me that are understanding and sharing and open and willing to improve or be more happy. i will let you know what happens, you might probably know already, but i let you know anyway.


so here i go! with lots of helpful knowledge ( i had a good flight grounding the negative energies a lot, and actually not being so tired when i arrived).


SATCHI, i wish you a great birthday.

i send you light and love

Amy or Kaivalyananda ( i still have to get used to this name...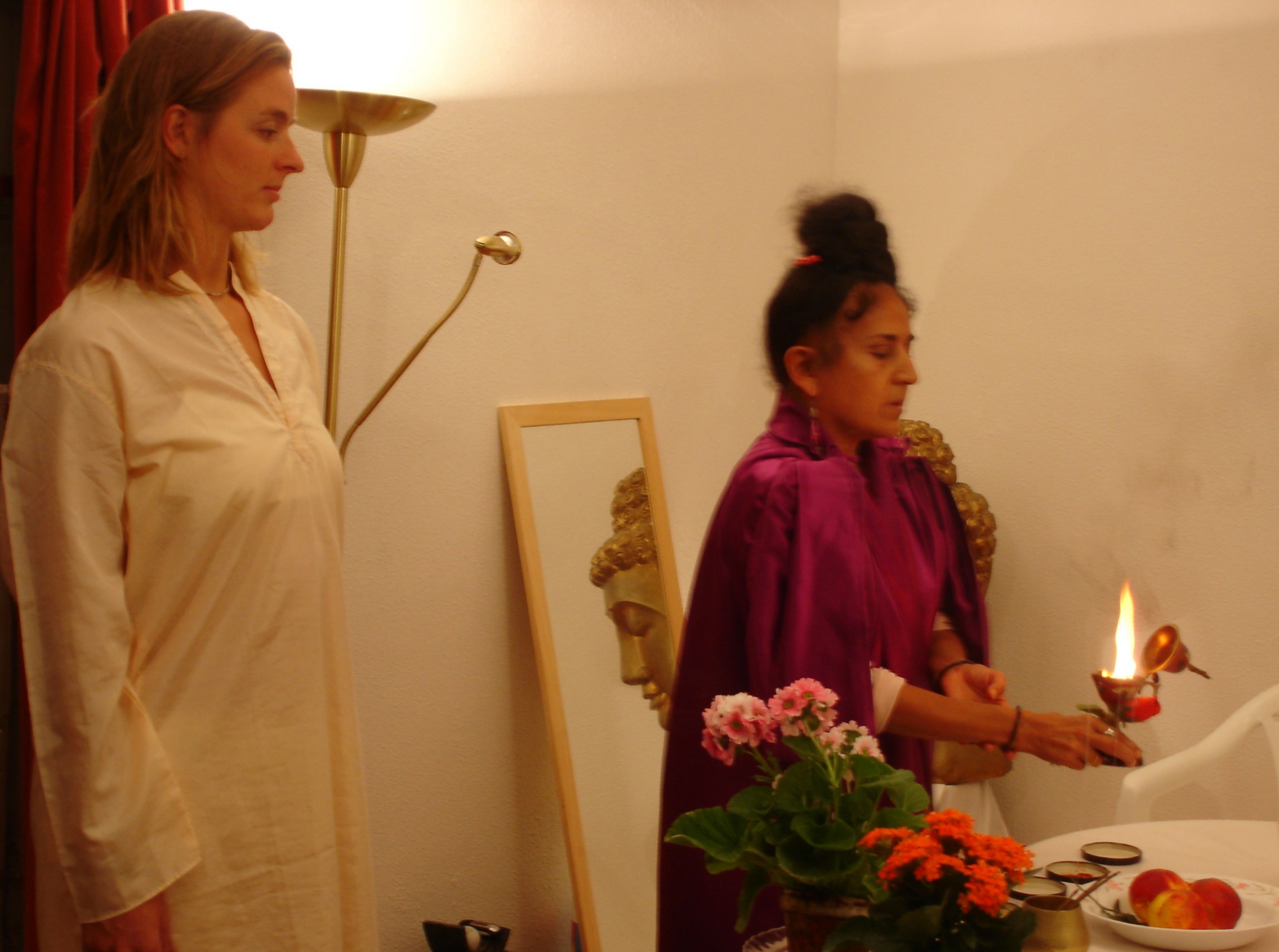 Devi Initiating Amy as Swami Kaivalyananda (The Freedom of Enlightenment) IN THE ORDER OF ENERGY ENHANCEMENT
AMY ZANTRAS FROM SWITZERLAND
Amy Zantras Testimonial and YOGA on the ENERGY ENHANCEMENT COURSE
Biography, What I did up to now
I, Amy Zantras, 28 years old, grown up in the most beautiful mountains in Switzerland am having the most life changing experiences in the Energy Enhancement course here in Escala, Spain. I am being taught how to get to know my true self in a very safe and resourced way, by meditation.
I am learning to appreciate who I am and not feel guilty or afraid of what I am able to do. I feel my self as a very talented being.
Until now in my life I always reached what I wanted to, I just really found ways to make things work. I noticed that many talents were given to me.
I teach sports like kajaking, archering, climbing, surfing, waterskiing, snowboarding , skydiving, aerobics and feel that I could do even more as I am moving into Yoga Teaching and going on a six months course in India to do this.
The last 7 years I helped to build up and manage a water sports school and was manager of the beach bar.
I studied cranio-sacral therapy for 3 years and want to increase my knowledge and interest by visiting a 6 month yoga teachers training in India this year.
Amy Zantras Energy Enhancement Course
Last year I had a big ski accident which I know I survived only by a miracle. I believed, and believe even more now, in higher forces which are guiding me.
There is this light (I experienced it in an Energy Enhancement meditation where we worked in our timeline) which was given to me as a 3 year old which I know will show me where my soul life path goes when I become more successful at seeing deeply into the themes of all my past lives, and of removing all the ego, karma and just plain negative energies from my psyche.
Insights which were really profound these last 3 days during the Energy Enhancement Course were the finding of inner children sub-personalities and their strategies.
I am looking back in past life times finding messages and inner children which picked up strategies to keep me off the spiritual path. Being afraid of using my knowledge and talents in a meaningful way, being abandoned and homeless, wanting to be loved by my parents, especially my father, and wanting to be happy are the ones I found up to now.
Reflection on My Energy Enhancement Course
They make all sense when I reflect them in my present life.
Strategies to get attention from my parents or in society explain why I thru my self in all these sports and all various scenes of "sex, drugs and rock an roll"
Going to a private International Finishing School in Switzerland, with many "jet set" people, I felt exposed to the fact of showing who I am. This fear caused me to create an ego which took me away from my life path in two ways, each of which caused a disaster and led me back to my life path, here and now on the Energy Enhancement course.
Living in a relationship which bound me to my job and a safe home. Becoming a workaholic and my own slave, making my ego happy and not my true Self.
Insight from My Energy Enhancement Course
The first ego was being a blond, tall, sports interested girl I had some plus points already, but I got even more if I could show off a rich or famous partner or even to my school friends I could show how many I could actually have. I slipped in to this scene very easily and do appreciate now that I pulled myself out of this path early enough.
I saw during the Energy Enhancement Course that 50% of my Boyfriends at that time between the ages of 15 and 21 came from group who psychically take peoples energies and the leader of the group was the first of them who implanted the blockages in my shoulders who takes the energies.
I saw in Past lives three groups who also implanted these vampire type of blockages, again in my shoulders. These first was from Egyptian times 3000 years ago and using the Energy Enhancement techniqes I was able to remove and ground this implant blockage.
Also in the middle ages a group with black hoods, like monks, gave blockages to me and also in the same times a group of people dressed similar as Knights.
Using the techniques of Energy Enhancement I was able to remove and ground all these implant blockages which also were in my shoulders.
My shoulder pain which I thought was due to my major accident disappeared when I did all this.
The second ego was that at school I showed off how good I am at sports. Being a natural talent at sports I misused the fact of using it to get attention. The end result of this sport pride was my accident in the mountains.
And this fact I also connect to the relationship to my dad, of wanting attention and his love. I thought he would love me, if I am good at sports and bringing home trophies from sports or as rich and famous boyfriends. Him being a hotel manager and being in contact with lots of people was happy to show what a "great daughter" he has and projecting this thoughtform on to me.
Another ego of pleasing people, like my Boyfriend and my father, to make sure that I am being loved. Pleasing by doing what they want, and forgetting about myself, my purpose and my powers.
And even having a serious long lasting relationship, to show how good I am.
Energy Enhancement Meditation Result
The result of the removal of all these implant blockages was a complete loss of all pains in my shoulder, which was the contribution of all past life times and boyfriend experiences.
Before the Energy Enhancement Course I did not believe that these pains can be removed, thinking that this is part of performing sports. But also because of injuries and remaining pains of the last years accident, when I fell one hundred meters from the top of a cliff, high at the top of a Mountain in the Alps.
This fall was my Wake up!! Call and eventually caused me to see deeply into my parental relationships and their effect on my early life decisions, break my seven year relationship of work and to my boyfriend partner and come on the Energy Enhancement Course and go to India, to find my life path!!
My yoga, using Energy Enhancement Techniques, has become more flexible and strong as the pain blockages in my body from all these past life memories and blockages much more than I have mentioned above, have been removed.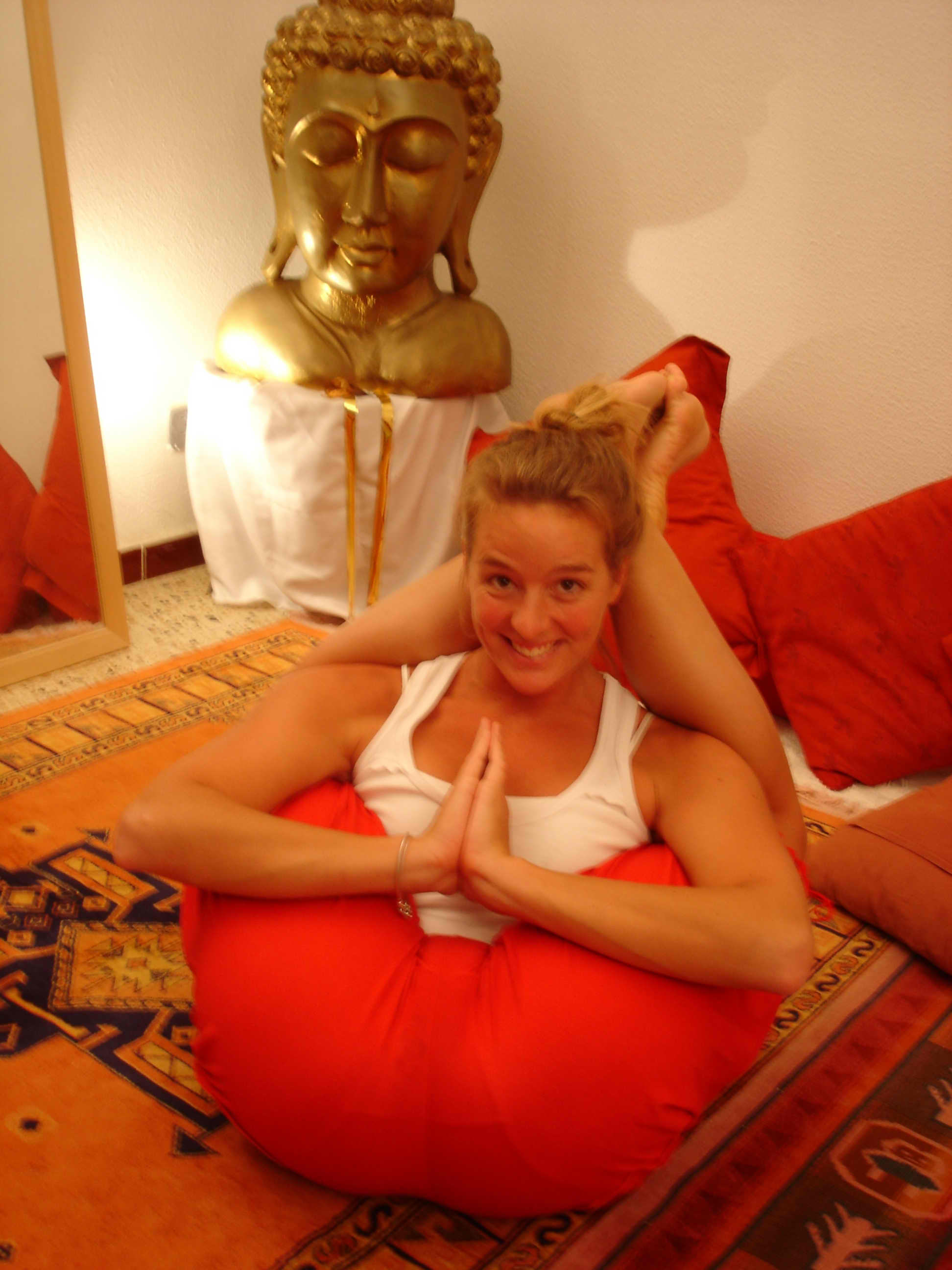 Also using the Energy Enhancement techniques in Yoga, allowed me to achieve perfection, strength and flexibility in asana more quickly.
Conclusions from My Energy Enhancement Course
Knowing that a relationship can also be possible on a exchanging level and not on a level of misuse. If there is Love and a purpose to it, it can grow and give you significance. No excuses and reasoning is necessary.
Getting the insight of understanding that there can be a life without pain after my accident. We are meant to be happy and not carry around the weight we don't want.
Feeling more energy, especially being around people and being more myself are the benefits I could experience personally, now, of the grounding of this fact. Examples…
I do not need to use the sports in an egotistical way, but rather finding a significance in them. In the case of Yoga by practising to be a Yoga Teacher its meaning and significance is that I will be able to help so many people by its virtue now and in the future. My Sport will have a purpose.
All of the themes of my life above have been shown to me directly in the Energy Enhancement Meditations.
All of the negative energies which caused me to have all these ego difficulties, taking my life in wrong directions, have been grounded into the center of the earth using the advanced Energy Enhancement Techniques.
The Implants, the Energy Blockages in my Chakras, the Pain Blockages in my shoulders and in my legs and hips in the meditations, are all well on the way to being removed.
I am now on the way to healing myself and my life, thanks to Energy Enhancement Advanced Blockage Busting Techniques.
My future, Meaning and Significance.
I am now on a path to find more meaning and significance to my life, because I know there is far more to life than what I reached until now. There is peace with myself and my surrounding. There is another home. OM!!
For the energies in the Centre of the Universe, The Life energy, Our Father who art in Heaven…. My relationship with the Energies of God.
Thank you!!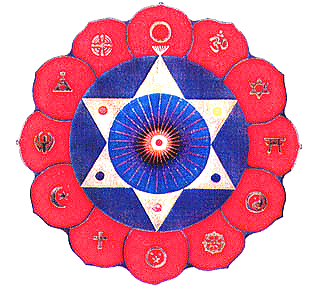 Energy Enhancement Yoga Teacher Training Syllabus:-
A full set of notes is given as part of the course for those intending to teach as well as for those who just want to know more.
Plus you need to buy five set books:-
1. The Yoga Sutras of Patanjali by Sri Swami Satchidananda
2. Asana Pranayama Mudra Bandha by Sri Swami Satyananda
3. Hatha Yoga by Theos Bernard.
4. The Living Gita by Sri Swami Satchidananda
5. The Energy Enhancement Book - available online at this site
You can get them from Amazon.com or some of the specialist spiritual book sites on the web.
The Syllabus includes:-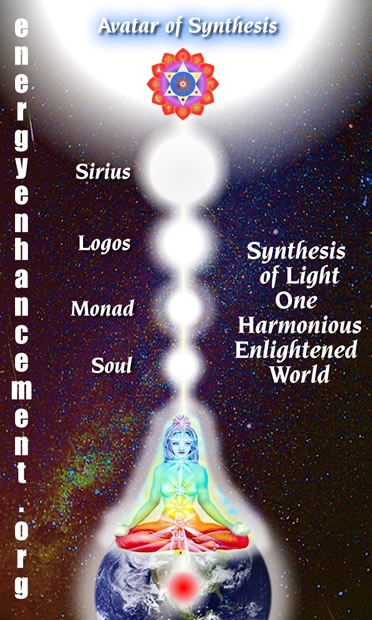 1. The Seven Major Chakras and the 13 Chakra Parallel Processing Super Computer Human Model including chakras outside the body - Psychic Physiology. Any stiffness, disease or injury indicates a blockage or negative energy held in the chakra nearest to the problem. Also the psychological function of the chakras.
Each chakra is a parallel processor of the mind. Only one chakra is intellectual. The other six comprise the unconscious, the subconscious, the id, the child, the adult and the emotions.
Yoga and Energy Enhancement teaches you how to integrate all these parts to give you more ENERGY!!, the psychic powers and Genius. The power of Enthusiasm. The power of Doing.
2. The 6 Yogas of Integral Yoga-

1. Hatha Yoga including Postures, Posture sequences and their effects towards calming or vitalising chakras, Classical sequences for use in class.

2. Pranayama, Mudras, Bandhas. Cleansing Kriyas- We will give the opportunity to practise the cleansing technique of Shankharprakshalana at the end of the course.

3. Mantra Yoga- Chanting of the Heart Sutra, Om Shanthi and Hari OM and the necessity of their use for cleansing and strengthening the Subtle Bodies when working strongly in retreat.

4. Raja Yoga- The complete methodology of Meditation,-The Yoga Sutras of Patanjali is a set book, and the 8 limbs of Yoga, techniques towards Meditation, onwards towards the Energy Enhancement Techniques of Samyama, the 9th limb of the 8 limbs of Yoga.

5. Jnana Yoga- the Yoga of Realisation.

6. Bhakti and Karma Yogas- The Bhagavad Gita is a set book which teaches how to increase Bhavana or enthusiasm (entheosiasm) and the benefits of Opening the Heart and surrender to the will of the Universe itself.
---
Year 1 SOL Certification of a Three year course
Comprises one retreat.
Year 1 enables you to teach yoga as a student. Teaching yoga as a student is necessary for learning to become a Yoga Teacher safely. Our students are our greatest teachers. Their questions teach us more about ourselves and yoga than anything organised. Also, many people want to treat their yoga seriously and do not necessarily want to teach but merely deepen their practise. This too is possible.
Come on a Yoga Teacher Training Course and Receive Energy Enhancement Stage One, Meditation - Free!!

It is usually possible to combine the Yoga Teacher Training with an Energy Enhancement Level 1 Course, staying 2 days extra on a One Level Energy Enhancement Course or learn on a Two or Three Level Energy Enhancement Course.

Free!!

Learn Yoga Teacher Training Free!! For those who choose to come on a Two Week Energy Enhancement Level 1 and Level 2 Course!!
---
>Subject: Re: feedback of Yoga Teacher Training Course in December 1999 >Date: Thu, 23 Dec 1999 18:06:29 -0800
> >Dear Satchi!
So finally did I get my act together and wrote you a little testimony of the course!
" I suspect all of us who visit the worlds of Jonathan Seagull will never want to return"> Ernest K. Cann - Author of "The High and Mighty"
Coming back to London from my yoga course in Mallorca with Satchi & Devi, I not only had a desire to go back and continue my personal development through the wide range of courses they have on offer, but also to return to the space inside myself that they had guided me to.
When I decided to go away and do a Yoga Teacher Training course with Energy Enhancement, I had no idea what was waiting around the corner!
Not only Satchi & Devi was expecting me, but also a needed change in my life!
The ten days together taught me the beautiful philosophy of yoga but more importantly, it gave me a deeper understanding of myself, my past and future, my present and immediate surrounding.
They both helped me to release tensions and blockages, to breathe and feel free!
They showed me a side of life that we all know about, but which most of us have forgotten and need guidance to re - member and find again!
Through patient and unselfish love they gave me ten unforgettable days that has changed my life, my way of seeing, thinking, breathing, living!
Thanks Satchi & Devi for teaching me how to fly - you will always be my Jonathan Livingston Seagull!
In our presenceAnna spontaneously had experiences of spiral energy flows around her spine and saw a Light Brighter than 10,000 suns. Just with Energy Enhancement Stage One.
Once you get there, all you need to do is to stay there.
In our presence we gave her energy and healed blockages her chakras and the living energies which were upsetting her Energy system - with the techniques we teach you in Energy Enhancement Levels One and Two!
Satchidanand
---
Or read more below:-
The FOUR Levels of the Energy Enhancement Meditation Course
Exponentially Increase the speed of the Meditative Process!!
The Three Levels of the Energy Enhancement Meditation Course give the most benefits of any course of Meditational Self-Development available anywhere in the World today.
If you want to Master Energy, to get more Energy and to handle it better, this course is for You!
If you want to Speed Up the Meditative Process, rather than sitting with no result, Energy Enhancement Advanced Meditative Techniques including the Kundalini Kriyas and the Five Taoist Elemental Pathways of the Chi, is for You!!!!
The Soul of Meditation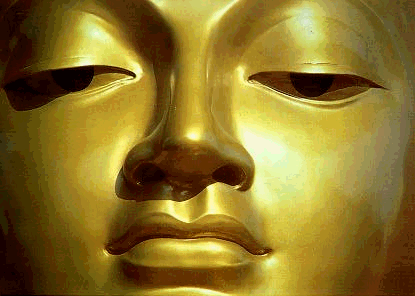 Whether you are a Management Corporate Executive, any sort of Alternative Practitioner, meditator, yogi or anyone who wants to evolve, - become better, smarter, more evolved, more empathic, more successful; this course will enable direct experience of superior life performance.
Energy Enhancement Meditation Techniques are the quickest and easiest methods of healing available, leading to Ultimate Happiness. They are the most advanced course of meditation using psychic powers to Get in touch with your Life path, Ground negative Energies, Access Universal Energies, Integrate the separated selves, and Master Relationships and Mediation. They enable Three Initiations towards your Ultimate Freedom - Illumination, Nirvana, Emptiness, - Enlightenment.
Energy Enhancement is a unique system to exponentially increase your energy by mastering the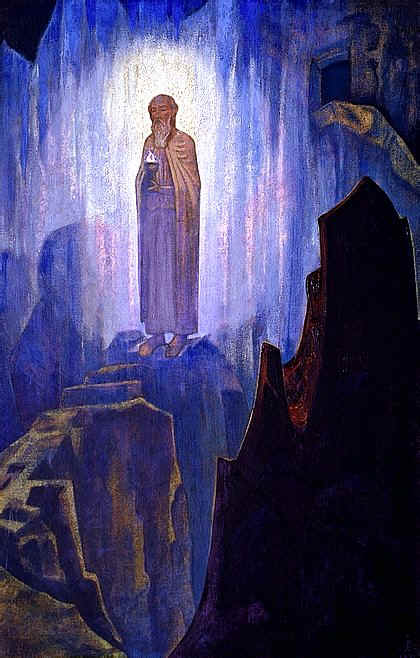 mind, accessing your inner peace, improving your health, mastering relationships, creating synchronicity and luck, and improving your success.
Energy Enhancement is a Course of selfless, highly advanced, meditation techniques which can quickly increase the speed of the normal mind.
By decoding ancient symbols thousands of years old, we are able to pass on many hidden lineages of Advanced Secret Meditation Techniques from many sources of Human Evolution:-

Taoism and the Tao - The Five Elemental Pathways of the Chi. Taoist Alchemy. The Secret of the Golden Flower. The Microcosmic Orbit. The MacrocosmicOrbit.
Hinduism -The Kundalini Kriyas and Kundalini Yoga leading to Nirbija Samadhi of the Yoga Sutras of Patanjali using Samyama, the ninth limb of the 8 (Astanga) Limbs of Yoga.
Yoga - Advanced Hatha Yoga, but also Raja Yoga, Mantra Yoga, Karma Yoga, Bhakti Yoga, and Gnani Yoga!!

Buddhism -Advanced Secrets to Accelerate the Process of Your Meditation and Advanced techniques for increasing Meta, The Opening of the Heart.
Zen - Find the Spring at the Top of the Mountain. Zen is the Hybrid of Buddhism and Taoism. One of our teachers was Zen Master Hogen whose name means Master of the Tao.
Greek Myth and the guided meditations of enlightenment, the 12 Labours of Hercules.
Sacred Dance including Dancing through the Chakras and the Secrets of the Sufi Whirling Dervishes of Jallaluddhin Rumi.
The Western Mystery Tradition and Merlin
The Hidden Inner Meditations of Alchemy including VITRIOL, the Secret of the Philosophers Stone the Grounding of Negative Energies and Access to your Genius.
The Truth is One
The Paths are Many
The SOL Symbol, from The Synthesis of Light - SOL,
contains 12 petals which in India symbolises the Chakra, Lotus of the Heart Center. Each petal contains a Symbol of one of the Major Religions of the World. The Masters of each Religion teach some techniques of Enlightenment - Gifts, Jewels of the World, Pearls of Great Price.
The Age of Aquarius, the Year 2000, the New Milennium, is the Age of Synthesis.
Energy Enhancement Synthesises, brings together these gifts for the first time in one Course.-
To Enable Your Evolution
The Energy Enhancement Course is one on the Leading edge of Evolution.
With more energy you can cope with stress, speed up your mind, be in your deep peace, and handle all your relationships with your family and friends.
There are Three Levels of Energy Enhancement Teaching, each Level is a Meditation Course having Seven Meditational Stages which can be taken in a Week-Long Course.
Also one REIKI Initiation is given free with each Level. You can become a Reiki Master with Energy Enhancement Meditation.
Each Level is entirely independent of the others and complete in itself. You do not have to take every Level, but the Levels must be taken in the order of One, Two, Three.
Energy Enhancement Meditation is the latest and most advanced meditation course based on years of research, bringing together hidden techniques over 5000 years old. They are to be used for the benefit of Humanity for the next Millennium.
This is the Beginning!!!
This is the Synthesis of Light!
The Synthesis of Light is a Non-Profit Organisation teaching the most advanced, evolutionary methods of meditation from the best evolutionary sources for the benefit of the World and Higher. Bursaries are available for those who wish to study. Although One Level can be taught in a week, 3 year long courses are available for further study in India and Majorca. Also the Energy Enhancement Home Study Course or The Energy Enhancement E-Book is the beautiful start of Ancient Practises which will benefit Your Life in so many different ways!
Or read more below:-
Brenda Wilkinson, Co Durham.
You have both made me think about life in a very different way and I thank you both with all my love.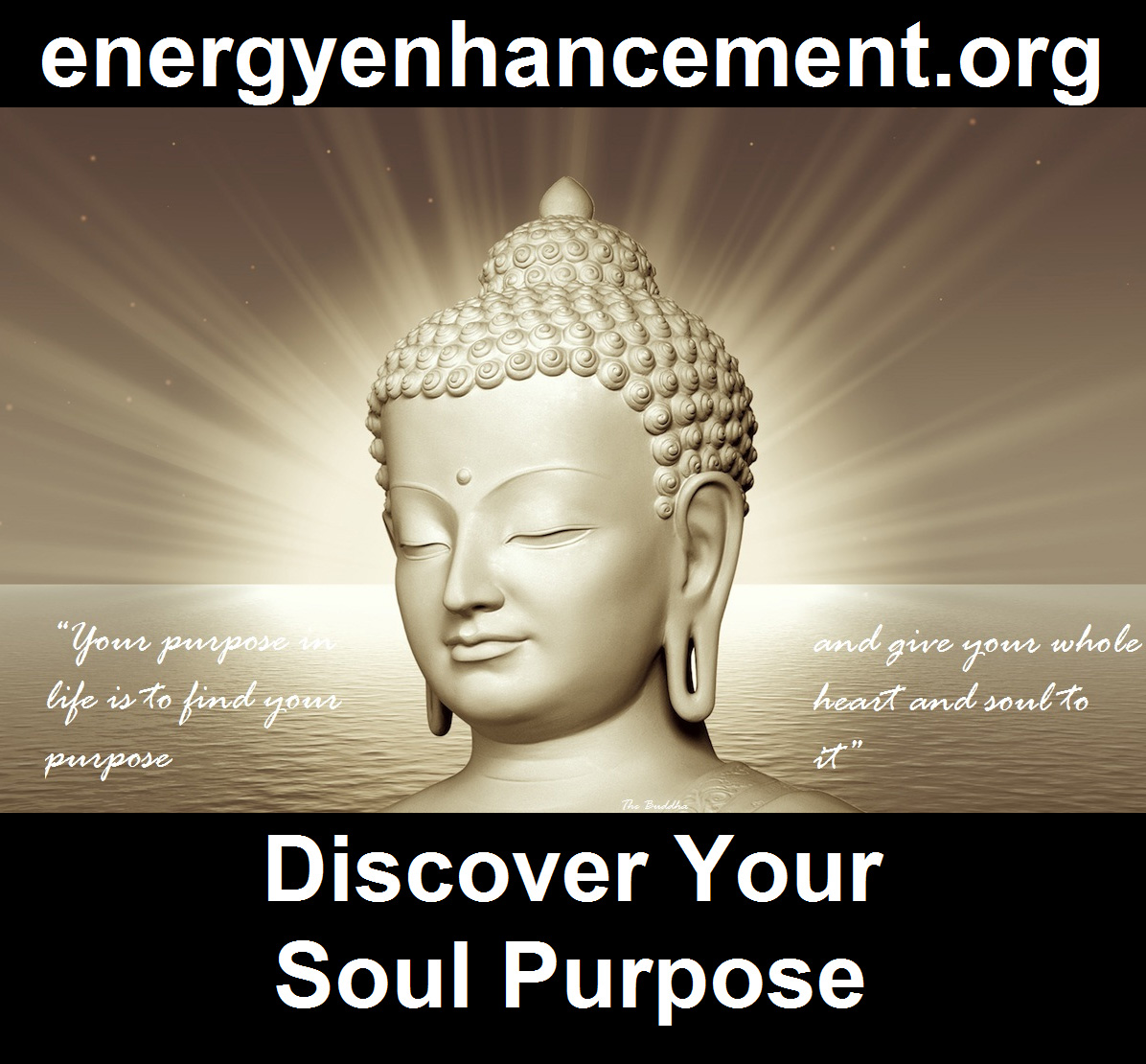 ---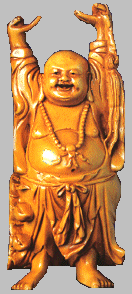 Energy Enhancement works first to remove our own personal stuff. It gives us a good clear out! Then it works to clear our primary relationships. Then it gives access to strong Universal energies and then gives the techniques to master dependancy in all your relationships. It accelerates your movement to more energy!
---
CLICK BELOW FOR SITE NAVIGATION
NEW MEDITATION ENERGY ENHANCEMENT SITE CLICK HERE!!

FREE REPORT CLICK HERE!! SECRETS OTHER COURSES WILL NEVER TELL YOU JOIN OUR REGULAR SPIRITUAL EMAIL SERVICE

ENLIGHTENMENT WITH MEDITATION ENERGY ENHANCEMENT INTRODUCTION
MEDITATION ENERGY ENHANCEMENT TESTIMONIALS AND LATEST TESTIMONIALS

KUNDALINI WITH ENERGY ENHANCEMENT DIRECTORS DEVI AND SATCHI

HEAL PROBLEMS - TRAUMA, PAIN, RAPE AND ABUSE, RELATIONSHIPS, DIVORCE, BEREAVEMENT, ANGER, FEAR AND DEPRESSION, FRIGIDITY AND IMPOTENCE, SEX ADDICTION, PIERCINGS, TATTOOS, BDSM, T
EE COURSE OVERVIEW THE KARMA CLEANING PROCESS
SPEED UP THE PROCESS OF ENLIGHTENMENT, WISDOM AND LEADERSHIP WITH THE APPRENTICE LEVELS OF THE ENERGY ENHANCEMENT COURSE.....
GAIN ENERGY APPRENTICE LEVEL1
THE KARMA CLEARING PROCESS APPRENTICE LEVEL2
THE BLOCKAGES OF THE MIND - PAST LIVES APPRENTICE LEVEL3
MASTER TANTRA RELATIONSHIPS APPRENTICE LEVEL4
THE THREE YEAR ENERGY ENHANCEMENT COURSE
FREE 90 MINUTE MEDITATION TALK ENLIGHTENMENT
FREE ENERGY ENHANCEMENT DANCE VIDEO 1
COURSES IN ARGENTINA
COURSES IN SPAIN THIS SUMMER
SERVING YOUR MEDITATION SINCE 1993 - ENQUIRIES AND BOOKINGS - SIGN UP TO THE ENERGY ENHANCEMENT NEWSLETTER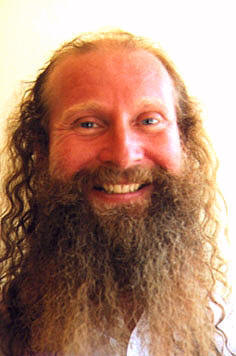 ENERGY ENHANCEMENT IS THE NEW, SAFE, SMOOTH AND FAST WAY OF LOSING ALL INTERNAL NEGATIVE ENERGY AND PAIN BECAUSE IT WORKS ONLY AT THE ENERGY LEVEL, THEREFORE SPEEDING UP THE PATH OF ENLIGHTENMENT.
ENERGY ENHANCEMENT HAS HELPED MANY PEOPLE ON THIS PATH FROM THOSE WITH THE BIGGEST ENERGY BLOCKAGES TO THOSE WHOSE ASPIRATION IS TO HELP THE WORLD AND ALL THE PEOPLE IN IT.
ENERGY ENHANCEMENT CAN HELP YOU!!
Part of Satchidanand's Web Blog - "I was meeting a nice girl of 28 this morning here at our center in Rosario. She is a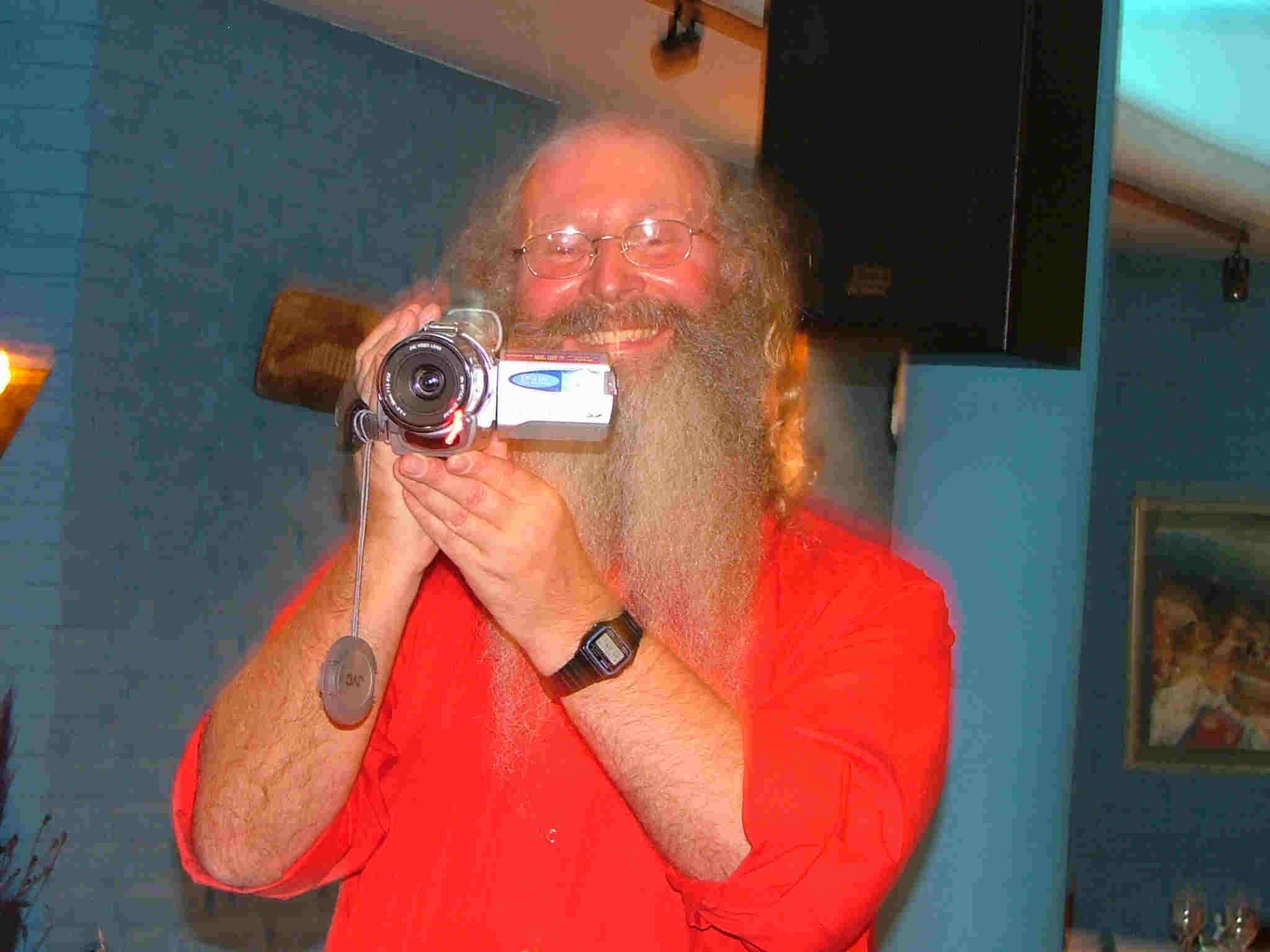 Psychologist but has fallen out of love with Psychology because although it explains things intellectually it gives no TECHNIQUES apart from talking to change anything internally, particularly in herself. You can see how effective Psychology is by looking at Woody Allen.
I connected with her base chakra and her inner child showed me all her chakras and blockages one by one. A very interesting experience. First the Base chakra, one fear and security blockage which I removed very quickly. Then the second, a pain filled relationship blockage which I also removed. Then all the chakras solar plexus, heart etc, feeling the general dirtyness of the psychic body usually cleaned with The Grounding of Negative Energies but no major blockages. Then the head, two blockages, one a person who had just died, very deep and negative. I removed the first blockage but the other one was more difficult and stayed with me, absorbed by my psychic body, for a day before I sent it on.
She felt the movement of energy blockages in the head and in the body as my mind and energy was working on her and told me that she normally got a lot of headaches. She was interested in my exposition of Energy Enhancement as all the while I was working on these blockages I was also talking to her. Such openings show an educated psychic body, one with talent. Not everyone who comes to the Guru has similar experiences. Some also get more. She and I felt that with training she also might be able to help her clients in a similar way. So, she is coming back tomorrow to try out the process, to get her first Initiation in Energy Enhancement."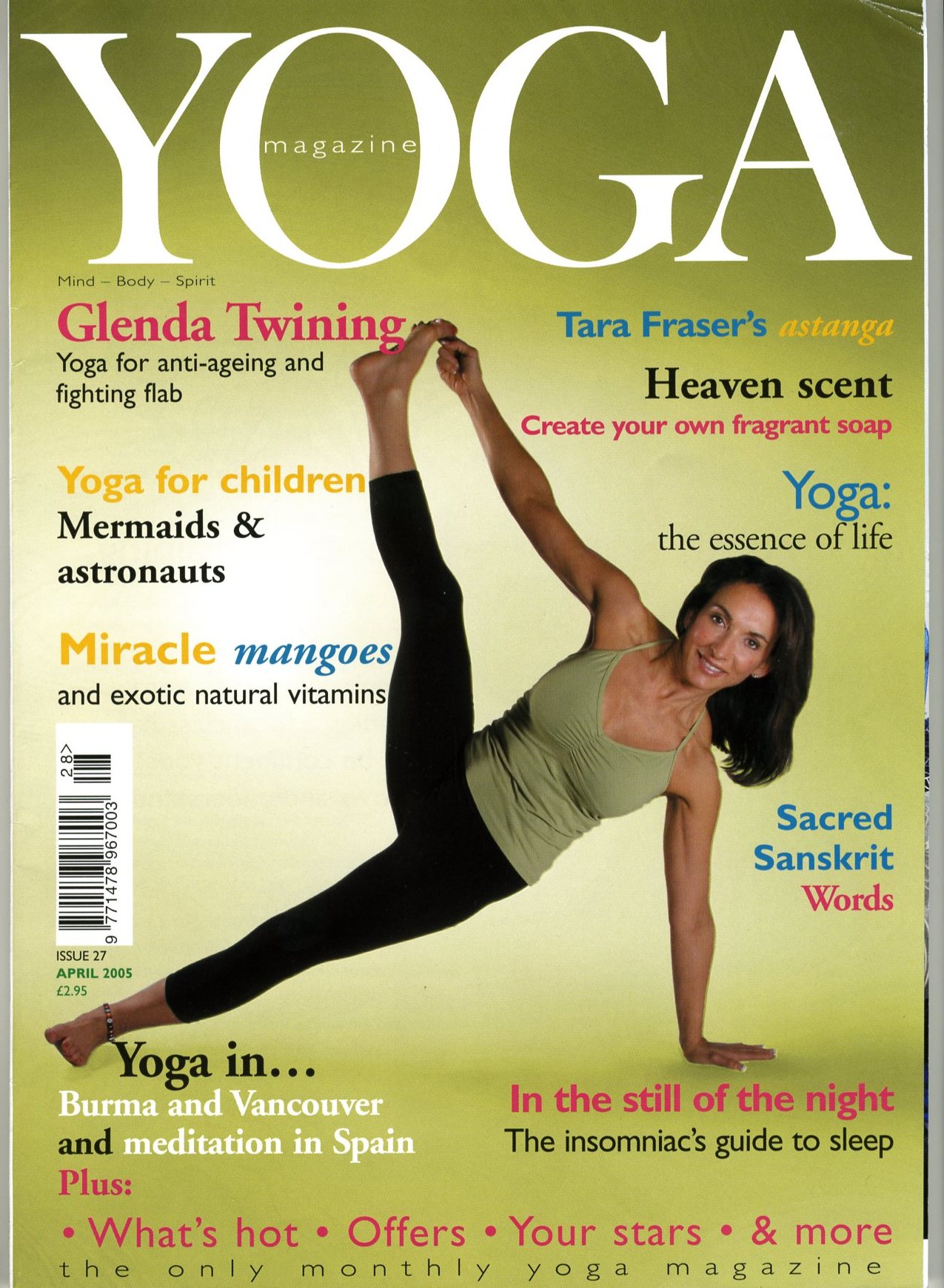 ARTICLE ON ENERGY ENHANCEMENT FROM THE YOGA MAGAZINE OF GREAT BRITAIN - FIND OUT WHAT THEY SAY!!
Energy Enhancement does exactly what it says on the Tin!
James Ellerbeck, Yoga Magazine of Great Britain.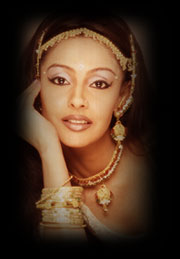 Here I am today, sitting down, putting pen down on paper whilst gathering my thoughts on the amazing Energy Enhancement Course that I am currently on. Where do I begin? Firstly, I felt it would be great to share my experiences of the Energy Enhancement course with other like-minded people. The following information is for those interested in growing spiritually, and wanting this world to become a better place - starting from improving themselves!
Honey Kalaria, Bollywood Star and Owner of Diva Entertainments
Our Deepest Fear Our deepest fear is not that we are inadequate. Our deepest fear is that we are powerful beyond measure. It is our light, not our darkness that most frightens us. We ask ourselves, Who am I to be brilliant, gorgeous, talented, fabulous? Actually, who are you not to be? You are a child of God. Your playing small does not serve the world. There is nothing enlightened about shrinking so that other people won't feel insecure around you. We are all meant to shine, as children do. We were born to make manifest the glory of God that is within us. It is not just in some of us; it is in everyone. And as we let our own light shine, we unconsciously give other people permission to do the same. As we are liberated from our own fear, our presence automatically liberates others.

by Marianne Williamson from A Return To Love: Reflections on the Principles of A Course in Miracles

(Note: This is often found on the Internet incorrectly stated as a quote by Nelson Mandela from the Inauguration Speech, 1994.)
NEW!! MEDITATION - ENERGY BLOCKAGES ARE THE CAUSE OF THE PSYCHOPATH, THE SCHIZOPHRENIC, AND MANIC DEPRESSION. WITH EXAMPLES STALIN, HITLER, ENRON AND MAO
NEW!! MEDITATION - Existentialism and Kubrick's Psychopaths in the Films of Stanley Kubrick.
NEW!! George Lucas, Star Wars, the Revenge of the Sith, and Psychopaths
NEW!! MEDITATION ENERGY ENHANCEMENT AND Trauma, Pain, Relationships, Divorce, Piercings, Tattoos, BDSM, Sex, Sex Addiction, Tantra, Gambling, Homosexuality, Lesbianism, Drugs and Addiction, Bad backs, Heart Disease, and Cancer.
CLICK HERE FOR SATCHIDANAND ARTICLE ON THE EE INCREDIBLY SUCCESSFUL AND PROFITABLE MOVIE LIST - AMERICAN BEAUTY
CLICK HERE FOR FREE SPIRITUAL DATABASE
CLICK HERE FOR FREE YOGA BOOKS
CLICK HERE FOR FREE SPIRITUAL MP3 TALKS
---
Yoga is for people who are interested in their own Health, Evolution, Life Management, Spirituality, and ENLIGHTENMENT.
---
---
---
---
---
Yoga is for people who are interested in their own Health, Evolution, Life Management, Spirituality, and ENLIGHTENMENT.
---
---
---
---


Bookmark this page - add it to your Favourites Now!!
Energy, Enhancement, EE, Meditation, Meditations, Retreats, Course, Hercules, Greek, Myth, Evolution, Human Evolution, Seminars, Yoga, Hatha, Patanjali, Raja, Mantra, Japa, Bhakti, Krishna, Karma, Asana, Pranayama, Mudra, Bandha, Yoga, Sacred, Dance, Teacher, Training, Meditation, Initiation, Teacher, Training, Philosophy, Reiki, Master, Enlightenment, Illumination, Nirvana, Emptiness, Nothing, Soul, Monad, Tantra, Tantric, Tantrick, White, Magic, Magick, Alchemy, Relationships, Ego, Strategeies, Mastery, Thelema, Aleister, Crowley, Healing, Psychology, Strategies, Celestine, Prophesy, Ken, Wilber, Therapy, infinity, infinite, taoist practises, transmute, transmutation, stress, success, abundance, plenty, philosophers stone, ego, kundalini, energy protection, intuition, synchronicity, square the circle, ouroboros, yin, yang, swastika, vitriol, aura, auric bopdy, inorganic beings, ascended masters, Development, Self, Personal, Relaxation, Stress, Holidays, Tours, India, Peru, Argentina, Brazil, Majorca, Alhambra, Taj, Mahal, Machu, Pichu, Arunachala, Poetry, Art, Spirit, Spiritual, Don, Juan, Carlos, Castaneda, Castenada, Gurdjieff, Alice, Bailey, Djwan, Khul, The, Tibetan, Lama, Zopa, Dalai Lama, New Age, Management, Success, Taoism, Tao, Daoism, Dao, Zen, Master, Hogen, Rinzai, Soto, Dogen, Buddhism, Buddha, Mahayana, Hinayana, Sufism, Muslim, Jallaluddhin, Jallaluddin, Rumi, Hinduism, Osho, Rajneesh, Sivananda, Satchidananda, Satchidanand, Sathya, Sai, Baba, Ramana, Maharshi, Sri, Yogendra, Maharishi, Mahesh, Yogi, Aurobindo, Christianity, Christ, Bede, Griffiths, Benedictine, Synthesis, Church, of Synthesis.