TESTIMONIAL FROM VANESSA, A LADY IN SPAIN 2002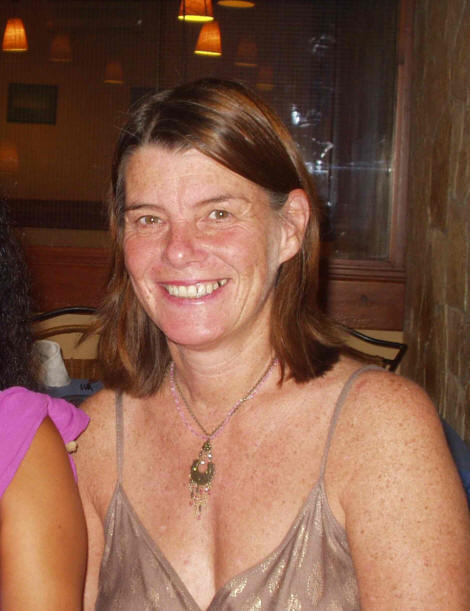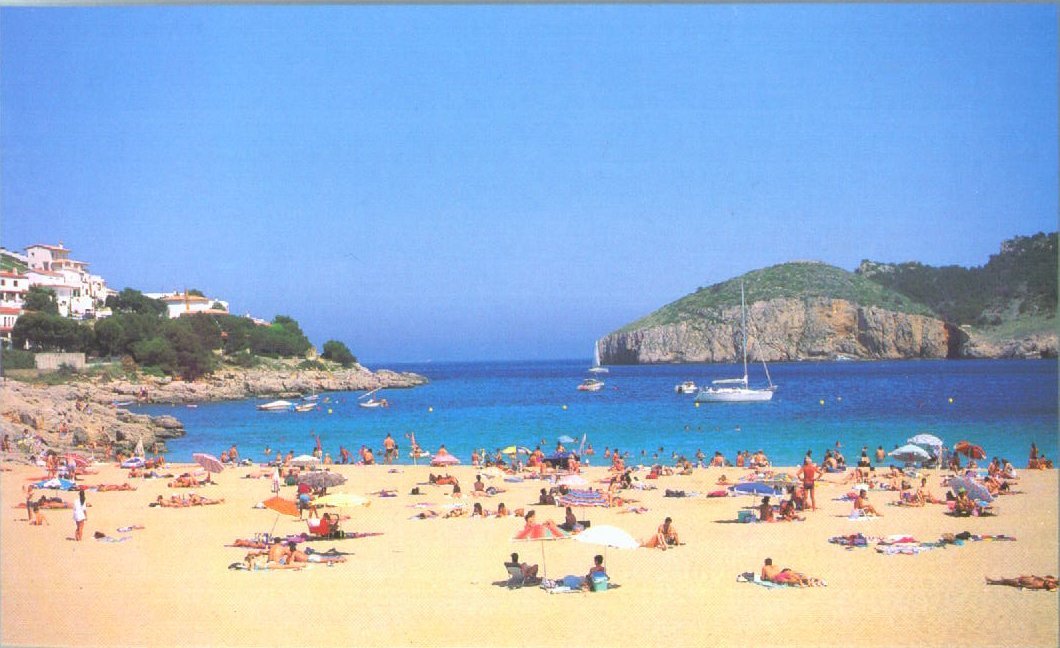 L'Escala. Satchidanand, Well, after traveling from India to Spain we have resumed our Energy Enhancement Courses with our new clients in the beautiful SOL Villa on the Costa Brava in Spain. Here is an Interesting testimonial from over the first four days of the Energy Enhancement Level One Course.......

The Experiences at the Energy Enhancement Course with Satchidanand and Devi Dhyani

During past meditation sessions for over two years, I have twirled like a top when my bottom came into contact with the floor.

Satchi explained this was the Kundalini rising and I needed to find the centre of it. By swaying backwards and forwards, then side to side, I could touch upon its centre but it is a very fine place to contact and I kept going off course.

The same movement was to be done with my head, keeping the chin down. Then I needed to keep rechecking throughout the meditation to find it again.

After two years the swaying finally stopped in ONE session with Energy Enhancement! I later found out that Satchi had been working on this blockage at the same time using Energy Enhancement Level 2 Techniques.

On the next session we dealt with the circulation of energy, imagining a gold, white or silver light filling the body. The aim was to intensify it and get it to burn from inside. It had to permeate the whole body, chest, belly, arms, and legs. Then we were to take the light out from our heart centre in a thin line through the chakras.

It could flow either way and we were to test each out, the air or the water path. As we did so we were to look out for places where we did not see the light or feel it, where the light jumped, or there was pain or where we got distracted.

At these various places, there would be a blockage. When a blockage was identified we were to push thread through them and continue the sequence. The breath, crown and heart chakras were to be used as pushing tools.

There would be an increase in the power of the new techniques to remove blockages used in Energy Enhancement Levels Two and Three.

The main thing I noticed was that there were small black circles at various places en route. I could not say exactly where they were but just knew their vague vicinity.
These Black Circles are our clients view of Energy Blockages she spotted during the meditation. Satchidanand

I repeated in the evening, focusing on my belly blockage but got distracted by a cough and had to leave the room. Satchi explained the belly and throat chakras were connected, hence my cough.

Distraction has to be caught. In bed that night on another try, I was enjoying the white light so much I did not feel like following the sequence and wanted to remain in the white light. I fell sleep but was awoken by a loud popping sound and an image of a black disc appearing in front of me.

Next morning we took the sequence a stage further with the transmutation of cosmic energy and taking the energy to its fire core. The meaning of vitriol was explained and its relevance to alchemy as being the first formula or guided meditation of alchemy. Vitriol also means anger and we were to use this technique "To drain the last dregs of our Vitriol".

We were taught that blockages were seen as black like coal, food for the fire which would increase its heat. That Kundalini heat would then flow up the spine. I could not feel the heat coming up my spine just a gentle warmth.

As I was trying this process I became angry, I knew I did not want my blockages anymore, that was why I had come on the Energy Enhancement course, I was fed up with them, they had served no purpose for me so far in my life, they had done me no good I wanted rid of them. I threw them in the fire with venom.

As I started to throw, I wanted to throw more on. I became very angry. I felt I had so much to be angry about; I could go on forever.

After this session I felt quite good.

My Energy Enhancement REIKI Initiations with Devi Dhyani, Devi uses Energy Enhancement Techniques in the Reiki Initiations, so....

On receiving my first Reiki initiation I felt very peaceful. Blue and white energies kept expanding. As the session went on I started to cry, tears rolling down my cheeks and there was some kundalini jolting of my body but I was not unduly worried.

At the second session I felt I was being pulled up by one single hair on my head, up and up it pulled me. Later it felt as though a whole lot of stuff was coming out of my head into the universe. First my little fingers felt numb then the other fingers followed suit. My feet also felt numb and slightly raised off the floor. My bottom also felt as though it was coming off the chair. Upwards and upwards was the movement. I felt emotionally tearful and tears welled slight. I felt very powerful, that I could move mountains with this strength.

On the third session I felt Devi's hands heat and a feeling of pushing me downwards. Initially again there was an image of white hands in the pray position and an opening up of my heart chakra, they felt more empowered this time. I felt snake like movements up and down my spine and I still felt numbness in my fingers tips but power going into them. I asked for help and the session ended with like wings flying slowly upwards, it was very beautiful and brought tears to my eyes, I wanted to fly too.

On the fourth session I felt similar sensations as before but this time the snake went outside my body, moving slowly upwards towards a star of light. My heart felt as though it was opening more and I felt a throbbing in my hands. A tornado started in my body, swirling very fast from the bottom of my spine upwards, eventually it slowed down to a snails pace, the energies had become gentler. From the white light I asked for help with my belly blockage. The light told me to use the white thread to weave in and out of this blockage and I successfully sent it down into the fire.

VANESSAS Resumption of The Experiences on the Energy Enhancement Course
In the meditation that followed I continued my snake like progress upwards and asked the white light for help. I had a lump in my throat chakra so I sent that to the fire.

I thought I would also ask if I would see again a person I really wanted to see. The image came back of my first love and I acknowledged the grief I felt at his loss. I poured bucketfuls of my grief down into the fire below.

When trying out EE Level 1 Stage 4, I had problems when constructing the visualisation. At first I had an image of a golden tower but only slightly up from the base was built, I could not seem to go any further. Later I tried building it by one brick at a time, it seemed a long process.

Devi Dhyani identified a blockage above the crown chakra, which she removed using Energy Enhancement Level Three Techniques. Things improved but the white light was not strong until near the end when a thin rainbow of light fell down from on high, it then turned to a long waterfall.

I had the feeling of pushing upwards and a desire to fly......
Vanessa with Dhiren, another course member
ANOTHER TESTIMONIAL FROM VANESSA WHO WROTE THE TESTIMONIAL ABOVE, WHO CAME TO ARGENTINA FOR HER SECOND ENERGY ENHANCEMENT COURSE IN
It was nearly two years ago that I completed the first half of the EE course in Spain with Satchi and Devi. In one respect it seems just yesterday but in another a life time away. A lot has happened in my life between that time deaths, births, daughter's marriage, ill health; the usual variety of life's traumas. I returned from the first course full of determination to follow my spiritual path, I was going to do such great things but being a wife and mother just took over. At the times when I most needed to practice I did not, which in turn lead to much inner suffering.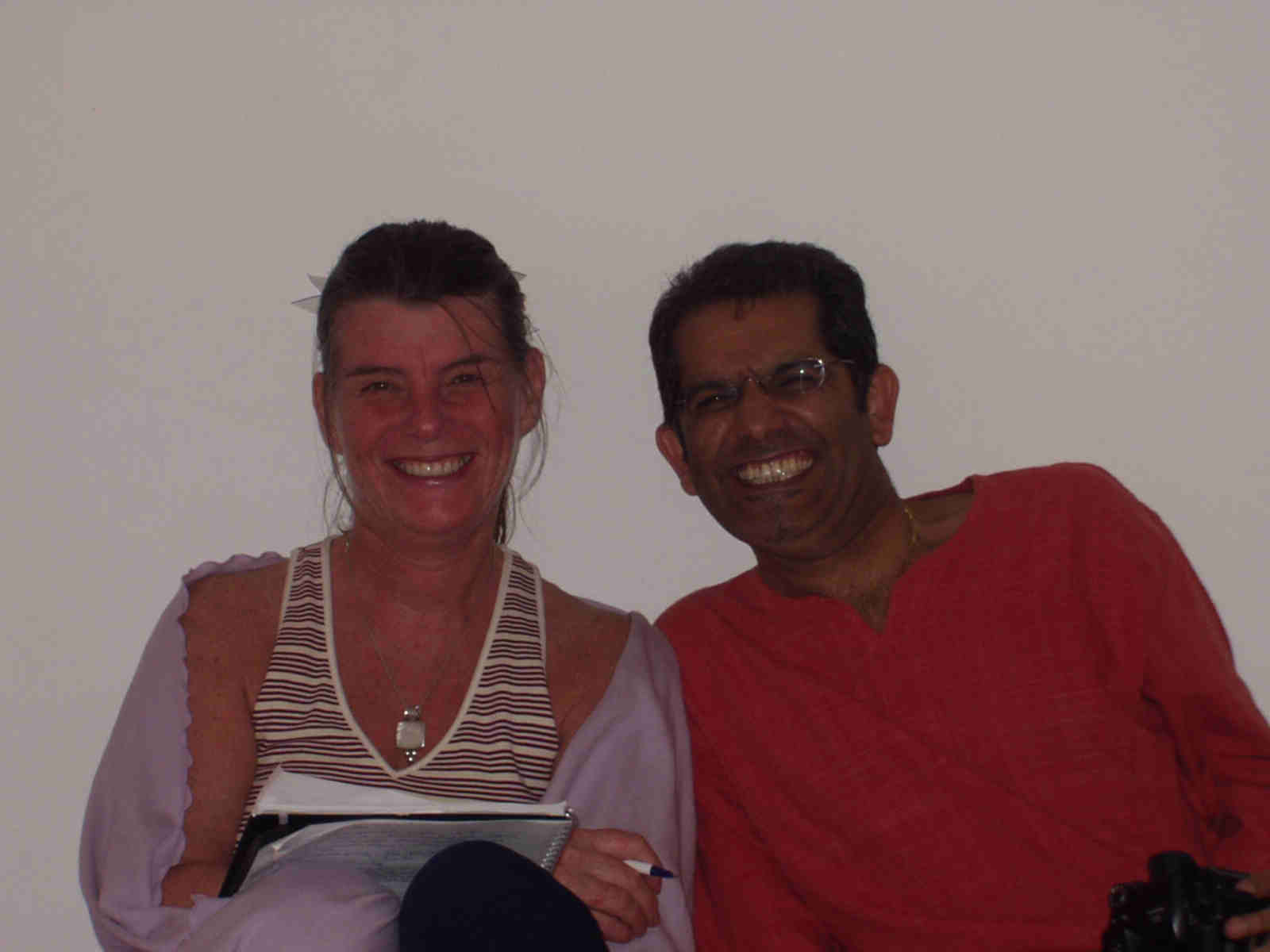 Vanessa with Dhiren, another course member
I was also struggling to get myself acknowledged as a spiritual person by those close to me. I was tired of living two lives, one as a family person and the other as a spiritual one. To incorporate the two was no easy task and relationships problems developed which that is what really brought me back to the course. I needed ways of dealing with relationships of close to me. I had enough of being drawn into emotional traumas and expectations. I needed the tools to develop non-attachment, whilst at the same time being more open and loving.
I needed a better understanding of how to stop my energies from being drained from me and I came back to the course as I needed to find the answers.
The two year gap had been beneficial in that I came with a renewed conviction to learn and develop from what was being taught. I had found I tended to live an insular spiritual life at home, although I was able to learn from the gurus and swami's I mixed with. I was pleased to join an on going group half way through; I was welcomed and made to feel a part of it immediately. The group provided a valuable learning environment as its members explained their personal experiences, as previously on my own I often wondered was it just me who felt like this.
I was deeply touched by their commitment and determination to follow a spiritual path despite all the difficulties. I appreciated being part of the group, over the two weeks I felt a unity of spirit amongst us we acted as a whole and not separate individuals, a sense of oneness and harmony developed. The benefit of the course was the tackling of shared difficulties, as well as learning new techniques with like minded people.
The course is very user friendly and can be easily related to everyday life and the problems that occur in it. Blockages, strategies and inner children all had to be worked on and along with this came the realisation of the benefit of a maintenance programme to be carried on when I return home.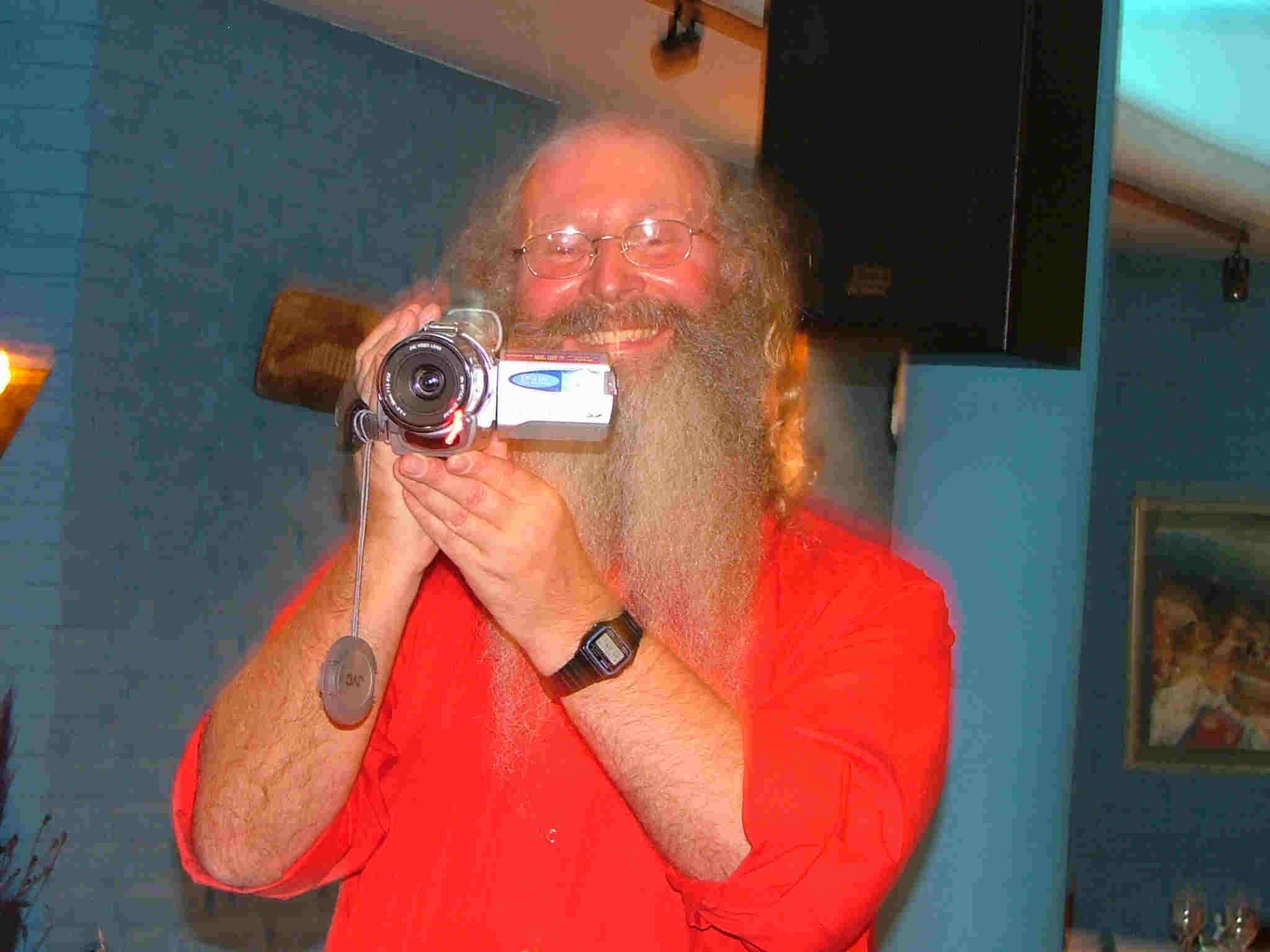 Satchi and Devi are intuitive teachers who know what is best for you and can point you in the right direction. It has been noted by the other group members that my appearance has improved in just one week and I can feel the inner changes that have taken place. My energy levels are high, I have a lightness about my body and a tranquil calmness surrounding me, what more could I want.
At the time of writing we are tackling relationships, having brought about change in ourselves through the techniques learnt on the course we can now bring about change in our relationships with others. This was an important area in my life that I wanted to tackle if I was to move on in my spiritual path. I was trying to merge my family life with my spiritual one and was having problems with those close to me incorporating into their lives. Hence their relationship with me and vice versa needed to be healed in order to create a more spiritual environment. The Energy Enhancement course gave me the tools that can be used in everyday life when I return home. The tools taught are the cleaning of the chakras as well as the lines of communication between chakra to chakra from yourself to another person. At the same time their auras and energy fields can be cleansed. EE is a method for healing yourself and others.
I was putting this into practice with my husband who came to Argentina with me to keep me company but not to participate on the course.
For the first time in his life he picked up a spiritual book to read, which is something I had hoped would happen for many years, and goes to prove something must be happening. I look forward to practising the techniques on my return.
My insight and intuition have developed on the course and many experiences have happened to prove that the teachings do what they say. One night a vision came of the Time Line, which we had just learnt about that day on the Energy Enhancement course. I had never seen one before but it was so clear that it left no doubt to its existence.
The course is experiential you know it works when you experience it, you do not have to accept what is being said blindly. You have to trust your own abilities to gain from the teachings and it will be revealed to you.
This happens very effectively with the Energy Enhancement Reiki teachings. By giving Reiki to a person they will know that the energies do exist and will lead then to a greater understanding of what meditation is about. I have always wanted to help people through meditation and was pleased Reiki tied in with EE. I can feel the energies descend through me and be transmitted to the person being healed. It is that connection with a higher force and its flow, that has created some very moving experiences I had had with Devi. She is a wonderful teacher of it and her hands give all the learning necessary.
There has been an expansion of my energy fields that I would not have achieved on my own or elsewhere. To be able to use the energies in a healing way has been a blessing. My original expectation from the course was to increase my knowledge of the energies by direct experience of them to gain wisdom and this has been fulfilled.
The EE techniques have deepened my spiritual understanding and also enhanced my spiritual practice. I intend to pass on this knowledge to those I meet on the meditation path.
The course has given me confidence to handle the internal saboteurs we all have within us and carry on my spiritual journey with renewed vigour.
The warmth and caring ways of Satchi and Devi have provided a safe environment in which to learn. Many distractions can come to stop you coming on the course but they need to be overcome if you really want to progress on your spiritual path. My deep gratitude and thanks go to both Satchi and Devi for giving so much of themselves.
Vanessa_Graham_Meditation_Testimonial
Vanessa_Graham_Meditation_Testimonial_Part_2
Vanessa Graham England_Meditation_Course at the Oshadi Meditation Center
VANESSA GRAHAM ENERGY ENHANCEMENT MEDITATION LEVEL ONE COURSE IN THE UK AT THE OSHADI MEDITATION CENTER