MEDITATION ENERGY ENHANCEMENT JOIN IN OUR VISION OF ONE ENLIGHTENED HARMONIOUS WORLD.
---
---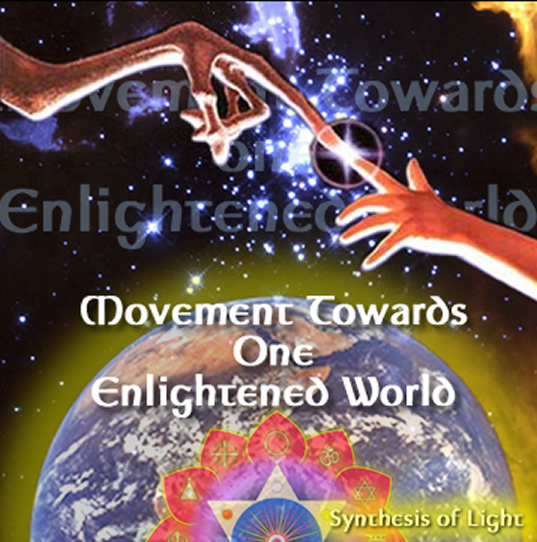 JOIN IN OUR VISION OF ONE ENLIGHTENED HARMONIOUS WORLD.

EMBASSIES OF ENLIGHTENMENT IN EVERY MAJOR WORLD CITY.

RETREAT CENTERS IN THE ANDES AND DRAKENSBERG MOUNTAINS.

IF YOU WANT TO CHANGE THE WORLD, CHANGE YOURSELF FIRST.

IF YOU WANT TO MAKE THE WORLD ENLIGHTENED, MAKE YOURSELF ENLIGHTENED FIRST.

JOIN US BY USING THE ENERGY ENHANCEMENT KARMA CLEARING TECHNIQUES, EASILY REMOVING ALL TRAUMA AND NEGATIVE EMOTIONS.... ON THE PATH OF ENLIGHTENMENT.

Learn how to Channel Silence. Become aware of Global Consciousness, Unity Consciousness. The Eternal, Infinite Variety of a Galactic Universe.

With Energy Enhancement, people who cannot handle their own lives can become strong. And people who have Mastered One of the Realms of Abundance on this Planet can more rapidly advance.

From the Inner Level of Silence the Internal Rulers of the World, Wise Well Wishers of all Human Life, energetically affect all Human Destiny.

There is a Knowledge beyond Imagination, by experiencing in your own Inner Consciousness from the field of Self Referral Consciousness, The Plane of the Higher Self.

You have spent all your lives collecting knowledge. Your heads have become fat with all the Knowledge they carry.

QUOTE FROM THE ENERGY ENHANCEMENT BOOK CHAPTER 2.3

"All of our educational systems in the world are rooted in intellectual development; hence they all depend on memory. The examinations in our schools, colleges, universities, are not of intelligence. Memory is mechanical. A computer can have a better memory than a man of genius, but the computer has no intelligence."

Yet thinking like this, as we have done for thousands of Years, produces Defects.

There is a natural Impulse from this Point to Infinity.

Coming from the Will. Of Knowing by Being.

This Energy Enhancement Ideal is Normal.

The Other is not yet Life.

At the Level of Creation there is Something Transcendental. Where one can create by thought. Where resides Competence. A Philosophy of Perfection. A strong Movement for One Enlightened World. Where resides true Satisfaction. Where there is no Disappointment.

You can be Totality.

Come to Yourselves. Come to the Higher Self. Come to the Universe.

Become Invincible on an Individual Level, Cosmic Individuality.

Join in The Vision. Help to Facilitate the Production of Enlightened Beings on this Planet through the Abstract energy influence of Coherence.

Come for this Spectacular Energy Enhancement Training.

Come for this Extraordinary Training.

Fulfill the Aspirations of your Soul Path.

Generously and Widely Offering to the World through Embassies of Enlightenment in all the Major Cities of the World and Retreat Centers in the Mountains.

This is The Experience.

This is The Movement.

This is The Vision.

This is Your Wake Up Call....



For those who understand the reality of enlightenment and the urgency of the situation here is a excerpt from Andrew Cohen which encapsulates the Worlds problem which will motivate some people to try Energy Enhancement. Because this is what we do too..


What is the vision that inspires your work? What are you trying to do?

A: Change the world. It's a bold thing to say, but it's true. My work is dedicated to nothing less than a total revolution in human consciousness—a revolution that has to happen for all of our sake. Because if something fundamental doesn't change—and change fast—we're faced with a calamitous future. There are too many of us on the planet and its resources are being tragically overused. Humans have the power to create and destroy life in a way that up until recently only gods were capable of, and yet our moral, ethical, and spiritual development is lagging way behind. This is the context in which I'm trying to help people to see their own experience because then the whole business of spiritual and evolutionary development becomes very relevant—indeed, it becomes urgent. When you begin to let in how big this context really is, you will recognize that the extraordinary potential of your own personal transformation and its need to be actualized is absolutely non-separate from the predicament that we're in as a race. Ultimately, this world crisis is spiritual. It's a crisis of consciousness.



Q: Why do you say the world's predicament is a spiritual crisis?

A: Well, because it's obvious that no individual or group consciously chose to pollute or overpopulate the world (except those with a psychopathic ego, that one half of the population who have no heart and so to a greater or lesser extent do not care about others, the world, the pain, the overpopulation, the pollution, the wars - as long as they are alright - Satchi). But simply because of a lack of awareness, a small-minded and self-centered perspective on the part of individuals and entire cultures, we have created the crisis that we are in. And it's not that we don't have the practical means to address the problems that we face, but we're still looking at these problems from that same old perspective that created them. So there is a leap that desperately needs to be taken by a significant minority—a leap in consciousness, a moral leap, a spiritual leap. We need to evolve our consciousness beyond this lower level of development, this small-minded and self-centered perspective, to a much higher and more all-embracing view.



Q: If it depends on individuals, how can this kind of shift happen on a scale that will really make a difference?

A: Those at the leading edge are going to have to take this leap and chart the way to the future. And that means us—you and me, right here, right now. You see, if you're even thinking about these questions, that means that you are part of a privileged minority. Most people on this planet do not have the freedom to even begin to think about these philosophical and spiritual issues because they have to devote all of their time and energy to simply surviving. The small minority of us who do have the time and circumstances for introspection are in a very fortunate position and could make a real difference. But what is crazy about this picture is that we won't do it. Why? Because we're too busy worrying about ourselves. The tragic irony of the postmodern mess that we're in is that so many of the most highly evolved and privileged people on the planet are lost in an emotional and psychological relationship to life that's very primitive—a swamp of narcissism and self-concern.

So this is our evolutionary challenge. We need to find the heart to see our own spiritual yearnings in the biggest possible context, in such a way that is going to compel us to lift ourselves up out of narcissism and self-concern. We need to find the courage to come together and face the challenges before us. And to do this, we need a new spirituality. We need a new enlightenment.


These Advanced Techniques of Energy Enhancement really work fast to increase your Spiritual Heart Energy. Come for the Energy Spiritual Buddhafield and The Energy Enhancement Course this summer in Spain with Satchidanand and Devi Dhyani. Take the Energy Enhancement DVD Course and practise from Now to help increase your spiritual consciousness in advance.

FOR THOSE WHO BELIEVE IN THE REALITY OF ENLIGHTENMENT AN

JOIN IN OUR VISION OF ONE ENLIGHTENED HARMONIOUS WORLD

D THE URGENCY OF THE SITUATION - GAUTAMA BUDDHA.

Synthesis of Light is a Movement towards One Enlightened Harmonious World. Wow! That's quite a mouthful! Chewing slowly...lets look at it word by word. Movement. We are a Movement so therefore without definition. We are not an organisation and therefore are not susceptable to the petty politics that lay many the beautiful creations of enlightened saints to rot in the wastelands of human stupidity. We are a movement towards light and therefore always evolving, changing, yet maintaining the core vision of One Harmonious Enlightened World.

Do you still think it's possible? You used to think about it when you were younger. World peace. Heaven on Earth. Love amongst humankind and harmonious living with our planet and it's myriad of lifeforms. Peace. Yet at some point you forgot about it. You got lost in the madness of contemporary life and forgot about your true nature. we haven't forgotten and we're here to remind you and welcome you back to the vision of One Harmonious Enlightened World.

One. One, because many is a result of splits. When there are splits or divisions, then we are faced with difficult decisions and endless choices. Then we have to argue about what's right and what's wrong. Who is better and who is brighter. So one brings us back together. One synthesises the splits into the harmonious whole.

To realise this vision, we suggest enlightenment for everyone on our planet. Enlightenment results in living consciously and compassionately. This evolved, enlightened, compassionate and conscious person will not need to be told what's right and what's not. This person will not need laws and rules, pills and drugs, makeup and fashionable fur, politicians and police. This enlightened person will simply be. Transmitting the higher energies and assisting the evolution of our planet. Radiating light and love and intuitive soul energy in which there are no mistakes or defects, unlike those who are simply using the mind as humanity has done for thousands of years with the results in this world as you see before you now... Using simple and effective techniques, Enlightenment is possible in one lifetime. This lifetime. Regardless of how young or old you are. If you are ready to change then you can become Enlightened.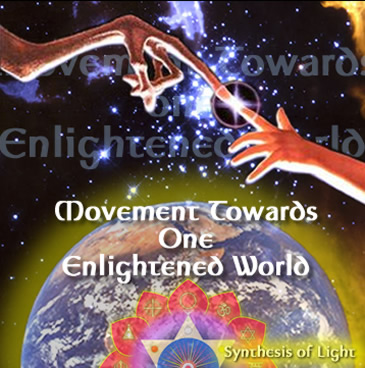 So what is Enlightenment? Well we are not really sure. Because this word has been defined and redefined and many interesting ideas, theories and definitions have been proposed about enlightenment, which is usually the case when you put a few ego-centric academics and spiritual aspirants together and ask them for their opinion. It could be defined as being blockage free. Free from Karma. Unified with the soul. Radiating a Buddhafield in which all meditate and intuit better. Free from desire and want. Free. Completely free. Completely conscious. Like Christ or Buddha. So we say everybody can be like Buddha or Christ and if this happened, then we would have One Enlightened Harmonious World.

Big words. How to become Enlightened? Using the simple and effective techniques that Synthesis of Light refers to as Energy Enhancement. The techniques do exactly what they imply. They Enhance the Energy flowing through you. By connecting you to higher sources and allowing you to remove blockages. No morality. No rules. No religion. All that stuff is up to you. All we do is allow you to experience the higher energies for yourself, through meditaion, yoga the Buddhafield and self healing. We charge you for this service, because Satchi and Devi have worked very hard for over 20yrs developing the techniques into the Energy Enhancement Course.

More importantly it allows SOL to give Scholarships for the course to those who can't afford its full price. More importantly it provides SOL with funds to build the Embassies of Enlightenment in major cities as well as the Ashrams in the Andes and Drakensburg Mountains. That is why we are working very very very hard right now to produce the DVD course which will be sold worldwide. So you can support us right now by ordering the course and receiving the course we have now, as well as the new improved course we are working on when it soon becomes ready. By also offering us any skills you may have that may be useful. Or if you have a house available somewhere in the world that's not being used, lend it to us. Or simply by writing back and saying that you support us. Simply by telling a friend who you think might be interested.

This is our job. It is all we do. Everything for the benefit of our planet and at the same time evolving ourselves. The results are not important. How can we change what will happen? But we can change our karma, our Luck, so we do what we do and do it to the best of our abilities.

They say that there needs to be pain, suffering and conflict in our world in order for us to remember our divinity, to remind us that we are more than flesh and bones. When every person on this planet remembers... will we still need pain, suffering and conflict? Well, every oyster needs that grain of sand to produce the pearl. This is the nature of Evolution. But that grain of sand need not be physical or emotional. It can move onto the mental and intuitive planes thus destroying all suffering pain and conflict, with Energy Enhancement, from the higher energies we are working for the Oneness in Synthesis in this world, now.

Join us by meditating every day.


Love and Light,

EE Team


ENERGY ENHANCEMENT
THE CORE ENERGY TECHNIQUES !!
ENERGY ENHANCEMENT, !!! ULTIMATE !!!!!! ANCIENT !!! !!! EFFECTIVE !!!!! SUCCESSFUL !!!


1. Get into Intense alignment with Your Own Kundalini Energy and Immediate Access to the Meditative State.

2. Remove your Energy Blockages with The Circulation of the Energies, the Kundalini Kriyas, Ancient Taoist Energy Circulations which have worked effectively for 5000 years to help all towards ENLIGHTENMENT.

3. The Grounding of all your Negative Energies through Alchemical VITRIOL - Become Incredibly POSITIVE and ENERGETIC!!

4. Alignment with Your Higher Self - INCREASE YOUR IQ, INCREASE YOUR LUCK, ACCESS YOUR HIGHEST ENERGIES!! ACHIEVE WHAT YOU WERE PUT ON THIS PLANET TO DO.

5. Learn how to USE and Increase the LOVE of Your Heart Center to ZAP YOUR NEGATIVE EMOTIONS AND DEVELOP PSYCHIC POWERS TO HEAL YOURSELF AND OTHERS.

6. Overcome ENERGY VAMPIRES - MASTER ENERGY PROTECTION AND MAINTAIN YOUR HIGH ENERGIES!!

7. EXPERIENCE INCREDIBLE RELATIONSHIPS WITH ENERGY ENHANCEMENT - THE CORE ENERGY TECHNIQUES

8. ENERGY ENHANCEMENT Techniques are the source of all Successful spiritual training courses over the last 5000 years. Become a Jedi Master, a Gandalf, a Transmitter of the FORCE a Bringer of the Light!!

GET MORE ENERGY!!!
ENERGY ENHANCEMENT -
!!! ULTIMATE !!!
!!! ANCIENT !!!
!!! EFFECTIVE !!!
!!! SUCCESSFUL !!!

Goto and SIGNUP NOW!!
https://www.energyenhancement.org/HomeStudyMeditationCourse.htm
CLICK BELOW TO GO TO
Take your time, this site has much new wonderful information.