The Cross of Lorraine and the Celtic Cross (Iona Cross)
---
The Cross of Lorraine.
---

Cross of Lorraine
The first intersection from the top represents ajna chakra, the second intersection represents anahata chakra. Ajna Chakra, the Heart centre in the head is added on.
---
The Celtic or Iona Cross.
---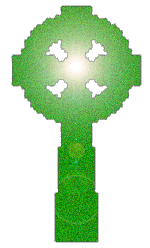 A Celtic Cross.

Here are the Celtic and Iona Crosses which are major symbols from the rebellious Irish Bishops, from the land of the Saints, who created such bother for many Popes.
Iona Cross.
The effort put into repressing such information worked because no-one knows that these crosses represent where they cross the Kundalini energies available in the very center of the Earth. The cross staff coming out of the earth is the Antakarana which connects heaven and earth from base chakra to crown chakra and then to the Soul and the Monad.
Energy Enhancement teaches the true use of these energies in Meditation in Level One of Energy Enhancement Techniques.
Knowledge of these energies could free people in mind and body and spirit.
Why has Christianity suppressed this knowledge for so long?