OSHO Dhammapada-Buddhism-Buddha
THE DHAMMAPADA: THE WAY OF THE BUDDHA, VOL. 5
Chapter 8: A little taste of buddhahood
Question 4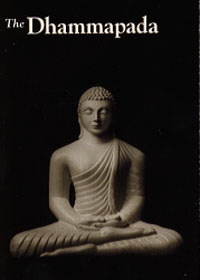 Energy Enhancement Enlightened Texts Dhammapada The Way of the Buddha, Vol. 5
The fourth question:
Question 4
BELOVED MASTER,
YOU ONCE SAID THAT ACTING IS THE MOST SPIRITUAL OF PROFESSIONS, AND NOW WE HAVE A THEATER GROUP. CAN YOU SAY SOMETHING ABOUT ACTING?
Krishna Prem, acting is certainly the most spiritual of professions for the simple reason that the actor has to be in a paradox: he has to become identified with the act he is performing, and yet remain a watcher.
If he is acting as Hamlet he has to become absolutely involved in being a Hamlet, he has to forget himself totally in his act, and yet at the deepest core of his being he has to remain a spectator, a watcher. If he really becomes absolutely identified with Hamlet, then there is bound to be trouble.
In India the most popular scripture of the Hindus is the RAMAYANA, the story of Rama. It is played all over the country every year; it has been played for thousands of years and every village has its own small theater group to play RAMLEELA. In RAMLEELA, Rama, one of the characters, is the incarnation of God, and Ravana, his opposite, the incarnation of the Devil. The fight is between light and darkness; it is a parable.
Rama gets married to Sita, one of the most beautiful women of those days. In those days marriages were not arranged; they were called SWAYAMVARAS. Swayamvar means the woman was free to choose, and particularly the women from royal families used to make conditions. Those people who fulfilled these conditions would be entitled to be chosen.
The condition that Sita made was that anybody who could break the great bow of Shiva with his bare hands would be chosen. Now the bow of Shiva was of such strength and made of such steel that nobody could even bend it with his bare hands, what to say about breaking it into pieces?
All the princes of the country had gathered. Rama came too, and Ravana also. Ravana was the king of Sri Lanka, and there was great fear in the camp of Sita's father because they did not want Ravana to win the contest. And there was every possibility that he would because he was the strongest man in those days. He was also a devotee of Shiva, and his devotion was such that once Shiva had appeared to him and told him, "You can ask anything and I will give it to you."
Ravana had ten heads, a beautiful metaphor, ten faces; everybody has. Who can have only one single face? -- only a buddha, the original face; otherwise everybody has many faces. You need one face with your wife, another face with your mistress. You can't function with the same face with them both. You need one face with your servant, another face with your boss. If the servant and the boss are both present, when you look to the left, at the servant, you show him one face, and when you look to the right, at your boss, you show him another face; you start smiling and wagging your tail.
It was said that Ravana had ten faces. He asked Shiva, "Give me this blessing that if one of my heads is cut off, immediately another will grow and I will always have ten heads, never less than that." And Shiva had blessed him; such a devotee of Shiva and such a powerful man that you could not cut off his head -- it would immediately grow again. There was fear, great fear of his power. He might win the contest.
And Janaka, the father of Sita, was really in great anxiety. Something had to be done, so a conspiracy was made. When all the princes and the kings had gathered and the contest was going to happen and the bow was brought, a false messenger came running to Ravana and said, "What are you doing here? Your country is on fire. Sri Lanka is burning!"
So he rushed immediately to Sri Lanka. Meanwhile Rama won the contest and was married to Sita. This is the story.
Now, in a village it happened: the play was being played, and when the messenger comes and says to Ravana, "Your country is on fire!" he said, "Let it be. I don't care. This time I'm going to win Sita. Enough is enough!"
In fact, this man had always loved the woman who was acting as Sita, deep down in his heart. He completely forgot the play; he became utterly identified. It became a reality. He rose... now it was not Shiva's real bow, just one a village carpenter had made. He broke it into many pieces and threw it away before anybody could prevent him. Then he said to Janaka, "Now, where is Sita?"
Now, what to do with such a man? And the whole audience was simply shocked. He was finishing the whole story, because now there could be no more to it. The whole story depends on Ravana being avoided, Rama getting married, and then the struggle when Ravana steals Sita, and the war and the whole thing happens. But if Ravana marries Sita, then it is all finished within two minutes -- and it is just the beginning, the first scene. And the man who had become Ravana was the strongest man in the village, naturally, and Rama was just a boy. He could crush Rama at any moment!
For a moment there was utter silence. But Janaka, the father of Sita, was an old man, an experienced man; he had played the role many times. He said, "It seems that my servants have brought the wrong bow. This is not the real bow, drop the curtain and bring the real bow!" The curtain was dropped... ten people had to carry Ravana out, but he was shouting and people could hear him saying, "Where is Sita? This time I am not going to lose!"
Somehow tranquilizers were given to him, he was put to sleep -- otherwise he might have come back again and created trouble -- and another man had to play the role. He became too much identified. He forgot that this was just a play.
The real actor has to live a paradox: he has to act as if he is what he is acting, and yet deep down he knows that "I am not this." That's why I say acting is the most spiritual of professions.
The really spiritual person transforms his whole life into acting. Then this whole earth is just a stage, and all the people are nothing but actors, and we are enacting a play. Then if you are a beggar you play your act as beautifully as you can, and if you are the king you play your act as beautifully as you can. But deep down the beggar knows, "I am not it," and the king too knows, "I am not it."
If the beggar and the king both know that "What I am doing and acting is just acting; it is not me, not my reality," then both are arriving at the very center of their being, what I call witnessing. Then they are performing certain acts and witnessing too.
So, Krishna Prem, acting is certainly the most spiritual profession, and all spiritual persons are nothing but actors. The whole earth is their stage, and the whole of life is nothing but a drama enacted.
Next: Chapter 8: A little taste of buddhahood, Question 5
Energy Enhancement Enlightened Texts Dhammapada The Way of the Buddha, Vol. 5