OSHO Dhammapada-Buddhism-Buddha
THE DHAMMAPADA: THE WAY OF THE BUDDHA, VOL. 5
Chapter 8: A little taste of buddhahood
Question 5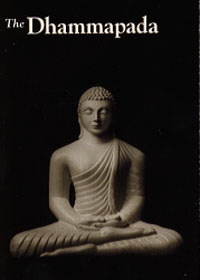 Energy Enhancement Enlightened Texts Dhammapada The Way of the Buddha, Vol. 5
The last question:
Question 5
BELOVED MASTER,
IT SEEMS THAT NOBODY UNDERSTANDS ME EXCEPT YOU. I HAVE BEEN TO THE PSYCHOANALYSTS, BUT THEY ALSO SEEM NOT TO UNDERSTAND ME.
WHY AND HOW DO YOU MANAGE TO UNDERSTAND ALL KINDS OF PEOPLE?
Gatha, the most fundamental secret is that I never try to understand them at all. I simply look at them, I love them, I accept them as they are. The very effort of understanding the other person is to reduce him into an object of inquiry; it is immoral. He becomes an object. And to reduce a person to an object is the most ugly thing you can do to anybody. Who are you to understand the other? Understand yourself, because there the object and the subject are one; the observer and the observed are one. There the knower and the known are one.
But how can you know the other? You can love and through love this miracle happens. If you love the other, great understanding arises on its own. Not that you try to understand the other: you simply love the other as he is, with no judgment.
The psychoanalyst cannot understand you, Gatha, because he has his own judgments. Before you start saying anything he has already judged you by the way you walk in, the way you sit in the chair. He is watching you, he has learned all these strategies, the body language; he has already reduced you to an object. He will not allow love to happen; he is already far away, an inquirer, a scientific inquirer. You are a guinea pig; he is insulting you, offending you.
It is said that a psychoanalyst is a person who looks at others when a beautiful woman comes in. He does not look at the beautiful woman, he looks at others -- how they are feeling about the beautiful woman, what they are thinking about the beautiful woman. His whole interest is to penetrate the mystery of people, why and how.... He wants to reduce everything to manipulatable knowledge.
And the moment you lie down on the couch of a psychoanalyst, he is reducing you to less than human. In fact, when you lie down on the couch, you lose much. Lying down on the couch is a good posture for sleep, you become more prone to unconsciousness; you become defenseless, vulnerable. And the psychiatrist or the psychoanalyst stands behind a curtain so that his presence does not keep you alert. He wants you to become as unalert as possible so in your unalertness you can blurt out many things which you would not have said to anybody else. He wants to poke into your unconscious; he wants to unlock you. He is treating you as if you are a machine.
And then immediately he labels this as an inferiority complex, that as schizophrenia, this as neurosis, that as psychosis. You are removed; now he will treat the label that he has given to you -- he does not relate to the person, he relates to the labels. He cannot understand you. In fact he does not even understand himself, and the first requirement to understand anybody in this world is to understand yourself.
If you understand yourself you will never try to understand anybody. You will love, you will accept, and your acceptance and love will be unconditional. My love for you is unconditional, I make no condition. I don't give you a certain discipline to follow; I want you to be yourself, totally yourself. I give you absolute freedom to be yourself. I support you in every possible way, so that you can be independent.
The psychoanalyst is not really making you independent; he makes you more and more dependent so the psychoanalysis goes on being prolonged for years and years. And when you get tired of one psychoanalyst you have to go to another. It becomes your style of life, going from one psychoanalyst to another.
And these psychoanalysts are in the same misery as you are; they are not different people, they can't be, because only one thing makes the difference -- that is love, and that is missing. Only one thing transforms a person and that is meditation, and that is missing.
Sigmund Freud knew nothing of meditation; all was intellectual analysis. He was really afraid of meditation, afraid of falling into some uncharted sea, unfathomable.
Analysis is within your hands; it is a mind thing. The psychoanalyst is in the same boat as you are.
A disillusioned man finds his way to a psychiatrist. When he is called in, he explains, "Everybody neglects me. It is as if I'm not there at all, as if I'm the air, they just don't notice me, they...."
The psychiatrist stands up, walks gently to the door and opens it saying, "Next patient, please!"
He is not different from you. Knowledgeable he certainly is, but wise he is not. He suffers from the same problems, the same anger, jealousy, possessiveness, as you suffer. Even the greatest of psychoanalysts, like Reich, one of the greatest of this century.... His wife has written in her memoirs about Reich that he talked so much of how to get rid of jealousy, he talked so much of freedom in sex. And as far as he himself was concerned he moved with many women, but he never allowed his wife to have any freedom. He was so suspicious and so possessive that he would open all the letters written to his wife. And he would keep an eye on her; he would tell the children to keep a note of who came when he was not at home.
Now this man talked about getting rid of jealousy, possessiveness, and he was really a great intellectual, but as far as his own life was concerned, he behaved in the same way. And many are the followers of Reich who will go on repeating him, never knowing the real person.
The wife of a well-known psychoanalyst was entertaining a number of guests one evening.
At one point during the party her ten-year-old son flitted into the room, arrayed in a strapless black evening gown, his lips covered with lipstick, high-heeled suede shoes on his feet, and a feathered hat on his head.
Quite naturally, the woman was stunned.
"Rodney!" she cried. "You naughty, naughty boy! Go upstairs and remove your father's clothes before he comes in and catches you!"
They cannot understand you. In fact, nobody can understand you except an enlightened person, a Buddha, a Jesus, a Lao Tzu -- but not Freud, Jung, Adler, they cannot understand. They don't have that light in their being yet; they cannot shower that light on you. They are not really authentic people; they are as inauthentic as you are, and as foolish and as stupid as you are.
During a beautiful walk in the Himalayas a father who was a famous psychoanalyst suddenly hears his son scream as he falls into a deep ravine.
"Johnny!" he cries desperately. "Don't move, I'll get a rope to pull you out!"
A few hours later he returns with a rope. Throwing it down he cries, "Johnny boy, grab the rope."
"Daddy, I've got no hands anymore," was the answer from deep down.
"Use your teeth, bite strongly on the rope and I'll pull you up."
Slowly slowly, meter by meter, Johnny is pulled up. When only the last few meters remain the father calls, "Johnny, is everything alright?"
"Yeeeeeeeeeeeeeeehhhhhhh!"
Enough for today.
Next: Chapter 9: Entering the stream
Energy Enhancement Enlightened Texts Dhammapada The Way of the Buddha, Vol. 5