Add to Onlywire
Del.icio.us
Digg
Reddit
Technorati
OSHO Dhammapada-Buddhism-Buddha
THE DHAMMAPADA: THE WAY OF THE BUDDHA, VOL. 5
Chapter 6: Christ: the last Christian
Question 4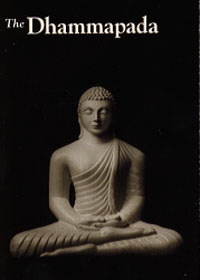 Energy Enhancement Enlightened Texts Dhammapada The Way of the Buddha, Vol. 5
The fourth question:
Question 4
BELOVED MASTER,
WHY ARE THE INDIANS UNABLE TO SEE WHAT IS HAPPENING HERE?
Sandesh, they have a long past, a very long past, longer than any other country, longer than any other race. And the longer the past, the more prejudiced you are. The American is the least prejudiced in the world because he does not have a long past, only three hundred years old. It is nothing compared to the past of India.
Ten thousand years are absolutely certain historically, but India existed before that. In fact those who have gone deep into research, they say Indian culture has existed for at least ninety thousand years or more. Such a long past makes a country very old, utterly old. Its mind becomes settled and stagnant, it cannot accept anything new, it is very difficult.
What is easy for the American is very difficult for the Indian. The Indian thinks he knows already; he is so well informed, at least about spirituality, that he does not feel that he has to come to me. He never comes here, but without coming here he goes on expressing his opinions about me. It is natural in an ancient, old, dead culture. And it is a very repressive past that India has gone through; it does not allow freedom.
Freedom has never been the goal of Indian culture but obedience: obedience to the society, obedience to religion, obedience to the scriptures. And India has this idea that all that was beautiful has already happened, the golden age has already happened. Now man is not evolving, progressing -- but declining. This is something to be understood.
In the West the idea is that man is evolving higher and higher, evolution is happening, there is great progress happening. The golden age is in the future for the West.
For the East, particularly for India, the golden age has already passed thousands of years ago; we are on a decline. We are not moving towards the peak, we are moving towards the valley. More and more darkness will surround us, more and more death; man will become more and more ugly.
Hence when I speak of a new humanity the West can understand me; the Indian mind simply feels at a loss -- what am I talking about? "A new humanity, a golden age in the future? It has already passed, it is history. We are not going to attain any golden age in the future; there is only death, man is doomed."
India has accepted this idea that the future is nothing but death, the future holds no hope. And I bring a new hope to you. I give you a new promise, I herald a new humanity. Hence it falls on deaf ears; it is so much against their conditioning, they cannot bridge the gap, and it is a very very repressive conditioning.
India has repressed all that is natural; it has gone into its unconscious, it is there boiling within. And I am talking about expressing, and India believes in repression. India believes in repression -- sex, love, body, all that is natural. And I believe in expression, creativity. I am speaking a non-Indian language.
Hence this strange phenomenon that I am living in India but I am not part of India at all. This small community of my sannyasins is a world community -- it is not an Indian ashram, it is a world commune. This small commune represents the whole of humanity, not of the past but of the future.
So I am bound to be misunderstood, misinterpreted, condemned, hindered in every possible way . There are twenty-five cases against me in the courts. The government goes on inventing any kind of case against me -- a man who never leaves his room.... What crimes can I commit? Twenty-five cases against a man who never leaves his room! Just think -- if I were moving outside, they would have invented at least one thousand cases against me.
They have to be forgiven for the simple reason that they cannot understand; in their own minds they are doing something very right. They think of me as a destructive force, and in a way they are right: I am here to destroy the whole conditioning whether it is Indian or German or Jewish, whether it is Christian or Mohammedan or Buddhist.
My work consists of destroying the conditioning and making man free of all conditioning. This happens every day -- not only to Indians, to others too.
A new sannyasin, Jacob, has written a letter to me. He is a Jew, so he is very much offended by the Jewish jokes. Now you cannot even understand humor, you become serious even about that, so what to say about serious matters? He has become a sannyasin but deep down the Jew is there, ready to be offended. I am going to offend EVERYBODY.
I offend Germans as much as I can, I offend Jews, I offend Indians, I offend Mohammedans.... I will offend everybody, because that's my whole work -- to clean you of all the shit that you have been carrying all along. And it hurts because you think it is something very valuable that you are carrying.
Now the Indian mind is the most sexual in the world, the most sexual because the most repressed. The Indian goes on seeing things which are not there; he projects or he invents or he tries hard to find something.
The woman phoned down to the hotel manager. "I'm up here in room 5110," she shouted angrily, "and I want you to know there is a man walking around in the room across the way with not one stitch of clothes on and his shades are up."
"I will send the house detective up right away, madam," said the manager.
The detective entered the woman's room, peered across the way, and said, "You're right, madam, the man hasn't any clothes on, but his window sill covers him from the waist down no matter where he is in his room."
"Indeed?" yelped the lady. "Stand on the bed! Stand on the bed!"
The lady must have been Indian. But Indians are everywhere; they are not only in India, they are not confined to India, remember. Wherever repressive people are, there are Indians. They can be in England, they can be in Italy, they can be in Spain, they can be anywhere. The Indian mind represents the repressive mind.
The woman was calling collect.
"Would you repeat the name, please?" said the telephone operator.
"Yes, Alice. A-L-I-C-E. A as in 'adultery', L as in 'lust', I as in 'incest', C as in 'copulation', E as in 'erotic'...."
Now, what to say about this woman? She must be carrying a monster within herself.
And that is the situation in India: everybody has repressed so much, there is so much pus inside the soul, that when they hear or read about me they feel hurt. The hurt comes because they are carrying wounds within themselves. And it always hurts if you go to the surgeon: he has to squeeze the pus out of your wounds, only then can the wounds heal. And I am a surgeon, my compassion does not allow me to leave you as you are. Whatsoever the cost to me, whatsoever the risk to me, I am determined to expose your wounds to you -- because once you know your wounds, once your wounds are exposed, brought to the surface, they immediately start healing. And India carries great wounds: it is not only physically poor today, it is spiritually poor too. And when I say this it hurts the most, because that is the only shelter for the Indian ego that, "We are spiritual people." And my own experience is that there is no spirituality left.
Yes, once in a while a buddha has happened in India -- and more buddhas have happened in India than anywhere else, it is true -- but the Indian masses, the crowd, is not spiritual, not at all. In fact because of this phenomenon of the buddhas, the Indian masses have become hypocrites. They have heard great teachings -- they cannot follow those teachings, because to follow them needs great effort. They cannot follow but they can pretend; that is cheap and easy. So Indians have become pseudo.
Larson took Charlotte for a drive way out in the country and parked the car in a desolate stretch.
"If you try to molest me," said Charlotte, "I will scream!"
"What good would that do?" asked Larson. "There isn't a soul around for miles."
"I know," said Charlotte, "but I want to satisfy my conscience before I start having a good time."
Indians also want to have a good time, but first they want to satisfy their conscience, so they are screaming at me. But slowly slowly, the sensitive, the intelligent Indians are coming closer to me. It takes time, but the most sensitive people are bound to become part of my buddhafield.
And Indians suffer from an inferiority complex because for one thousand years they have been slaves.
Rabindranath was never praised in India -- condemned, criticized as much as possible because he was a very life-affirmative person. He even had the courage to criticize Buddha in his own way. He was against the whole negative tradition of India.
In one of his poems he says:
After twelve years Buddha comes back home -- he has become enlightened. He has thousands of followers; naturally he remembers his wife, his child, his old father, and he wants to help them. He wants to share what he has attained, so he comes back to his palace. Yashodhara, his wife, whom he had deserted twelve years before, is naturally very angry.
For twelve years she has been accumulating anger, but an Indian wife, even if she is angry, cannot show her anger to her husband, at least not in those days. But in a very vicarious way... she asks one question of Buddha. It is not an historical thing, it is a poem by Rabindranath Tagore, his own invention but it shows his attitude and approach.
Yashodhara asks Buddha, "Just one question I have to ask you: for twelve years I have waited to ask you this question. You have become enlightened: was it impossible to become enlightened living in the world, in the house with me? Just one question I want to ask you: was it absolutely necessary to escape from the world, was it not possible here in the house? Am I more powerful than your consciousness? Was the temptation more than the search for truth?"
And Rabindranath says Buddha bows down his head and stands silently, says nothing. But that says everything -- now Buddha knows it could have happened in the house too. There was no need to desert the wife and the child and the old father and the family and the people; there was no need. Now he knows! Now he knows that enlightenment has nothing to do with the mountains and the forests; it can happen anywhere.
Rabindranath in another of his poems says, "I don't want NOT to be born again. I pray to God: Give me your world again and again and again! It is so beautiful, it is such a gift -- I am grateful!"
Now these are very anti-Indian attitudes, the whole hankering of India has been how to get rid of life; it is life-negative. Rabindranath is very life-affirmative; he loves life and loves it tremendously. He was condemned very much.
But when he got the Nobel Prize, then the whole country was just full of praise. But he refused to go to the gatherings, to the meetings, which were arranged to praise him. He said, "This is not praise for me -- you are praising the Nobel Prize. You can take the certificate and the medal and garland it and do whatsoever you want -- I am not going to come!"
He got the Nobel Prize for the book GITANJALI -- offering of songs -- which he had written twenty years before. In India nobody praised it because it is very life-affirmative, but once the Nobel Prize was given for GITANJALI, GITANJALI was the greatest thing that had happened to India. Then the same people started praising it.
India suffers from a great inferiority complex; for one thousand years it has been a slave. So don't be worried, I know how things are going to happen.
First, more and more intelligent, sensitive, alert Western people are bound to come to me. Once they are here, more and more, in thousands, Indians are going to follow suit -- that is because of an historical accident one thousand years old.
Whatsoever is done by the West, India becomes suspicious that it must be right. First it reacts: "How can it be right?" because it goes against its tradition. Then, slowly slowly, it HAS to compromise. So I am not worried about it, not at all. Let the seekers come from every nook and corner of the earth and sooner or later you will find India also coming closer and closer to me.
But they are always late in everything. They have been missing the train for five thousand years -- that has become their habit. They can't be pioneers, they have forgotten how to be pioneers. They can only be followers.
And this work is pioneer work, something immensely new is being tried here. India WILL listen to it, at least I hope so. But you need not be worried about it.
Next: Chapter 6: Christ: the last Christian, Question 5
Energy Enhancement Enlightened Texts Dhammapada The Way of the Buddha, Vol. 5