Add to Onlywire
Del.icio.us
Digg
Reddit
Technorati
OSHO Dhammapada-Buddhism-Buddha
THE DHAMMAPADA: THE WAY OF THE BUDDHA, VOL. 5
Chapter 6: Christ: the last Christian
Question 5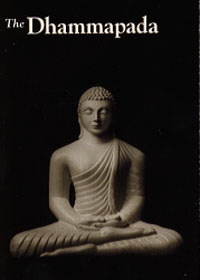 Energy Enhancement Enlightened Texts Dhammapada The Way of the Buddha, Vol. 5
The last question:
Question 5
BELOVED MASTER,
FOR SOME YEARS I HAVE BEEN PRACTICING STANDING ON MY HEAD. IT IS SOMETIMES GOOD TO SEE THE WORLD UPSIDE-DOWN! NOW, HOWEVER, A SWAMI IN THE CENTERING GROUP HAS TOLD ME THAT YOU HAVE SAID IT IS NOT GOOD TO STAND ON ONE'S HEAD. NOW I'M WONDERING WHY THIS MAY BE SO. WHAT IS WRONG WITH STANDING ON MY HEAD?
PLEASE EXPLAIN THIS TO ME.
Anand Vibhu, nothing is wrong with standing on your head -- you will just become more stupid AND more respectable, more unintelligent and more holy. There are advantages and there are disadvantages. If you want to be intelligent, then please stand on your feet. If God had intended that man should stand on his head, he would have made you in a different way.
I also tried it once in my childhood, but I looked so silly standing on my head -- and, moreover, I fell asleep and because of sleeping, I fell down and had my neck strained for at least two weeks -- so I decided that this couldn't be what God wants me to do.
But, Vibhu, if you have been trying it long enough, now it cannot do any more harm. And some time it may come in handy too.
I have heard:
Sigmund Freud died and was sent to hell -- where else? When he arrived the Devil greeted him -- obviously.
"Welcome," said the Devil. "Here you will have one of three irrevocable choices about where you will spend eternity. Come on!"
The first room was filled with people who were carrying large stones up a steep hill only to see them fall back to the bottom -- to where they had to return and start the whole process again.
Freud was then shown the second room. It was filled with typewriters. Thousands of people were clattering away, each with a Devil's assistant behind him. Whenever a mistake was made, the assistant would slap the person on the back.
Freud was becoming extremely apprehensive.
The final room was filled with human feces, up to the necks of the thousands of people there. Each person had a cup of coffee which he or she was sipping, just above the dung.
"Well," said the Devil, "which room do you choose?"
Freud thought for a second, realizing that in the third room, at least there was no physical work, and he enjoyed coffee too.
"Okay, I will take the third room."
He waded into the feces and waited for someone to bring him his cup. Just as he heard the large door slam behind him he heard an assistant shout, "Alright, everybody! Coffee break is over! Everyone back standing on their heads!"
Enough for today.
Next: Chapter 7: You are the source
Energy Enhancement Enlightened Texts Dhammapada The Way of the Buddha, Vol. 5