Add to Onlywire
Del.icio.us
Digg
Reddit
Technorati
OSHO Dhammapada-Buddhism-Buddha
THE DHAMMAPADA: THE WAY OF THE BUDDHA, VOL. 4
Chapter 2: Via transcendence
Question 1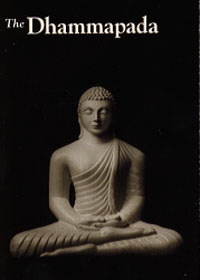 Energy Enhancement Enlightened Texts Dhammapada The Way of the Buddha, Vol. 4
The first question:
Question 1
BELOVED MASTER,
CAN INTELLECTUAL ACTIVITY BE CREATIVE?
Anand Savita, intellect is something pseudo, something false. It is a substitute for intelligence. Intelligence is a totally different phenomenon -- the real thing.
Intelligence needs tremendous courage, intelligence needs an adventurous life. Intelligence needs that you are always going into the unknown, into the uncharted sea. Then intelligence grows, it becomes sharpened. It grows only when it encounters the unknown every moment. People are afraid of the unknown, people feel insecure with the unknown. They don't want to go beyond the familiar. Hence they have created a false, plastic substitute for intelligence -- they call it intellect.
Intellect is only a mental game; it cannot be creative. Intellect is imaginative, but not creative. Intelligence is creative. Intelligence creates because intelligence makes you capable of participating with God. God is the source of all creativity. You can be creative only when you are EN RAPPORT with God, when you are rooted in the very existence, when you are part of divine energy. You cannot be creative on your own; you can be creative only as a medium of God.
When the poet creates he is only a medium, a hollow bamboo on the lips of God. And suddenly the hollow bamboo is no longer a hollow bamboo -- it becomes a flute. The emptiness of the bamboo becomes full of song, dance, celebration.
Creativity means you have to disappear, you have to allow God to be, you have to get out of the way. Intellect is egoistic; intelligence is humble, egoless. The difference is subtle; because both the words come from the same root, hence one can easily be deceived. Beware, be alert! Intellect is not intelligence. Intelligence is creative, intellect is only a pretender. In the name of creativity it goes on producing rubbish.
You can go and look in the universities and see what kind of creative work goes on there. Thousands of treatises are being written; Ph.D.s, D.Phil.s, D.Litt.s, great degrees are conferred on people. Nobody ever comes to know what happens to their Ph.D. theses; they go on becoming rubbish heaps in the libraries. Nobody ever reads them, nobody is ever inspired by them. Yes, a few people read them; they are the same type of people who are going to write another thesis. The would-be Ph.D.s will be of course reading them.
But your universities don't create Shakespeares, Miltons, Dostoevskys, Tolstoys, Rabindranaths, Kahlil Gibrans. Your universities create just junk, utterly useless. This is intellectual activity that goes on in the universities. Intelligence creates a Picasso, a Van Gogh, a Mozart, a Beethoven.
Intelligence is a totally different dimension. It has nothing to do with the head; it has something to do with the heart. Intellect is in the head; intelligence is a state of heart-wakefulness. When your heart is awake, when your heart is dancing in deep gratitude, when your heart is in tune with existence, in harmony with existence, out of that harmony is creativity.
Savita, there is no possibility of any intellectual creativity. It can produce rubbish, it is productive; it can manufacture, but it cannot create. And what is the difference between manufacturing and creating? Manufacturing is a mechanical activity. Computers can do it -- they are already doing it, and doing it in a far more efficient way than you can hope from man. Intelligence creates, it does not manufacture.
Manufacturing means a repetitive exercise; what has already been done, you go on doing again and again. Creativity means bringing the new into existence, making a way for the unknown to penetrate the known, making a way for the sky to come to the earth.
When there is a Beethoven or a Michelangelo or a Kalidas, the skies open, flowers shower from the beyond. I am not telling you anything about Buddha, Christ, Krishna, Mahavira, Zarathustra, Mohammed, for a certain reason: because what THEY create is so subtle that you will not be able to catch hold of it. What Michelangelo creates is gross; what Van Gogh creates can be seen, is visible. What a buddha creates is absolutely invisible. It needs a totally different kind of receptivity to understand.
To understand a buddha you have to be intelligent. Not only that Buddha's creation is of tremendous intelligence, but it is so superb, it is so supramental, that even to understand it you will have to be intelligent. Intellect won't help even in understanding.
Only two kinds of people create: the poets and the mystics. The poets create in the gross world and the mystics create in the subtle world. The poets create in the outer world: a painting, a poem, a song, music, a dance; and the mystic creates in the inner world. The poet's creativity is objective and the mystic's creativity is subjective, totally of the interior. First you have to understand the poet, only then can you understand one day -- at least HOPE to understand one day -- the mystic. The mystic is the highest flower of creativity. But you may not see anything that the mystic is doing.
Buddha has never painted a single picture, has never taken the brush in his hands, has not composed a single poem, has not sung a single song, nobody has ever seen him dancing. If you watch him he is just sitting silently; his whole being is silence. Yes, a grace surrounds him, a grace of infinite beauty, of exquisite beauty, but you will need to be very vulnerable to feel it. You will have to be very open, not argumentative. You cannot be a spectator with a buddha; you have to be a participant, because it is a mystery to be participated in. Then you will see what he is creating. He is creating consciousness, and consciousness is the purest form, the highest form possible, of God's expression.
A song is beautiful, a dance is beautiful, because something of the divine is present in it. But in a buddha the whole of God is present. That's why we have called Buddha "Bhagwan," we have called Mahavira "Bhagwan" -- the whole of God is present.
But students won't be able to see it. Disciples will be able to decipher a little bit, and devotees will be able to drink out of it.
Intellectual activity can make you experts in certain things, useful, efficient. But intellect is a groping in the dark; it has no eyes, because it is not yet meditative. Intellect is borrowed, it has no insight of its own.
The subject was lovemaking. For weeks Arthur had successfully answered all the questions asked him on the television quiz show. He was now eligible for the jackpot prize of one hundred thousand dollars. For this one question he was allowed to call an expert. Arthur of course chose a world-famous professor of sexology from France.
The jackpot question was, "If you had been king during the first fifty years of the Assyrian empire, which three parts of your bride's anatomy would you have been expected to kiss on your wedding night?"
The first two answers came quickly. Arthur replied, "Her lips and her neck."
Now, stumped for the answer to the third part of the question, Arthur turned frantically to his expert. The Frenchman threw up his hands and groaned, "Alors, mon ami, do not ask me. I have been wrong twice already."
The expert, the knowledgeable, the intellectual, has no insight of his own. He depends on borrowed knowledge, on tradition, on convention. He carries libraries in his head, a great burden, but he has no vision. He knows much without knowing anything at all.
And because life is not the same ever -- it is constantly changing, moment to moment it is new -- the expert always lags behind, his response is always inadequate. He can only react, he cannot respond, because he is not spontaneous. He has already arrived to conclusions; he is carrying ready-made answers -- and the questions that life raises are always new.
Moreover, life is not a logical phenomenon. And the intellectual lives through logic; hence he never fits with life and life never fits with him. Of course life is not at a loss; the intellectual himself is at a loss. He is always feeling like an outsider -- not that life has expelled him; he himself has decided to remain outside life. If you cling too much to logic you will never be able to be part of the living process that this existence is.
Life is more than logic: life is paradox, life is mystery.
Gannaway and O'Casey arranged to fight a duel with pistols. Gannaway was quite fat, and when he saw his lean adversary facing him he objected. "Debar!" he said, "I am twice as large as he is, so I ought to stand twice as far away from him as he is from me."
Absolutely logical, but how can you do it?
"Be aisy now," replied his second. "I will soon put that right." And taking a piece of chalk from his pocket he drew two lines down the fat man's coat leaving a space between them.
"Now," he said, turning to O'Casey, "fire away, and remember that any hits outside that chalk line don't count."
Perfectly mathematical, perfectly logical -- but life is not so logical, life is not so mathematical. And people go on living in their intellects very logically. Logic gives them a feeling as if they know, but it is a big "as if," and one tends to forget it completely. Whatsoever you go on doing through intellect, it is only inference. It is not an experience of truth, but just an inference based on your logic -- and your logic is your invention.
Cudahy, grogged to the gills, stood watching the Saint Patrick's Day parade. Unconsciously he dropped his lit cigarette into an old mattress that was lying at the curb.
Just then the grey-haired members of the Women's Nursing Corps came strutting by. At the same time, the smoldering mattress began giving off a dreadful smell.
Cudahy sniffed a couple of times and declared to a nearby cop, "Officer, they are marching those nurses too fast!"
Intellect may arrive at certain inferences, but intellect is an unconscious phenomenon. You are almost behaving sleepily.
Intelligence is awakening, and unless you are fully awake, whatsoever you decide is bound to be wrong somewhere or other. It is bound to be so, it is doomed to be wrong, because it is a conclusion arrived at by an unconscious mind.
To bring intelligence into activity you don't need more information, you need more meditation. You need to become more silent, you need to become more thoughtless. You need to become less mind and more heart. You need to become aware of the magic that surrounds you: magic that is life, magic that is God, magic that is in the green trees and the red flowers, magic that is in people's eyes. Magic is happening everywhere! All is miraculous, but because of your intellect you remain closed inside yourself, clinging to your stupid conclusions arrived at in unconsciousness or given to you by others who are as unconscious as you are.
Savita, intelligence is certainly creative because intelligence brings your totality into functioning -- not only a part, a small part, the head. Intelligence vibrates your whole being; each cell of your being, each fiber of your life starts dancing, and falls in a subtle harmony with the total.
That's what creativity is: to pulsate in absolute harmony with the total. That's how one becomes a Buddha, Christ, Zarathustra. These are the real creative people.
Something like this is happening right now, here. If you are a disciple you will be able to feel something of it. If you are a devotee you will be able to drink out of this source that has become available to you. And then creativity will come to you, things will start happening on their own. Your heart will start pouring songs of joy, your hands will start transforming things. You will touch mud and it will become a lotus. You will be able to become an alchemist. But it is possible only through great awakening of intelligence, great awakening of the heart.
Next: Chapter 2: Via transcendence, Question 2
Energy Enhancement Enlightened Texts Dhammapada The Way of the Buddha, Vol. 4
Chapter 2