Add to Onlywire
OSHO Dhammapada-Buddhism-Buddha
THE DHAMMAPADA: THE WAY OF THE BUDDHA, VOL. 3
Chapter 8: A good belly laughter
Question 5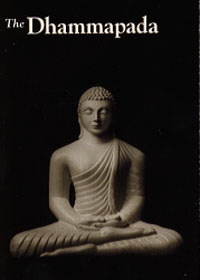 Energy Enhancement Enlightened Texts Dhammapada The Way of the Buddha, Vol. 3
The fourth question:
Question 4
BELOVED MASTER,
WHEN YOU ARRIVED IN YOUR CAR THIS MORNING I HEARD A BELLY LAUGH COME FROM HEAVEN. WOULD THAT BE A FRIEND OF YOURS?
Dharma Chetana, I had also heard the laughter. It did not come from the heaven -- the ghost of Jugal Kishore Birla was just standing by the side of Shiva. He played a trick on Charlie who is my engineer and mechanic for the Benz. He tricked Charlie: he connected the battery in a wrong way. Now, a German engineer, especially a mechanic for Mercedes Benz, a trained expert, highly intelligent, connected the battery wrongly! How is this possible? The ghost of Jugal Kishore Birla tricked him, so something got burned, and I had to come in Jugal Kishore Birla's car -- an Ambassador.
Certainly he was waiting here by the side of Shiva. Shiva may have even felt it, because he was looking all around; he must have felt something. And Chetana, you heard rightly.
Jugal Kishore Birla was the manufacturer of Ambassador cars. He has died. We had met a few times. He was a Hindu chauvinist, and he wanted me to become an ambassador to the world for Hinduism. For that purpose he had met me a few times; that's how we became friendly. He said to me, "I can help you with as much money as you want." In fact he was the richest man in India.
I said, "I can take more money than you have, but with one condition."
He said, "What is that condition?"
I said, "I will take it unconditionally. You cannot make any conditions with me. I can take all that you have."
He said, "Unconditionally? But one condition I have to make; that's why I am ready to give all support."
I said, "Please, don't mention it." But he still mentioned. He said, "My condition is very simple: can't you become a messenger to the world for Hinduism? Hinduism needs somebody to propagate it in such a contemporary and modern way that it appeals to the world mind."
I said, "Then I cannot accept a single PAI from you."
He said to me, "This is strange -- because even Mahatma Gandhi had accepted my conditions."
I told him, "That's why I never call Mahatma Gandhi 'Mahatma' Gandhi. I call him the so-called Mahatma Gandhi; otherwise how can anybody accept your conditions? If he knows, he will not accept any conditions from anybody just for money. I know what the world needs. It is not Hinduism, it is not Christianity, it is not Islam. Enough of all this nonsense! The world needs a purely religious consciousness, with no adjectives attached to it."
But he was a good man in a way. When he was old he tried many times; whenever I would go to Delhi he would invite me to his palace and he would again bring up the subject in some way or other. I said to him, "You have done enough service to humanity; now there is no need for any more service. You have made this Ambassador car -- this is really something wonderful! All the parts of it make noise except the horn. What more service do you want to do to humanity?"
So naturally when I said something about him just a few days ago, he must have got very angry. He tricked Charlie. This is very rare -- an Indian ghost befooling an alive German!
He was here, Chetana, you heard him rightly. But please don't start hearing the laughter of ghosts; otherwise you will be in trouble. Ghosts are always there; because you don't hear them you remain oblivious to their presence. So Chetana, don't grow this capacity any more; it is dangerous. It is enough to hear me; there is no need for you to hear other heavenly voices. There are a few mystics here too who go on hearing heavenly voices. Every day I receive letters saying, "I hear this and I heard that." I am teaching you to be silent and I am teaching you not to hear anything. And all those voices are in your head; they don't come from heaven. It is really a very distant call -- it won't work, particularly in the rainy season, and not in India.
Remember one thing: all that is heard, all that is read, is trivia. Only your silence -- that hears, that silence in which the sounds come -- that silence is significant. Shift your consciousness from every object to subjectivity, from what you hear to the one who hears, from what you see to the one who sees.
But Chetana has joked, so I am not worried about her. And I love such small jokes: they keep the idea of playfulness alive. They keep my idea of religion alive.
Next: Chapter 8: A good belly laughter, Question 5
Energy Enhancement Enlightened Texts Dhammapada The Way of the Buddha, Vol. 3